We have another Photo Premium tutorial exclusively available to Premium members today. In this tutorial, we'll examine motorsport photography. Full of cycles and race cars, it's not to be missed. Learn more at the jump!

With fast moving subjects comes a lot of problems, in today's article we are going to look at some great tips to help you improve your photos when shooting motor sport events.
1. Pack your telephoto
When shooting vehicles there is a very good chance you will be taking your photos from in the stands of a race track or on the roadside. In order to be able to shoot clear tight shots, you will find that a telephoto lens will do you wonders.
When shooting bikes or cars, around 90% of what I personally shoot are the moving subjects. You will find owning an image stabilised lens will also improve your chances of getting sharper and clearer shots.
I personally use a 70-200mm L series canon lens on a 1.6 cropped sensor. However I'm often wishing I had more distance for tighter crops on the subjects or for when the subject is on the other side of the racetrack. I would advise that you go for a range starting around 70mm, but no lower than the top end of 300mm. Remember, you can always buy tele-converters in order to increase the focal length.
Also remember the further away you are from the vehicles, the safer you are if there happens to be any accidents!
Unless you plan to shoot video, I wouldn't bother packing a tripod. With vehicles rushing around you never know where you might have to move in order to get the best shot. A tripod would also slow down the speed that you can pan with the vehicles. However, I would suggest purchasing a monopod if you find your lens is too heavy to hold all day.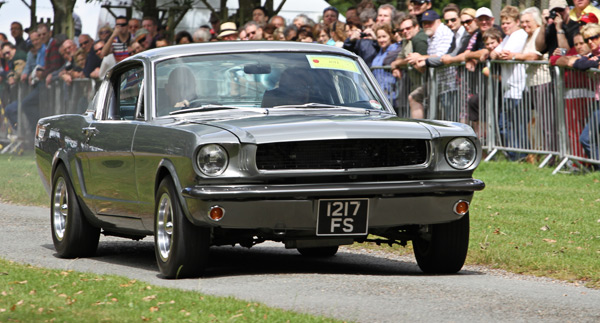 Copyright Peter Sawyer
2. Shoot in high speed mode, aka burst mode or continuous mode
Setting your camera to the fastest shooting mode allows you to capture all the events happening. Most introductory DSLR's offer a minimum of three frames per second. But if like myself you wish to capture things slightly faster, I would suggest looking into the semi pro ranges which offer seven or even ten FPS.
Make sure you buy a fast memory card with a high write speed to go with your camera as often the photos cannot be written to the card quickly enough.
I personally don't shoot RAW on a raceday as I see little point, as 90% of my dodgy photos are actually of out of focus shots, rather than colour issues, which simply cannot be fixed in post.
Remember to take as many photos you can. You can always delete bad images, but you can never add good ones.
Copyright Peter Sawyer
Tune in for more
Didn't hear about Photo Premium? You can find out more here. It's an additional, in-depth article, published each week just for our Premium subscribers (on top of all our regular free content!)
Join Premium and Expand Your Photography Knowledge!
This is a really interesting technique to perfect, and you'll be really pleased with the result! This Premium tutorial will help you get started with ease.
For those unfamiliar, the family of Tuts+ sites runs a premium membership service. For $19 per month, you gain access to exclusive premium tutorials, screencasts, and freebies from Phototuts+, Nettuts+, Psdtuts+, Cgtuts+,Activetuts+, Aetuts+, Audiotuts+, and Vectortuts+! For the price of a pizza, you'll learn from some of the best minds in the business.
Become a Premium member and download this tutorial today!
---
What Do You Want to See on Premium?
Is there a specific technical aspect of photography that you really want to learn more about? How about a very advanced technique that you could never quite grasp fully?
We really want to make our Premium content as relevant and useful to you as possible, so do send through your comments and requests to photo@tutsplus.com. Let us know what you want to see, and we'll commission top-notch photographers to teach you!