Slavik Boyechko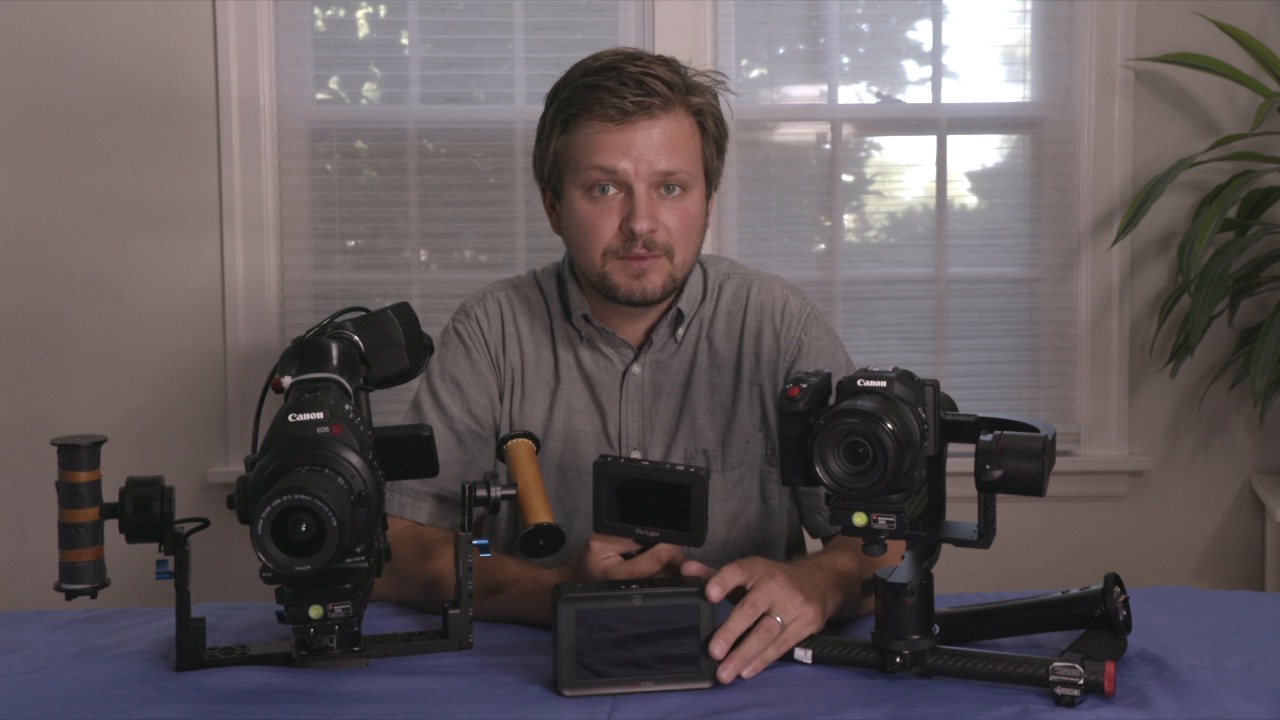 بغض النظر عن ماهية الكاميرا التي تضعها على الحامل، واحدة من أكبر المشاكل هو مشاهدة ما تصوره. بعض الكاميرات مزودة بشاشات LCD قابلة للإزالة حيث يمكنك تثبيتها على الحامل، أو يمكنك حتى قلب شاشة الكاميرا حتى تكون في وضع مناسب. ولكن في بعض الأحيان عليك فقط لضافة جهاز عرض خارجي لمعرفة ما تصوره.
يمكنك اضافة جهاز عرض للجزء العلوي من الكاميرا، أو في مكان ما على الحامل، سوف تحتاج إلى لف وصلة HDMI حتى لا تعترض الكاميرا. سوف تحتاج أيضا إلى إعادة توازن الحامل، ينبغي أن تأخذ في الاعتبار الوزن المضافة من جهاز العرض.
أحياناً جهاز العرض الخارجي يضيف الكثير من الوزن الزائد للحامل، حتى يصبح من الصعب الحصول على التوازن الصحيح. الشاشة ستحتاج الى البطاريات الخاصة بها، فضلا عن نظام لتركيب جهاز العرض على الحامل أو الكاميرا، حتى يصبحوا معا متزنين بسهولة و ذو وزن خفيف.

لذا، على الرغم من الحاجة لمعرفة ما تصوره عند استخدام الحامل، الشاشه سرعان ما ستصبح بمثابة عائق. نفاد البطاريات ، وسحب الكابلات ، يتطلب ثقل للموازنة لجعل العمل متوازن ، حيث تصبح المنصة ثقيلة جدا. وربما ستفقد حافظة الملحقات وتنسدل الشاشة أثناء التصوير.
لذا كلما امكن، حاول الحصول على كاميرا ذو شاشة مدمجة مسبقا حتى يمكنك أن ترى جوهر ما تصوره. 9 مرات من أصل 10، يمكنك الحصول على المشهد الذي تريده، وأحيانا لا. ولكن ما لم تكن تعمل في بيئة تصوير حرجة حقًا ، فمن الضروري وجود إضافة شاشة خارجية، ربما تسقط في كثير من الاحيان ولكن هذا افضل.
Slavik Boyechko is an Emmy award-winning filmmaker and owner of Minn Films, which creates inspirational videos about people and organizations.
Weekly email summary
Subscribe below and we'll send you a weekly email summary of all new Photo & Video tutorials. Never miss out on learning about the next big thing.
Update me weekly
Looking for something to help kick start your next project?
Envato Market
has a range of items for sale to help get you started.