Jose Antunes
The golden hours of the day are the playground for Christopher O'Donnell. I could say pictures with rich colours and slim depth-of-field are a trade mark of his work. Much in love with the Maine area landscape, O'Donnell reveals in this interview he became a photographer by chance, not by choice.
Potts Harbor
I found the work of Christopher O'Donnell by chance as well. One image from the author caught my eye while browsing the web, and the fact that it was so similar to one of mine, in terms of the technique applied, led me to look for more. Surprise, the cover of one of his eBooks, The Portfolio of Bokeh, again, had not just a similar bird but the same options I have in one of my pictures. It's always funny how photographers in different areas of the world arrive to the same solutions and similar images, not even knowing each other's work. I wanted to know more.
Some will love it, some will hate it. That's something I've found about Christopher O'Donnell work. The truth is that some of these photographs may not look completely real, the use of shallow depth of field in some changes reality, and colors may be too saturated for some people, but they work to set a mood that makes you want to jump into the photograph and walk around the landscape.
Like him or now, the author has just launched a new eBook, The Golden Hour Portfolio. With that excuse, I was able to ask O'Donnell a few questions.
Winter's Light
Q

Who is Christopher O'Donnell, the photographer? What do you do and how did you start?
I am a full-time landscape photographer and writer with the ever-changing coast of Maine being the source of my inspiration.
I think I was completely oblivious of my affinity towards nature and photography until after the fact. In hindsight, my most vivid childhood memories were spent outside. My mom always had a camera in-hand, so she was a huge influence from early on. I never expected these two to converge until it had already happened.
In my senior year in college, I fully submersed myself into the art of photography, and it wasn't by choice really. In order to graduate, I needed three art classes, which were always in high demand and filled quickly.
When I found myself shut out of two classes for not having the correct prerequisites, I went to the dean who happened to teach an intro to black/white film class. He graciously took me in, and in that class my entire four years of college had a purpose.
After graduating in 2008, I knew I wanted to live in a state that offered much opportunity for landscape photography, a place that I could develop a strong connection to. The ocean has been a constant influence in my life, so Maine was the most obvious choice for me. I'm very grateful to be living in this pristine state with such untouched beauty and have it be my creative playground.
Stitched Panorama
Q

You are based on the coast of Maine, and that means having mainly sunrises on the sea instead of sunsets. Does this mean you've to rise early for most of your photography on the coastal area? Or do you have specific points you go to that will offer sunset like landscapes in the coastal area?
What I discovered about Maine is that you can have both sunrises and sunsets, which is contrary to what most would believe since the coast faces eastward. The varied coastline offers many peninsulas that run north to south, so there are plenty of locations that face westward for a sunset.
That aside, I do love sunrises. The entire experience is something that you can't describe with words - it's just outstanding. The silence of the landscape is so heavy with nothing but the crashing waves to interrupt it. To see the colors gradually turn from blues to reds, and the dramatic build up of light until it explodes in the sky, is incredible. It's as if nature doesn't begin its day until the sun rises.
I think everyone should witness a sunrise along the water at some point in their life. It's a surreal experience, and the memories will stay with you for a lifetime. Not so much the visual memories, but the emotional and spiritual experience. It can be difficult for me to concentrate during a sunrise, I just want to sit and fully take in the moment.
Q

How much of your time do you dedicate to looking for new places to photograph? How do you plan your photography outings? Is it based on free time or weather?
I'm constantly searching for new locations. I'm not able to compartmentalize my photography, it's become a part of my everyday life. If I see a location that looks promising, I'll do a bit of research and return there with photography in mind. There are also times when I focus solely on finding a new place to explore, and will randomly scout the topography with Google maps to see what looks promising.
When I do find a new location, I tend to explore it fully and revisit it several times under different lighting, specifically under the golden hours, and again under overcast light. I am fortunate enough to have a flexible schedule where I can plan my photography around the weather and light, so location scouting is important.
If I see clouds begin to swirl around the sun in the evening, I know that will make for an interesting sunset. I want to be able to go to an area that I've already scouted and have familiarity with the landscape.
Ironically, some of my favorite photos are the result of no location scouting at all, so it's not necessarily a prerequisite for me. I would never pass on an opportunity to photograph a new area because I haven't explored it yet. Photographing a location without any plan or focus can be liberating, and allows your creativity to flow without the constraints of a predetermined image.
Autumn Lane
Q

You've just published a new eBook, The Golden Hour Portfolio, the fourth eBook from your collection. It could be said that it showcase photography in the same style. Is this something you pursue in terms of a personal project or is it just a phase, something you explore before going in other directions?
The golden hours have a become a common thread through most of my work. I have a deep emotional connection to this time of day, the moments right before sunset and after sunrise. Light plays a large role in my creative process, and the golden hours provide me with my favorite kind.
I like to think of the golden hours in a broader sense than simply a "style" or "time." I view it as a canvas that I can create upon. It allows me to interpret the landscape as I see it, and more importantly how I experience it. It's neither a personal project or a phase, but a part of who I am as much as photography is.
Q

In your eBooks you've dealt with "The Art of Bokeh," which is a technique many landscape photographers use, and also about the techniques used for best sunrise and sunset pictures. Is landscape, and especially at these hours of the day, the type of photography that interests you most?
Light is the driving force behind my photography and inspires much of what I do. Both the golden hours and bokeh are influenced by light, so I am definitely connected to them.
Natural light provides me with the means to create, and the most exciting part is that it can not be controlled. I believe that this need to accommodate the light has allowed for my creative development to evolve steadily.
Five Islands, Georgetown, Maine. Last sunrise of 2010, New Year's Eve
Q

You also say that Maine is one of the few states that is relatively untouched by human interference, which makes it the perfect landscape. Do you never get tired of photographing the same places? Or is it through returning to the same spots over and over that you get to know them thoroughly?
Familiarity with the landscape is something that enhances the connection to it, and this connection serves as the foundation I build my images upon. I spent over a year photographing the same beach through all the seasons, and each image would evoke an entirely new experience that was enhanced by this connection. It's a common thread that is evident in my work.
Location is very important to me, and to be able to revisit the landscape and develop a connection to it is a powerful experience.
Q

Often, you're photographing the same places other photographers visit, but your images have a uniqueness that sets them apart. They are not necessarily better, but there is a common thread linking them, a consistency in technical terms. How do you achieve that look?
Several people have told me that they knew it was my photo before seeing who the actual photographer was. I don't see the consistency between my images, at least not one that is obvious. However, others can see it so my perspective must be a bit subjective.
When I look at my photos, I see not only the visual differences, but I can relive the moment, the atmosphere, the emotions. Each photo represents a unique experience and memory for me, so that must affect my view of the individuality of each image.
From a technical standpoint, there are several qualities I like to be consistent in my portfolio, specifically, a sharp focus and a proper exposure: one without blown highlights or crushed shadows. I also explore the full tonal range of a scene, pushing the limits of contrast without causing damage to the final piece.
Blue Hill
Q

Looking at your eBooks one finds that you're using exposure blending quite regularly, more than using neutral density filters. Can you explain the technical and/or personal reasons for doing so?
I typically do not use graduated neutral density filters (GNDs). Most of my work is achieved through exposure blending. That's not to say one is better than the other, but rather that I enjoy working in the digital darkroom and also like the versatility of using masks to selectively decide where I want to adjust my exposure, so it's more versatile than GNDs.
On the flip side of this, I have to deal with ghosting on occasion, but I've learned to work around that through (sometimes tedious) editing. I enjoy that part of photography, but others may not, which is why the path you choose should revolve around your workflow preference.
If you enjoy working in the digital darkroom, than exposure blending will be something that will enhance your photos greatly. My background in Photoshop and technology is strong, which makes exposure blending a technique that pairs harmoniously with my skills.
Exposure blending and GND filters are two paths to the same result. There is not a better method in a general sense, but rather on an individual basis. The one that you enjoy the most will be evident in your work.
Q

You state that through your work, you like to show a vantage point that is rarely seen in reality; a show of beauty, emotion, and serenity. If someone stood beside you at the taking moment, would they see the scene depicted in the final photograph? Can you explain, briefly, how you set up a landscape shot from the taking moment to the final image?
I definitely push the envelop of what is seen in reality. For me, it's a fine line to walk along and I do at times cross it. It's not simply for the visual impact though. The color and tonal work I do is entirely dependent on the scene, specifically, my emotional connection to that particular moment.
The experience I had when taking a photo will dictate what the end result will look like, and the path to the final image is never clear for me. I will often spend hours, or even several days, working on a photo until I recreate what I felt.
For example, if I'm photographing an approaching storm, and the atmosphere is thick with drama, and the clouds are heavy and dense. I will adjust the colors and tones to represent the intensity I felt in that moment. For other photos, I mute the colors and soften the tones if it was a particularly serene and calming experience.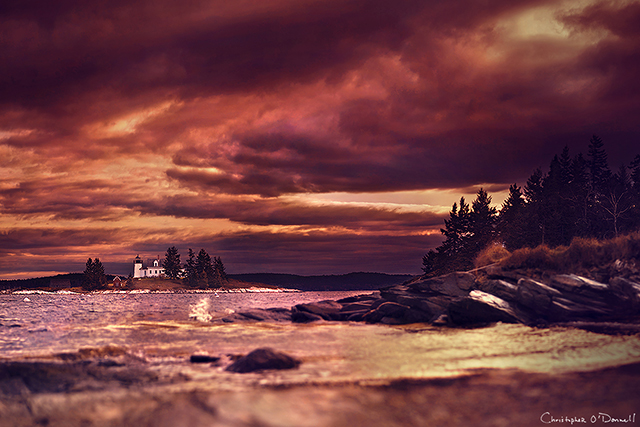 Pumpkin Island
It's not a method to deceive the viewer – to embellish or alter a scene in an attempt to misrepresent – quite the opposite actually. It's my way to make the visual experience more complete, a truer representation of what that time was like for me.
You'll hear photographers say "you had to be there" in an attempt to convey that moment, and there is a lot of truth to that statement. I feel that this is from not being able to explain the deeper connection one has to a particular image, or at least in a way that others can experience as well.
It's something you can't explain with words, so the images I create is me encapsulating that entire experience, the visuals, the emotions, the atmosphere, and infusing it into my work to replicate that moment. It gets absorbed, translated, and then projected.
This is why I haven't been able to completely explain my post processing workflow for color. It's more than adding adjustment layers and masks, it is unique for each image. If I just detailed the technical workflow, it wouldn't be a complete explanation.
How do I explain the process of developing an emotional connection to the landscape, and letting that dictate which direction I steer my editing? It will be the first subject where I need to focus on inspiration rather than explaining a concrete process. I'd like to discuss color processing in a future eBook, but it's going to be a very challenging subject to tackle.
My previous eBooks deal with techniques that are straightforward like overcoming exposure challenges in the field, what elements do you need to create bokeh, etc. They're concrete, methodical (for the most part), and not entirely personal.
My color and tonal editing, however, brings a lot of emotion and inner dialogue into the equation, so I need to find a way to explain how my emotions guide my workflow. It's a very intimidating concept to put into words.
The editing of my work is limited to colors and tones. Aside from that, what you see is what I saw. I don't add or subtract elements from my images.
Q

How much of the artist's soul goes into the final edition of a photograph like yours?
The entire creative process from scouting a location to the presentation of the final image is an ethereal and addictive journey. It's a very grounding experience, yet liberating at the same time. I feel whole at the end of it, and want to go through it again.
If I show you any of my images, I can tell you exactly what I felt that day and what the experience was like: the sounds, the smells, the atmosphere. I have a deep connection to all of them. It's euphoric in a way.
Going back to the previous question, I recreate these emotions and experiences through my workflow, so I think that would leave a very personal part of me in each of my images.
Before Sunset
Q

In terms of gear, what do you use?
My gear is rather straightforward. I use a Canon 5D body with three prime lenses in my collection, the 24mm f1.4, 85mm f1.8, and 300mm f4. I opted for fast prime lenses early on since I had already developed a strong connection to shallow depths of field.
My Manfrotto tripod has been with me since I purchased it in 2008 and has been used for almost all of my images. The grip action ball head works best for me since I can quickly and easily reposition my camera. I've been tempted to change and upgrade my system, but this works exceptionally well for me and I don't want to interrupt that harmony.
Q

Any advice to people that want to do photographs like you do? Is there still space for people to do photography professionally in this area?
The most profound piece of advice I can give is also the most generalized and simple: if it feels wrong, don't do it.
With the limitless amount of digestible information on the internet, you could easily be persuaded to follow a path that does not sit well with you. Sooner or later, the inconsistency between what you think is right and what you are told is the "proper" way will start to wear on your soul as a photographer, the spark that inspires your work.
If something doesn't feel right, if your work is starting to feel more like a chore than something that excites and inspires you, stop and analyze this disconnect. When did things change, and more importantly, how can you get back on the path that brought you enjoyment? It's natural and expected to pursue new avenues in your work, in fact, it's encouraged. The ability to recognize when something is not working and to have the courage to change is what will lead you to a fulfilling life as a photographer.
Your instincts are your best friend. You'll know when something isn't working, and that is the signal to take a break. It's important to take time now and then to refocus, even when things seem to be going along smoothly. It's incredibly refreshing, and helps to reconnect with who you are as a photographer.
Summer Solstice
The fantastic part about photography is that each photographer has a unique vision, their own story to tell. I think that photography is undergoing a revolution where much more value is put into who the photographer is, more specifically, what unique talent and abilities they possess.
Photographers today aren't trying to emulate the work of others, at least once they've learned the craft. I see more emphasis being placed on their individualism: their vision, creativity, and their ability to show that through their work.
I believe that the uniqueness of the industry is what makes it possible for there to be many professional photographers and still be able to earn a living by doing what they love. Not every "consumer," whether it be a client, student, or an appreciator of art, is looking for the same result, so there is plenty of opportunity to go around.
First Fall
Q

What are your goals for the near future? What do you want to do with your photography?
I was asked this question exactly one year ago, and I mentioned that my future plans included writing an eBook. Now I have written four, so it's a bit surreal to compare these two different stages in my career. I'm thinking much differently now than I was last year.
My focus now is to teach photography through my writings and eBooks, so that is something I am going to continue. It has been an incredibly rewarding experience for me as I have a background in teaching, but now have the opportunity to teach a subject that I am so intensely passionate about.
Photography has been a constant and powerful force in my life, and this experience has only been enhanced by inspiring others to develop a similar connection. I have only started teaching through eBooks, so I am looking forward to traveling down this path and seeing what develops.
In terms of my personal work, that is a question I can not answer. I let the seasons and landscape guide my inspiration and I never know which direction that will lead me.
Want a weekly email summary?
Subscribe below and we'll send you a weekly email summary of all new Photo & Video tutorials. Never miss out on learning about the next big thing.
Sign up
Jose Antunes is a freelance writer and photographer based in Portugal. Besides writing about the technical and creative aspects of photography for various publications, he leads workshops and leads photo tours to reveal the hidden perspectives from his country. "Less Gear, More Fun" is an important idea for him.
Start your 7-day free trial*
*All Individual plans include a 7-day free trial for new customers; then chosen plan price applies. Cancel any time.