Marie Gardiner
Set the stage for your audience with a strong opener and tasteful titles for your video; We've put together this list of free Premiere Pro title templates and opening effects to give you a hand.
How to Add Text to Video in Premiere Pro
Learn how to easily add text in Premiere Pro in this Premiere Pro tutorial. Tom Graham teaches you how to create text titles, add animations to text, import and customise MOGRT files in the essential graphics tab, and create subtitles and captions from automatically generated transcripts.
Top Premium Templates for Premiere Pro
Free Premiere Pro templates are brilliant, and we hope you find what you need below. With a  subscription to Envato Elements, you can also test the high-quality Premiere Pro templates.
Subscribe to Envato Elements Now
Featured Premiere Pro Titles Template From Envato Elements
This title template pack features 20 minimal titles with modern and sleek animations. This Premiere Pro title project is easy to use and you don't need any additional plugins.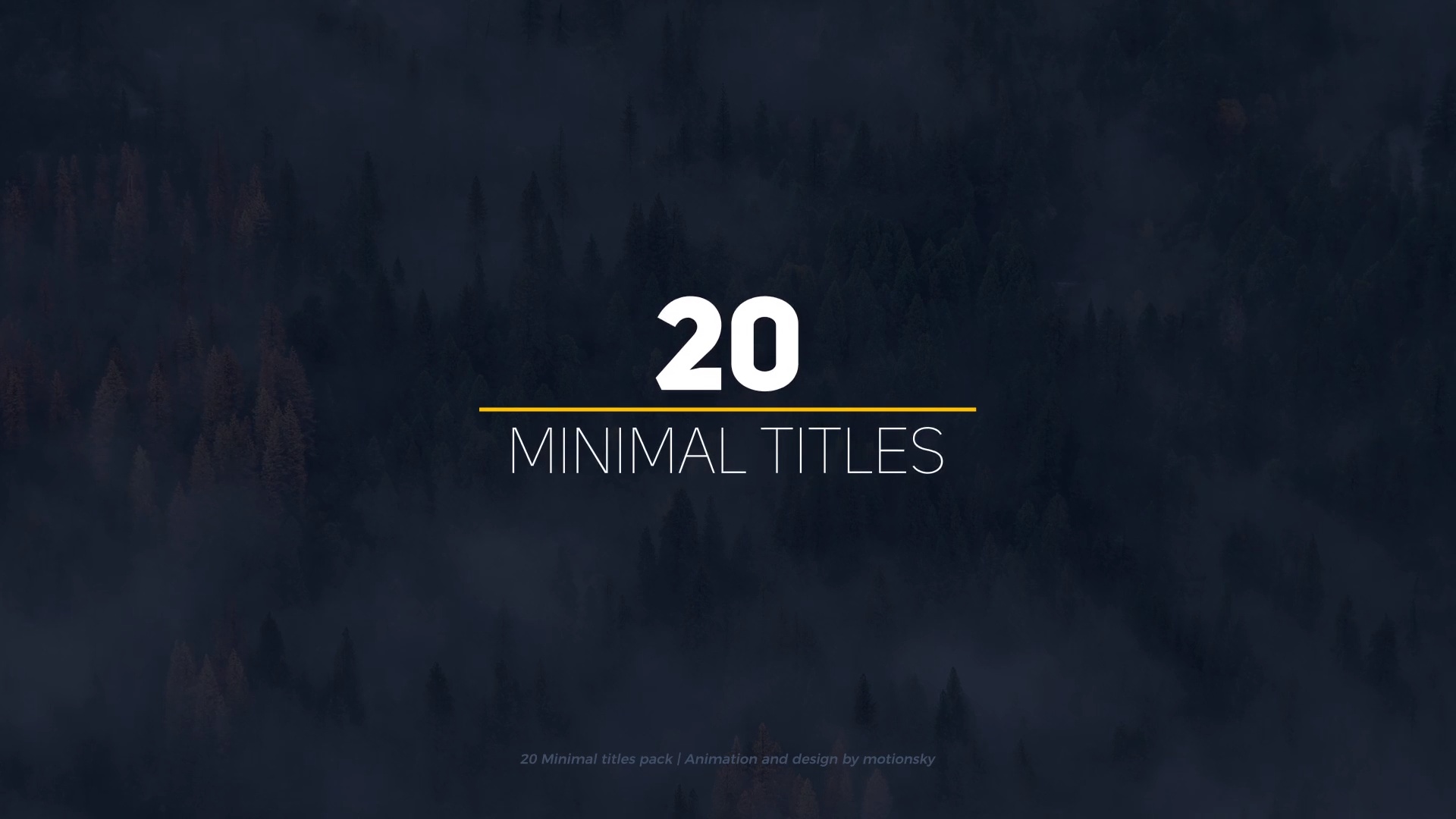 Key Features
Create clean and appealing titles with this Premier Pro template.
Applications: Premiere Pro
Requirements: None
Author: motionsky
Download and Try
Envato Elements has unlimited downloads for millions of creative stock items with a single subscription, including hundreds of After Effects and Premiere Pro templates, plus audio tracks, fonts, graphics, presets and more.
More Templates for Premiere Pro From Envato Elements
If you find yourself needing more than one intro or opener template, consider Envato Elements, where you can download as many as you like. Here's a selection of some of the best Adobe Premiere title templates and Premiere Pro intro templates from Envato Elements: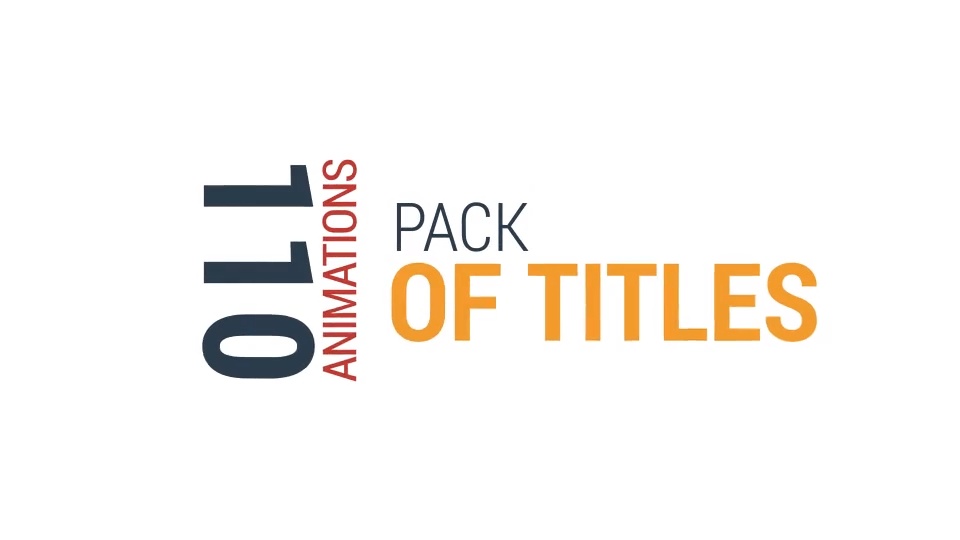 A complete Premiere Pro title template bundle with. 100 animated titles (MOGRT) in Full HD.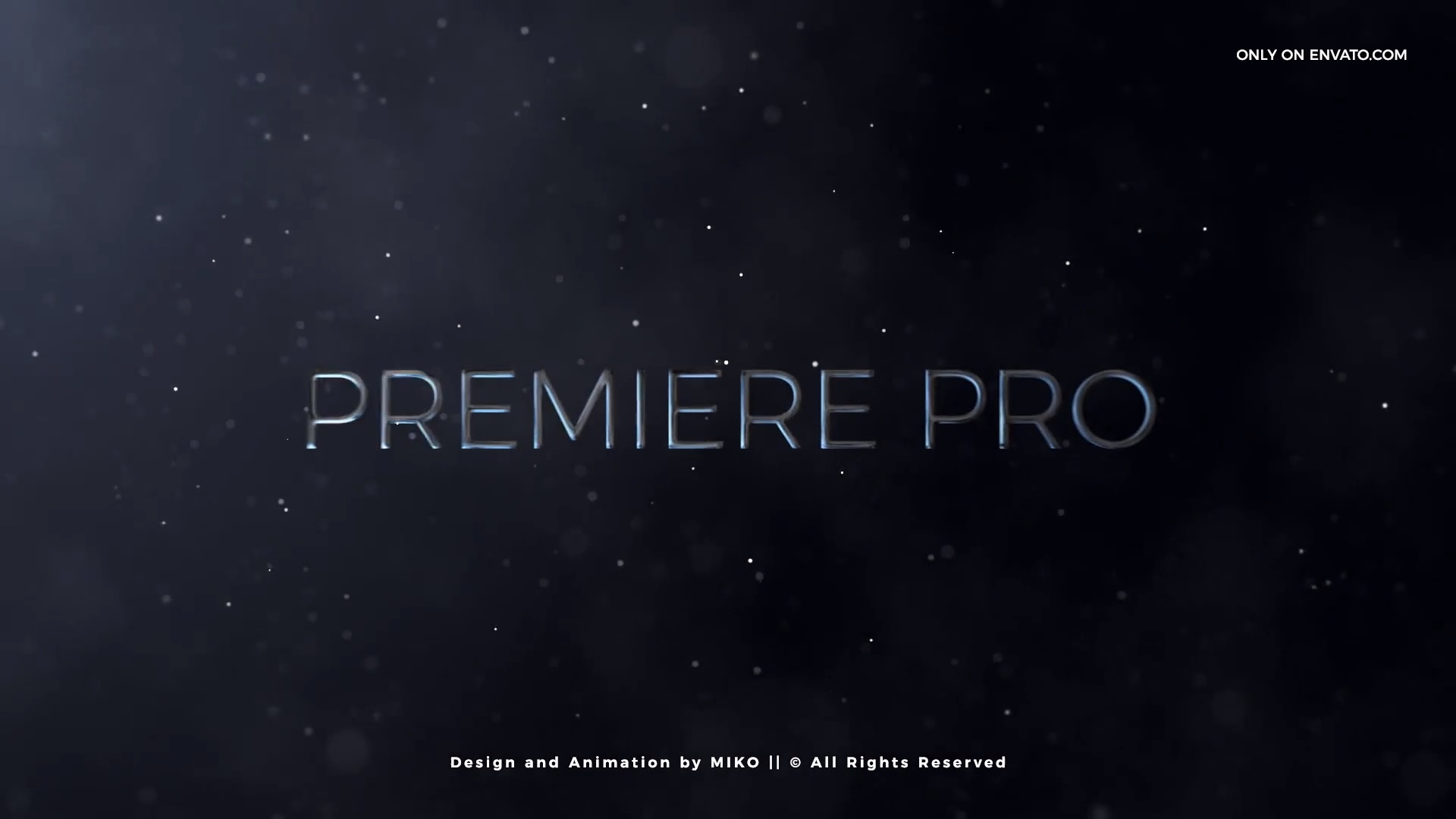 This Premiere Pro title project features elegant and modern cinematic titles. 
An upbeat and funky opener with an urban twist, this template for Adobe Premiere Pro will give your project a dynamic, modern feel. Definitely one of the coolest Premiere Pro title templates you'll find online.
A high-energy opener, this Premiere Pro template is perfect as a trailer or slideshow on its own, or as the opener or title sequence as part of a larger project.
Glitch effects in all their variations are so popular. Inspiring Glitch Opener is a great way to add a touch of stylish interference to your project's opening sequence.
Looking for simple, good-looking Adobe Premiere title template? A clean title sting with a corporate feel, Clean Elegant Rotation Title strips it back to basics to keep your message free from distractions.
Easy to customize and with everything linked to the control layer, Clean Flip Title couldn't be simpler. It's one of the top clean Adobe Premiere title templates.
Do you like fast typography intro Premiere Pro templates? This dynamic Premiere Pro intro template features bold text animations.
If you make gaming video, try a gaming-themed intro template for Premiere Pro. This features stylized video game controllers to reveal your logo. This intro template is great for streaming use, too. Horizontal, vertical and square versions are included.
Top Adobe Premiere Title Templates from Envato Market
If you prefer to pay as you use, we have some options from Envato Market too! Here are some of our favorite Premier Pro title templates and openers you can buy. You'll get much more quality than with free Premiere Pro title templates.
If you're looking for the best opener templates for Premiere, this pack is one of our best-selling and top-rated items. Modern Openers Pack comes with 28 different openers that you can use for fashion, sports, travel or any kind of content, thanks to its dynamic design.
A well-organized title and lower-thirds template set with universal expressions and easy customization. Use any fonts to complete your desired look.
19 title animations for Premiere Pro will full text, color, and duration control. There's a link included to the free font used in the demonstration. This is one of the top fast typography intro Premiere Pro templates.
50 Free Templates for Premiere Pro
There are plenty of Premiere Pro title templates free downloads out there... but they're not all top quality. Here are some the best free Premiere Pro animated title templates we've found on the internet. Note, some of these projects are offered by organisations outside of Envato, are owned by their creators, and may not be available at all times, might go behind sign-up walls, might not work with your software version, etc.
A framed title without a background, including bold letters on three lines with an outline font style.
A cool and clean, minimal design Premiere Pro title which has full screen coverage and appears from left and to right.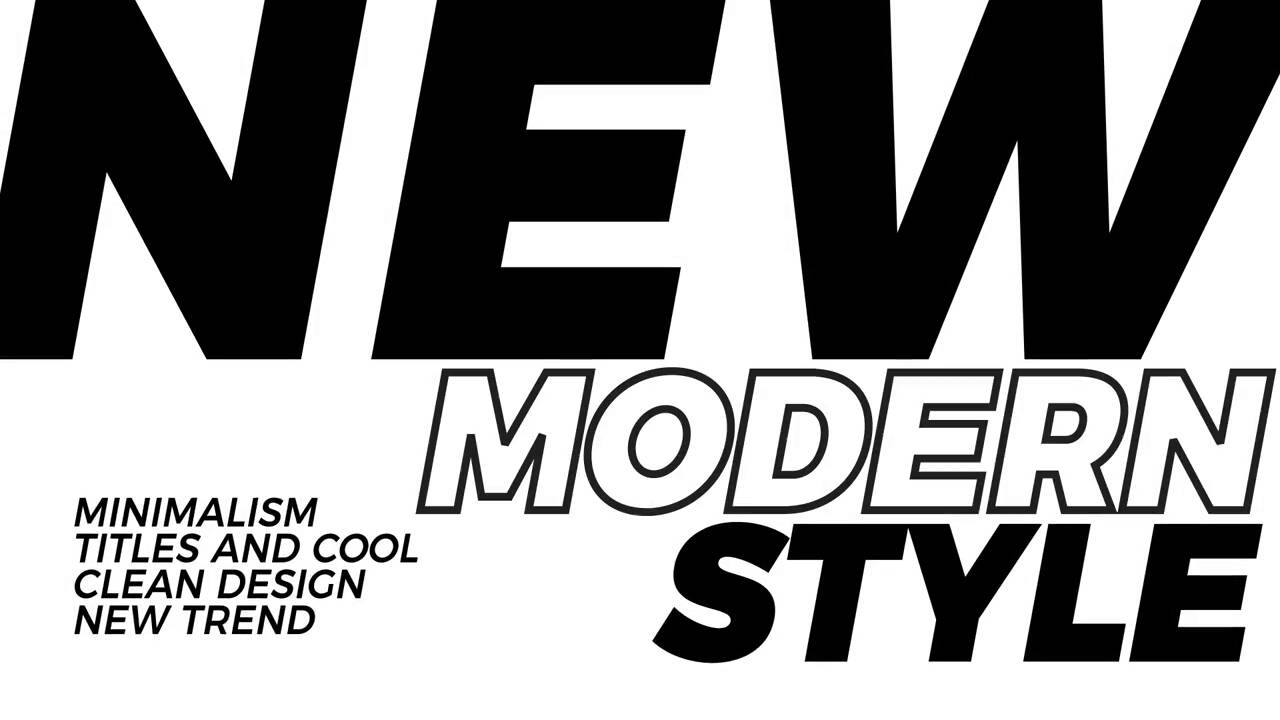 Rotating text surrounds a headline block before exiting the frame – with a pop of colour!
A text delay animation across multiple taglines with dual-colour typography and animation.
A Premiere Pro template with glyph cube effect with space for text and subheadings.
Angled text with outlined heading and a sub-heading.
A bright circle, expands in and shrinks out to reveal your title, text, or brand.
A simple box graphic with a colourful gradient, containing a heading and sub-heading.
Animated lines with a heading, moving to create a rectangle outline.
A simple title block template which transitions upwards into the frame and includes a splash of colour.
An animated paragraph of text comes in from the right. The template features a double header block, too.
A funky splash effect  transitioning in from the right, uncovering a heading.
When one splash animation just won't do… try two! Two splash animations uncover a double heading.
Spinning animation title template for Premiere Pro, pivot point fade in with left-aligned fade out.
An angled text intro, with text kick animation and shrink out effect.
This free Premiere Pro template features a spiral text title with animated text.
A collection of Premiere Pro title templates for free, including three lower thirds, an end credit, and an empty title to set as your default. 
Unfolding Titles gives text or logos a cool, unfolding effect designed to add interest and elegance to your project. The Adobe Premiere Pro template free is simple, well-organized and comes in both 4k and full HD versions.
With just the right amount of Diggity, Dubstep Glitch Titles is a Premiere Pro template with 11 scenes and modules for you to edit. You won't need any plugins and it's fully customisable.
Opener is a clean, cinematic Premiere Pro intro template free. With smooth animation and a modern, simple design, it's a good addition to your project, and you won't need any plugins to use it.
Multiframe Media Opener is a free eye-catching design and dynamic text animations for Premiere Pro. This template comes with 89 media placeholders, 10 editable text layers and 1 logo placeholder. You don't need After Effects or a plugin to use these and they're easy to modify. This is a good option if you're looking for a music video title template. 
With this free download you'll get 49 image/video placeholders, 34 editable text layers, and 1 logo placeholder. Instantly add modern titles to your video: just drag and drop your media and change text and colours to suit. 
Cinematic, dramatic… no it's not greased lightning, it's the Cinematic Motion Graphics Titles for Premiere Pro. Add a touch of movie magic to your project with this free download. Requires an email address.
Manifesto has no other agenda other than to help you create static titles, title rolls and title crawls with impact. Requires the FxFactory plugin.
On a website just a click away is the Star Titler Adobe Premiere Pro template free. Import your own text, and easily control the duration blur, and scroll. Requires the FxFactory plugin.
The Titles Pack for Premiere Pro template contains nicely designed and animated title animations to use without the need for After Effects. Open it up, change the text, and you're done – with 10 different animations to choose from.
This is a super simple Adobe Premiere Pro template free, perfect for creating quick and easy titles. Stop putting off that project and let someone else do the hard work for you!
To help you make title design in Premiere Pro even faster, here is the Cinematic Title Style Library. Create sleek, minimal, cinematic style openers before you can say 'Hollywood.' Direct download.
A left-aligned isometric title template, perpendicular to the edge of a description text box.
A fun, free template with pulsing glyphs with a glitch effect.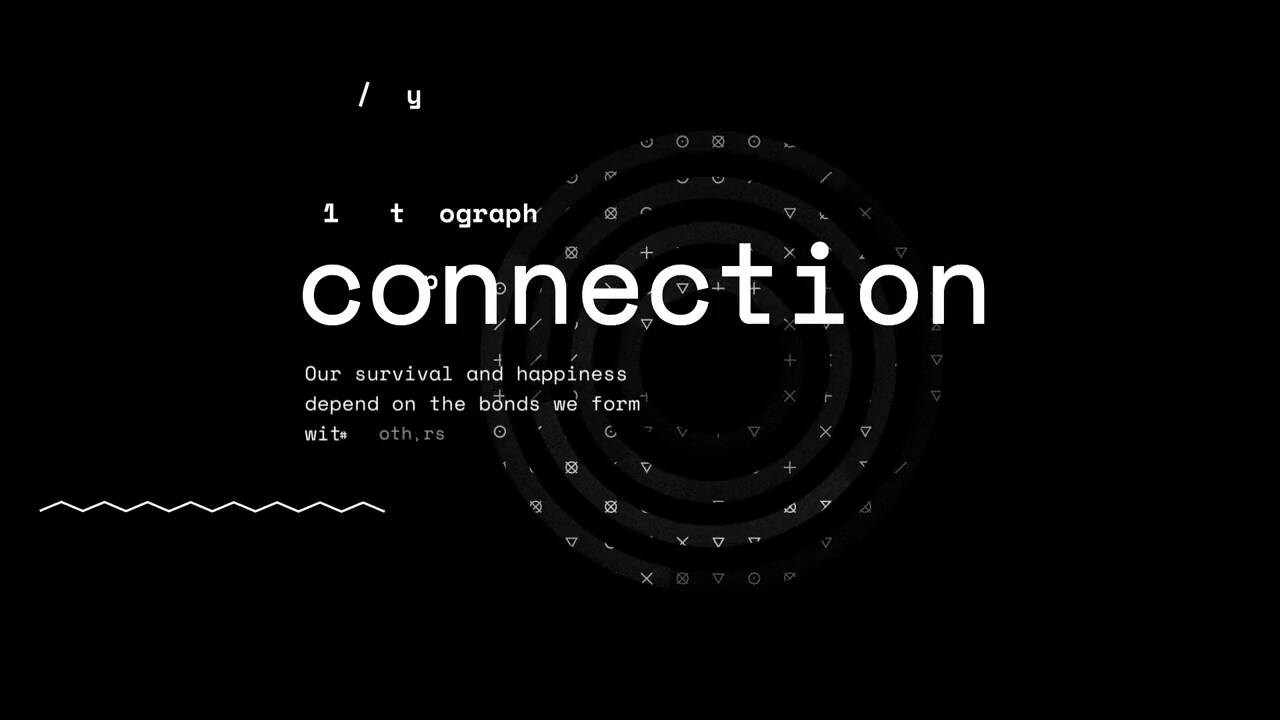 A hypnotic arrow pattern with a glitch effect and text transition.
A free template with a single heading with a glitch effect transition into a single subheading.
A full screen centred title animation inside with multi-colour circles and text moving in the background.
A title template that fills the screen with a colour gradient and centre-aligned description. It includes a button!
Full screen, with a translucent dynamic title and description diagonally.
Abstract luminescent circles and title, with a gradient colour overlay, subtitle, and description text.
Gradient colour features in this free Premiere Pro template, with textures in motion, surrounding a gradient title and subtitle.
Shaded title with the option for a text description below.
Full-screen title with two lines of text, one with a gradient color effect and one with an outline effect and a translucent dot background.
An animated, electric explosion reveals an outline framed title. A static electricity line goes through the title from left to right changing the color.
A bright and colorful Premiere Pro intro template free featuring multiple headlines, split transitions and overlays.
A liquid ink effect free Premiere Pro template with a wet-look transition between frames. It features bold text and a subtle color overlay.
An elegant Premiere Pro intro template free, with slow transitions and a fragmented blur effect.
Looking for a music video title template? An urban decay style title template, with fast transitions between frames and a grime overlay.
A fast, minimal opener featuring quick transitions and overlays, ending with a logo frame.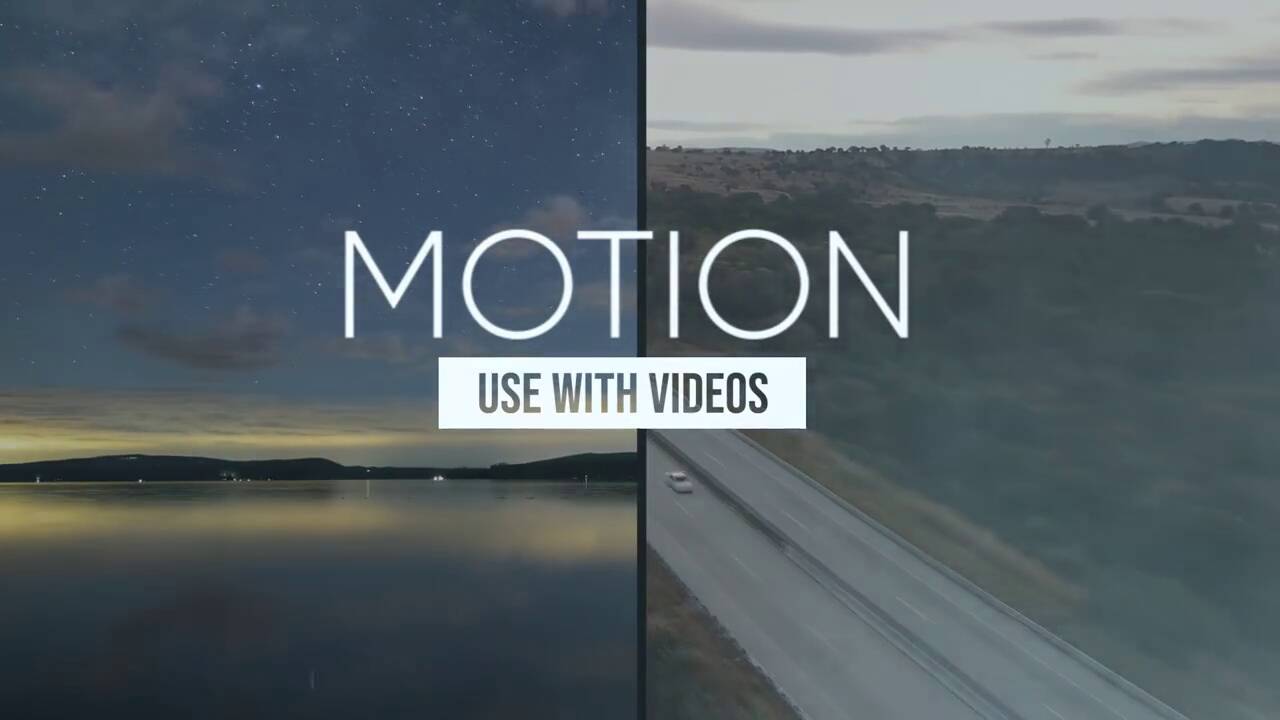 An animated liquid shape effect Premiere Pro intro template free with floating orbs and ending with a logo frame.
Informative opener offering multiple text panels, lower-third style headings and a logo frame.
A modern, free Premiere Pro opener with a glitch effect, quick transitions and a logo finish.
A fast-paced, kinetic text template with bold animated text and titles. A good option if you're looking for Premiere Pro CC title templates.
A fast and bold Premiere Pro opener, which switches between solid backgrounds and video footage.
Learning Resources From Envato
Keep Exploring After Effects With Envato Tuts+
After Effects FAQs
Recommended Tutorials
Are you getting started with Premier Pro? Learn the basics with this tutorial: How to Find Your Way Around in Premiere Pro, a Tour for Beginners. Get familiar with all the interface elements, frequently used panels and more Premier Pro resources.
Free Video Courses: Follow Envato Tuts+ on YouTube
If you prefer video tutorials, check out some of our free courses and tutorials on Envato Tuts+ YouTube channel. We have a few free free courses to help you learn. Here's one to try, Ultimate Premiere Pro FAQ Free Course:
More Premiere Pro Templates to Check Out
Looking for more templates? We've got you covered. Envato Elements offers thousands of amazing Premiere Pro templates, including creative templates for titles, intros, lower thirds, slideshows, and much more.
Here are a few collections to get you started:
About This Page
How We Picked
We looked at projects and considered all kinds of variables, including organization, complexity, experience required and overall difficulty, minimum hardware specifications, included versions and options, formats, resolution, file size, dependencies and required plug-ins (if any), language options, software versions supported, style, design, and cost. You can read more about how we select items at How We Pick Video Templates to Feature on Envato Tuts+.
This page was updated with contributions from Maria Villanueva, associate Editor of the Tuts+ Design channel and Janila Castañeda, a staff writer with Envato Tuts+. It was edited by Jackson Couse and republished on May 24th, 2022.
Share Your Craft on the Envato Forums
Finally, if you put one of these Premiere Pro templates to use, please do let us know on the Envato forums. We love to see the projects you create!
Want a weekly email summary?
Subscribe below and we'll send you a weekly email summary of all new Photo & Video tutorials. Never miss out on learning about the next big thing.
Sign up
Photographer and writer based in north east England.
Marie Gardiner is a writer and photographer from the North East of England. After gaining her degree in Film and Media, Marie worked in the media industry, before leaving to set up the business she runs with her partner: Lonely Tower Film & Media. As well as writing about visual practices like photography and video, Marie is also the author of Sunderland Industrial Giant (The History Press, 2017), Secret Sunderland (Amberley Publishing 2019), and Celebrating Sunderland (Amberley Publishing 2023). Her photographic work focuses on landscapes and industrial ruins, particularly those of the North Pennines as she continues to work on her long-form documentary project Changing Landscapes.
Start your 7-day free trial*
*All Individual plans include a 7-day free trial for new customers; then chosen plan price applies. Cancel any time.