Marie Gardiner
Set the stage for your audience with a strong opener and tasteful titles. We've put together this list of free Premiere Pro title templates and opening effects to give you a hand.
Top Premium Premiere Pro Title Templates
Free Premiere Pro templates are brilliant, and we hope you find what you need below. With a  subscription to Envato Elements, you can also test the high-quality Premiere Pro templates.
Subscribe to Envato Elements Now
Featured Premiere Pro Titles Template From Envato Elements
This title template pack features 20 minimal titles with modern and sleek animations. This Premiere Pro title project is easy to use and you don't need any additional plugins.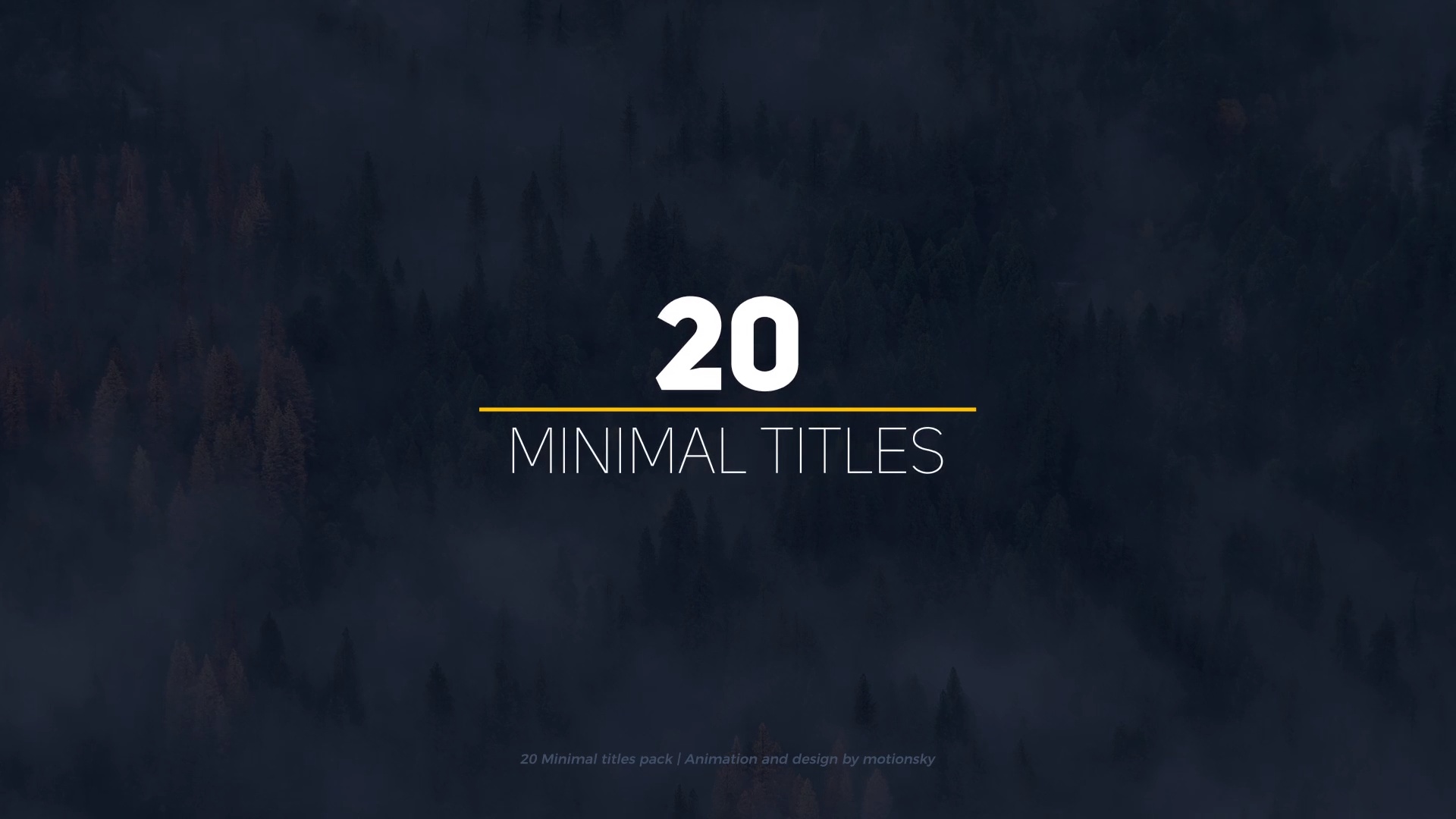 Key Features
Create clean and appealing titles with this Premier Pro template.
Applications: Premiere Pro
Requirements: None
Author: motionsky
Download and Try
Envato Elements has unlimited downloads for millions of creative stock items. With a single subscription you unlock hundreds of After Effects and Premiere Pro templates. Plus, you'll get audio tracks, fonts, graphics, presets and more.
More Templates for Premiere Pro From Envato Elements
If you find yourself needing more than one intro or opener template, consider Envato Elements, where you can download as many as you like. Here's a selection of some of the best Adobe Premiere title templates and Premiere Pro intro templates from Envato Elements: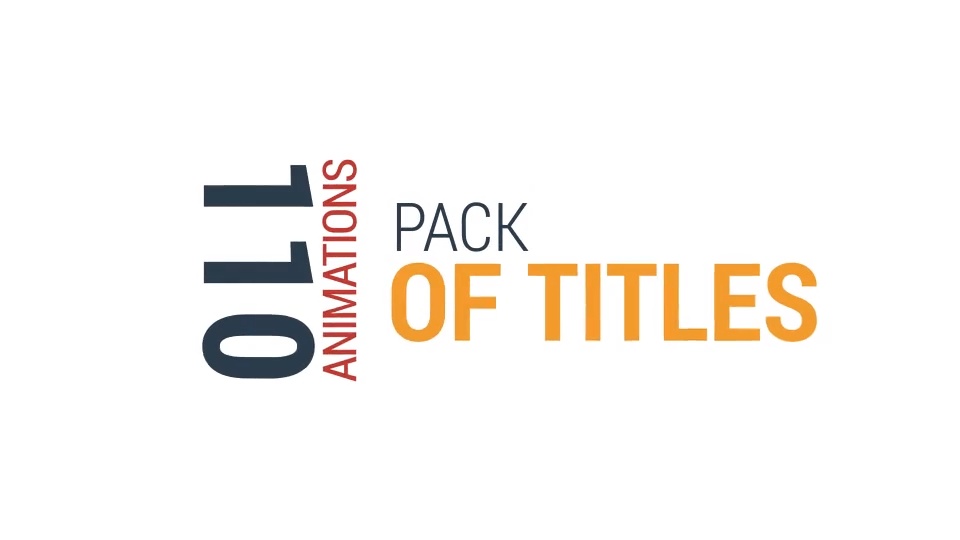 A complete Premiere Pro title template bundle with. 100 animated titles (MOGRT) in Full HD.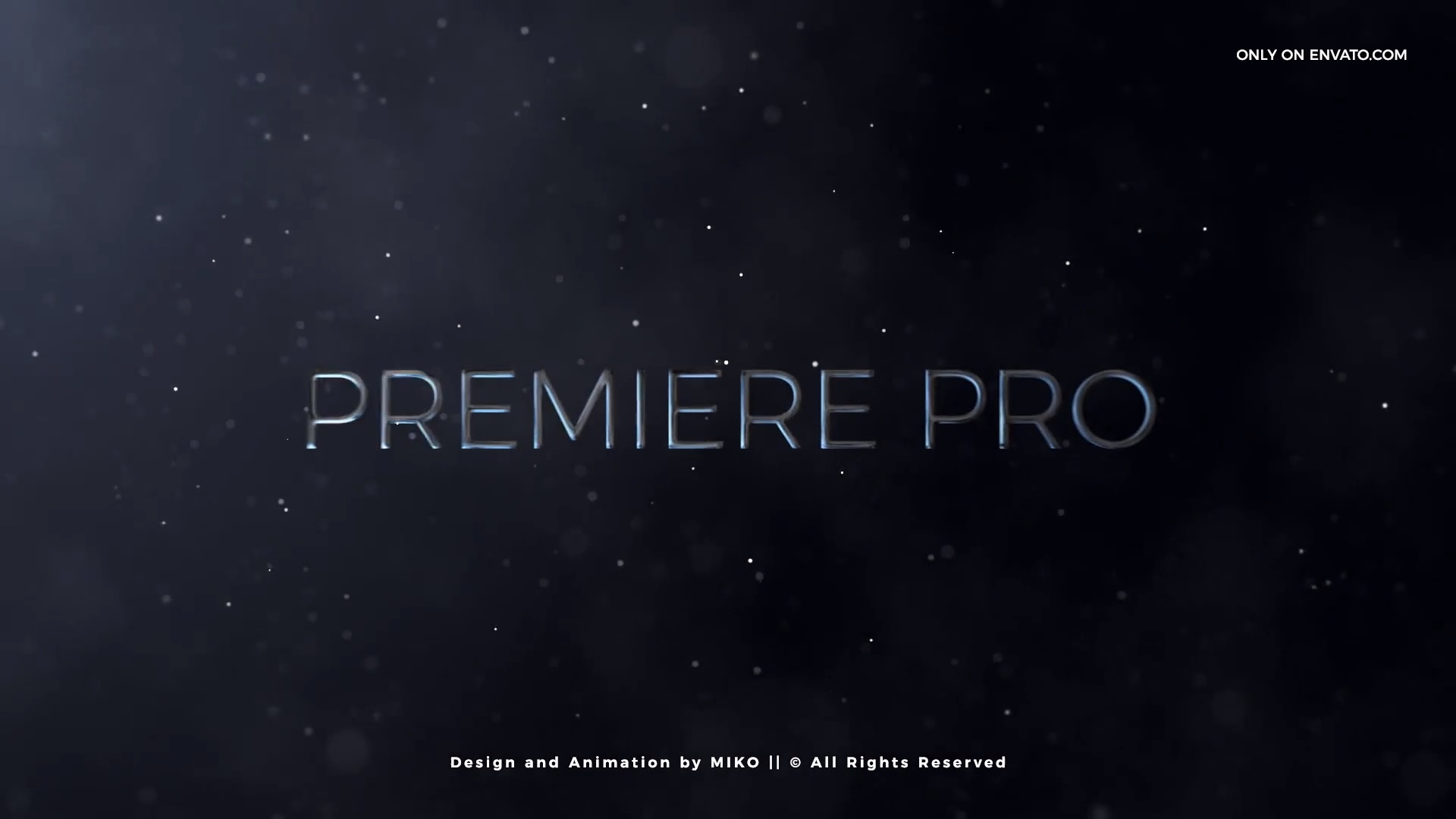 This Premiere Pro title project features elegant and modern cinematic titles. 
An upbeat and funky opener with an urban twist, this template for Adobe Premiere Pro will give your project a dynamic, modern feel. Definitely one of the coolest Premiere Pro title templates you'll find online.
A high-energy opener, this Premiere Pro template is perfect as a trailer or slideshow. Or, you can use it as the opener or title sequence as part of a larger project.
50 Free Premiere Pro Title Templates
There are plenty of Premiere Pro title templates free downloads out there... but here you'll find some the best free Premiere Pro animated title templates on the internet. Without further ado, here's our selection of title templates for Premiere Pro free.
These Adobe Premiere intro templates for free are framed titles without a background. It includes bold letters on three lines with an outline font style.
A cool and clean, minimal design Premiere Pro title which has full screen coverage and appears from left and to right.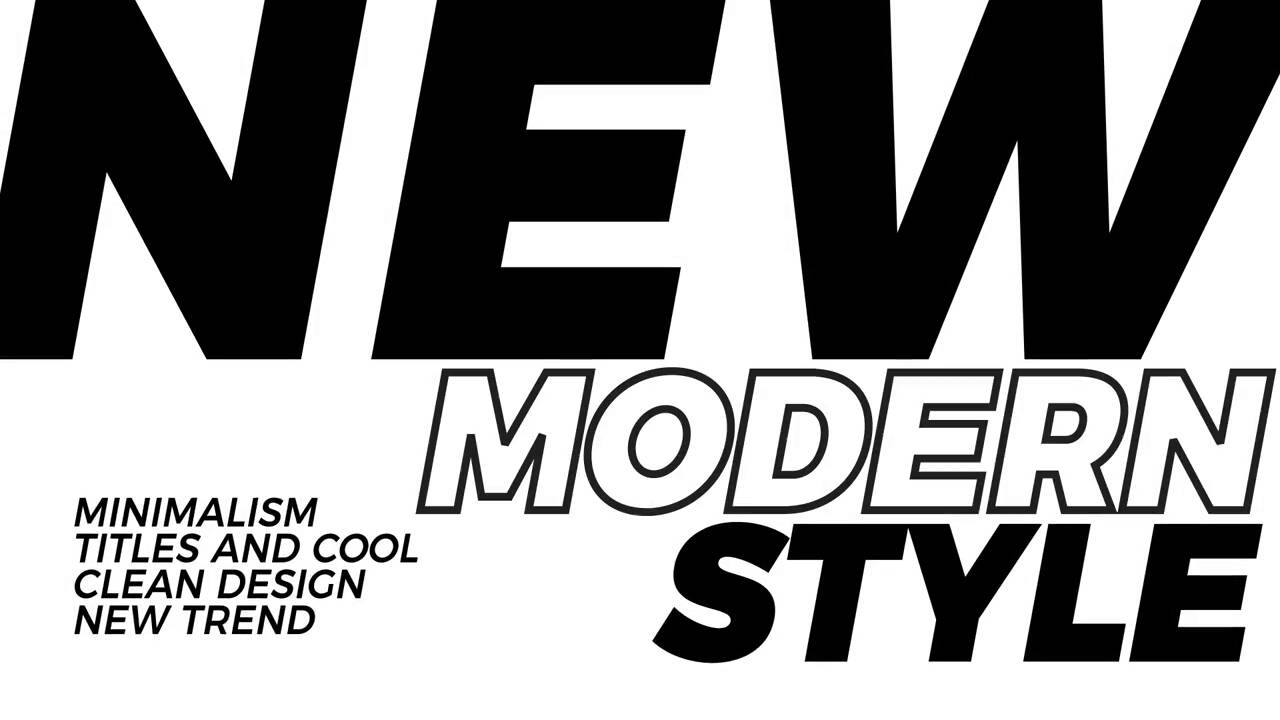 In the case of this Adobe Premiere intro template free, you'll find rotating text. It surrounds a headline block before exiting the frame – with a pop of colour!
A text delay animation across multiple taglines with dual-colour typography and animation.
An intro template Premiere Pro free with glyph cube effect with space for text and subheadings.
Angled text with outlined heading and a sub-heading.
This free Premiere Pro intro template includes a bright circle, expands in and shrinks out to reveal your title, text, or brand.
A simple box graphic with a colourful gradient, containing a heading and sub-heading.
Animated lines with a heading, moving to create a rectangle outline are what you can expect in title template for Premiere Pro free.
A simple title block template which transitions upwards into the frame and includes a splash of colour.
An animated paragraph of text comes in from the right. The Adobe Premiere Pro intro template free download features a double header block, too.
A funky splash effect  transitioning in from the right, uncovering a heading.
When one splash animation just won't do… try two with this Premiere Pro title template free download! Two splash animations uncover a double heading.
Spinning animation title template for Premiere Pro, pivot point fade in with left-aligned fade out.
With this free Premiere Pro title template you'll get an angled text intro, with text kick animation and shrink out effect.
This free Premiere Pro template features a spiral text title with animated text.
A collection of Premiere Pro title templates for free, including three lower thirds, an end credit, and an empty title to set as your default. 
Unfolding Titles gives text or logos a cool, unfolding effect designed to add interest and elegance to your project. The Adobe Premiere Pro template free is simple, well-organized and comes in both 4k and full HD versions.
With just the right amount of Diggity, Dubstep Glitch Titles is a Premiere Pro template with 11 scenes and modules for you to edit. You won't need any plugins and it's fully customisable.
Opener is a clean, cinematic Premiere Pro intro template free. With smooth animation and a modern, simple design, it's a good addition to your project, and you won't need any plugins to use it.
Multiframe Media Opener is a free eye-catching design and dynamic text animations for Premiere Pro. This template comes with 89 media placeholders, 10 editable text layers and 1 logo placeholder. You don't need After Effects or a plugin to use these and they're easy to modify. This is a good option if you're looking for a music video title template. 
With this free download you'll get 49 image/video placeholders, 34 editable text layers, and 1 logo placeholder. Instantly add modern titles to your video: just drag and drop your media and change text and colours to suit. 
Cinematic, dramatic… no it's not greased lightning, it's the Cinematic Motion Graphics Titles for Premiere Pro. Add a touch of movie magic to your project with this free download. Requires an email address.
Manifesto has no other agenda other than to help you create static titles, title rolls and title crawls with impact. The Premiere Pro intro template free download requires the FxFactory plugin.
The Titles Pack for Premiere Pro template contains nicely designed and animated title animations. You can use it without the need for After Effects. Open it up, change the text, and you're done – with 10 different animations to choose from.
This is a super simple Adobe Premiere Pro template free, perfect for creating quick and easy titles. Stop putting off that project and let someone else do the hard work for you!
To help you make title design in Premiere Pro even faster, here is the Cinematic Title Style Library. Create sleek, minimal, cinematic style openers before you can say 'Hollywood.' Direct download.
A left-aligned isometric title template, perpendicular to the edge of a description text box.
A fun, free template with pulsing glyphs with a glitch effect.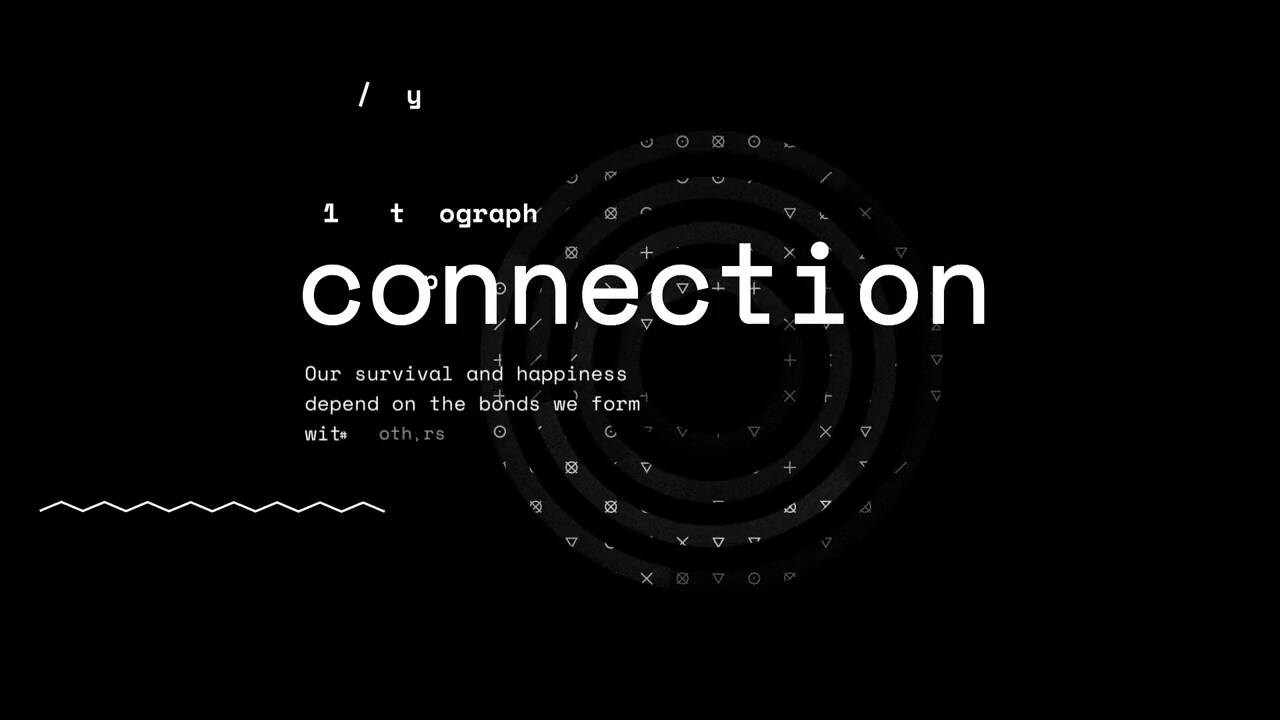 A hypnotic arrow pattern with a glitch effect and text transition.
A free template with a single heading with a glitch effect transition into a single subheading.
A full screen centred title animation inside with multi-colour circles and text moving in the background.
An Adobe Premiere Pro intro template for free that fills the screen with a colour gradient and centre-aligned description. It includes a button!
Full screen, with a translucent dynamic title and description diagonally.
Abstract luminescent circles and title balance this design. It includes a gradient colour overlay, subtitle, and description text.
Gradient colour features in this free Premiere Pro template. It includes textures in motion, surrounding a gradient title and subtitle.
Shaded title with the option for a text description below.
Full-screen title with two lines of text, one with a gradient color effect and one with an outline effect and a translucent dot background.
An animated, electric explosion reveals an outline framed title. A static electricity line goes through the title from left to right changing the color.
A bright and colorful Premiere Pro intro template free features multiple headlines. Also includes split transitions and overlays.
A liquid ink effect free Premiere Pro template with a wet-look transition between frames. It features bold text and a subtle color overlay.
An elegant Premiere Pro intro template free, with slow transitions and a fragmented blur effect.
Looking for a music video title template? An urban decay style title template, with fast transitions between frames and a grime overlay.
This option for an intro template for Premiere Pro free is fast. It's a solid minimal opener featuring quick transitions and overlays, ending with a logo frame.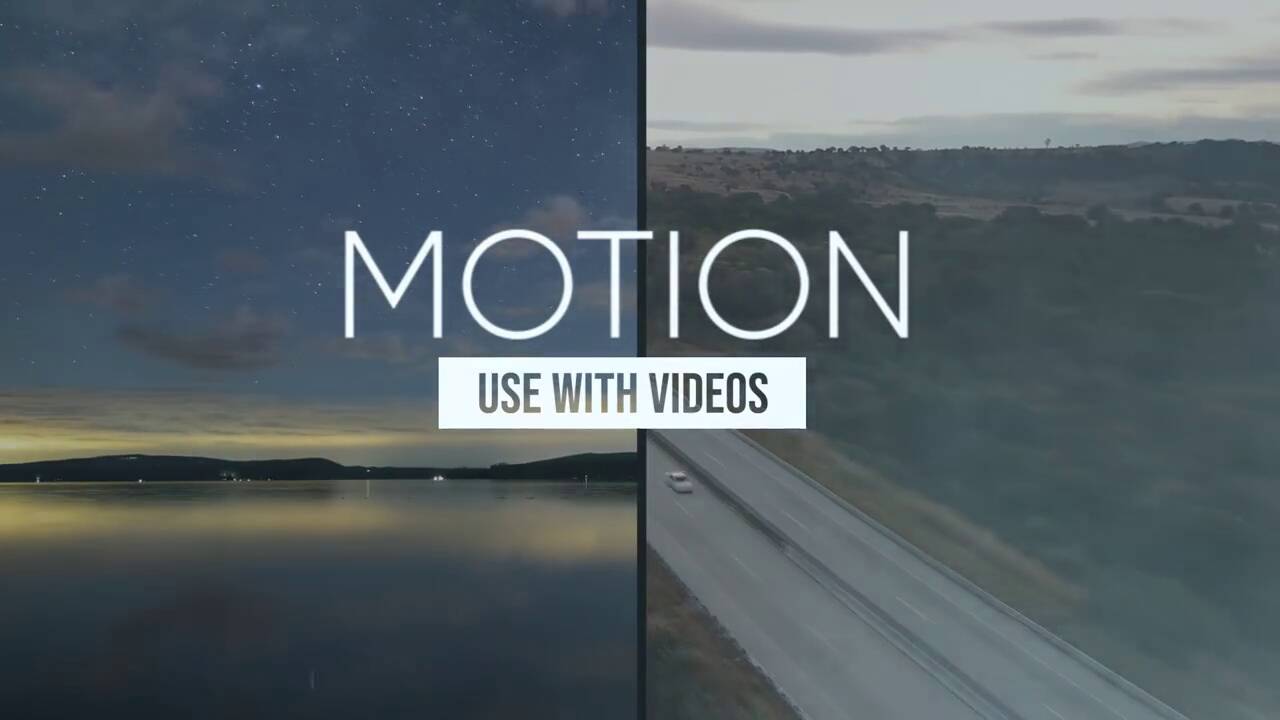 An animated liquid shape effect Premiere Pro intro template free with floating orbs and ending with a logo frame.
This informative free Premiere Pro intro template offers multiple text panels. It's a workable lower-third style heading with logo frame.
A modern, free Premiere Pro opener with a glitch effect, quick transitions and a logo finish.
On a website just a click away is the Star Titler Adobe Premiere Pro template free. Import your own text, and easily control the duration blur, and scroll. Requires the FxFactory plugin.
A fast-paced, kinetic text template with bold animated text and titles. A good option if you're looking for Premiere Pro CC title templates.
A fast and bold Premiere Pro opener, which switches between solid backgrounds and video footage.
5 Top Premiere Pro Intro Template Tips for 2023 (For Great Videos)
We've explored an amazing array of Premiere Pro intro template options. These include premium options from Envato Elements. And we looked at many intro video template Premiere Pro free options from around the web.
No matter where you find a title template, it pays to embrace the latest design tips. When you do, you're sure to create stunning videos that wow your audience. Your work will stand out from the crowd in 2023 and beyond. Read on to learn five of the very best:
1. Use Bold, Readable Text
Bold, readable text is an essential part of any Premiere Pro intro template. Remember, you want your audience to understand and embrace the message you're sharing. They can't if you use flashy fonts that are difficult to read.
The key is to use large fonts that are easy to understand at a glance. Avoid more eclectic fonts that are hard to read. And always consider where your finished video will be shared. On small screens, or screens viewed from a distance, it's even more imperative to use clear, sharp text. 
2. Use Title Template Designs with the Essential Graphics Panel
Adding a title template to Premiere Pro projects saves you time and effort. And you don't need to be an expert designer! Add premium or free title templates to Premiere Pro with the Essential Graphics panel.
This helps you build cinematic titles in a flash! When you work with Premiere Pro title templates, you can quickly add your own text effects to your work. You won't be starting from scratch. Instead, you'll simply be adding your own content to pre-built effects.
Learn the details in our handy tutorial:
3. Embrace Subtle Animations and Transitions
Premiere Pro title template packs help you kick off videos in style. Often, you'll find yourself sharing multiple clips at once. For maximum effect, you need to move between these clips in an engaging, eye-catching way.
That's where subtle animations and transition effects come in. These segue from scene to scene and clip to clip. Choose modest effects that aren't too exotic. The most dramatic effects will just distract your audience. Stylish, more cinematic options help you succeed in 2023. 
4. Create a YouTube Opener with Premiere Pro Title Templates
YouTube is a top way to share videos with the world. In moments, you can share your work with a global audience! And when you're sharing around the world, you want to attract and grow your viewer base. But this is challenging, with countless new videos emerging every single day.
Working with a premium Premiere Pro intro template is the perfect option. When you do, you'll establish a connection right away with new and prior viewers alike. Keep in mind - keep things short and sweet. Attention spans of online viewers are often short. You'll need to win attention right away.
Learn how to do exactly that here:
5. Introduce Your Brand in Style
Logo intro Premiere Pro title template designs are a powerful way to introduce your brand's logo. It helps establish your brand identity right away at the start of a video. This is critical - after all, first impressions matter, especially in marketing. 
Logo intros grab attention in promotional videos. Need to make a strong positive statement? Try a Premiere Pro logo intro. They'll bring your company's logo onscreen in epic, amazing style. The goal here is to grab audience attention. When you do, you'll help accomplish the mission of winning new clients and customers.  
Learning Resources From Envato
Keep Exploring After Effects With Envato Tuts+
After Effects FAQs
Recommended Tutorials
Are you getting started with Premier Pro? Learn the basics with this tutorial: How to Find Your Way Around in Premiere Pro, a Tour for Beginners. Get familiar with all the interface elements, frequently used panels and more Premier Pro resources.
Free Video Courses: Follow Envato Tuts+ on YouTube
If you prefer video tutorials, check out some of our free courses and tutorials on Envato Tuts+ YouTube channel. We have a few free courses to help you learn. Here's one to try, Ultimate Premiere Pro FAQ Free Course:
More Premiere Pro Templates to Check Out
Looking for more templates? We've got you covered. Envato Elements offers thousands of amazing Premiere Pro templates. That includes creative templates for titles, intros, lower thirds, slideshows, and much more.
Here are a few collections to get you started:
You Just Saw the Best Premiere Pro Title Templates
Now, it's your turn to try out one of the templates you saw. While the free title templates you saw are workable options, don't forget that premium gives you the most valuable. Try out premium Premiere pro title templates to create a great design - rapidly.
Want a weekly email summary?
Subscribe below and we'll send you a weekly email summary of all new Photo & Video tutorials. Never miss out on learning about the next big thing.
Sign up
Photographer and writer based in north east England.
Marie Gardiner is a writer and photographer from the North East of England. After gaining her degree in Film and Media, Marie worked in the media industry, before leaving to set up the business she runs with her partner: Lonely Tower Film & Media. As well as writing about visual practices like photography and video, Marie is also the author of Sunderland Industrial Giant (The History Press, 2017), Secret Sunderland (Amberley Publishing 2019), and Celebrating Sunderland (Amberley Publishing 2023). Her photographic work focuses on landscapes and industrial ruins, particularly those of the North Pennines as she continues to work on her long-form documentary project Changing Landscapes.
Looking for something to help kick start your next project?
Envato Market
has a range of items for sale to help get you started.