I first read Ibarionex Perello's articles in Outdoor Photographer Magazine. Then I found The Candid Frame podcasts. Now I have had the chance to interview the photographer behind all this work, and today I'll share that interview with you.
The Candid Frame is one of my favorite podcasts to follow. Ibarionex Perello gives us some of the best and most human interviews about photography and the world we live in that you'll find on the web. Take some free time and listen, not just because of the interviewer but also because of the people interviewed.
Perello is also an accomplished street photographer and a big advocate of Lightoom. That's what this interview is about.
Q

How do you describe who you are and what you do?
I am a photographer, writer and podcast producer. The order of priority depends on the day.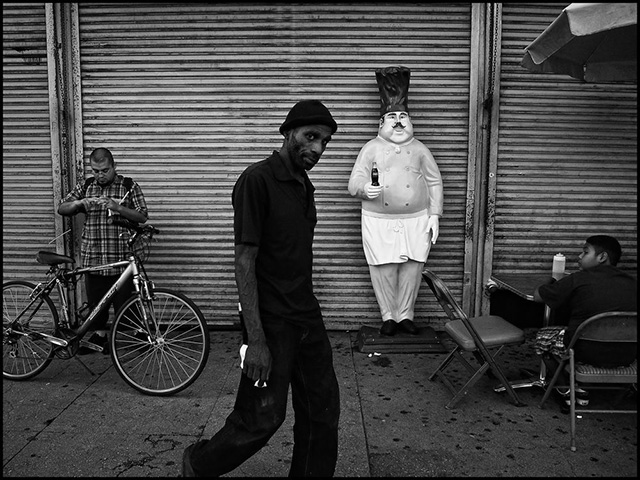 Q

How did you discover you wanted to be a photographer?
It struck me like lightning when I first worked in a darkroom. This happened while I was attending the Boys Club of Hollywood. From the moment I saw the image appear on the paper in the developing tray, my life was forever changed.
Q

I know your work from the Outdoor Photographer days. It was there I first found your articles and grew used to your style. I also read your work at Digital Photo Pro. How did you get to work for them? Was it difficult? Is there any advice you can give to people that want to not just see their photographs in magazines, but also write for them?
I was working at Nikon Inc. as a tech support rep, and I had wanted to return to writing. I had earned a degree in English Lit at UC Berkeley and had written for newspapers in college at Los Angeles City College. It was something that I really missed, and when I saw the job advertised in the newspaper, I knew I needed to apply.
The teams at the magazines were very supportive as I learned how to write articles that fit their needs. The biggest challenge was trying to find a voice, which is often still a challenge. But my editor, Rob Sheppard, was very helpful in learning how to communicate important information, but still put a personal stamp on it.
Q

These days you're a freelancer, mostly known by your The Candid Frame podcast, but also as an instructor at The Art Center College of Design and BetterPhoto.com. What are you teaching students at those places? Is it different to teach students you meet in person from those you only get in touch with online?
I teach a course called Working Photographer II, and it's a class that involves them working on editorial and commercial assignments, but as members of a team. With each assignment they rotate roles of responsibilities which include being the photographer, the production manager or the person writing up the invoices and estimates, etc.
Each assignment has its challenge and it really demands that they learn how to work in collaboration with others in order to produce the final product. They also have to produce a production book for each assignment, which reflects all the pre-production, production and post-production work.
It's as close to a real-world situation as I can create in the classroom. It's very different from teaching online or even my photo workshops. My other teaching involves sharing my approach to photography, particularly with how I see light.
Q

You have a technical background from your days working with Nikon, but the perception I have these days is that you care more about vision than technique. Your podcast, which is nearing 200 interviews, is an example of that. You're talking more about vision, emotions and feelings instead of technology. Why did you decide to create a podcast?
After so many years of being immersed in the technical, I've heard all the conversations and debates one can have about equipment. I have exhausted any interest in that. I'd rather talk about the work that is made possible by that equipment. It's always been the photographs that have got me most excited about photography and so I choose to spend a lot of my time discovering and looking at great work.
The podcast is an extension of that. I was an early adopter of podcasting and at the time most of the show just talked about gear. I thought it was a missed opportunity. So, I used my skills as an interviewer and learned how to produce a podcast, which allowed me to talk to photographers.
I wanted an excuse to speak to and share those conversations with the world. It really helps to keep my focus on my own photography, and I draw a lot of inspiration from those conversations. I hope that it does the same for anyone who regularly listens to the show.
Q

Did you have any idea your podcast would reach such notoriety when you started?
When the idea came to me, I knew that it would be a success. I knew that all I needed to do was do the work. I knew there would be an audience for it. What I didn't know was how it would open doors for me professionally as a writer and a photographer.
I don't think I would have written books if it wasn't for the show. I think it gave me a sense of confidence that I could do it. I didn't know anything about audio recording or podcasting when I started, but I figured it out, and it's grown into a show that's heard by thousands all over the world. How can you not feel emboldened about anything you do when you experience that?
Q

In these days, when image is paramount, and videocasts are common, The Candid Frame is an audio show only. It is like listening to the radio in the old days. What is the advantage of having a voice-only program? Do you have any plans to change the format?
Many people listen to the show as part of their commute to and from work. So, the audio format really fits that. People also listen to it while they are working. Video doesn't work for this. I think that the audio format is ideal for the conversations that I'm having, even though the topic is photography. They are conversations that I think provide insights into the creative process, and I think that just listening to our voices provides the best means to share that.
I am producing YouTube videos as an extension of the show, which will feature some conversations with photographers, as well as include some tutorials. The podcast will remain what it is, but the videos will be a nice complement to the program.
Q

You've also written books. Your first book, launched in 2011, was Chasing the Light: Improving Your Photography with Available Light. You now have 5 books, either alone or working with Vincent Laforet and Dan Winters. Will this be an area you intend to invest in more in the future?
I have enjoyed writing the books. It was a life-long dream to publish a book that I could find at my local bookstore and library. It's hard but very gratifying work. I've produced four published books in less than three years, which has been fun, but exhausting. I want to continue to produce books, and it will certainly continue to be part of what I do. Right now, I'm thinking about what I will produce next, which I suspect will involve my own personal exploration and relationship with photography.
Q

I browsed through your brand new website, which is a lesson itself in terms of an artist renewing himself. You say, there, that "the process of building a website has been more than just uploading images and putting them into categories. It's been a process of turning a critical eye to my own work." Do you think it is important for photographers to have their own website and also renew their websites from time to time, as you just did?
Just having a website alone isn't the key for me. I see many photographers with not just poorly designed websites, but with a selection of images which doesn't positively reflect on their work. I think the greatest goal for a website is to be an extension of one's creativity. While it does serve to showcase my work, it's the process of editing that I gain the most from as it demands that I look critically at my own work.
It's the editing process that reveals to me what I'm actually doing as a photographer. Shooting is the raw materials, but it's the editing that allows me to find my voice and the website is the means that I get to share the final results with an audience. If you have no editing skills, the website is going to be terrible regardless of how good the individual images may be.
Q

On your website, I fell in love with the We Cut Heads portfolio, which transforms a mundane moment into, and that's what I felt, a trip back to our memories. Your images in that collection are absolutely fantastic. How do you approach people in order to do such intimate work that brings common tasks of daily life to a new level?
I had the same feelings when I thought about shooting this essay at a barbershop in my neighbourhood. There was something about the relationship that people have with each other in such a space. Specifically, I was drawn to how men allow them to be physically touched and controlled by another man under this particular circumstance, that normally doesn't exist anywhere else except maybe a doctor's office.
After getting the permission of the owner to photograph, I just made myself a part of the furniture. I just made myself a part of the experience and no one asked why I was shooting. I think once you receive the permission of the person in authority, almost everyone else falls into line, and you can just do your thing.
It's very different from shooting on the street, which involves you involving each subject individually on a case by case basis. When approaching people on the street, it often starts with me complimenting something about them that drew my attention. From there, I can broach the idea of them being photographed. Other images involve the subject not even knowing that they are being photographed, which often means that the subject is an element in the overall scene.
Q

Are you photographing what you always wanted? I mean, sometimes photographers have two paths, their own work and what they do for clients, and they're in distinct compartments. Are you doing the photography you loves? Have you ever felt the curiosity or need to do something else?
I'm focusing more on the work that I want to do. I just found myself not being too happy with the work that I was doing for others, which really wasn't related to my preferences. This is why I'm working on updating my portfolio of work with just the work that I want to produce.
From there, I will reintroduce myself to the market with the very kind of work that I'm most excited about creating. I had done too many jobs just for a check and it always left me less than satisfied. I want to continue to earn money as a photographer, but I'm more interested in defining who I am as a photographer and finding clients for whom what I do makes sense.
Q

You come from film days and moved on to digital. What are, for you, the advantages of digital? Do you still use film?
I loved coming up in the age of film. It's certainly helped me be a good photographer in the digital age, but I don't shoot any film anymore. I use a lot of that knowledge when it comes to lighting and composition to my current work with digital. My post-processing is an important part of my work, but I am still working on a fairly subtle look.
For me, the big advantage of digital is the immediate feedback you get from the screen. I get to refine my shots in a way that wasn't possible with film. It's the little details that make or break a shot and digital provides me a way catch those things while I can still change things in-camera.
Q

What is your advice to people that want to pursue photography professionally?
Don't accept your own excuses as to why you can't go out and shoot. You have to make the time and do it regularly and consistently if you ever hope to be any good as a photographer. Being a weekend or a monthly photo warrior won't get you anywhere, regardless of how much money you spend on equipment. Shooting and editing, shooting and editing will be the only practice that will ever make you better.
Q

What gear do you use and what can usually be found in your photo bag these days? What software do you use for post-processing?
I currently use the 5D Mark III w/ a 40mm f/2.8, 50mm f/1.4, 85mm f/1.8, 24-105mm and a 70-200mm f/2.8. I use Adobe Lightroom 4.0 with the Nik Software Suite as well as the OnOne Software suite. I use Sandisk memory cards and I use the Upstrap as my camera straps, which are the best thing ever.
Q

What are your plans for the near future?
To have more fun. Challenge myself creativity. To create wonderful memories, some of which I'll capture with photographs.
---
Find out more about Ibarionex Perello at Ibarionex.net.
Weekly email summary
Subscribe below and we'll send you a weekly email summary of all new Photo & Video tutorials. Never miss out on learning about the next big thing.
Update me weekly
Translations
Envato Tuts+ tutorials are translated into other languages by our community members—you can be involved too!
Translate this post
Powered by
Looking for something to help kick start your next project?
Envato Market
has a range of items for sale to help get you started.