Read Time:
21 mins
Languages:
Piet Van den Eynde is a Belgian freelance photographer, author, Lightroom specialist, and black and white lover. I caught with him for an interview about his work and passions.
Piet Van den Eynde had his new eBook about Lightroom 5 published recently by Craft & Vision. An Adobe Certified instructor in digital photography and post-processing with both Adobe Lightroom and Adobe Photoshop, he may be at the forefront of digital technology, but still uses traditional filters in his cameras.
In this long interview we cover his photography, the workshop he is preparing for in 2014 and also his projects and dreams when it comes to photography.
Q

When did you first pick up a camera? What first attracted you to photography?
I was pretty late to start with photography. It was in the early days of the first digital cameras and I was looking for a creative outlet to compensate for what was then a creatively rather boring daytime job.
I remember buying a Nikon Coolpix 950 camera about 12 years ago. It had a two megapixel sensor the size of a fingernail – a baby's fingernail - and I really didn't have a clue about photography. For example, I really liked those old school negative borders that you sometimes see around black-and-white prints, but at that time, I thought they were a Photoshop filter instead of being the result the darkroom printing process.
I also very much liked shallow depth of field images (although at that time, I didn't have a clue that it was called depth of field, let alone how to achieve it).
I learned the hard way that my little new shiny camera with its very small sensor and relatively slow aperture would not give me the look I was after. At first, I tried to recreate that look in Photoshop using lens blur filters, but pretty soon I realized I was really lacking background and I enrolled myself for a five-year evening course in the Academy of Fine Arts where I lived.
I bought an analog SLR and learned the basics of photography the analog way. So I started out digitally, returned to analog and now I'm again working digital, but I'm happy to have had that analog background, if only for a relatively short time.
Q

At which point in your career did you decide to become a fulltime photographer?
You know, it's the old 'turn your hobby into your profession' thing. It's about five years ago now. I actually didn't choose so much myself, it was more the circumstances that chose for me, - but I'm very happy it turned out this way. I had been pursuing photography as a hobby (a necessary creative antidote to the stress of sales targets and number crunching of a daytime job in the finance sector) when I lost that job.
Rather than trying to find a similar job (I kind of had enough of it anyway), I decided I would at least try to make a living of photography, post-processing and helping people to get the most out of their images. For the latter, my initial dabbling with Photoshop 12 years ago came in handy.
I also learned how to work with Lightroom, did a couple of workshops on the subject, was asked by a publisher to do a book about it, which led to more workshops and that got the ball rolling. In 2010, I met David duChemin on one of his workshops and the idea was born that I'd write a book for Craft & Vision.
Q

Which photographers have influenced you? And outside of photography, are there areas from which you take inspiration?
Well of course, there's the classics such as Cartier-Bresson and the whole 'Decisive Moment' stream. As mentioned, I'm a big fan of shallow depth of field portraits and I also like to travel, especially in Asia, so that automatically brought me to the work of Steve McCurry and more recently, David duChemin and Matt Brandon.
Another photographer whom I admire is James Nachtwey. There's a highly recommended documentary made about him called War Photographer, in which they have put a tiny video camera on top of his camera so you see how he approaches things and subjects under extremely difficult circumstances of war or other calamities.
But everyday I see work that amazes me, just like the work of Nick Hall in the latest issue of Photograph. I like the work of Joe McNally and Joey L. There's so much great photography around, which is both stimulating and intimidating.
Just yesterday, I watched a documentary about a French photographer, Veronique de Viguerie, who was doing a reportage on South Sudan's "Arrow Boys," farmers who stand up against Joseph Koney. Halfway through the documentary, I learnt that she was pregnant, but she still kept doing her job under difficult circumstances.
Closer to home, I like the work of Belgian Magnum photographer Carl de Keyzer, who never ceases to reinvent himself, and who I was lucky enough to interview for my next Craft & Vision eBook that should be published sometime in September.
Q

You have a passion for black and white imagery done in Adobe Lightroom. Do you photograph in black and white in-camera, or is this a process you leave for the computer? Can you explain us your work process? Are there any specific tools you use besides Lightroom?
Well, this is one of the advantages of digital photography: unless you're working with a camera like a Leica Monochrome, in digital, you start out with a colour file. A big part of digital black and white is about translating colours to greyscale values between white and black, and managing the contrast between those translations making sure that what is red and blue in the original does not turn into two similar shades of grey.
Ironically, the more colour you have in your original image, the easier it is to make a striking black and white without having to turn to more time consuming (and more difficult) local adjustments. Lightroom's B&W Panel gives you control over the black and white conversion of eight colours (and the intermediary colours as well) simply by dragging the corresponding sliders.
Want to darken a sky? Then drag the Blues or Aqua sliders to the left. Want to brighten a face? Just drag the Orange slider to the right. You have an after the fact control that is incredible.
Yet, this doesn't mean that working with traditional filters is no longer necessary. For example, I will still use traditional graduated filters (I use the ones from a British company called Hitech) if the dynamic range of a landscape exceeds what my camera is capable of recording.
Now, other than Lightroom, I guess it's no longer a secret that one of my favourite plug-ins for black and white is Silver Efex Pro. I like the incredible quality of their algorithms combined with the ease of use of Nik's patented control point technology. I got a couple of videos on my blog that give a nice introduction to the power of this plug-in.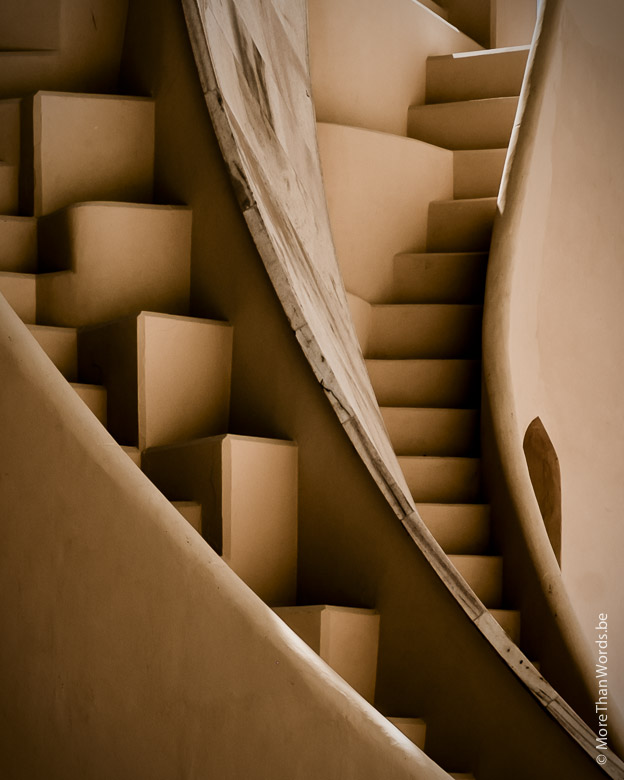 Depending on the file, I will either stay in Lightroom, or turn to Silver Efex Pro. Or I will combine both: do the heavy lifting in Lightroom and then send the file over as a Smart Object to Photoshop, running Silver Efex Pro as a Smart Filter.
For finishing touches, I will often do some local dodging and burning in Photoshop if I'm there anyway. I've even made a custom panel to speed this up. This panel is included for free in the full package of my Dodge and Burn eBook. I've also produced a video on how it works.
In Lightroom, I will also use presets. I really like rich, dark and contrasty black and whites and I've made a couple of presets that do the heavy lifting, allowing me to spend more time on local adjustments, which to me is a very important step in all post-processing, be it colour or black and white.
Q

What is it that attracts you to black and white?
I guess it's the fact that when you take away colour, all the other parts in your photograph such as texture, contrast, form and shape become more important. Also, as I really like to post-process, black and white offers a lot more creativity because you're no longer bound by the constraints of colour accuracy. Of course, you can tweak colours as well, and I will often do so in my colour work, but in black and white, you can make a friendly sky almost look pitch black and completely alter the atmosphere of an image.
Q

You've written four eBooks about techniques in Lightroom, from the essential workflow to advanced techniques. You also teach workshops, both for groups and individuals, in Photoshop and Lightroom. Are there more people interested in Lightroom than Photoshop these days, or do your students want to learn both?
I think it depends on the type of photographer you are. If you're a reportage photographer, then Lightroom is probably all you need. Even stronger, using Photoshop is costing you or your employer a lot of time and money. The same goes for most wedding photographers, I'd say. In today's economy, you simply don't have the time to put each individual image through Photoshop.
On the other end of the spectrum, if you're a photographer shooting Vogue covers, Lightroom's relatively limited retouching options won't be enough for you. But even then, I think Lightroom can accomplish a lot more than what many photographers who have grown up with Photoshop can or are willing to believe.
I think Lightroom and Photoshop (and in between both, plug-ins) form some kind of pyramidal workflow. Lightroom at the basis, doing the heavy lifting by processing one image and then synchronizing those settings with as many other images as possible. On the other end of the spectrum, at the top of the pyramid is Photoshop. I will use it for doing tasks that I simply cannot do in Lightroom such as advanced retouching, adding text, working with layers and layer masks and so on.
I also do a lot of my dodging and burning in Lightroom simply because it's fast and efficient and again, I can use presets. I'm in love with Lightroom 5's new Radial Filter and to me, that sole feature was worth the price of the upgrade. It lets you dodge and burn without having to paint!
Finally, there's also a size advantage to staying in Lightroom as long as possible. A raw file from my Nikon D800 weighs about 50MB in Lightroom, plus a couple of kilobytes in my Lightroom Catalog to hold all the metadata. The same file, opened as a 16-bit image in Photoshop, weighs 216MB.
Q

Lightroom has taken an important place in terms of photographer's workflow, and it has rapidly changed to offer more and more options, as Lightroom 5 shows. In your opinion, what does it need to be a complete tool so people do not need to use Photoshop? Do you think that will ever happen?
Every new version of Lightroom includes things that make it so you no longer need Photoshop. For example, there is the new healing brush that lets you take out power lines. In Lightroom 4, unless you have time to spare, you would have had to go to Photoshop.
Yet, on the other hand, Photoshop also brings new interesting features along. I doubt if Lightroom will ever be able to do everything that the photographic side of Photoshop can. And Photoshop will always have many masters to serve: web designers, graphic designers, painters, cinematographers, 3D artists. Photographers are but one of Photoshop's target audiences. Lightroom on the other hand, was specifically made for us.
Q

Photographers love to travel and you can take that to extremes. In 2009 you cycled through Turkey, Iran, India and Indonesia with a camera, flash and umbrella, for a project called Portraits of Asia. Was that trip the inspiration for your first photography eBook about the use of flash, which shows multiple examples of flash setups done with the minimum of gear for the maximum of effect?
It is true that my flash almost always goes with me. In recent years, flash photography has become more and more accessible and also easier to learn thanks to the instant feedback of our camera LCD screens. Yet, I noticed that a lot of photographers are afraid of using their flash or use it the wrong way which results in unflattering images.
When properly used, a flash can make all the difference. People sometimes ask me why I bother to bring a flash in sun-flooded countries such as Indonesia or India. And my answer invariably is, "exactly because there is too much sun." I use my flash to fill in shadows caused by the harsh sunlight or to create my own light.
Oddly enough, the more available light there is, the more I will use flash to augment and bend that available light to where I want it to be in relation to my flash. The less available light there is, the less likely I am going to use flash, because then, it can quickly kill the atmosphere. I will rather crank up my ISO instead. Luckily, both my Fujifilm and my Nikon cameras are really good at high ISO's.
Q

You also published a second eBook about flash photography called Making Light II, Advanced Use of Off-Camera Flash, where, as the name suggests, you dig deeper into the use of flash. Is the use of flash something very important in your own work?
As I mentioned, it is because I really like to control my lighting. It's not about the quantity of light. In most cases during the day, there is more than enough light to technically make a correctly exposed image.
It's about the quality. Artificial flash light can be controlled and softened and can be used to partly or even completely replace the ambient light. The look and quality of which is much harder to control. I don't know of a ladder that lets me climb all the way to the sun and change its orientation by a couple of degrees!
That's also why, currently, I like to experiment with using flash on my Fujifilm X100S, because of its fast sync speed of 1/2000th of a second, you can do a lot with a single speedlight.
Q

In terms of gear what can be found in your bag?
Well, apart from a flash and an umbrella (the very handy Lastolite trifold) when I'm travelling, more and more I'm working with my Fujifilm X-Pro 1, X-E1 and X100s. I have evolved from only making those shallow depth of field portraits to also making environmental portraits that show the person in their surroundings.
In a way, my new favourite portrait lens is a wide angle. That's why I always have the Fujifilm 14mm on one camera, and generally, the 35mm f/1.4 on the other. I made the bulk of my travel images with these two.
For next year's Rajasthan Photo Workshop, in which I will be joining seasoned travel pro Matt Brandon, I'll also take the X100S with me and as mentioned, experiment with using flash with this camera.
I also take a slightly heavier flash system, the Elinchrom Ranger Quadra, with me. Call me nuts, but instead of just being happy with the weight savings these compact system cameras are providing over traditional DSLRs, I've actually chosen to invest my weight savings in extra lighting gear.
Finally, I generally also have a couple of variable ND filters with me (I use the ones from Lightcraftworkshop) and when I'm shooting with my Nikon D800 or D600, I use Phottix Odin triggers to control my flashes.
By the way, all the images in this interview were shot during the 2013 edition of the workshop. The 2014 edition, which will be held from February 16 to March 1, only has a few more spots available. We had a blast last year. Just read the raving reviews on the workshop's info page, and I'm looking forward to next year's adventure as well.
Q

New photographers and readers always want to know the secret of success, or at least how to move from the amateur field to being a working photographer. Is there a shortcut to achieve the status or is it a long winding road? Any tips for those wanting to try it?
I don't believe in shortcuts. However, it's become a lot easier to learn about photography, both about the technicalities and about the philosophy behind it, thanks to the internet. There's an enormous amount of excellent training available if you can find it, often at affordable prices.
That's what I like about Craft & Vision, they try to keep the content affordable. It's not the first time that I hear readers of my books say that if the book had cost double or even triple, they still would have bought it and I'm sure the same goes for other titles. But all the reading and surfing on the internet and watching videos are no substitute for actually going out and making photos.
So, instead of buying the most expensive lens and camera, get a cheaper model and use your savings to buy a plane ticket or book a great model or follow a hands-on workshop with a photographer who you admire and photograph, photograph, photograph.
For Making Light II, I interviewed four Belgian professional photographers, and they all agreed on one thing: that personal work and experimenting while shooting that personal work was key to growing as a professional photographer. So, if this holds true for people that are already professionally involved in photography, I'd say it's even more important for those aspiring tp that.
Q

What are your projects for the future? Is there a specific direction you want to take your photography?
Well, I still want to explore the world with my camera and my flash, and I want to grow better at doing so. I would really love to visit Cuba again and in addition to the Rajasthan workshop, I will probably be teaching Lightroom and post-processing as a workshop in Italy sometime next year.
On the other hand, my wife and I are expecting our first baby so don't be surprised if you see more baby shots pop up in my books in the near future! But even then, two things will probably remain: I will have used a flash and the images will be processed in Lightroom!
Weekly email summary
Subscribe below and we'll send you a weekly email summary of all new Photo & Video tutorials. Never miss out on learning about the next big thing.
Update me weekly
Translations
Envato Tuts+ tutorials are translated into other languages by our community members—you can be involved too!
Translate this post
Powered by
Looking for something to help kick start your next project?
Envato Market
has a range of items for sale to help get you started.