Read Time:
3 mins
Languages:
Předem vytvořené šablony vám mohou pomoci přidávat další dimenze. V tomto článku jsme sestavili některé z nejlepších plochých návrhů After Effects na VideoHive, které vám pomohou přinést metaforu plochého designu do jakéhokoli video projektu.
Flat-tastic!

Rachel Shillcock definuje plošný designový trend takto: "Plochý design je právě ten, design, který přichází bez dalších hloubkových zdobení, jako jsou textury, (zřejmé) přechody nebo 3D aspekty a místo toho je nahrazen" plochější "estetikou, která je velmi čistá a ostrá. " Sven Lenaerts říká, že "plochý design používá jednoduché prvky a tvary kombinované s převážně jasnými barvami, aby zdůraznily jednoduchost a jasnost."
Zní to skvěle, ne? U některých videí je plochá estetika správnou věcí pro dokončení vzhledu.

Ploché prezentace a šablony prezentací

Rychle zobrazte fotografie nebo videa v šabloně Super Simple Slide Show After Effects, která je k dispozici v 4K a HD1080. Všechny animované scény mají na začátku přechod, ale na konci nejsou žádné, takže můžete scény překrývat jakýmkoli způsobem, chcete-li změnit časování videa.
Corporate Slideshow je čistá a jednoduchá prezentace obsahující 28 zástupných fotografií. Šablonu lze snadno přizpůsobit a barvy lze měnit jedním kliknutím.
Minimal Slideshow

Šablona rozlišení s rozlišením full HD s 24 zástupnými symboly pro obrázky nebo videa a 12 míst pro text. K dispozici je video tutoriál, který vám pomůže nastavit vše.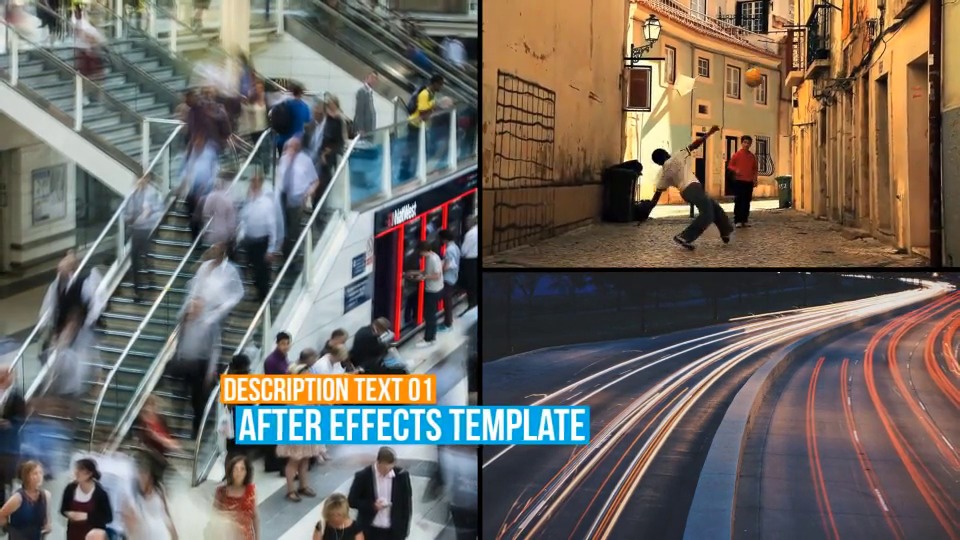 Jedná se o prezentaci navrženou tak, aby o vás nebo vaší společnosti stručně vypověděla. Projekt má modulární strukturu, takže můžete snadno vymazat, vyměnit nebo duplikovat některé součásti.
Firemní prezentační šablona zahrnující: Logo, O nás, Týmová práce, Časová osa, Infografika, Proces, Produkty, Náš klient, Svědectví, Kontakt, Logo Outro. Full HD a kompatibilní s Adobe CS6 a novějšími.
Flat Broadcast Identities

Kompletní program televizního vysílání pro vaše video produkce založený na plochém designu a dostupný ve 4 barvách: modrá, zelená, purpurová, tmavě azurová. Projekt je snadno použitelný a rychle se vykresluje.
Tato snadno přizpůsobitelná šablona obsahuje odkaz na použité volné písmo a obsahuje držitele loga, nižší třetiny, držitele sponzorů a další.
Kompatibilní s aplikací After Effects CS4 a vyšším a poskytovaná v plném rozlišení HD 1920 x 1080. Šablona zahrnuje přechod loga, nižší třetinu, promos, koncové kredity a další.
Moderní balíček prvků, který vám pomůže vytvořit čistou a stylovou předpověď pro televizi nebo YouTube. Obsahuje více než 40 animovaných bezešvých ikon smyček a 4 předvolby scény.
Tento Broadcast Pack je navržen tak, aby zvýraznil a propagoval váš televizní kanál. Zahrnuje různé barevné motivy a plně upravitelné názvy a tituly.
Flat Infographics
Flat Infographics Pack 2 má 32 prvků, které jsou užitečné pro širokou škálu aplikací. Mohou být editovány nebo kombinovány rychle a jednoduše, čímž se do projektu přidá dodatečná hodnota a moderní vzhled.
Obsahuje 150 infografických prvků, včetně grafů, diagramů, animovaných map a mnohem více, tento infographic balíček učiní vaše video nebo prezentaci moderní, elegantní vzhled.
Barevný a čistý design pro statistiky. Obsahuje 6 hlavních displejů a je kompatibilní s After Effects CS5 nebo vyšším.

Flat On-screen Information
Kompatibilní s CS6 a novějším, tento balíček Call-Outs obsahuje více než 40 možností a je kompatibilní s 500 ikonami Google. Stahování obsahuje výukový program PDF s odkazy na všechna použitá písma.
Našli jste váš oblíbený plochý design?
Pokud jste našli skvělou šablonu After Effects, dejte nám vědět!

Weekly email summary
Subscribe below and we'll send you a weekly email summary of all new Photo & Video tutorials. Never miss out on learning about the next big thing.
Update me weekly
Translations
Envato Tuts+ tutorials are translated into other languages by our community members—you can be involved too!
Translate this post
Powered by
Looking for something to help kick start your next project?
Envato Market
has a range of items for sale to help get you started.