Read Time:
3 mins
Languages:
Vítejte v naší sérii Photoshop v  60 sekundách, ve které se můžete naučit dovednosti, vlastnosti nebo techniky ve Photoshopu. A to v minutě!
Efekt skeče
Efekt skeče vezme obyčejnou fotografii a transformuje ji do uměleckého díla-jako by bylo nakresleno profesionálním umělcem. Použitím invertované Vrstvy maska a tvrdého Štětce s texturou tužky, můžete dosáhnout snadno tohoto efektu s trochu času a strategie. Až budete dělat tento efekt, určitě se držte tradičních pravidel pro kreslení jako je šrafování nebo šrafování křížem pro věrný vzhled.

A podívejte se na video níže, jak tohoto efektu dosáhnout.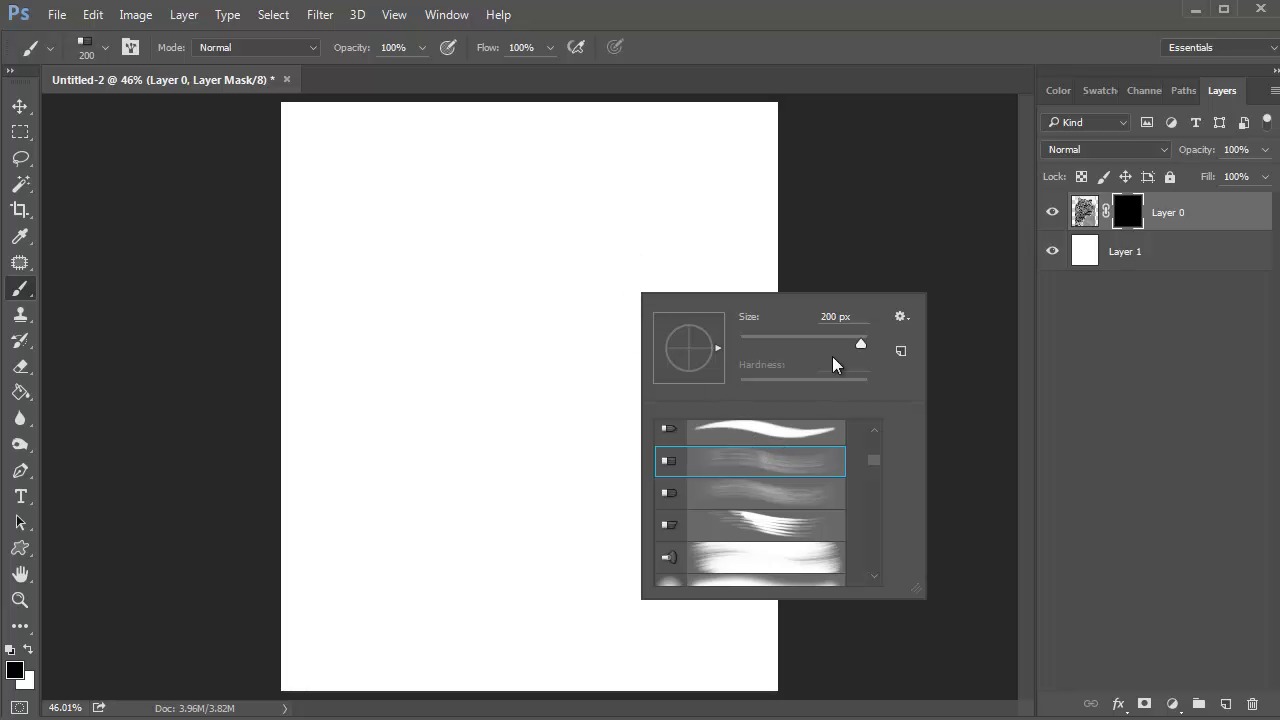 Začněte zvýšením šířky vašeho plátna (Control-Shift-C). V našem příkladě jsem ji na stavil na 15 palců, což je dostatečné místo pro náš obrázek. Potom vytvořte novou vrstvu, vyplňte ji bílou barvou a přetáhněte ji pod váš obrázek. Vyberte vrstvu s fotkou, jděte do Obraz - Přizpůsobení a zde vyhledejte Odstín a sytost. Nastavte Sytost na -100 aby se obrázek změnil na černobílý. Přidejte Vrstvu masky na vrstvu obrázku a vyplňte masku černou barvou tak, že obrázek zmizí.

Nyní vyberte nástroj štětce a použijte plochý, tupý, tvrdý štětec a začněte kreslit bílými tahy na černou masku vrstvy. Začněte s širšími tahy, aby se obrázek začal pomalu objevovat. Využijte šrafování křížem, aby efekt vypadal realističtěji. Snižte velikost vašeho štětce a koncentrujte tahy směrem do centra obličeje nebo objektu pro více detailů. Potom použijte nástroj gumy, abyste jemně odstranili jakékoliv drsné hrany.

Abyste zvýšili kontrast, přidejte novou vrstvu úprav s Úrovněmi a následně vytvořte novou vrstvu vyplněnou světle šedou barvou. Nastavte Režim prolnutí na Násobit a lehce vymažte střed.

A je to!

Skeč efekt pomocí mocné akce

Na GraphicRiver je k nalezení skvělá Skeč efekt akce pro Photoshop od laglanz. Tahle akce ve dvou krocích pozvedne skeč efekt ještě dále, mimo kresby od ruky v našem příkladě, třeba také vzhled precizní technické kresby.

Laglanzova akce je velmi praktická. Pro některé lidi, naučit se techniku skeče může být problém-toto je velice dostupné zjednodušení. I když máte dovednosti v kreslení skeče, možná potřebujete vytvořit skeč produktu nebo objektu ve více kontrolovaném stylu. Tahle akce vám dá přesný, technický vzhled kresby. Tahle akce je také dobrým nástrojem, protože je velmi opakovatelná-jednoduše překreslete oblasti, které chcete zdůraznit a akce se postará o vše ostatní. Skvělé pro vytváření konzistentního vzhledu přes více obrázků, zvláště pokud se blíží deadline.

Stejně jako s každou akcí, upravte výsledek podle vaší chuti a závislosti na předmětu a účelu snímku.

Trošku více detailněji
Naučte se více o Adobe Photoshopu na Envato Tuts+:
60 sekund?!
Tohle je část ze série krátkých tutoriálů zde na Envato Tuts+, ve kterých představujeme řadu témat, a to v 60 sekundách-akorát dost na to, abyste neztratili chuť. Dejte nám vědět v komentářích, co si myslíte o tomto videu a co byste chtěli vysvětlit příště v 60 sekundách!

Digital Artist - CT, USA
I'm an Afro-Latina digital artist originally from Long Island, NY. I love to paint, design, and photo manipulate in Adobe Photoshop while helping others learn too. Follow me on
Instagram
or tweet me
@MelloNieves
and tell me what you'd like to see next!
Looking for something to help kick start your next project?
Envato Market
has a range of items for sale to help get you started.