Read Time:
3 mins
Languages:
Pokud hledáte způsob, jak přidat tuto vychytávku k videu pro vaše klienty, zvažte kompozici s jemnými skladovými prvky s alfa kanály. Je-li složen správně (a v rozumu), tato technika může pomoci zvýraznit vaše drone videa.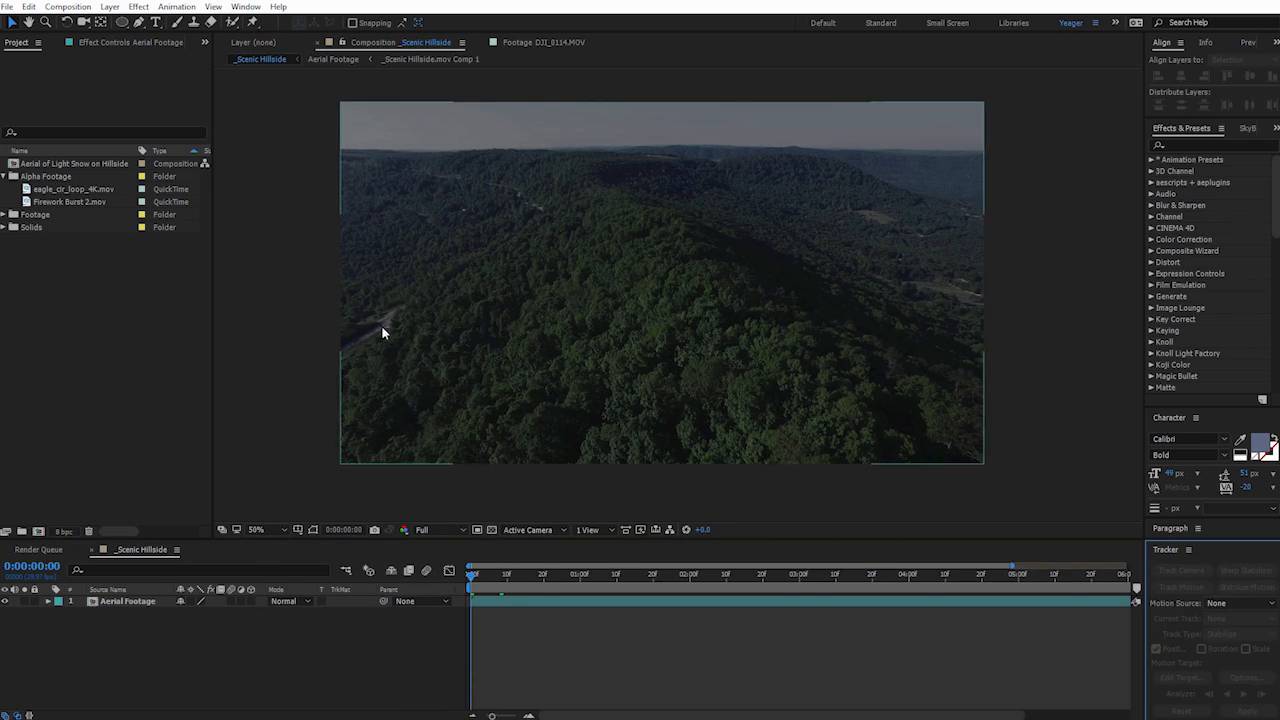 Které záběry jsou nejlepší?
Záběr musí mít alfa kanál, což znamená, že pozadí je průhledné. Dobrým příkladem jsou záběry s létajícími ptáky, mlha přes scénu a tak dále. Obvykle se na náhledu za grafikou zobrazí šablona typu šachovnice. To znamená, že váš prvek má kanál "alfa".
Další věc, kterou je třeba zkontrolovat, pokud grafika někdy vyjde z rámu nebo se odřízne na okraji. V ideálním případě nebudou a protože nebudou, můžeme změnit měřítko a umístit stopu kdekoliv v našem záběru. Pokud je záběr oříznut na okraji, bude mnohem těžší ho zakomponovat do záběru, protože nelze měnit jeho velikost.
Jak přidat stopu do záběrů z dronu
Existují dva způsoby, jak spojit dva videozáznamy k sobě. Nejjednodušší je jen přetáhnout klip a umístit ho na horní část vašeho záznamu. Můžete to udělat v aplikacích Adobe Premiere Pro nebo After Effects. Potom můžete změnit velikost a pozici. Tato metoda funguje lépe, když se snažíte přidat iluzi, že prvky, jako jsou ptáci, jsou daleko od kamery a pokud se drone nepohybuje příliš rychle.

Sledování záběrů k záběru z dronu
Druhá metoda funguje nejlépe, chcete-li do snímku přidat větší hloubku. V programech After Effects budete muset sledovat stopy z drone pomocí sledovače kamer. Pak přetáhněte svůj záběr, nastavte jej na 3D a přemístěte jej do 3D prostoru. Můžete také zapnout rozmazání pohybu, abyste kompozitu ještě více vylepšili.

Tipy kompozice
Konečně budete chtít opravit barevnost stopy tak, aby odpovídaly vaší scéně z dronu. V Premiere a After Effects doporučuji použít efekty Lumetri Color. Ujistěte se, že kontrast a saturace barev odpovídají. Doporučuji nižší saturaci, protože spousta zásobních prvků může být příliš nasycená při prvním použití a prvky reálného světa mají obvykle nižší saturaci. Také doporučuji jemné rozostření na vaše skladové prvky. Pomůže to spojit prvek do vašeho záběru z dronu a odstranit ostré hrany, které jsou běžné na prvcích CGI.

Být jemný je klíč
To je skvělý trik pro zdůrazňování videa klienta, a pokud jste dost jemný, vaši klienti nebudou ani vědět, že přidané prvky nejsou reálné. Nebojte se s být kreativním! Můžete vytvořit opravdu skvělé kombinace pomocí podvodních prvků s oblačno vzdušnými záběry.

Kde začít hledat záběry?
Videohive má úžasný výběr sériových stop s alfa kanály a chtěl jsem vypsat některé z mých oblíbených klipů, které slouží jako výchozí bod. Také jsem chtěl zmínit autora Videohive CGLight, který má úžasné portfolio alfa kanálových prvků.
Zmíněno v tomto tutorialu
Charles Yeager is a Motion Graphics Artist and Filmmaker currently residing in Arkansas. Locally he works with many advertising and production companies in the South and Midwest. He also regularly creates tutorial content for Envato Tuts+, Mettle, Adobe, and PremiumBeat. See his portfolio at
yeagerfilm.com
.
Weekly email summary
Subscribe below and we'll send you a weekly email summary of all new Photo & Video tutorials. Never miss out on learning about the next big thing.
Update me weekly
Looking for something to help kick start your next project?
Envato Market
has a range of items for sale to help get you started.