Charles Yeager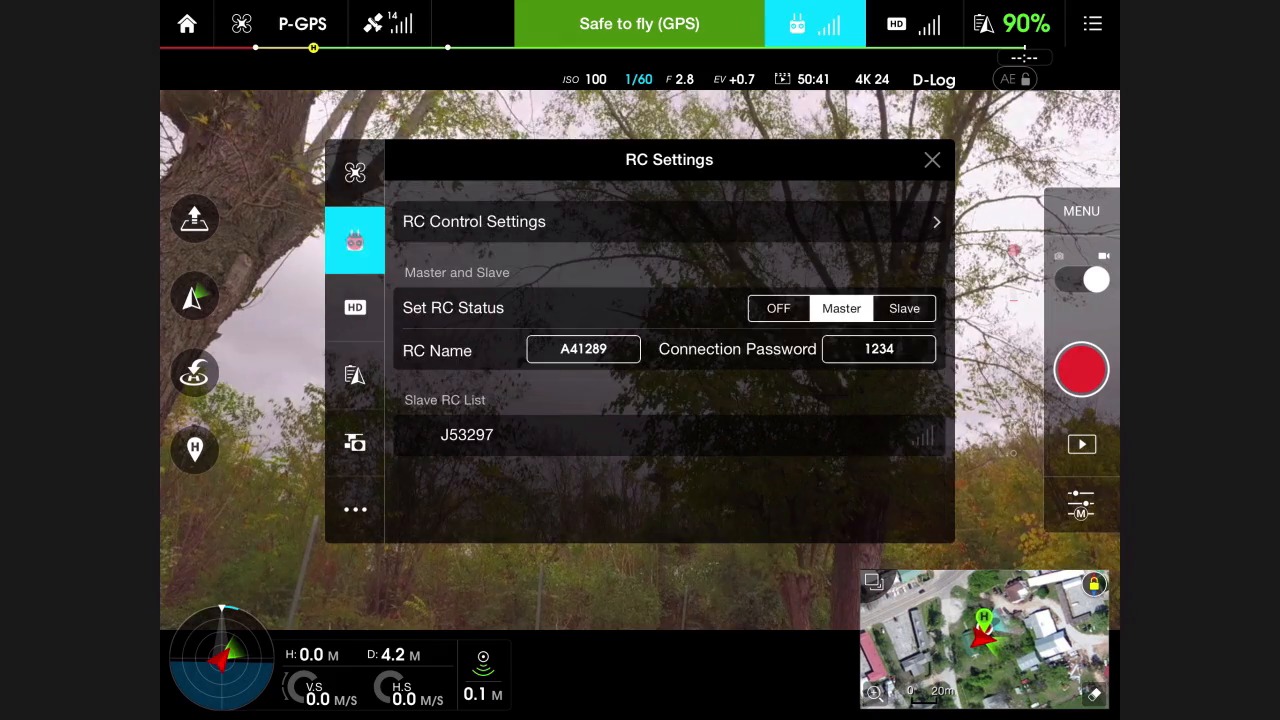 Když poprvé spustíte DJI GO aplikaci uvidíte čtyři různé záložky na dolní části obrazovky. Equipment je záložka kterou použijete pro přímé připojení k vašemu dronu. Library vás nechá prohlédnou klipy, které jste vyfotili vaším dronem. Záložka Explore funguje jako platforma sociálních medií, kde můžete sdílet obrázky a videa s DJI komunitou. A konečně je tu záložka Me, kde se můžete přihlásit s vaším DJI účtem a nastavit váš účet.
1. Připojte vaše mobilní zařízení
Než budeme pokračovat, musíte připojit vaše mobilní zařízení s nainstalovanou DJI GO aplikaci k vašemu dálkovému ovládání pomocí USB kabelu. Potom dálkové ovládání můžete pustit.
2. Náhled kamery
Když máte vše propojené a spuštěné, klikněte na záložku Equipment a vyberte Enter Camera View. Objeví se DJI HUD, který vám ukáže různé informace o vašemu dronu. První věc která se objeví je Aircraft State což nám ukazuje klíčové informace o dronu, jako životnost baterie, informace o paměťové kartě a režim letu.
3. Kalibrace kompasu
Vždy je dobrý nápad vykalibrovat kompas před každým letem a to můžete udělat z menu Aircraft state.
4. Sledujte horní panel
Horní panel aplikace DJI GO obsahuje různá nastavení týkající se letu vašeho dronu. Obsahují věci jako například Home Menu, MC nastavení, RC nastavení, životnost baterie a nastavení přenosu obrazu.
5. HUD dronu: informační displej
Nejdůležitější informace o letu vašeho dronu jsou na hudu nebo informačním displeji, který je dole v levém rohu obrazovky. HUD ukazuje klíčové informace, jako směr, rychlost, výšku letu vašeho dronu. Ve spodním pravém rohu máte také náhled mapy, který je podobný Google Earth pohledu na okolí.
Další užitečné kontrolky
Ikony rychlého přístupu
Úplně vlevo na obrazovce jsou čtyři ikony rychlého přístupu, které umožňují automatické vzlétnutí, návrat domů, různé nastavení gimbalu kamery a nastavení nového domovského bodu.
Menu funkce kamery
Camera Functions Menu je na pravé straně obrazovky a umožňuje přístup k různým nastavením kamery. Toto menu je spíš jako nastaveni na tradiční kameře. Můžete rychle změnit mód videa a fotografie, stejně jako měnit rozlišení, vyvážení bíle a profil snímku. Také vidíte velké červené tlačítko, pro spuštění nahrávání.
Inteligentní módy letu
Pokud změníte mód letu pomocí přepínače na horní části ovladače z P na F, získáte přístup k menu inteligentních módu letu. To vám dovolí nastavit automatické trasy pro váš dron jako je orbit, follow me nebo waypoints.
DJI Academy
Umístěná v Home Menu v pravém horním rohu je DJI Academy stránka, která vám umožní přístup k digitálnímu manuálu vašeho dronu, video tutorialům a leteckému simulátoru.
Zmíněno v tomto tutorialu
Want a weekly email summary?
Subscribe below and we'll send you a weekly email summary of all new Photo & Video tutorials. Never miss out on learning about the next big thing.
Sign up
Charles Yeager is a Motion Graphics Artist and Filmmaker currently residing in Arkansas. Locally he works with many advertising and production companies in the South and Midwest. He also regularly creates tutorial content for Envato Tuts+, Mettle, Adobe, and PremiumBeat. See his portfolio at
yeagerfilm.com
.
Scroll to top
Looking for something to help kick start your next project?
Envato Market
has a range of items for sale to help get you started.