Envato Market
Vorgefertigte Vorlagen können dazu beitragen, Ihren Videos eine zusätzliche Dimension zu verleihen. In diesem Artikel haben wir einige der besten After Effects-Vorlagen für flaches Design in VideoHive zusammengestellt, damit Sie die Metapher für flaches Design in jedes Videoprojekt integrieren können.
Flat-tastic!

Rachel Shillcock definiert den flachen Designtrend folgendermaßen: "Flaches Design ist genau das; Design, das ohne zusätzliche Tiefenverzierungen wie Texturen, (offensichtliche) Farbverläufe oder 3D-Aspekte auskommt und stattdessen durch eine" flachere "Ästhetik ersetzt wird, die sehr sauber ist und knackig." Sven Lenaerts sagt: "Flaches Design verwendet einfache Elemente und Formen, kombiniert mit überwiegend hellen Farben, um Einfachheit und Klarheit zu betonen."
Hört sich toll an, oder? Für bestimmte Videos ist eine flache Ästhetik genau das Richtige, um den Look zu vervollständigen.

Flache Diashows und Präsentationsvorlagen

Zeigen Sie Ihre Fotos oder Videos schnell in der Super Simple Slide Show After Effects-Vorlage an, die in 4K und HD1080 verfügbar ist. Alle animierten Szenen haben am Anfang einen Übergang, am Ende jedoch keinen, sodass Sie die Szenen beliebig überlappen können, um das Timing des Videos zu ändern.
Firmendiashow ist eine übersichtliche und einfache Präsentation mit 28 Foto-Platzhaltern. Die Vorlage ist einfach anzupassen und die Farben können mit einem Klick geändert werden.
Minimalistische Diashow

Eine Vorlage in Full-HD-Auflösung mit 24 Bild- oder Video-Platzhaltern und 12 Texthaltern. Ein Video-Tutorial hilft Ihnen beim Einrichten.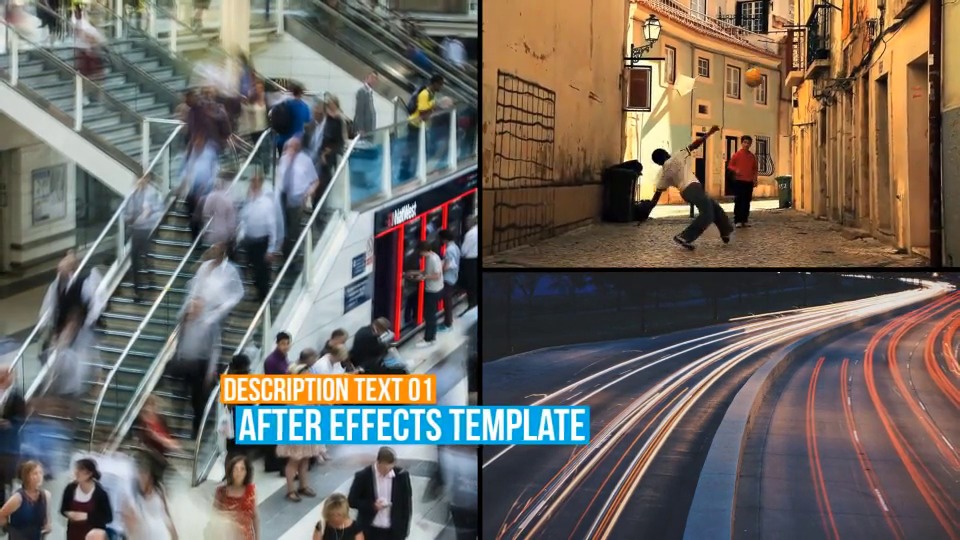 Das ist eine Präsentation, die kurz über Sie oder Ihr Unternehmen berichten soll. Das Projekt ist modular aufgebaut, sodass Sie einige Teile einfach löschen, austauschen oder duplizieren können.
Eine Präsentation für Unternehmenspräsentationen, einschließlich: Logo Into, Über uns, Teamarbeit, Zeitleiste, Infografiken, Prozess, Produkte, Unser Kunde, Testimonial, Kontakt, Logo Outro. Full HD und kompatibel mit Adobe CS6 und höher.
Flache Broadcast Identitäten

Ein komplettes TV-Sendepaket für Ihre Videoproduktionen, das auf einem flachen Design basiert und in 4 Farben erhältlich ist: Blau, Grün, Magenta, Dunkelcyan. Das Projekt ist einfach zu bedienen und wird schnell gerendert.
Diese einfach anpassbare Vorlage enthält einen Link zur verwendeten kostenlosen Schriftart und enthält Logo-Inhaber, untere Drittel, Sponsor-Inhaber und mehr.
Kompatibel mit After Effects CS4 und höher und in Full HD 1920 x 1080. Die Vorlage enthält einen Logoübergang, ein unteres Drittel, Promos, Abspann und mehr.
Ein modernes Paket von Elementen, mit denen Sie eine saubere und stilvolle Prognose für TV oder YouTube erstellen können. Enthält über 40 animierte nahtlose Loop-Symbole und 4 Szenenvoreinstellungen.
Dieses Broadcast Pack wurde entwickelt, um Ihren TV-Kanal hervorzuheben und zu bewerben. Es enthält verschiedene Farbthemen sowie vollständig bearbeitbare Namen und Titel.
Flache Infografiken
Flacher Infografiken Pack 2 enthält 32 Elemente, die für eine Vielzahl von Anwendungen nützlich sind. Sie können schnell und einfach bearbeitet oder kombiniert werden, um Ihrem Projekt zusätzlichen Wert und einen modernen Touch zu verleihen.
Dieses Infografik-Paket enthält 150 Infografik-Elemente, darunter Diagramme, Diagramme, animierte Karten und vieles mehr. Es verleiht Ihrem Video oder Ihrer Präsentation ein modernes, elegantes Aussehen.
Ein farbenfrohes und klares Design für Statistiken. Enthält 6 Hauptanzeigen und ist mit After Effects CS5 oder höher kompatibel.

Flache Bildschirminformationen
Dieses Call-Outs-Paket ist mit CS6 und höher kompatibel und enthält über 40 Optionen. Es ist mit 500 Google-Symbolen kompatibel. Der Download enthält ein PDF-Tutorial mit Links zu allen verwendeten Schriftarten.
Haben Sie einen Favoriten für flaches Design gefunden?
Wenn Sie eine großartige flache After Effects-Vorlage gefunden haben, lassen Sie es uns wissen!

Want a weekly email summary?
Subscribe below and we'll send you a weekly email summary of all new Photo & Video tutorials. Never miss out on learning about the next big thing.
Sign up
Melbourne, Australia
Everything you need for your next creative project. Over 9 million digital products created by a global community of designers, developers, photographers, illustrators & producers.
Looking for something to help kick start your next project?
Envato Market
has a range of items for sale to help get you started.