Marie Gardiner
Animationen können Ihr Video lebendiger und interessanter machen, aber es ist sehr zeitaufwändig, sie selbst zu erstellen. Warum probieren Sie nicht ein paar Animationsvorlagen aus? In diesem Artikel stellen wir eine Auswahl unserer bevorzugten Vorlagensammlungen für Premiere Pro vor, die bei Envato Elements und Envato Market erhältlich sind.
Premiere Pro Vorlagen helfen Ihnen Zeit zu sparen, effizienter und effektiver zu arbeiten. Somit helfen Ihnen Premiere Pro Templates mehr Zeit genau für die Details zu haben, die wirklich wichtig sind. Premiere Pro Übergänge heben Ihre Botschaften optimal hervor und helfen Ihnen dadurch bei Ihrem Publikum aufzufallen und in Erinnerung zu bleiben. Es lohnt sich auf jeden Fall, einen Blick auf unseren Premiere Pro Animation Vorlagen zu werfen!
Die besten Animationsvorlagen für Premiere Pro
Ausgezeichnete Premiere Pro-Vorlage von Envato Elements
Ein umfassendes Animations-Vorlagenpaket für Premiere Pro mit einer Vielzahl von Textanimationen.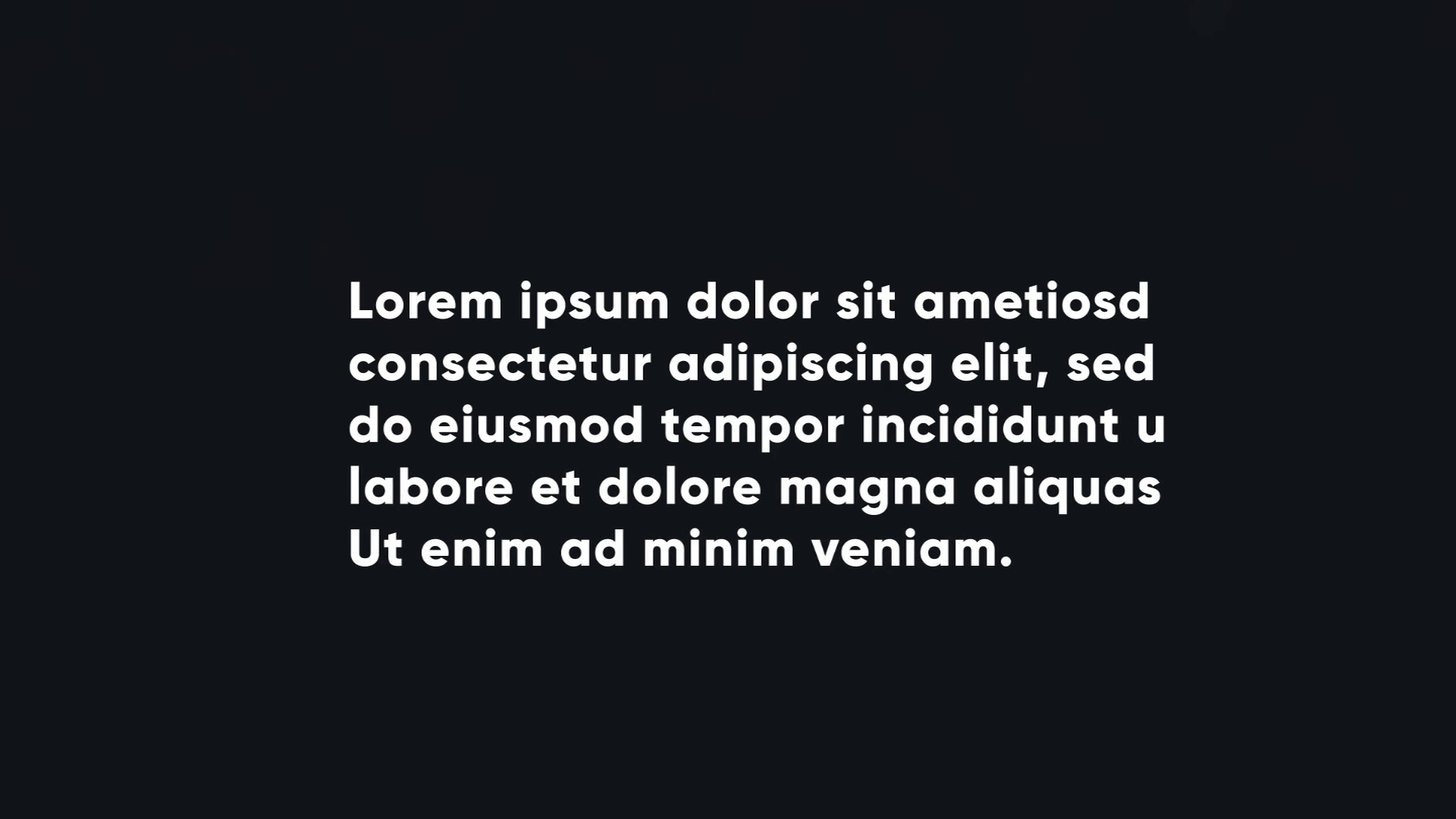 Hauptmerkmale
Dieses Premiere Pro-Paket enthält über 120 Voreinstellungen für Textanimationen: lange, kurze, Umrisse und Effekte. Sie beinhalten eine Vielzahl von Parametern wie 3D, Skalierung, Position, Drehung und Deckkraft, sodass Sie die volle Kontrolle darüber haben, wie Ihre Textanimationen aussehen. Es werden keine Plugins benötigt, aber Sie müssen PP 2021+ und auch AE 2021+ installiert haben, um sie zu verwenden.
Anwendungen: Premiere Pro 2021+, After Effects 2021+
Anforderungen: Keine Plugins erforderlich
Autor: Hushahir
Herunterladen und ausprobieren
Envato Elements bietet mit einem einzigen Abonnement unbegrenzte Downloads für Millionen kreativer Stock-Elemente, darunter Hunderte von Premiere Pro-Vorlagen sowie Audiospuren, Schriftarten, Grafiken, Voreinstellungen und vieles mehr.
Weitere Animationsvorlagen-Pakete für Premiere Pro
Möchten Sie ein paar verschiedene Möglichkeiten ausprobieren? Mit Envato Elements können Sie so viele Premiere Pro-Vorlagen herunterladen, wie Sie möchten als Teil des Abonnements. Hier finden Sie einige weitere großartige Vorlagen von Elements.
Mit diesem Voreinstellungspaket erstellen Sie mühelos Bewegungen und Animationen in Premiere Pro. Skalieren, Überblenden, Drehen, Positionieren und mehr mit über 150 Vorlagen.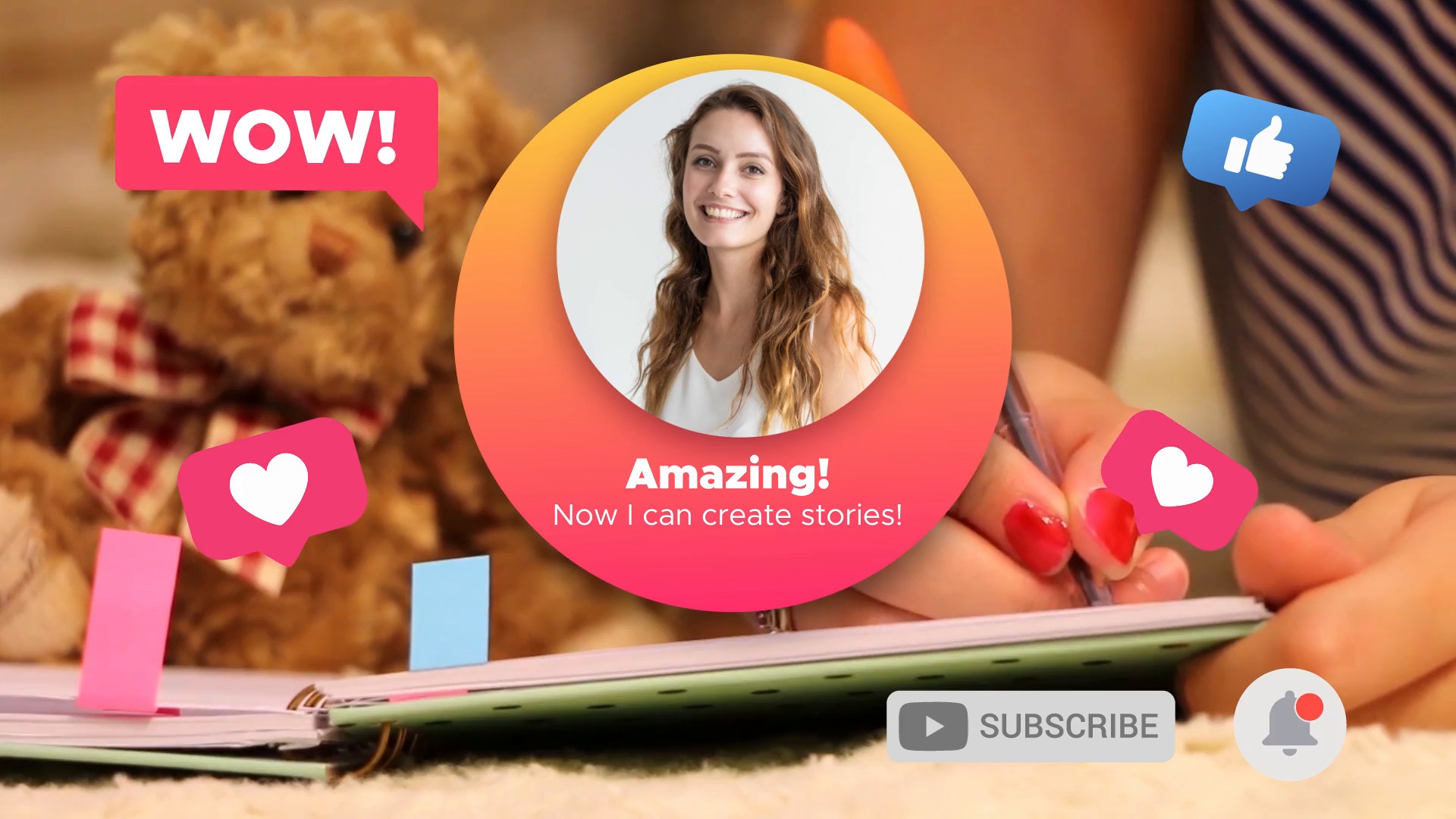 Mehr als 90 flexible Titelvorlagen für Premiere Pro, darunter 20 Textvorlagen, die alle individuell angepasst werden können. Hierfür ist PP 2019 oder höher erforderlich.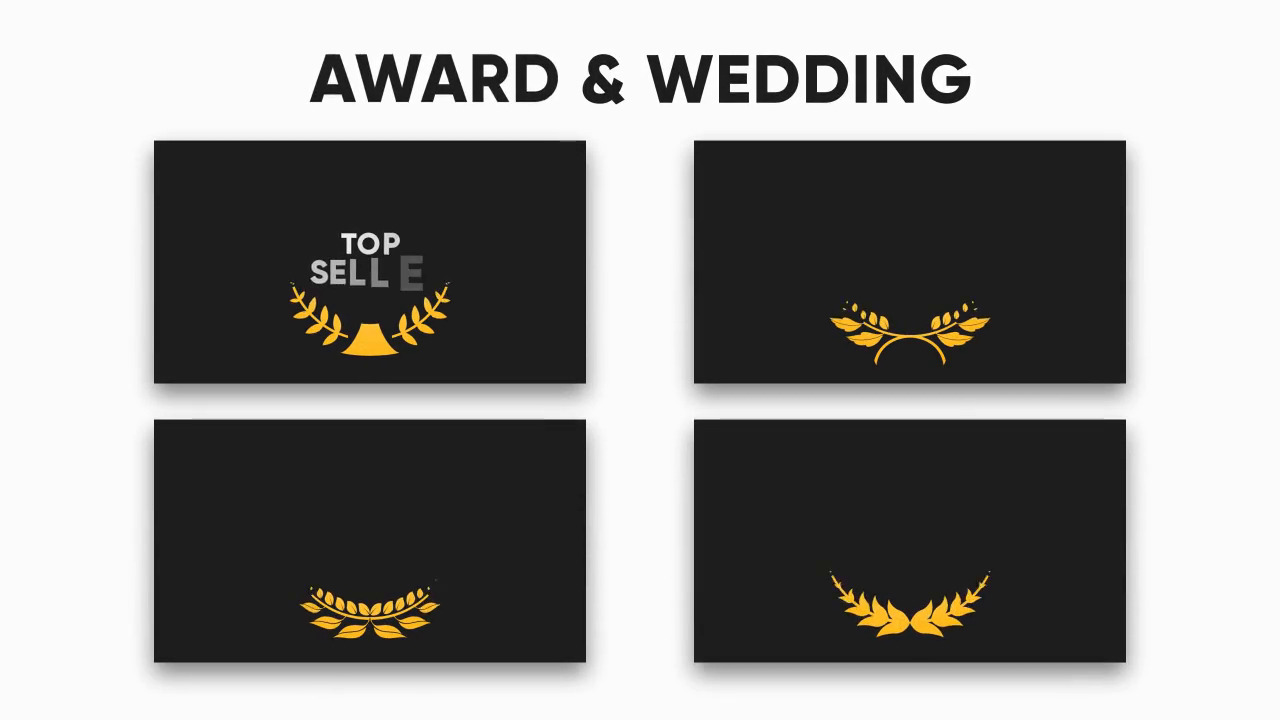 Weitere Top-Animationsressourcen von Elements
Wenn Sie einige andere Elemente sehen möchten, die gut zu Ihrem Video passen könnten und auch als Teil eines Abonnements von Envato Elements erhältlich sind, finden Sie hier ein paar Anregungen.
Wenn Sie eine WordPress-Website haben, ist diese Lottie-Animation ideal, um Spaß zu machen, das Engagement zu fördern, Prozesse zu demonstrieren und vieles mehr. Es gibt benutzerdefinierte Animationsoptionen und ist sehr responsive und leichtgewichtig, so dass es Ihre Website nicht verlangsamt.
Eine großartige, akustische Hintergrundmusik, die gut mit animierten Elementen in einem Video funktionieren würde.
Eine niedliche Zeichentrickfigur, die aus einzelnen Elementen besteht, die Sie dann mit einer Lottie Animation versehen können.
Animation Preset Packs von Envato Market
Wenn Sie es vorziehen, nach Bedarf zu kaufen, bietet Envato Market die passende Lösung. Hier finden Sie unsere besten Vorlagen für Animationsvorlagen für Premiere Pro.
Verzerrungen, Glitches, Aberrationen und vieles mehr sind in diesem Set von Premiere Pro-Glitch-Animationsvorlagen für Titel enthalten. Sie funktionieren mit jeder Schriftart und die Soundeffekte sind ebenfalls im Download enthalten. Sie können die Dauer der Animation durch Ziehen des Clips anpassen.
Dieses Premiere Pro-Set mag etwas teuer aussehen, aber es ist eine Menge enthalten. Das Paket enthält über 1000 Voreinstellungen für bewegte Texte, darunter Decodierung, Überblendung, Position, Drehung, Skalierung, Schräglage und mehr. Auch Soundeffekte sind enthalten, ebenso wie einige ausführliche Videotutorials und zukünftige Updates. Sie benötigen Premiere 2019+.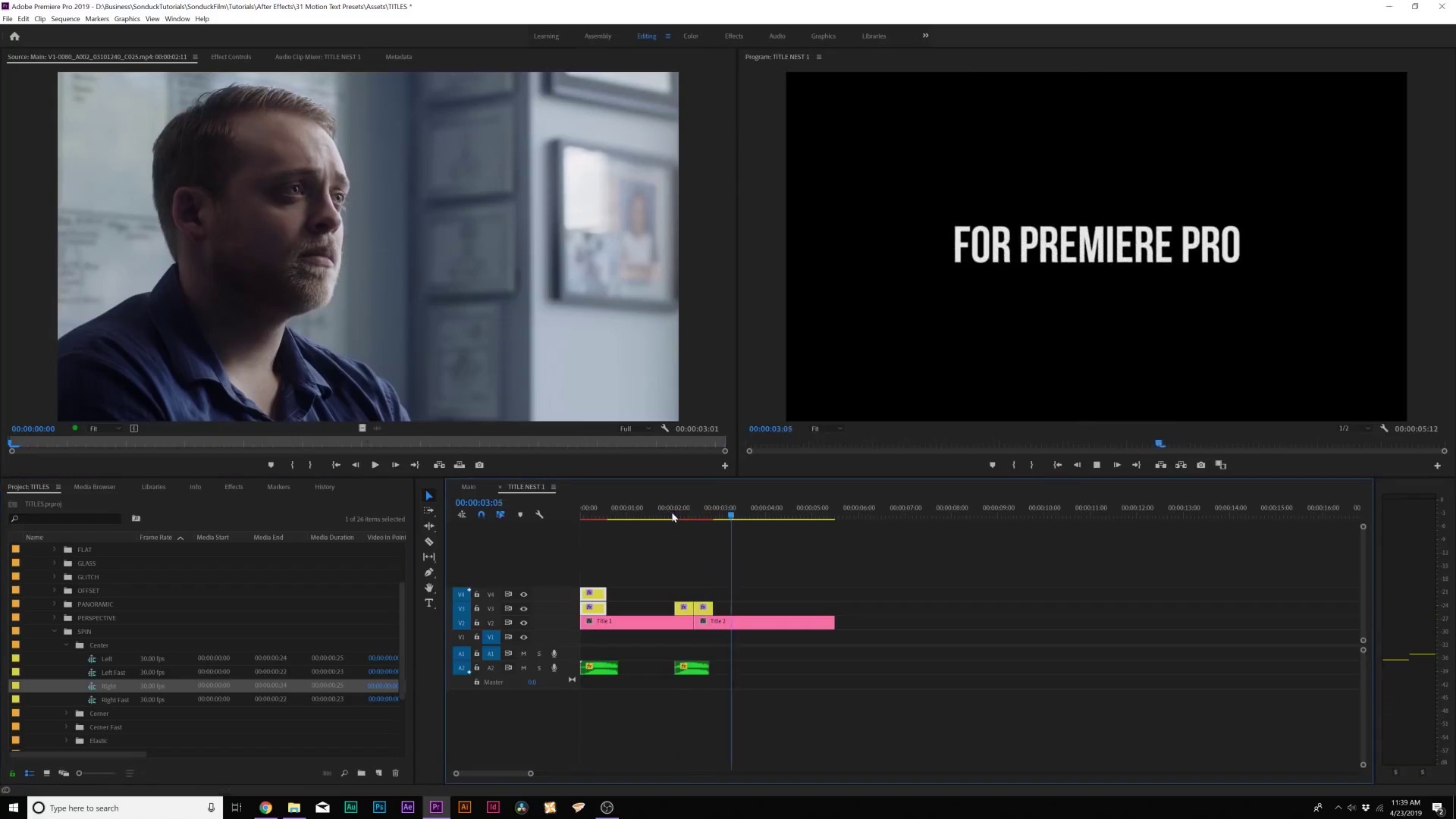 Weitere Ressourcen für Premiere Pro
Über diese Seite
Wie wir ausgewählt haben
Wir haben uns Projekte angesehen und dabei alle möglichen Variablen berücksichtigt, darunter Organisation, Komplexität, erforderliche Erfahrung und Gesamtschwierigkeit, Mindestanforderungen an die Hardware, enthaltene Versionen und Optionen, Formate, Auflösung, Dateigröße, Abhängigkeiten und erforderliche Plugins (falls vorhanden), Sprachoptionen, unterstützte Softwareversionen, Stil, Design und Kosten. Weitere Informationen über die Auswahl von Artikeln finden Sie unter Wie wir Artikel für Envato Tuts+ auswählen.
Über die Autoren
Marie Gardiner schrieb dies. Jackson Couse bearbeitete und veröffentlichte es.
Teilen Sie Ihr Handwerk in den Envato-Foren
Haben Sie einige dieser Vorlagen ausprobiert? Lassen Sie es uns in den Envato-Foren wissen. Wir lieben es zu sehen, was Sie erschaffen!
Want a weekly email summary?
Subscribe below and we'll send you a weekly email summary of all new Photo & Video tutorials. Never miss out on learning about the next big thing.
Sign up
Photographer and writer based in north east England.
Marie Gardiner is a writer and photographer from the North East of England. After gaining her degree in Film and Media, Marie worked in the media industry, before leaving to set up the business she runs with her partner: Lonely Tower Film & Media. As well as writing about visual practices like photography and video, Marie is also the author of Sunderland Industrial Giant (The History Press, 2017), Secret Sunderland (Amberley Publishing 2019), and Celebrating Sunderland (Amberley Publishing 2023). Her photographic work focuses on landscapes and industrial ruins, particularly those of the North Pennines as she continues to work on her long-form documentary project Changing Landscapes.
One subscription. Unlimited Downloads.