Slavik Boyechko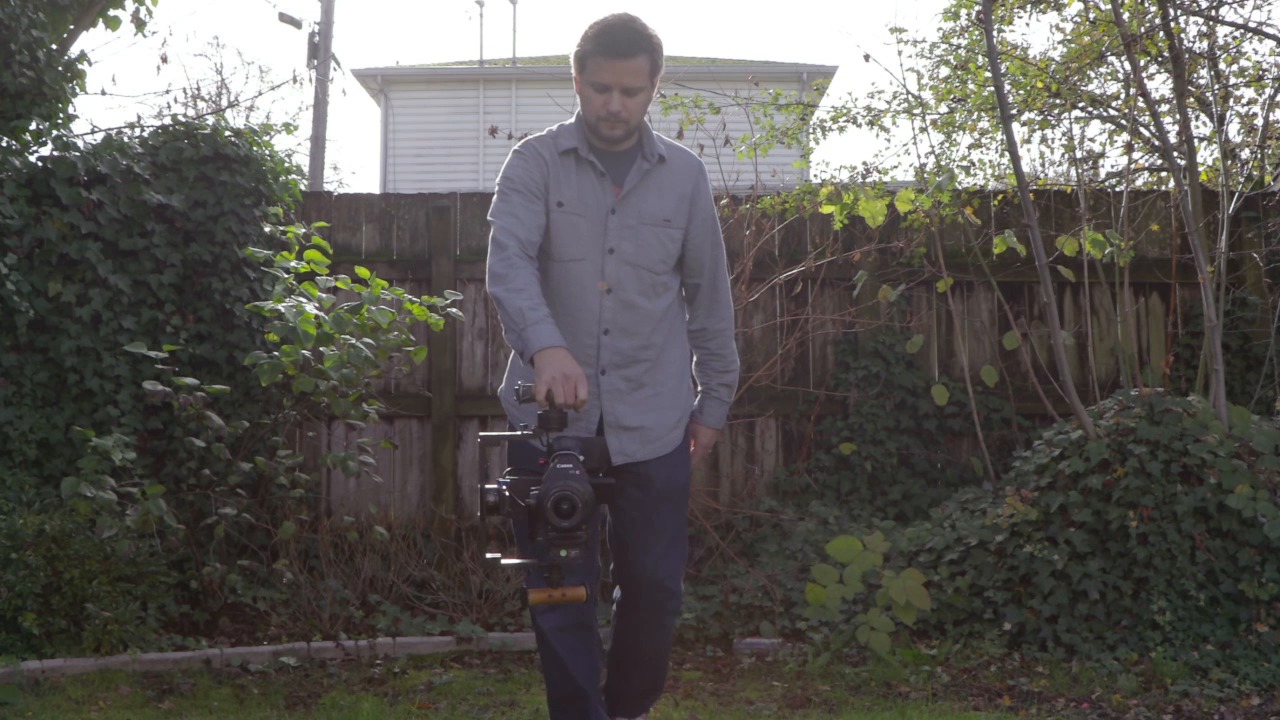 Ein 3-Achsen-Gimbal kann Ihre Aufnahme gerade und glatt halten, unabhängig davon, ob Sie die Kamera nach links oder rechts drehen, nach oben oder unten kippen oder die Kamera um ihre Rollachse drehen. Es kann jedoch nicht helfen, wenn sich die gesamte Vorrichtung auf und ab bewegt.
Wenn Sie also mit einem Gimbal laufen oder laufen, bewegen Sie die Kamera und das Gimbal-Rig auf natürliche Weise auf und ab. Und es ist wahrscheinlich, dass Sie diese Auf- und Abbewegung in Ihrem gesamten Filmmaterial sehen werden.
Um diese Auf- und Abbewegung zu minimieren, schießen Sie aus Ihrer Brust, halten Sie den Kardanring in Ihrer Nähe, sperren Sie Ihre Ellbogen und Handgelenke und gehen Sie mit leichten Schritten. Gehen Sie im Wesentlichen so, als würden Sie versuchen, sich in Ihr Haus zu schleichen, ohne jemanden aufzuwecken. Machen Sie kurze Schritte, drehen Sie sich auf den Bällen Ihrer Füße und der Ferse, anstatt mit Ihren flachen Füßen nach unten zu stampfen, beugen Sie Ihre Knie und versuchen Sie, entspannt zu bleiben. Mach dir keine Sorgen darüber, wie du beim Schießen aussiehst.
Wenn Sie ein Gimbal haben, das einen Einhandmodus hat oder sich in einen Seiten- oder Aktentaschenmodus drehen kann, können Sie auch versuchen, mit dem Gimbal sehr tief am Boden zu schießen. Sie gehen oder laufen natürlich vorsichtiger, während Sie versuchen, das Kamera-Rig davon abzuhalten, den Boden zu berühren.
Wenn Sie sich im Zweihandmodus befinden, können Sie die Auf- und Abbewegung auch minimieren, wenn Ihr Rig im Allgemeinen schwerer ist. Je mehr Gewicht, desto weniger bewegt es sich von Natur aus auf und ab. Wenn Sie also Laufaufnahmen erstellen möchten und eine Auswahl an Kamera, Objektiv oder Gimbal haben, die Sie verwenden können, wählen Sie die schwerere Ausrüstung.
Ein todsicherer Weg, um diese Auf- und Abbewegung zu verhindern, besteht darin, einfach nicht beim Gehen oder Laufen zu schießen. Steigen Sie in ein Auto, auf ein Fahrrad oder auf eine beliebige Anzahl von beweglichen Plattformen. Der alte Rollstuhltrick gilt immer noch, wenn man auf ein Skateboard geschoben wird oder sogar auf ein elektronisches Skateboard steigt.
Want a weekly email summary?
Subscribe below and we'll send you a weekly email summary of all new Video tutorials. Never miss out on learning about the next big thing.
Sign up
Slavik Boyechko is an Emmy award-winning filmmaker and owner of Minn Films, which creates inspirational videos about people and organizations.
Looking for something to help kick start your next project?
Envato Market
has a range of items for sale to help get you started.