Slavik Boyechko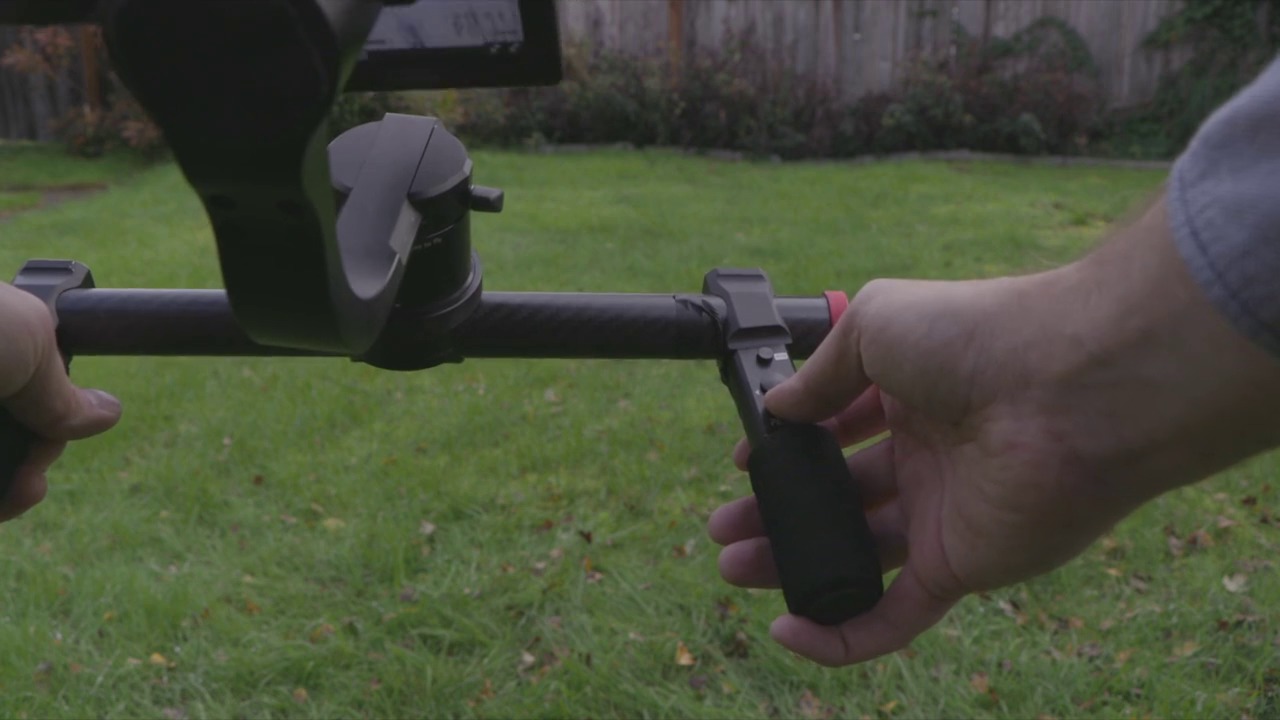 Während Sie den Follow-Modus des Kardanrahmens verwenden, können Sie die Richtung des gesamten Kardanrahmens durch Bewegen der Kamera steuern. Viele Kardanrahmen verfügen über eine Fernbedienung oder einen Umschalter, mit dem Sie mit den Tasten schwenken und kippen können, anstatt die Kamera und den Kardanring selbst zu bewegen.
Die Verwendung einer Fernbedienung oder eines Umschalters hat Vor- und Nachteile. Idealerweise kann sich bei zwei Bedienern eine Person auf die Bedienung des Kardanrahmens konzentrieren und dabei Hindernissen ausweichen, während eine andere Person das Kamerabild einschließlich Blende, Fokus, Zoom und Richtung des Kardanrahmens mit einer Funkfernbedienung steuern kann. Diese Person könnte auch filmische Bewegungen wie Kippen und Schwenken erstellen, während sich das Gimbal bewegt, um wirklich schöne Übergänge in der Bearbeitung zu erzielen.
Realistisch gesehen erfordert diese Art des Setups eine Tonne mehr Ausrüstung, Zeit und kompliziertes Rigging, und es ist oft nicht möglich für kleine Ein- oder Zwei-Mann-Bandproduktionen. Stattdessen legen Sie für die meisten Solo-Operatoren Ihr Bild vor dem Starten des Gimbals fest. Sobald Sie sich in Bewegung befinden, können Sie einen kleinen Knebel neben Ihrer Hand anbringen, um den Rahmen zu schwenken und zu kippen. Auf diese Weise erhalten Sie alle Bedienelemente eines Fernbedieners, ohne sich auf den Verfolgungsmodus des Kardanrahmens verlassen zu müssen, um die Richtung des Kardanrahmens zu ändern.
Es kann jedoch schwierig sein, eine andere Sache zu steuern oder darüber nachzudenken, während Sie das Gimbal und die Kamera bedienen. Ganz zu schweigen davon, dass es eine andere Sache ist, die schief gehen kann. Die Batterien der Fernbedienungen können leer sein, kabelgebundene Knebel können sich lösen, wie Sie es nennen.
Vor allem müssen Sie wirklich in die Softwareeinstellungen gehen, um die Geschwindigkeit des Schwenkens oder Neigens der Fernbedienung zu ändern, damit sie sich ordnungsgemäß bewegt. Die meisten Schalter erzeugen standardmäßig eine schnelle, stotternde Bewegung, und sie haben am Ende ihrer Schwenks und Neigungen harte Stopps.
Im Wesentlichen eignen sich die Schalter hervorragend zum Korrigieren der Richtung Ihres Kardanrahmens. Halten Sie sich jedoch für anmutige Filmpfannen und -neigungen an den Verfolgungsmodus des Kardanrahmens.
Want a weekly email summary?
Subscribe below and we'll send you a weekly email summary of all new Photo & Video tutorials. Never miss out on learning about the next big thing.
Sign up
Slavik Boyechko is an Emmy award-winning filmmaker and owner of Minn Films, which creates inspirational videos about people and organizations.
Looking for something to help kick start your next project?
Envato Market
has a range of items for sale to help get you started.