Envato Market
Las plantillas pre-elaboradas pueden ayudar a darle a tus videos una dimension añadida. En éste artículo hemos recopilado algunas de las mejores plantillas de estilo diseño plano para After Effects en VideoHive para ayudarte a llevar la metáfora del diseño plano a cualquier proyecto de video.
¡Plan-tástico!

Rachel Shillcock define la tendencia de diseño plano de ésta manera: "Diseño Plano es solo eso; diseño que viene sin embellecimientos extra como texturas, (obvio) degradados o aspectos 3D y en cambio son reemplazados con una estética mas "plana" que es muy limpia y nítida." Sven Lenaerts señala "diseño plano utiliza elementos y formas sencillas combinadas con colores predominantemente brillantes para enfatizar la simpleza y la claridad."
Suena magnífico, ¿verdad? Para ciertos videos, una estética plana es solo lo adecuado para completar la apariencia.

Plantillas para Presentaciones y Galerías de Estilo Diseño Plano

Rápidamente muestra tus fotos o videos en la Plantilla Galería Super Simple para After Effects, disponible en 4K y HD1080. Todas las escenas animadas tiene una transición al inicio pero ninguna al final para que puedas superponer escenas de la manera que quieras para cambiar el intervalo del video.
Galería Corporativa es una presentación limpia y sencilla que contiene 28 marcadores de posición para fotos. La plantilla es fácil de personalizar y los colores pueden ser cambiados con un click.
Una plantilla con resolución HD con 24 marcadores de posición para imágenes o videos y 12 marcadores de posición para texto. Un videotutorial es incluído para ayudarte a configurar todo.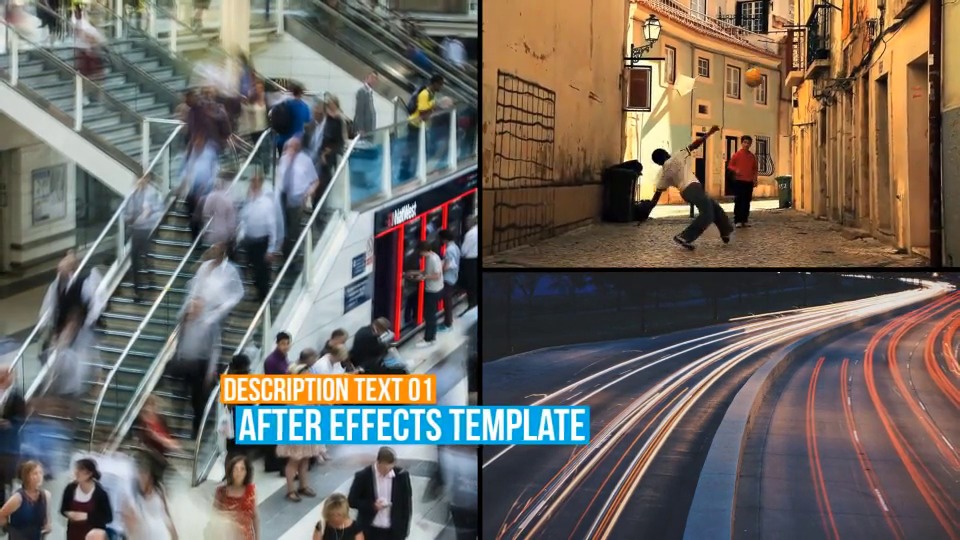 Ésta es una presentación diseñada para que cuentes brevemente sobre tí o sobre tu compañía. El proyecto tiene una estructura modular, para que puedas fácilmente eliminar, cambiar o duplicar algunas partes.
Una plantilla de presentación para corporativo incluyendo: Logo Intro, Sobre Nosotros, Línea de Tiempo, Infográficos, Proceso, Productos, Nuestro Cliente, Testimonial, Contacto, Logo Outro. En total Alta Definición y compatible con Adobe CS6 y superior.
Identidades de Transmisión Estilo Diseño Plano

Un completo paquete para canal de TV para tus producciones de video, basado en una apariencia de diseño plano y disponible en 4 colores: azul, verde, magenta y cian oscuro. El proyecto es fácil de usar y se renderiza rápidamente.
Ésta plantilla fácil de personalizar incluye un enlace a las fuentes gratuitas usadas y presenta marcadores de posición para logos, terceros inferiores, marcadores de posición para patrocinadores y más.
Compatible con After Effects CS4 y superior y proporcionado en HD 1920 x 1080. La plantilla incluye una transición de logo, tercio inferior, promos, créditos finales y más.
Un moderno paquete de elementos para ayudarte a crear una elegante previsión para TV o YouTube. Incluye más de 40 impecables íconos animados y 4 ajustes preestablecidos de escena.
Éste paquete está diseñado para resaltar y promover tu canal de televisión. Incluye cuatro diferentes temas de color y nombres y títulos completamente editables.
Infográficos Estilo Diseño Plano
Paquete de Infográficos Estilo Diseño Plano 2 tiene 32 elementos, útiles para una amplia gama de aplicaciones. Pueden ser editados o combinados rápida y fácilmente, añadiendo valor extra y un toque moderno a tu proyecto.
Conteniendo 150 elementos infográficos incluyendo esquemas, diagramas, mapas animados y mucho más, éste paquete de infográficos le dará una apariencia elegante y moderna a tu video o presentación.
Un colorido y limpio diseño para estadísticas. Incluye 6 visualizaciones principales y compatible con After Effects CS5 o Superior.

Información En Pantalla Estilo Diseño Plano
Compatible con CS6 y superior, ésta paquete de Llamadas incluye más d 40 opciones y es compatible con 500 íconos de Google. La descarga incluye un tutorial PDF con enlaces a todas las fuentes utilizadas.
¿Has Encontrado un Diseño Plano Favorito?
Si has encontrado una estupenda plantilla para After Effects en Estilo Diseño Plano, ¡déjanos saberlo!

Want a weekly email summary?
Subscribe below and we'll send you a weekly email summary of all new Photo & Video tutorials. Never miss out on learning about the next big thing.
Sign up
Melbourne, Australia
Everything you need for your next creative project. Over 9 million digital products created by a global community of designers, developers, photographers, illustrators & producers.
Looking for something to help kick start your next project?
Envato Market
has a range of items for sale to help get you started.