Marie Gardiner
El estilo de fotografía vintage o retro está muy de moda en la actualidad. Ahora, te voy a dar nuestros mejores consejos para que puedas hacer las tuyas propias, al igual que inspiración para que puedas empezar.

¿Por qué vintage?
Hemos visto un aumento en todas las cosas vintage. Al igual que todas las modas, se le ha dado la vuelta a algo muy específico y "anticuado" y se lo ha convertido en algo que todos hacen. Piensa en los programas de televisión "The Great British Bake Off" y "The Great British Sewing Bee".
Remodelar muebles viejos, al igual que usar peinados y ropas antiguas se ha vuelto popular también. Tiene sentido que junto a todo esto también resurgiera la fotografía con estilo retro.
¿Qué quiere decir vintage?
Decir solamente vintage puede ser confuso, porque ¿qué es lo que queremos decir exactamente con eso? Se podría referir al fuerte contraste, iluminación sutil de un film noir o se podría tratar del estilo descolorido de los 70. Cómo interpretarlo depende realmente de ti; mientras que los estilos del pasado eran dictados por la moda y los límites de la tecnología, hoy en día, cualquier cosa vale.
Tres formas de crear vintage
Procesa tu imagen en un estilo antiguo
No importa el contenido de tu fotografía, los filtros retro o vintage están a la moda, por ejemplo en Instagram. Además de dar a la fotografías una apariencia vieja, también pueden pueden ser halagadores: luz opaca, tonos de colores y filtros borrosos esconden una multitud de defectos y fallas de lentes. Entonces, no es ninguna sorpresa que se hayan vuelto tan populares con la aparición de los selfies.
Qué necesitas
Todo lo que necesitas es una manera de alterar tus imágenes digitalmente. Esto puede ser tan a profundidad como tú quieras, con un programa como Photoshop, o simplemente con un filtro de las aplicaciones disponibles como Instagram.
Arregla tus sujetos y tu fondo
Arreglar el set o a tus sujetos es otra manera de obtener una apariencia vintage, aunque toma más tiempo y esfuerzo hacerlo de esta manera. También necesitas decidir si quieres probar el estilo solo por diversión, o si lo que buscas es precisión, ya que hay muchas personas pedantes que están ansiosos por decirte que tu reloj está (sin doble sentido) en el tiempo incorrecto...
Qué necesitas
Es mejor usar buena iluminación natural cuando sea posible. La mayoría de las grandes fotografías vintage que yo he visto han sido creadas al aire libre, particularmente en la mañana, o en la tarde (lo que se conoce como la hora dorada).
Fondos relevantes. Mantén los fondos simples y agradables, no los amontones. Si buscas precisión para un periodo de tiempo particular, entonces revisa tu fondo en caso de que hayan cosas que no pertenezcan, y piensa si podrás editarlas o si es mejor cambiar de lugar.
Usa película
La película no siempre produce una apariencia retro y muchos fotógrafos usan todavía película de una manera completamente moderna y contemporánea. Sin embargo, junta una cámara antigua con una película vieja o expirada, y los resultados podrían sorprenderte.
Qué necesitas
¡Una cámara que use película y película! Cuando la película expira entonces tiende a sufrir desvanecimientos del color y de los tonos; perfecto para fotografías vintage y sin necesidad de procesos adicionales.
Las cámaras Polaroid también son divertidas, aunque la película es muy cara (yo pago cerca de £17 por 8 exposiciones). Puedes encontrar Polaroid muy baratas, si eres listo. Las cámaras restauradas pueden costarte cerca de £50, pero busca en las tiendas y los mercados de beneficencia y podrías encontrar una por unas pocas libras. Yo encontré una cámara Polaroid Land funcional en una tienda de beneficencia por £5.
Inspiración
Estilo vintage
Muy poco del proceso expresa 'vintage' aquí, pero todo lo demás rebosa con ello. El estampado antiguo en el fondo va muy bien con el estilo de la modelo. El maquillaje, los accesorios y el peinado han sido todos bien pensados, y todos los aspectos individuales se juntan para hacer una gran fotografía con estilo retro.
Viaje vintage
Este compuesto pudo haber sido mejorado con más esfuerzo en la perspectiva, pero es divertida de todos modos. Los colores crema del automóvil y el sujeto de la fotografía van bien con el fondo, y todo el conjunto da una sensación del estilo de los años 50 y 60.
Circo
Definitivamente una de las fotografías más surrealistas con estilo vintage que he visto, pero funciona muy bien. Un compuesto de seguro, los elementos van bien juntos y el procesamiento oscuro del fondo ayuda a que la tienda y el sujeto resalten.
Niño feliz jugando con avión
Este es una gran ejemplo de un estilo contemporáneo con un aire retro. Este podría ser cualquier niño disfrazado, pero el avión de madera y los tonos amarillos y azules le dan a la imagen una 'sensación de antigüedad', mientras que la falta de textura y el enfoque definido lo mantienen actualizado; fácilmente el tipo de fotografía que un padre imprimiría y enmarcaría.
Equipaje
Sin el maletín, probablemente no habría incluido esta fotografía en la categoría, incluso si los colores sin saturación aluden a esa apariencia. Mira los objetos en el horizonte: esta es la misma imagen base que la mujer en el automóvil de antes, ¡simplemente ha recibido un tratamiento un poco distinto!

Intenta una acción retro
Hay muchas acciones de estilo retro para programas del tipo de  Photoshop y Lightroom, así que es muy fácil encontrar una que se acople a tus requerimientos en caso de quieras arreglar una fotografía rápidamente.
Yo probé la Old Retro Action de The Colourizer en una de mis propias fotografías:
Esta es una imagen sin procesar que tomé con una amiga, Kayley, quién es una 'cantante vintage', por lo que ya estaba arreglada a la perfección.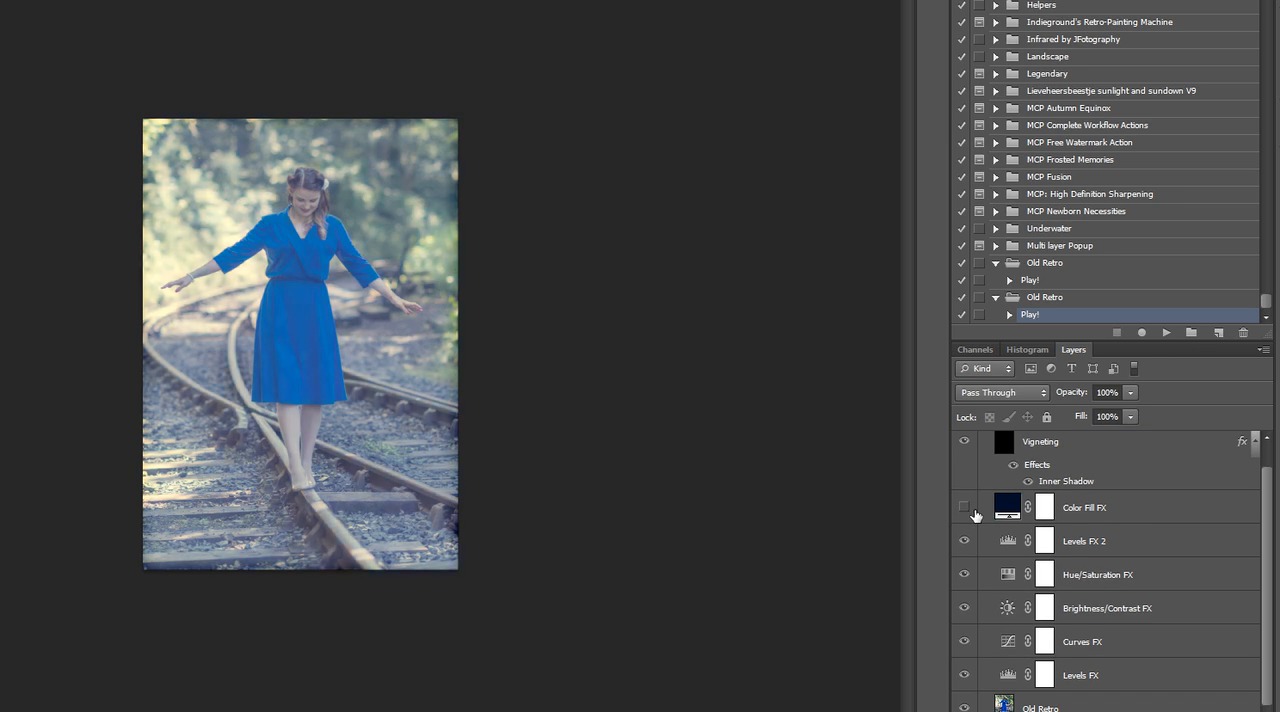 Puedes ver que la acción crea un número de capas, así que la puedes editar de manera no destructiva y sin tocar tu imagen original. Es desafortunado que todos los efectos estén al 100%, así que no puedes aumentarlos en ninguna capa, pero todos tienen máscaras de capa adjuntas para que puedas hacer tus ajustes locales.
He usado el cepillo sobre Kayley en algunas de las capas para atenuar el color sobre su cara y cuerpo y hacer que 'resalte' del fondo.
Ciertamente la apariencia mate y la coloración amarilla le dan una sensación más retro que la que tenía la imagen sin procesar.
Cómo hacer manualmente para que la fotografías luzcan vintage

Digamos que tienes una fotografía que quieres que luzca vintage; puede ser una pieza arreglada cuidadosamente, o algo moderno que quieres que tenga una apariencia retro y divertida.
Proceso cruzado
Proceso cruzado es una de mis formas favoritas para darle a una imagen una apariencia retro. Empezó en la fotografía con película por medio del uso de químicos diseñados para un tipo diferente de película ¡y a menudo ocurría por accidente!
Hoy en día puedes replicar el efecto de forma digital, y con muy poco esfuerzo. Color Efex Pro de Google, parte de la collección ahora gratuita de Nik, tiene un filtro de proceso cruzado con una variedad de opciones para que puedas modificar la apariencia a tu medida.
Crea una sensación mate
Hay varias maneras de hacer esto y una muy popular es poner un filtro de color sobre la imagen. Esto puede hacer que cualquier persona en tus fotografías luzca un poco extraña.
Otra manera de obtener una apariencia mate es simplemente reducir el contraste de tu imagen, o si deseas, reducir los realces y aumentar las sombras.
Piensa en la saturación
La mayoría de las personas aconseja reducir la saturación cuando quieras darle una apariencia vintage a tus imágenes, pero en verdad depende de lo que quieras. Piensa en las fotografías de la playa en los años 50: ¡son brillantes, llenas de color y aún así, por definición, retro! Así que no necesitas reducir la saturación en tus imágenes, por el contrario podrías tener que aumentar el color.
Texturas
Añadir textura a una fotografía es una manera muy simple de hacerla lucir antigua. Puedes hacer esto por medio de la aplicación de texturas, o usando brochas para colocar selectivamente "suciedad" o "manchas" alrededor de la imagen.
Los mejores consejos para crear fotografías vintage
Busca cámaras en tiendas y mercados de beneficencia
Usa proceso cruzado para una apariencia retro instantánea
Prueba una apariencia mate por medio de la reducción del contraste
Usa una película expirada en una cámara antigua de película
Añade textura o usa brochas en tu imagen digital
Otros recursos
Reflexiones finales
Como todos los caprichos o modas pasajeras, el regreso de todas las cosas antiguas no estará aquí para siempre, así que aprovecha mientras puedas.
Las fotografías vintage son una forma divertida de involucrarse en el movimiento retro sin tener que dejarte crecer una barba irónica o aprender a tejer.
Hay muchas maneras de intentarlo, sea usando una cámara y película vieja, poniendo en escena unas fotos con sensación de 'viejo-nuevo' o simplemente procesando las fotografías que ya tienes para darles un aire retro. Si quieres intentar esto sin quedarte sin dinero, revisa nuestras tiendas de beneficencia locales, mercados o casas de empeño. A menudo podrás encontrar buenas cámaras viejas que aún funcionan. ¡Júntalas con algunas películas baratas o expiradas y estarás listo para empezar! 
Si vas a editar una foto ya existente, entonces intenta algo sencillo como un filtro de Instagram, o un método más a profundidad a través de la creación de tus propios flujos de trabajo en programas de edición. En el medio de las dos opciones, una mitad feliz, está el uso de una acción, o una serie de acciones, para darle una apariencia vintage que puedes alterar, a la medida de tus necesidades, por medio del ajuste de cada capa.
Want a weekly email summary?
Subscribe below and we'll send you a weekly email summary of all new Photo & Video tutorials. Never miss out on learning about the next big thing.
Sign up
Photographer and writer based in north east England.
Marie Gardiner is a writer and photographer from the North East of England. After gaining her degree in Film and Media, Marie worked in the media industry, before leaving to set up the business she runs with her partner: Lonely Tower Film & Media. As well as writing about visual practices like photography and video, Marie is also the author of Sunderland Industrial Giant (The History Press, 2017), Secret Sunderland (Amberley Publishing 2019), and Celebrating Sunderland (Amberley Publishing 2023). Her photographic work focuses on landscapes and industrial ruins, particularly those of the North Pennines as she continues to work on her long-form documentary project Changing Landscapes.
Looking for something to help kick start your next project?
Envato Market
has a range of items for sale to help get you started.