Charles Yeager
Si buscas formas de añadir esta ventaja extra a los vídeos de dron de tus clientes, considera componerlos con sutiles elementos de metraje de stock con canales alfa. Si lo haces correctamente (y con mesura) esta técnica te ayudará a acentuar tus videos de drones.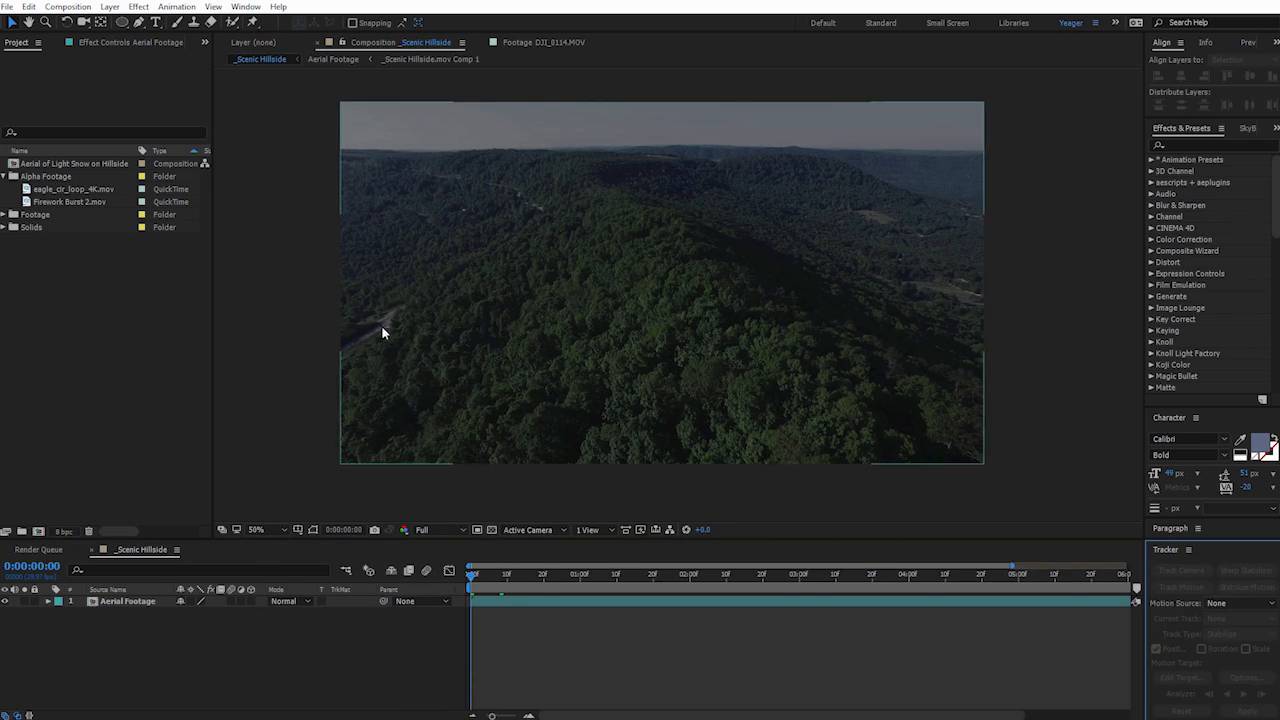 ¿Qué metraje de stock te será más útil?
El metraje debe tener un canal alfa, lo que significa que el fondo es transparente. Muy buenos ejemplos son las tomas de metraje con aves volando, niebla rodando a través de la escena, y así sucesivamente. Generalmente, verás un patrón tipo tablero de ajedrez en la vista previa detrás de los gráficos. Esto indica que tu elemento tiene un canal "alfa".
Lo siguiente que debes verificar es si los gráficos se salen de cuadro o se cortan en el borde. Idealmente, no lo harán, y como consecuencia podrás escalar el metraje y colocarlo en cualquier parte de tu toma. Si una toma se corta en el borde, será mucho más difícil de componer en una toma, porque no podrás cambiar su tamaño.
Cómo añadir metraje de stock a las tomas de dron
Hay dos maneras de añadir metraje a tus tomas de dron. La más fácil es arrastrar el clip y colocarlo sobre el material. Puedes hacerlo en Adobe Premiere Pro o en After Effects. Luego puedes volver a escalar y reposicionar los elementos. Este método funciona mejor cuando intentas dar la ilusión de que los elementos, como los pájaros, están lejos de la cámara, y cuando tu dron no se mueve demasiado rápido.

Rastreando el metraje hasta la toma de dron
El otro método funciona mejor si quieres añadir más profundidad a tu toma. Deberás rastrear el metraje de tu dron con el rastreador de cámara en After Effects. Luego, arrastra el elemento de tu metraje de stock, ponlo en 3D y reubícalo en el espacio 3D. También puedes activar el desenfoque de movimiento para mejorar aún más la composición.

Consejos de composición
Por último, deberás corregir el color de los elementos del metraje para que coincida con tu escena del dron. Te recomiendo utilizar los efectos de color Lumetri en Premiere y After Effects para lograrlo. Asegúrate de que el contraste y las saturaciones de color coincidan. Prefiero un usar una saturación más baja, porque muchos elementos de stock pueden estar demasiado saturados cuando se aplican por primera vez y los elementos del mundo real suelen tener una saturación más baja. También recomiendo aplicar un sutil desenfoque a los elementos del metraje de stock. Esto ayudará a mezclar el elemento en tu toma de dron y eliminar los bordes nítidos que son comunes en los elementos CGI.

Ser sutil es la clave
Este es un gran truco para acentuar los videos de clientes, y si eres lo suficientemente sutil, tus clientes ni siquiera sabrán que los elementos añadidos no son reales. Sin embargo, ¡no tengas miedo de ser creativo con ellos! Puedes crear combinaciones realmente geniales usando elementos subacuáticos con metrajes aéreos nublados.

¿Por dónde debes empezar a buscar metraje?
Videohive tiene una impresionante selección de metrajes de stock con canales alfa, así que enliste algunos de mis clips favoritos para que los uses como punto de partida. También te presentare al autor de Videohive, CGLight, que tiene un increíble portafolio de elementos con canales alfa.
Enlaces mencionados en este tutorial
Want a weekly email summary?
Subscribe below and we'll send you a weekly email summary of all new Photo & Video tutorials. Never miss out on learning about the next big thing.
Sign up
Charles Yeager is a Motion Graphics Artist and Filmmaker currently residing in Arkansas. Locally he works with many advertising and production companies in the South and Midwest. He also regularly creates tutorial content for Envato Tuts+, Mettle, Adobe, and PremiumBeat. See his portfolio at
yeagerfilm.com
.
Scroll to top
Looking for something to help kick start your next project?
Envato Market
has a range of items for sale to help get you started.