Slavik Boyechko
Mientras que la tecnología del vídeo se está moviendo rápidamente, casi nunca cambia el formato del documental. Tienes tu entrevista o diálogo para A-rollo, y luego todo lo demás es B-rollo. El formato de entrevista no cambia mucho, porque algo nuevo o elegante podría distraer la audiencia del corazón de un documental, la historia.
Así que mientras hay increíbles nuevas formas de capturar un fascinante documental B-roll, con abejones, cardanes, lapsos de tiempo y más — las tomas de una entrevista se ven hoy por mucho como hace medio siglo. Es una toma tan importante como para ensuciarla. Si alguna vez te has dado patadas a ti mismo por toquetear la cámara durante un momento fundamental en una entrevista, podrías nunca tocar una cámara de nuevo durante una entrevista.
Y sin embargo, nos seguimos presionando a nosotros mismos para extraer cada pedacito de movimiento dinámico en cada escena de nuestra producción documental. Así que ¿qué tipo de movimiento de cámara podemos crear durante una entrevista, al tiempo que minimizamos el riesgo de arruinar la toma?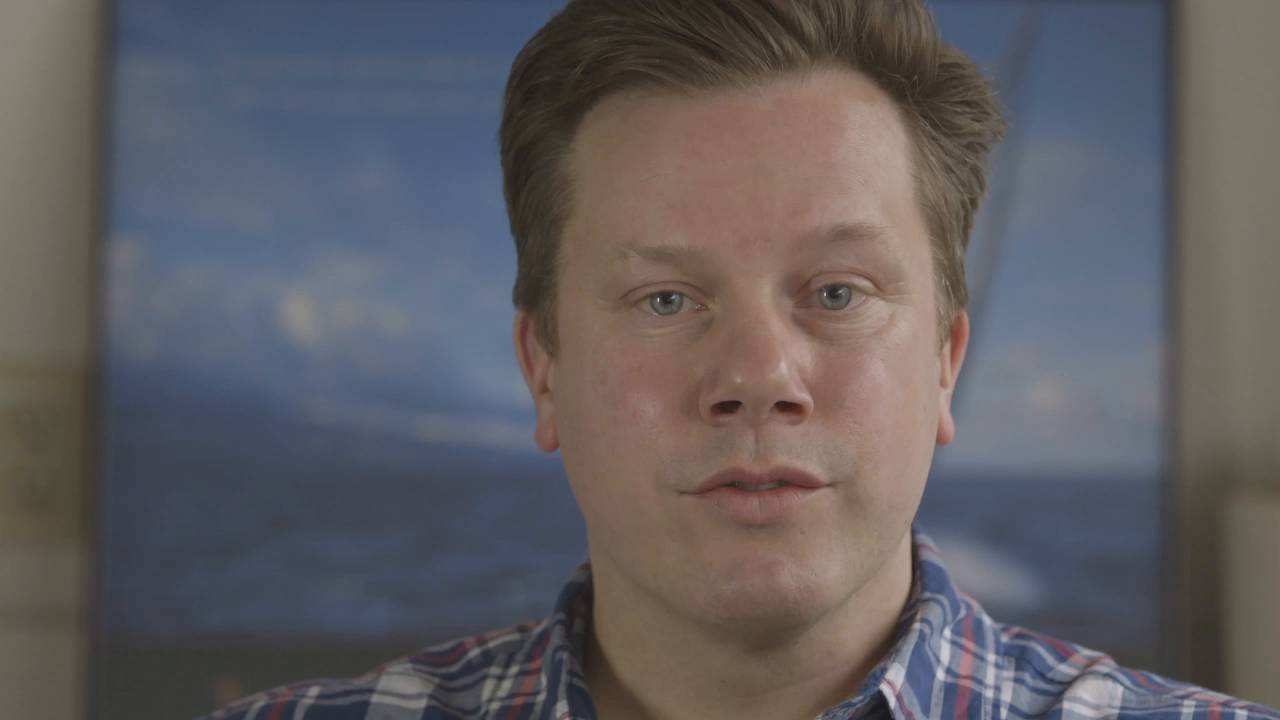 Agitar con Propósito
La primera cosa que puedes hacer fácilmente es simplemente sacar tu cámara del trípode y grabar tu entrevista a mano o usando un aparejo en el hombro (o un soporte de pecho). Si quieres infundirle a tu documental energía, esto hará el truco.

Cierra los ojos e imagina ver secuencias B-roll de hermosos movimientos de cámara, seguidos de tres a cuatro segundos breves de A-roll de tomas de la entrevista, con ligeras sacudidas orgánicas de la cámara . Paneos no sostenidos a mano o inclinaciones, pero movimientos naturales a mano que se parezcan a como las audiencias esperan que se vea un documental. Esto puede darle a tu entrevista una sensación auténtica, lo contrario a un suave ambiente corporativo, y sin embargo tu imagen y el encuadre pueden todavía seguir siendo pulidas.

Sin embargo, hay riesgos importantes cuando se opera a mano o incluso en el hombro. En primer lugar, podrías introducir molestos micro nervios que serán imposibles de eliminar en la edición. O el sujeto podría estar ligeramente fuera de foco, ya que es más difícil juzgar el enfoque mientras que la cámara esté en movimiento. O considera que tu lente de Estabilización de Imagen podría hacer que la toma de la entrevista se sienta ligeramente tambaleante o digitalmente estabilizada, lo que podría alejar la autenticidad que estás buscando.
Y por último, la sacudida de la mano funciona mejor sobre un eje, dirígete a las entrevistas de cámara donde el movimiento parece intencional o motivado. El sujeto tenía un mensaje urgente y el operador de cámara rápidamento lo grabó. En contraste, en una entrevista fuera de eje con una configuración de sujeto-entrevistador, donde es claro para la audiencia que está mirando una producción, un movimiento de cámara en la toma de una entrevista podría parecer realmente fuera de lugar.
Mi consejo aquí es tratar de agregar primero las sacudidas de cámara en tu programa de edición. Hay plugins para casi cada editor no lineal que pueden imitar el movimiento de la cámara, y te dan la oportunidad de probar la apariencia sin comprometer tu entrevista a este estilo en particular.
Acercamiento en Vivo vs en la Edición
Si estás utilizando un lente de foto en tu cámara réflex digital o de cine, es realmente difícil lograr zooms, por lo que no recomendamos intentarlo durante una entrevista. Sin embargo, puedes experimentar con zooms rápidos o zooms accidentales, ya que pueden añadir un tipo particular de energía para la toma de tu entrevista que es imposible de replicar con un corte en la post-producción. No tienes que alejar o acercar mucho, un poco aquí y allá puede darle vida a una toma de una entrevista larga, estática.
Si tienes una videocámara o una lente con auto zoom electrónico, entonces puedes utilizar un zoom de empujar o jalar a lo largo de tu entrevista. La clave aquí es establecer la velocidad del zoom electrónico en el ajuste más lento que tengas. Lo suficientemente lento para que tus espectadores no pueden notar incluso que hay un zoom durante la toma de una larga entrevista. El problema con las tomas del auto zoom demasiado rápidas durante una entrevista es que son claramente muy notables, y pueden ser una distracción más que algo útil para tu historia.
Uno de los problemas que puedes tener cuando estés haciendo un acercamiento en una parte de la entrevista y alejándote en otra parte, es cortar esas tomas juntas. Más adelante querrás utilizar los segmentos contiguos, esto podría generar una experiencia visual realmente incómoda al ver un empujón sobre el sujeto, seguido por un alejamiento.
Así que para la mayoría de los documentales, lo mejor es evitar jugar con zooms durante una entrevista. Aún puedes enfocar y reencuadrar algunas veces cuando el sujeto no esté hablando, pero trata de evitarlo en sus respuestas. Y luego todavía puedes agregar un ligero acercamiento o alejamiento al editar, utilizando el efecto Ken Burns o con fotogramas animados. De hecho, he leído hace poco que "PBS Frontline" emplea un muy lento acercamiento en cada toma de las entrevistas en sus programas premiados. Estoy seguro de que si comenzaste a buscarlos, verás que el ligero acercamiento o alejamiento en la entrevista se utiliza de alguna manera en cada documental.
Deslizador de Tomas Durante una Entrevista
El enfoque más común para el movimiento en las entrevistas, al menos con documentales pulidos que parecen tener más producción, es utilizar un control deslizante en la cámara principal o una segunda cámara B al lado.
Primero lo primero, si vas a poner tu cámara en una entrevista en un deslizador, tienes que estar absolutamente seguro de que puedes lograr un deslizador lento y suave sin sobresaltos. Los deslizadores no son perfectos, lo cual está bien durante el rodaje B cuando puedes volver a hacer una toma un par de veces. Pero en una situación de una entrevista documental, no se puede rehacer. Así que tienes que confiar en tu deslizador para usarlo en una entrevista. En caso contrario, unas pocas tomas interesantes con deslizamiento, pueden potencialmente no valer la pena teniendo sobresaltos y metraje inútil de la entrevista cuando lo necesitas.
En segundo lugar, si solamente estás haciendo las tomas con una cámara, realmente no puedes utilizar un control deslizante en un directo a la cámara, en una entrevista sobre un eje. La cámara deslizándose de izquierda a derecha, en cuanto el sujeto enfrenta a la cámara... podría ser incómodo. Pero con una entrevista fuera de eje, donde estás haciendo las tomas del sujeto sobre los hombros de tu productor, un deslizador podría definitivamente añadir un movimiento interesante en tu edición, especialmente si sólo planeas usar unos segundos de las tomas de la entrevista a lo largo de tu video.
Si deseas utilizar un deslizador en una entrevista, lo más probable es que tendrás una segunda cámara en un deslizador, enmarcado al lado de tu cámara A. Podrías tener un asistente que manualmente deslice la cámara hacia adelante y hacia atrás durante la entrevista, o podrías invertir en un accesorio electrónico automatizado que mueva la cámara por sí misma hacia adelante y hacia atrás a una velocidad establecida. La belleza de estos accesorios es que pueden hacer un paneo alrededor del sujeto mientras se mueven, creando una clase especial de movimiento de arco que es realmente difícil de lograr manualmente.
Pero incluso una segunda cámara en un deslizador automático le añade un riesgo innecesario a tu entrevista. Hay una cosa más para configurar, es otra cosa que podría salir mal, podría distraer al sujeto o incluso a ti, si le estás prestando atención. Y luego tienes que sincronizar el segundo ángulo en post producción.
Así que realmente, la pregunta es ¿vas a mostrar a tu sujeto durante más de tres segundos a la vez durante tu documental? Si es así, entonces es probable que no valga la pena probar añadirle movimiento a esos breves momentos. Pero si tu vídeo documental va a ser muy dependiente de las tomas de la entrevista, sin muchas tomas de apoyo, entonces agregarle movimiento puede añadirle una cantidad significativa de valor a la producción, contrario a un documental basado en una entervista estático.

Want a weekly email summary?
Subscribe below and we'll send you a weekly email summary of all new Photo & Video tutorials. Never miss out on learning about the next big thing.
Sign up
Slavik Boyechko is an Emmy award-winning filmmaker and owner of Minn Films, which creates inspirational videos about people and organizations.
Looking for something to help kick start your next project?
Envato Market
has a range of items for sale to help get you started.