Adi Purdila
En la segunda parte de ésta serie agregué alguna alfombra en el piso y al hacer eso me libré de la mayoría del eco en el cuarto. Ahora es momento de llevar las cosas al siguiente nivel y afinar el tratamiento del sonido.
Lo Que Necesitas: Materiales para Esculpir el Sonido
Estaré usando dos tipos de paneles: paneles de espuma para mitigar el sonido (solo los llamaré "paneles" de ahora en adelante) y trampas de graves.
Tengo cuatro trampas de graves, cada una midiendo un metro de altura y unos 30 cm de anchura de cada lado. También tengo tres paneles acústicos, cada uno midiendo dos metros de longitud por un metro de altura. Son de unos 6 cms. de grosor. Ésto es suficiente para la ligera aplicación que estoy preparando-principalmente para hablar-pero si regularmente vas a grabar músicos, por ejemplo, podrías necesitar más (o una configuración diferente) para el tamaño y la forma de tu sala.

Ahora, ¿por qué dos diferentes tipos de materiales? es sencillo. Los paneles de espuma harán un muy buen trabajo en absorber sonidos de media a alta frecuencia. Las trampas de graves son mejores en absorber sonidos de baja frecuencia. Al agregar objetos de absorción de sonido de múltiples densidades a tu sala, te aseguras de cubrir tanto rango de frecuencia como sea posible.
Una palabra sobre la espuma: decídete por la calidad. Hemos tenido algún material acústico de espuma barata liberando gases nocivos. Busca marcas reconocidas y lee las calificaciones antes de comprarlas.

Ahora, ¿cómo deberían estos ser montados sin dañar las paredes? Descubrámoslo.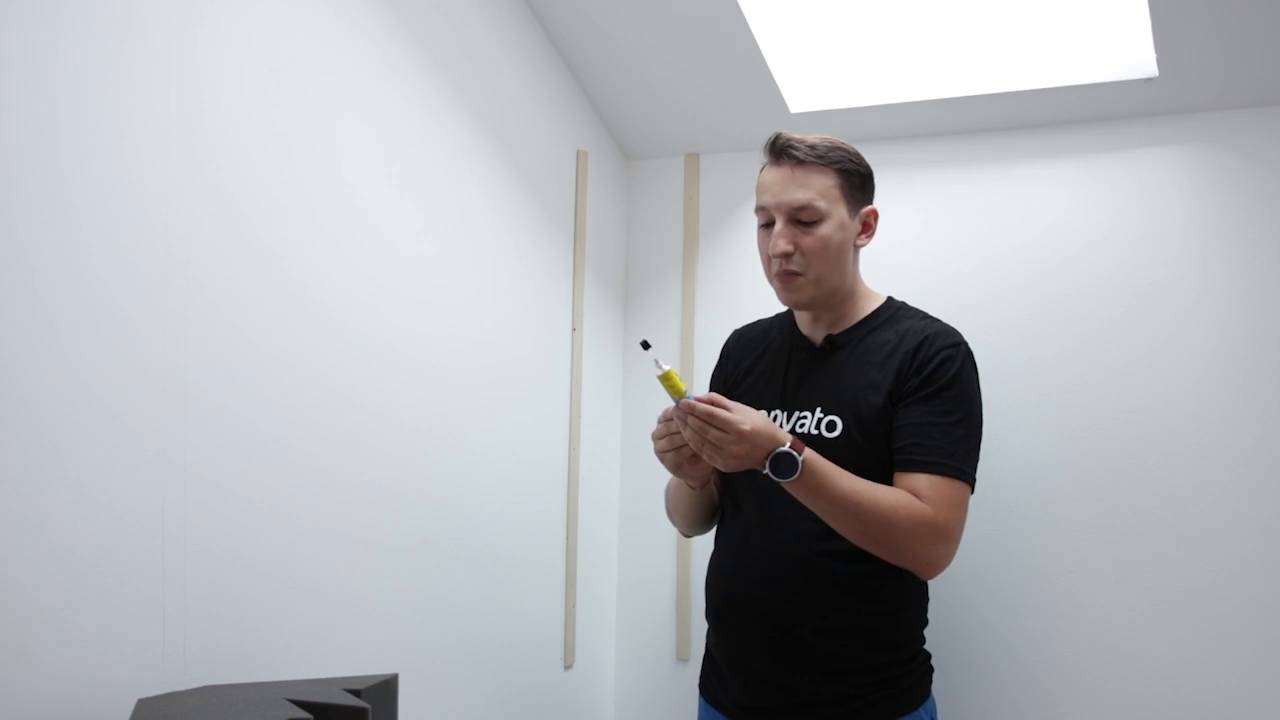 Cómo Poner los Paneles de Sonido
Los paneles y las trampas de graves están listas, pero ¿qué pasa con la colocación de los tres más grandes?
Colocación del Panel
Los paneles que colocas deberían negar la reflexión del sonido tanto como sea posible. Por eso dos de ellos son colocados directamente en dirección contraria uno de otro en las paredes laterales (Imagen 3).
El tercer panel es colocado frente a mí para detener los sonidos reflejados por esa pared. Idealmente, quisiera un cuarto panel colocado en la pared detrás de mí, pero ya que es el fondo no puedo hacer eso.
En general, estoy realmente feliz con los resultados de solo usar éstos tres paneles grandes. Todavía hay un poco de eco, pero el micrófono de solapa no recoge mucho de él.

Hay un poco de acto de equilibrio aquí: quieres usar suficiente de éstos paneles para tener mejor tu voz y el sonido del tono de la sala, pero no tanto que dañe toda la base y silencie el sonido. También no quieres poner tantos tratamientos que la sala sea difícil de usar como un estudio de video. Así que dejaré el cuarto panel fuera de la pared posterior, donde irá el fondo, por ahora.

Compré éstos paneles así que mi tarea era más fácil, pero ¿qué tal si tienes un presupuesto limitado? Bueno, puedes hacer éstos tu mismo:
Haz Tus Propios Materiales para Esculpir el Sonido

Con un poco de tiempo y esfuerzo puedes crear algunos de éstos paneles tu mismo y a un costo mucho menor.

La primera forma, y en muchos aspectos la más fácil, es repetir el último tutorial. Lo que funciona en el piso, funciona también en las paredes: colgar alfombras hace un magnífico modelado de ruido. ¡Y puedes hacer que se vea genial! Solo ten cuidado de que el color de la alfombra no se refleje demasiado en tu iluminación (cubriremos la iluminación más tarde en ésta serie).

Aquí están algunos magníficos recursos que te ayudarán a hacer eso y también te ayudadrán a aprender más sobre acústica de sala:

Próximos Pasos
El tratamiento acústico ahora está finalizado así que es momento de continuar y crear el fondo. Haré eso en el siguiente tutorial.
Want a weekly email summary?
Subscribe below and we'll send you a weekly email summary of all new Photo tutorials. Never miss out on learning about the next big thing.
Sign up
Adi Purdila is a web design instructor for Tuts+. With over 100 courses and 200 tutorials published to date, Adi's goal is to help students become better web designers and developers by creating content that's easy to follow and offers great value. Being self-taught himself, Adi strongly believes that constant learning (academic or otherwise) is the only way to move forward and achieve your goals. When not typing away at his keyboard, he loves woodworking and caring for his ever-growing family of rescue pets. You can stay up to date with what he's doing by following him on social media or visiting his website at adipurdila.com.
Looking for something to help kick start your next project?
Envato Market
has a range of items for sale to help get you started.