Marie Gardiner
Desde las redes sociales hasta un documental, usar efecto de paralaje para crear movimiento desde una imagen estática se ha convertido en una técnica de video popular y efectiva. En este tutorial te mostraré cómo hacerlo en Adobe Photoshop usando la Acción de Photoshop kit de herramientas para efecto de paralaje. Aquí está lo que haremos: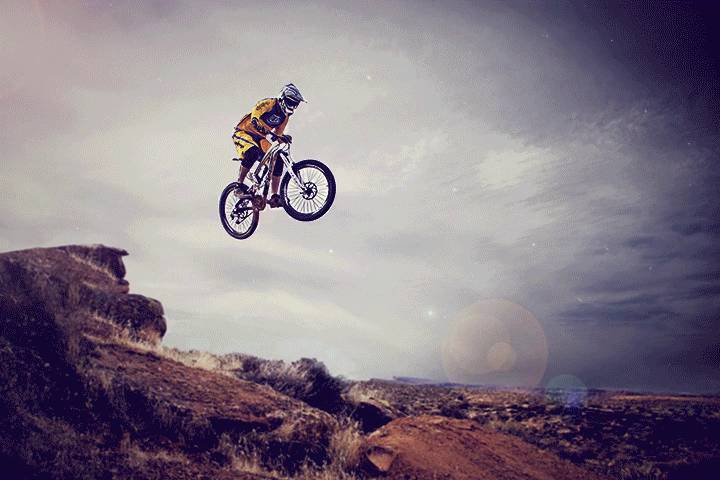 Lo que necesitas

Antes de comenzar, necesitas instalar los archivos de motivo, pincel y acción que vienen con la descarga.
A continuación, asegúrate de que tu imagen esté en modo de color RGB y en 8 bits.
Por suerte, el video de ayuda asociado con esta acción es realmente útil. Te va guiando por cada opción y también explica las opciones de guardado. Es inusual la documentación que sea así de útil. Cubrimos aquí todos los aspectos básicos, así que ojalá no necesitaras la ayuda adicional.

Finalmente, necesitarás una imagen para trabajar. Aquí está la mía:

Elijo esta imagen por dos razones. Primero, la composición tiene movimiento implícito, tu cerebro quiere que el ciclista complete su salto. Segundo, las capas se distinguen fácilmente, así que no será complicado seleccionarlas con el pincel.
Cómo usar el efecto de paralaje

Abre Acciones y encuentra parallax effect (efecto de paralaje).
Cuando presionas reproducir, la acción se detendrá brevemente y te pedirá que pases el pincel sobre tu objeto principal, en nuestro caso, la bicicleta.
Pasa el pincel sobre el objeto para aislarlo

Sé tan preciso como puedas. Si tu fondo es bastante plano, entonces no será tan obvio si también incluyes también algo de eso.
En este caso, he coloreado toda la llanta en lugar de tratar de hacerlo en cada rayo. Debería verse bien por el fondo relativamente plano, pero si el fondo estuviera detallado entonces sería más obvio.
Después de que hayas pasado el pincel y estés satisfecho, presiona reproducir otra vez.
Si no tienes tu línea de tiempo visible, podría ser útil cambiar eso ahora. Ve a Ventana > Línea de Tiempo.
Cuando la línea de tiempo aparezca notarás que ahora tienes capas, o pistas en la ventana Línea de Tiempo, así como algunas capas agrupadas en el panel Capas.
En este punto, si pulsas reproducir en la línea de tiempo, verías una versión previa (no muy precisa) del movimiento. Ahora, técnicamente tienes tu clip de video o GIF, pero hay algo más que podemos hacer.

Haz que el objeto destaque
Si queremos hacer que el objeto frontal (en este caso la bicicleta) destaque más del fondo, podemos enfocarlo. Haz click en añadir nitidez en el objeto y presiona reproducir. Verás un cuadro de diálogo pidiéndote que selecciones tu capa:
Haz click en la capa Front Object (Objeto Frontal) en tu panel Capas y luego pulsa reproducir de nuevo en la acción. Puedes usar la capa add blurriness to object (añadir borrosidad al objeto) para desenfocar también tu fondo.
Desplazándote hacia abajo en la lista de acciones te dará un número de adiciones para incluir en tu foto, estas incluyen efectos de luz y partículas.
Agregar partículas y destellos de lente
Añade partículas al hacer click en Particle V1 y presiona reproducir.
Luego puedes sacudir las partículas, para agregar más movimiento. Haz click en Shake the Particles (Sacudir las Partículas) y abre Particles Displacement Map (Mapa de Desplazamiento de Partículas) de tu archivo de descarga:
Puedes agregar también destellos de lente, solo haz click en esa opción en la lista y ejecuta la acción.
Cambia el color

Las Opciones de Color de Instagram, cuando se reproducen, se ejecutarán por un breve período y te dan varias opciones de color que luego puedes activar y desactivar para ver como lucen. Aquí está un ejemplo con el Filtro X-Pro activado.
Cada una de las opciones de color es segmentada en capas, para que puedas ajustar y descartar efectos como sea apropiado.
Guarda tu GIF o MP4

Ojalá hayas estado guardando todo el proceso, pero ahora haz click en Guardar e ir a la Previsualización. Si estás satisfecho, entonces puedes seguir las instrucciones y continúa para exportarlo como un GIF. Asegúrate de no usar ninguna de las opciones de redimensionar hasta que tengas una versión guardada de tu original.
De manera alternativa, puedes ir a Archivo > Exportar > Interpretar Video o Guardar como y elegir la opción GIF o MP4.
Crea aprovechando lo que has aprendido
Esta acción es complicada, pero si miras el video de ayuda y comienzas con la más fácil de las opciones como la que hemos desarrollado aquí, entonces no pasará mucho tiempo antes de que estés más cómodo sobre cómo funciona todo y puedas lograr más fácilmente tus efectos deseados.
Las opciones se vuelven más amplias y en lugar de solo seleccionar tu objeto frontal y moverlo, también puedes seleccionar el fondo y la sección central y luego tener 'movimiento' en cada elemento.
También hay un funcional creador de texto para que puedas incorporarlo, útil para compartir material en redes sociales. Debido a que ahora Facebook te permite incluir videos breves para fotos de perfil e incluso para cabeceras de página, aprender cómo hacer imágenes con animación breve a partir de imágenes estáticas en Photoshop podría ser una herramienta realmente útil.

Want a weekly email summary?
Subscribe below and we'll send you a weekly email summary of all new Photo & Video tutorials. Never miss out on learning about the next big thing.
Sign up
Photographer and writer based in north east England.
Marie Gardiner is a writer and photographer from the North East of England. After gaining her degree in Film and Media, Marie worked in the media industry, before leaving to set up the business she runs with her partner: Lonely Tower Film & Media. As well as writing about visual practices like photography and video, Marie is also the author of Sunderland Industrial Giant (The History Press, 2017) and Secret Sunderland (Amberley Publishing 2019). Her photographic work focuses on landscapes and industrial ruins, particularly those of the North Pennines as she continues to work on her long-form documentary project Changing Landscapes.
Start your 7-day free trial*
*All Individual plans include a 7-day free trial for new customers; then chosen plan price applies. Cancel any time.