Jane Baker
¿Sabías que puedes hacer un video promocional de alta calidad para un producto que todavía no existe? En la era de los servicios de impresión por demanda y el marketing de redes sociales, las ventas suelen hacerse antes que la producción. En lugar de crear un inventario base y ves cuánto producto puedes vender, generar interés por tus productos se vuelve en la tarea más importante para las ventas en línea, y los pedidos son la prueba para las nuevas empresas.
T-Shirt Video Mockup: Marketing en línea en segundos
Ya sea que seas vendedor directo, vendedor por redes sociales o especialista digital que hace herramientas promocionales para otros, Placeit ofrece una amplia gama de herramientas de marketing en línea que te permiten generar emoción por tu marca. Este mes, vamos a conocer una T-Shirt Video Mockup que seguro te ayudará a aumentar las ventas con solo un minuto de esfuerzo.
Si bien, este es un tutorial práctico, prometo que te tomará más tiempo leer este tutorial que hacer tu Video Mockup. Mi objetivo es mostrarte lo increíblemente fácil que es usar este Video Mockup y cómo puedes crear un video promocional profesional con solo un archivo de imagen y muy pocos clics.
Así que empecemos.
1. Elige una plantilla
Primero, querrás echar un vistazo a algunas de las T-Shirt Video Mockups disponibles en PlaceIt. Hay cientos de opciones para crear T-Shirt Video Mockups, protagonizadas por una amplia gama de edades, géneros y etnias, en una gran variedad de entornos y estilos. Puede tener una buena idea de la sensación de la Maqueta desde la miniatura y el subtítulo, así que haga clic para obtener una Maqueta que le llame la atención.
Decidí empezar con el mockup Girl on Shopping Cart, porque tiene una energía divertida y juguetona que me ayudará a generar la sensación que estoy buscando en mi Video Mockup.
2. Carga y recorta tu imagen
Una vez que hagas clic en una Video Mockup template, podrás ver el video de muestra para tener una idea de cómo se verá. La magia de la plantilla ocurre una vez que cargas tu propio contenido.
En donde vivo, estamos pasando por una helada de invierno, así que elegí una imagen de alta resolución de una anémona de mar disponible en Envato Elements, para darme unas mini vacaciones tropicales. Me gusta que esta imagen tiene elementos gráficos fuertes, el color resalta y tiene una calidad de otro mundo. Eso me suena a una gran camiseta.
Usando tu propia imagen o algún elemento de Envato Elements, haz clic en el botón cargar imagen, justo en la parte superior izquierda del reproductor de video. Selecciona tu imagen de archivo, luego haz clic en abrir. En este punto, tu imagen aparecerá en un cuadro de recorte. Usando la barra de desplazamiento, ajusta la imagen para que aparezca como te gustaría que se viera en la camiseta. Haz clic en recortar una vez que tengas sepas cómo la quieres.
3. Agrega música
Ahora que tienes tu imagen cargada, es momento de agregar algo de audio. Esta T-Shirt Video Mockup incluye una impresionante biblioteca de audio. Para seleccionar una pista que se adapte al estilo de tu video y camiseta, haz clic en el botón agregar audio, de la parte superior derecha del reproductor de video. Puedes filtrarlas haciendo clic en una de las etiquetas, que están organizadas por género musical. Escuche algunas pistas con el reproductor de audio y, cuando encuentres una que te guste, haz clic en Seleccionar. Yo escogí una imagen divertida y una T-Shirt Video Mockup alegre, así que seleccioné Happy And Easy, una canción que refuerza el estado de ánimo que quería crear con mi maqueta de video.
4. Selecciona el color de la camiseta
Con esta T-Shirt Video Mockup, puedes seleccionar el color de la camiseta para tu maqueta de video. Haz clic en la paleta de colores desplegable para ver todas las opciones. Continúa y elige algo que funcione bien con tu imagen, o tal vez un color que resalte tu ojos. Siguiendo con el tema tropical, elegí un color azul brillante que creo que funcionará bien con mi imagen.
5. ¡Genera el video y disfruta del producto final!
Ahora que cargaste tu imagen, escogiste una tema musical y seleccionaste el color de camiseta, haz clic en el botón generar para ver el video final.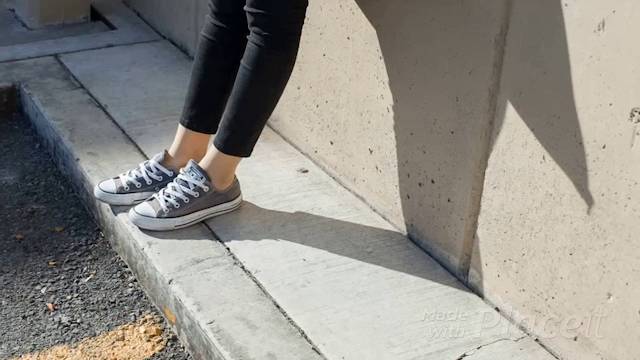 Conclusión
Es un eufemismo decir que el proceso PlaceIt es más fácil que contratar un equipo de producción para filmar, editar y cargar un video promocional, o hacerlo todo tú mismo. En cinco minutos, puedes cargar tu video en tus redes sociales y generar clics para tu tienda en línea, o generar conocimiento sobre tu marca. Haz propia T-Shirt Video Mockup, para que puedas ver el enorme potencial de esta herramienta.
El próximo mes, compartiré otro tutorial para enseñarte lo fáciles y poderosas que son las herramientas de PlaceIt, y mientras tanto, puedes visitar PlaceIt para ver más mockups disponibles para descargar.
Want a weekly email summary?
Subscribe below and we'll send you a weekly email summary of all new Photo & Video tutorials. Never miss out on learning about the next big thing.
Sign up
Happy camper and content specialist.
Looking for something to help kick start your next project?
Envato Market
has a range of items for sale to help get you started.