Slavik Boyechko
En éste tutorial aprenderás cómo sincronizar el audio y el video de una entrevista dentro de Final Cut Pro X.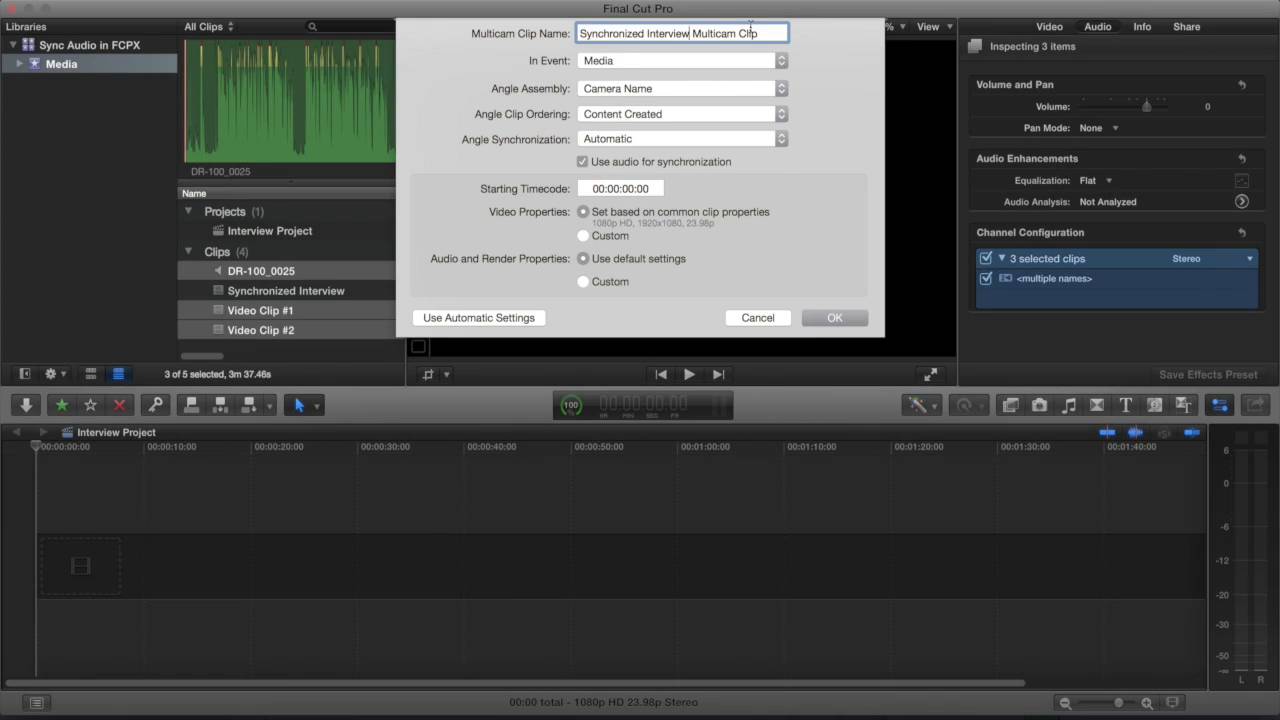 Generalmente cuando grabas sonido del sistema dual finalizas con una situación como ésta:

Muchos archivos de video pequeños: tienes varios, posiblemente muchos clips de video. Éstos videos tienen el audio grabado de un micrófono de cañón colocado en una cámara o el micrófono integrado de la cámara. Los niveles son bajos y así mismo la calidad del sonido.

Un (o unos cuantos) archivo de audio grande: tienes un micrófono de solapa o un boom que va directamente a una grabadora externa. Ésta grabación suena un poco mejor.
Aún en una sola toma, podrías tener dos (o más) clips de video si tu cámara tiene un límite de grabación. Algunos DSLRs tienen un límite de grabación de 10-12 minutos (un límite de grabación de 30 minutos en Europa). O quizá detuviste y comenzaste una grabación durante la entrevista solo para ayudarte a organizar. Así que es muy común que termines con múltiples clips de video y una larga grabación de audio externa.
PluralEyes es un pequeño programa de un solo propósito que es realmente bueno en sincronización de audio. Es especialmente bueno para grabaciones complicadas donde tienes múltiples cámaras y fuentes de audio. Quizá estás grabando una presentación en vivo con tres o cuatro cámaras y una línea desde la consola de sonido, y luego todos tienen sus propios micrófonos arriba de sus cámaras. PluralEyes puede sincronizar todo ese video y audio muy rápidamente.

Primero voy a mostrarte cómo usar PluralEyes. Luego recomendaré unas cuantas manera de hacer ésto dentro de Final Cut que lo hace más fácil y más simple, sin tener que utilizar PluralEyes.
Cómo Sincronizar el Audio y el Video con PluralEyes
La primera manera que vamos a sincronizar audio es enviar el proyecto desde Final Cut a PluralEyes, y lo regresamos de nuevo. Ésto se llama "viaje redondo" entre las aplicaciones.

Viaje Redondo Entre Final Cut y PluralEyes

1. Crea la Línea de Tiempo en Final Cut Pro

Selecciona tus clips de video y colócalos en la línea de tiempo. Luego coloca tu audio en la línea de tiempo debajo del video. Elige Archivo > Exportar XML y guarda el archivo.
2. Importa a PlurarlEyes y Procesa

En PluralEyes, elige Archivo > Nuevo Proyecto desde Final Cut Pro, y selecciona el archivo que acabas de guardar. La línea de tiempo que creaste con Final Cut se cargará a PluralEyes. Ve a Sync > Sincronizar para comenzar el proceso. Para videos cortos con audio claro, a veces toma menos de un segundo.

3. Exporta y Regresa a Final Cut Pro

Ahora exporta la línea de tiempo corregida de nuevo a Final Cut Pro: Archivo > Exportar.

Selecciona Final Cut Pro X XML, Crear clips multicam, y Abrir Evento/proyecto automáticamente en Final Cut Pro. Puedes deseleccionar Crear un Evento con contenido de audio reemplazado en clips de video.
Los Resultados

Seleccionamos nuestros recursos de medios, los procesamos en PluralEyes. En un magnífico inicio: ahora tienes el audio y el video sincronizados dentro de un clip multi-cámara. PluralEyes también expulsa un nuevo proyecto donde tu video y audio están sincronizados. ¡Estás adelantado en el juego!
Cómo Sincronizar Audio y Video en Final Cut Pro
No le toma mucho a PuralEyes hacer ésta clase de trabajo para las entrevistas. Sin embargo, ir a otro programa puede ser exagerado en proyectos más pequeños y más simples. También es otro gasto, además a lo que ya has pagado para tu licencia de Final Cut. Por suerte, puedes sincronizar audio y video en Final Cut sin usar PluralEyes.

La Manera Fácil

La primera manera de sincronizar es simple: para seleccionar tus videoclips y tu clip de audio de tu Biblioteca, luego click-derecho,y elige Sincronizar Clips. En el cuadro modal que emerge, da un nombre al nuevo clip, marca Usar audio para la sincronización, y haz click en OK.

Una cosa a tener en mente con éste método es que retiene el audio original de la cámara. Si vas a tu Inspector y seleccionas éste nuevo clip de la entrevista sincronizado, verás que Final Cut mantiene nuestro viejo audio desde la parte superior de la cámara, además del buen audio de la grabadora externa. Así que querrás desmarcarlo para asegurar que ya no escuchemos el mal audio.
La Manera del Clip Multicámara

La segunda manera en que podemos sincronizar el audio y el video de una entrevista dentro de Final Cut es crear un nuevo clip de multicámara. Final Cut realmente sincronizará el audio y el video dentro del clip multicámara automáticamente.
Como antes, selecciona tus videos de audio y video. Haz click-derecho, y selecciona Nuevo clip multicam. Llama a ésto algo como "clip multicámara entrevista sincronizada," y asegúrate que Usar audio para la sincronización esté seleccionada. Deja todo lo demás en sus parámetros predeterminados.
Ahora si vas al clip multicámara resultante verás que en Ángulo 1 tienes tus dos videoclips originales, y luego tu largo clip de audio externo, y ellos están sincronizados perfectamente.
La Manera Manual

Esos son los dos métodos automatizados de utilizar Final Cut para sincronizar entrevistas, y funcionan el 90% de las veces. Cuando no lo hacen puede ser realmente frustrante. Puedes finalizar consumiendo mucho tiempo tratando de forzar que funcione la automatización cuando realmente sería mucho más fácil hacerlo manualmente.

Localiza los clips de audio y video a sincronizar. Haz click-derecho en tu primer clip de video y selecciona Abrir en Línea de Tiempo. El video y el audio dentro del clip desde el clip han sido agregados a la línea de tiempo como elementos separados.

Ahora arrastra la pista de audio externo debajo de ellos. Trata de mover ésta pista de audio a lo que parace una sincronización visualmente; manualmente afinarás la sincronización cuadro por cuadro, izquierdo y derecho.
Así que visualmente podemos mover ésto de nuevo. Puedes ver que ésta es la sincronización adecuada. Notarás que hay otros picos aquí que se ven muy similares, así que podemos visualmente casi encontrar ese pico. Y obtenerlo tan cerca a donde pensamos que está sincronizada - no tienes que tenerlo super cerca, pero lo suficientemente cerca.
Comienza a manipular el cursor de reproducción (L), y usa tus teclas comma (,) y period (.) para empujar el clip de audio externo a la izquierda un cuadro o a la derecha un cuadro hasta que esté sincronizado. Sabrás que está sincronizado cuando el audio suena como que tiene un efecto de fase en él: suena como un pequeño metal siendo golpeado o como un alienígena. Lo sabrás cuando lo escuches (como lo hacemos en el video de arriba).
Ahora que tienes todo sincronizado, no borres el audio original. Podrías necesitar referenciarlo, y en cualquier caso, no quieres eliminar datos en la edición de cualquier manera. Pero puedes ocultarlo usando tu tecla V. Si regresas y arrastras éste clip a tu proyecto tendrás ahora el buen audio acompañando el video.
Sincronizar Múltiples Clips Manualmente

Si tienes múltiples clips de video, una manera realmente fácil de sincronizarlos manualmente paso a paso es regresar a Abrir en la Línea de Tiempo.

Cuando llegas al fin del clip de video, solo Corta (B) el segmento sobrante de la entrevista de la grabadora de audio. Corta y elimina el hueco, y luego ve al segundo clip. Ábrelo en la línea de tiempo, y ahora puedes pegar y comenzar a mover ésta audio más cerca de donde los picos están sincronizados.
¡Feliz Edición!

Y ahora tienes todo preparado: tus clips de video originales tienen el audio bueno sincronizado en ellos. En todos los métodos aquí no generaste ningún nuevo clip, lo cual es realmente magnífico para organización. En cualquier parte que éstos clips van ahora, el audio sincronizado los seguirá.
Espero que hayas aprendido cómo sincronizar el audio de una entrevista en Final Cut Pro X. ¡Nos vemos la próxima vez!

Want a weekly email summary?
Subscribe below and we'll send you a weekly email summary of all new Photo & Video tutorials. Never miss out on learning about the next big thing.
Sign up
Slavik Boyechko is an Emmy award-winning filmmaker and owner of Minn Films, which creates inspirational videos about people and organizations.
Start your 7-day free trial*
*All Individual plans include a 7-day free trial for new customers; then chosen plan price applies. Cancel any time.