Charles Yeager
Añadir elementos en una escena es una tarea muy común en After Effects. En esta lección, te presentaré algunos consejos sobre composición que te ayudarán a añadir árboles o follaje a un clip de video, estas técnicas también pueden usarse en imágenes fijas.
El director David Fincher a menudo usa composiciones como está en sus proyectos. Este es un desglose increíble que muestra el efecto visual (VFX) invisible que usó en su serie de Netflix Mindhunter.
Cómo escoger los clips de video apropiados
Primero, debes asegurarte de empezar usando clips de videos de calidad. En este caso, voy a utilizar clip de árboles con canal alfa. (Un clip de video con canal alfa tiene una capa transparente dentro de él). Este es un gran ejemplo de un Abedul en VideoHive.
Grabar un clip de video de un árbol, isolado como este, sería bastante difícil. De modo que la mayoría de las veces, estos recursos son generados por computadora. Y eso está muy bien, e incluso en algunos casos es mejor hacerlo de ese modo, porque esos clips están en bucle. Pero en este caso solo necesitamos que el recurso parezca realista, e idealmente nuestras habilidades de composición nos ayudarán a lograr una toma final convincente para nuestra audiencia.
Toma estática o de seguimiento
Es mucho más fácil componer los elementos de una toma estática, principalmente porque no tendrás que preocuparte por perfeccionar el rastreo para cada elemento que añadas. El objetivo de este tutorial es que los efectos los efectos nos ayuden con la composición final, así que trabajaremos con una toma estática.
Sin embargo, si decides usar una toma con movimiento, como una hecha por una cámara en mano, te recomiendo enfáticamente que uses el Rastreador de cámara en After Effects. Siempre obtengo resultados más suaves con el Rastreador de cámara, lo opuesto a la característica para Seguir Movimiento, y puedes colocar cada elemento del árbol a diferentes profundidades en espacio 3D en tu toma.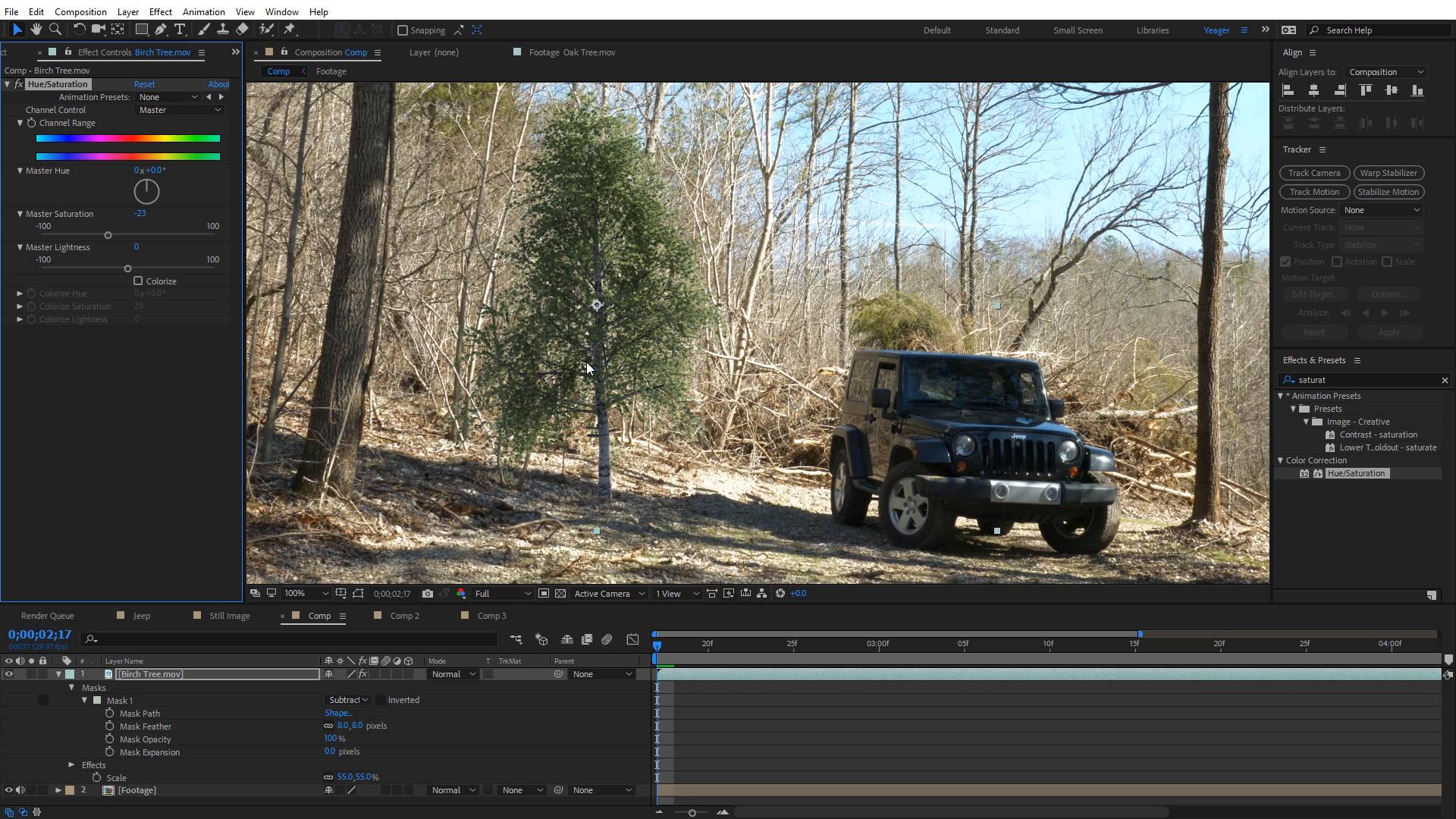 Composición de los efectos a usar
He enlistado los trucos de composición y efectos que uso normalmente, y una breve descripción de las ventajas de cada uno de ellos.
Interpretar metraje: Úsalo para asegurarte de que la velocidad de fotogramas de tu elemento de árbol coincida con la velocidad de fotogramas de tu composición.
Iluminación y sombras: Presta atención a la iluminación y la dirección de las sombras en tu metraje, luego coloca los elementos en tu toma de acuerdo a ellas.
Tono / saturación: Usa este efecto para desaturar tus elementos y hacerlos lucir más realistas. También puedes modificar los colores para que encajen más con los otros elementos en tu escena.
Desenfoque gaussiano: Usa este efecto para añadir un desenfoque sutil en tus elementos de manera que se adapten a la suavidad de tu toma de metraje en locación. También ayuda a reducir el efecto de aliasing.
Ruido: Úsalo para añadir un toque sutil de grano de apariencia natural en tu elemento.
Teñir: Usa este efecto para seleccionar un color oscuro y un color claro de la toma original, luego ajusta el efecto teñir para añadir una cantidad gradual de atmósfera de color de nuevo en tu elemento.
Desenfoque de lente de cámara: Usa este efecto para emular la poca la profundidad de campo de elementos que están localizados más cerca de la cámara.
Diferencia tus elementos

Cuando trabajas con múltiples copias de un mismo elemento, es importante que los diferencies de manera que no se vean idénticos. Estos son algunos de los trucos comunes que puedes utilizar:
Desplazar tus elementos en la línea de tiempo. Esto ayuda a asegurar que todos se muevan de forma distinta, si es que tienen algún movimiento.
Ajustar la escala de cada elemento.
Reflejar o voltear tus elementos usando el ajuste preestablecido Flop de After Effects.
¡Espero que estos consejos de composición te ayuden en tus futuros proyectos!
Enlaces mencionados en este tutorial
Want a weekly email summary?
Subscribe below and we'll send you a weekly email summary of all new Photo tutorials. Never miss out on learning about the next big thing.
Sign up
Charles Yeager is a Motion Graphics Artist and Filmmaker currently residing in Arkansas. Locally he works with many advertising and production companies in the South and Midwest. He also regularly creates tutorial content for Envato Tuts+, Mettle, Adobe, and PremiumBeat. See his portfolio at
yeagerfilm.com
.
Looking for something to help kick start your next project?
Envato Market
has a range of items for sale to help get you started.