Read Time:
2 mins
Languages:
Sponsored Content
This sponsored post features a product relevant to our readers while meeting our editorial guidelines for being objective and educational.
به مجموعه فتوشاپ در 60 ثانیه خوش آمدید، در این مجموعه میتوانید یک مهارت، ویژگی یا تکنیک در فتوشاپ را در یک دقیقه یاد بگیرید. در این ویدیوی سریع Melody Nieves به شما نشان خواهد داد که چطور تصاویر خود را سریع و ساده با استفاده از اکشن فتوشاپ شارپ کنید.

جریان کاری خود را با اکشن فتوشاپ بهتر کنید

در صورتی که میخواهید در جریان کاری خود کمی پیشرفت داشته باشید، قابلیت اکشن‌های فتوشاپ را در نظر بگیرید. اکشن‌ها به شما اجازه میدهند تا افکت‌های تصویری اعمال کنید و بسادگی و با چند کلیک آنرا ویرایش کنید. مجموعه‌ی شگفت‌انگیزی از اکشن‌های فتوشاپ موجود در وبسایت Envato Market را جستجو کنید.

و این ویدیو را بررسی کنید تا یاد بگیرید چطور خیلی سریع تصاویر را با اکشن فتوشاپ شارپ کنید.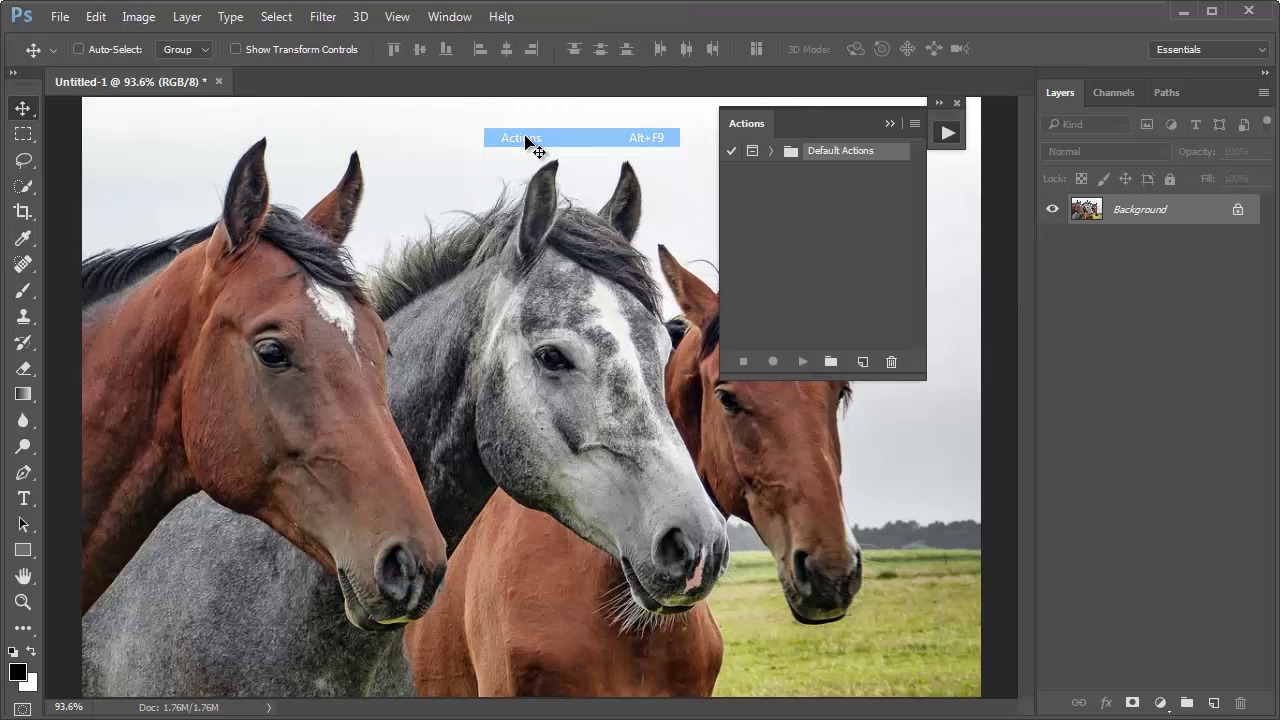 روش شارپ کردن تصاویر با اکشن‌های فتوشاپ

برای بالا بردن وضوح تصویر زیر، من از مجموعه 10 اکشن پرمیوم شارپ کردن عکس از وبسایت GraphicRiver استفاده میکنم. در دانلود این اکشن تردید نکنید و میتوانید با استفاده از این تصویر زیبا از اسب که در ویدیو استفاده شده خودتان آنرا امتحان کنید.

ابتدا لازم است اکشن مورد انتخاب خود را لود کنید. به منوی Window بروید و Actions را انتخاب کنید. در منوی پنل Actions ، گزینه Load Actions را انتخاب کنید. سپس بروی اکشنی که دانلود کردید کلیک کنید و Load را انتخاب کنید.
زمانیکه آماده برای اعمال افکت هستید، یکی از اکشن‌های شارپ کردن را انتخاب کنید و بروی دکمه Play کلیک کنید.
با کار کردن با دیگر اکشن‌های قرار داده شده در مجموعه، تنظیمات مختلف موجود شارپ کردن را کنکاش کنید. خیلی ساده است! حال میتوانید از وضوح جدید تصاویر خود برای عکاسی با تاثیر بالا استفاده نمایید.

افکت نهایی را در زیر ببینید.

جزئیات بیشتر
میخواهید در مورد اکشن فتوشاپ بیشتر بدانید؟ این فهرست ارزشمند از آموزش‌ها را بررسی کنید:

60 ثانیه‌ای؟!
این یکی از قسمت‌های مجموعه ویدیوهای کوتاه آموزشی در +Envato Tuts است که در آن گستره ی وسیعی از موضوعات را تنها در 60 ثانیه معرفی میکنیم تا اشتهای شما را برای یادگیری بقدر کافی تحریک کنیم.  در بخش نظرات، افکار خود در مورد این ویدیو و آنچه که دوست دارید در 60 ثانیه برایتان توضیح داده شود را با ما در میان بگذارید !

Weekly email summary
Subscribe below and we'll send you a weekly email summary of all new Photo & Video tutorials. Never miss out on learning about the next big thing.
Update me weekly
Translations
Envato Tuts+ tutorials are translated into other languages by our community members—you can be involved too!
Translate this post
Powered by
Looking for something to help kick start your next project?
Envato Market
has a range of items for sale to help get you started.