Charles Yeager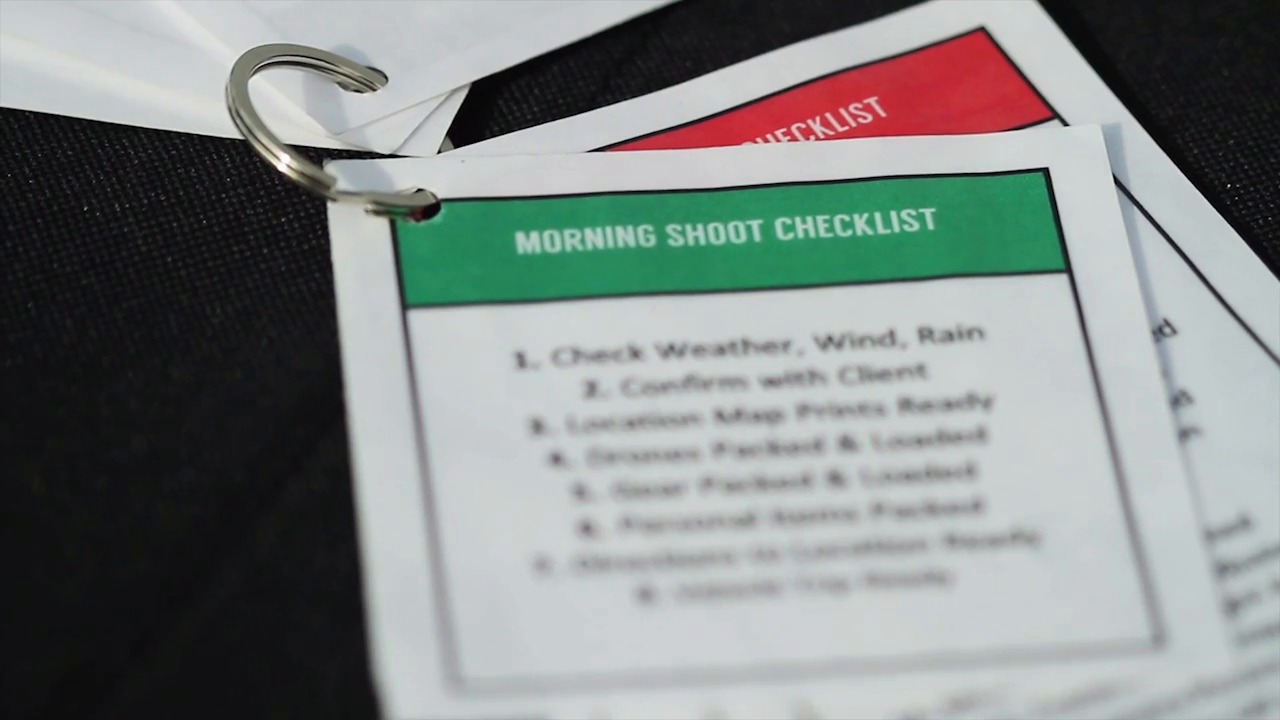 C'est une excellente idée d'avoir plusieurs listes de contrôle à exécuter avant un tournage programmé drone. J'ai six listes de contrôle différentes que je parcours avant chaque tournage. (Vous pouvez également télécharger toutes les listes de contrôle de cette leçon dans le fichier de projet.) Trois des listes de contrôle que j'utilise sont 'Listes de préparation avancée' et trois sont 'Jour des listes de contrôle'.
Listes de préparation pour la préparation avancée

Liste de contrôle des lieux
Avant de filmer à un endroit pour un client ou vous-même, il est toujours une bonne idée de savoir autant que vous pouvez sur l'emplacement avant le tournage.
1. Confirmez l'emplacement du client
2. Localisation de la carte sur Google Earth
3. Vérifiez la carte VFR de l'emplacement
4. Aires de vol de prévision
5. Localisez les zones de collision de sécurité
6. Obtenez des autorisations si nécessaire
7. Prévisions météorologiques



Liste de contrôle de la planification de la mission
Avec cette liste de contrôle, vous pouvez identifier vos objectifs de tournage et comment vous les accomplirez.
Scénario: Grande image
[Objectifs du client, météo, terrain]
Mission: Objectifs spécifiques pour le vol
[Recourir de retour à si les choses changent]
Exécution: Comment faire
[Chemin de vol, liste de tir, chronométrage, sécurité]
La loi de Murphy
[Qu'est-ce qui peut arriver?]
Logistique
[Vêtements, nourriture, équipement, urgence]
Commandement
[Méthodes de communication, Rôles]
Liste de contrôle du pack Drone
Il s'agit de la liste de contrôle que vous utiliserez lors de l'emballage de votre drone la nuit avant un tournage.
1. Nombre de drones
2. Batteries chargées & emballées
3. Batteries du contrôleur chargées
4. Contrôleur & Ecrans Emballés
5. iPad chargé & emballé
6. Vérifiez les mises à jour de Drone
7. Batteries de l'appareil photo chargées
8. Caméras drones vérifiées & emballées
9. Câbles électroniques emballés
10. Props & Fasteners Emballés
11. Cartes mémoire formatées & chargées
12. Inspection visuelle du drone
13. Caisses scellés
14. Articles de sauvegarde emballés
15. Ensemble d'équipement d'urgence en voiture
16. Équipement d'engin emballé
'Jour' des listes de contrôle
Liste de contrôle du matin
Différentes choses à vérifier le matin d'un tournage avant de partir pour l'emplacement.
1. Vérifiez météo, vent, pluie
2. Confirmez avec le client
3. Imprimés de cartes d'emplacement prêts
4. Drones emballés & chargés
5. Équipement emballé & chargé
6. Articles personnels emballés
7. Accès à l'emplacement prêt
8. Prêt pour le transport de véhicules
Liste de contrôle avant le vol
Examinez cette liste de contrôle avec votre drone à l'emplacement de prise de vue directement avant de prendre le vol.
1. Mise à jour du microprogramme?
2. Inspection visuelle
3. Batteries chargées
4. Props serré/verrouillé
5. Filtre ND nécessaire?
6. Mémoire dans la caméra/formaté
7. Batteries de l'appareil photo chargées
8. Contrôle de luminosité ajusté
9. Ombre ou capot de moniteur
10. Transmetteur activé
11. Drone allumé
12. Verrouillage GPS/Calibré
13. Hauteur minimale ajustée
14. Hauteur minimale de retour ajustée
15. Fréquence de transmission
16. Style d'image de l'appareil photo
17. Lieu de décollage sécuritaire
18. Identification des emplacements d'urgence
19. Équipement d'engin allum
20. Zone dégagée de personnes
21. Décollage
Les procédures de sécurité
Revoyez ces procédures de sécurité en cas d'accident.
S'ENVOLER
1. Retourner à la maison pressé
2. Avertir les personnes alentours
3. Direction drone
4. Distance drone
5. Prédiction de la durée de vie de la batterie
6.GPS Carte
7. Déterminer à conduire après ou rester
8. Chasse à l'intérieur du rayon
CRASH
1. Avertissez les gens de l'accident éminent
2. Désactivez le contrôleur
3. Restez en arrière jusqu'à ce que le drone est inactif
4. Prenez des photos de dégâts
5. Évaluez les dégâts causés au drone
6. Évaluez les dommages matériels
7. Contactez l'assurance
N'oubliez pas que toutes ces listes de contrôle sont disponibles pour téléchargement dans le fichier de projet.

Mentionné dans ce tutoriel
Want a weekly email summary?
Subscribe below and we'll send you a weekly email summary of all new Photo & Video tutorials. Never miss out on learning about the next big thing.
Sign up
Charles Yeager is a Motion Graphics Artist and Filmmaker currently residing in Arkansas. Locally he works with many advertising and production companies in the South and Midwest. He also regularly creates tutorial content for Envato Tuts+, Mettle, Adobe, and PremiumBeat. See his portfolio at
yeagerfilm.com
.
Start your 7-day free trial*
*All Individual plans include a 7-day free trial for new customers; then chosen plan price applies. Cancel any time.