Envato Market
Unaprijed pripremljeni predlošci mogu vam pomoći da svojim videima pružite dodatnu dimenziju. U ovom članku smo prikupili neke od najboljih flat dizajn After Effects predložaka dostupnih na stranici Video Hive kako biste na bilo koji dizajn mogli unijeti flat dizajn.
Flat-tastično!

Rachel Shillcock definira flat design trend na ovaj način: "Flat dizajn je upravo to: dizajn koji dolazi bez ekstra ukrasa koji dodaju dubinu poput tekstura, (očitih) gradijenata, 3D prikaza i umjesto toga je zamijenjen više "flat" (plosnatom) estetikom koja je vrlo čista i oštra. Sven Lenaerts kaže: "Flat dizajn koristi jednostavne elemente i oblike kombinirane sa predominantnim svijetlim bojama da naglasi jednostavnost i čistoću."
Zvuči odlično, zar ne! Kod određenih videa, flat estetika je baš savršena stvar koja upotpunjuje izgled.

Flat Slideshowovi i Prezentacijski Predlošci

Brzinski prikažite svoje fotografije ili videe u Super Simple Slide Show After Effects Template predlošku, dostupnom u 4K i HD1080. Sve animirane scene imaju prijelaze na početku ali ne i na kraju pa možete preklapati scene na koji god način želite i tako promijeniti trajanje videa.
Corporate Slideshow je čista i jednostavna prezentacija koja sadrži 28 placeholdera za fotografije. Predložak je lako prilagoditi i boje se mogu mijenjati jednim klikom.
Predložak u punoj HD rezoluciji sa 24 placeholdera za slike ili video i 12 njih predviđenih za tekst. Uključen je i video tutorial kako bi vam pomogao pri podešavanju.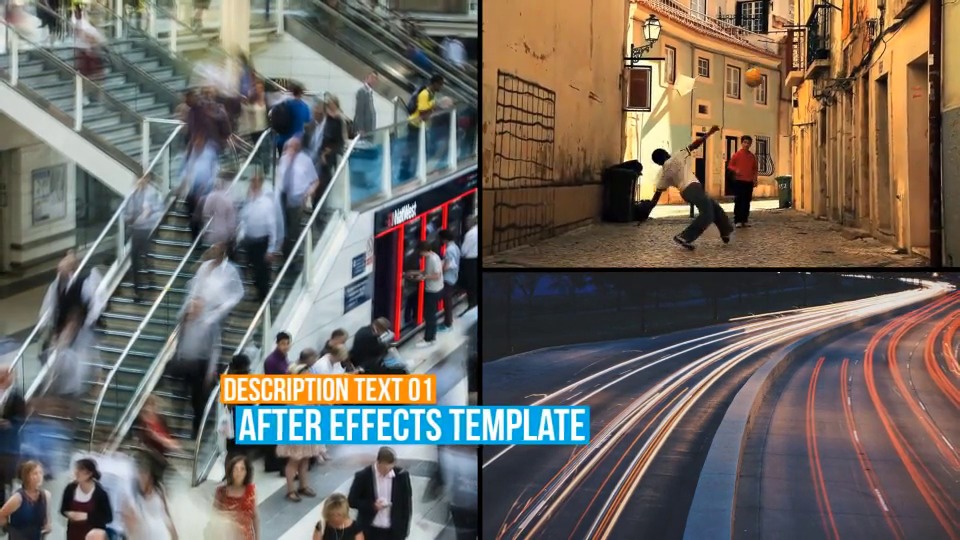 Ovo je prezentacija dizajnirana da ukratko predstavi vašu kompaniju. Projekt ima modularnu strukturu, pa možete lako brisati, mijenjati ili duplicirati neke dijelove.
Korporacijski Predložak za Prezentaciju uključuje: Logo Intro, O Nama, Timski Rad, Infografike, Proces, Proizvodi, Naši Klijenti, Preporuke, Kontakt, Logo Outro. Full HD rezolucija i kompatibilnost sa Adobe CS6 i novijim verzijama.
Flat Emitirani Identiteti

Potpuni TV prijenosni paket za vaše video produkcije baziran na flat dizajn izgledu i dostupan u 4 boje: plavoj, crnoj, magenta i tamnoj cyan. Projekt se lako koristi i brzo renderira.
Ovaj lako prilagodljivi predložak uključuje poveznicu na besplatni font i sadrži logo holdere, lower thirds, sponzorske holdere itd.
Kompatibilan sa After Effects CS4 i novijim verzijama, u full HD 1920 x 1080 rezoluciji. Predložak uključuje logo prijelaz, lower third, promocije, završne zasluge, itd.
Moderan paket elemenata koji će vam pomoći kreirati čistu i modernu vremensku prognozu za TV ili YouTube. Uključuje preko 40 animiranih "seamless" loop ikona i 4 unaprijed kreirane postavke scene.
Ovaj Broadcast Pack komplet je dizajniran da naglasi i promovira vaš TV kanal. Uključuje različite teme boja i potpuno editabilna imena i naslove.
Flat Infografike
Flat Infographic Pack 2 ima 32 elementa korisna za široki spektar primjene. Mogu se lako i brzo editirati ili kombinirati, dodajući ekstra vrijednost i moderan izgled vašem projektu.
Sa 150 infografičkih elemenata uključujući grafikone, dijagrame, animirane mape i mnoge druge, ovaj infografički komplet će vašoj video prezentaciji pružiti moderan, elegantan izgled.
Raznobojni i čisti dizajn za statistike. Uključuje 6 glavnih prikaza i kompatibilan je sa After Effects CS5 i novijim verzijama.

Flat Informacija na Ekranu
Kompatibilan sa CS6 i novijim verzijama, ovaj Call-Outs komplet uključuje preko 40 opcija i kompatibilnost sa više od 500 Google ikona. Preuzeta datoteka uključuje PDF tutorial sa poveznicama na sve korištene fontove.
Jeste li Pronašli Svojeg Flat Dizajn Favorita?
Ako ste pronašli odličan After Effects predložak, javite nam!

Want a weekly email summary?
Subscribe below and we'll send you a weekly email summary of all new Photo & Video tutorials. Never miss out on learning about the next big thing.
Sign up
Melbourne, Australia
Everything you need for your next creative project. Over 9 million digital products created by a global community of designers, developers, photographers, illustrators & producers.
Looking for something to help kick start your next project?
Envato Market
has a range of items for sale to help get you started.