Marie Gardiner
Ebben a bemutatóban, meg fogjuk nézni, hogyan adj hozzá alapvető metaadatot - információt információról - a képeidhez. Fontos metaadatot tartalmazni, mikor képeket kezelsz: egy kis extra információ egy kép kontextusáról és jelentéséről átváltoztatja a szervezetlen halmát régi képeidnek egy hasznos, megfelelően szervezett kép archívummá.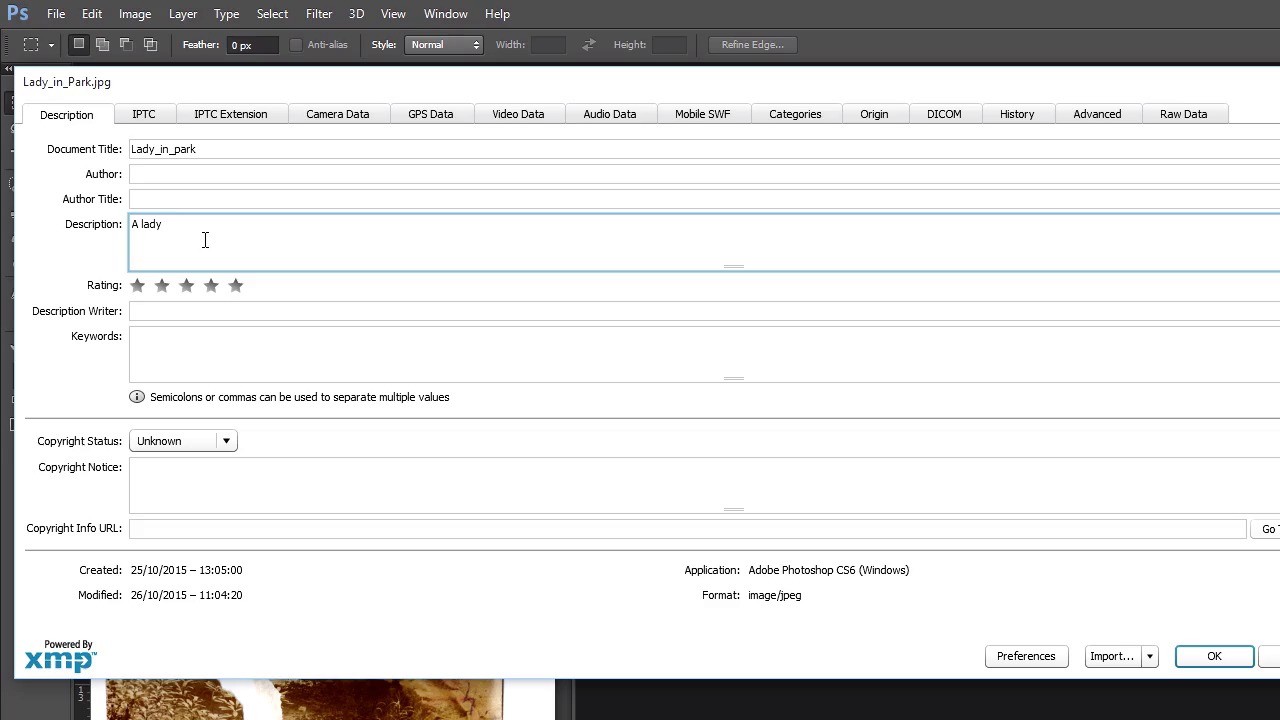 Metaadat birtoklása azt jelenti, hogy könnyen kereshetsz és találhatsz képeket, ahogy az archívumod növekszik. Ez azt is jelenti, hogy adatokat tárolhatsz képeken belül, és frissítheted a memóriádat, ahogy később kéne.

Régi képekkel dolgozás mindig olyan, mintha detektív lennél. Például, vagy egy képed, de meg akarsz találni egy másikat, ami a szett része volt. Van amit tudsz az adott képekről - néha egyáltalán nem sokat - és itt van ami hiányzik, de megtalálható. Kezdjük a hiányzó infóval.
Hiányzó információ
Egy korábbi bemutatóban, említettem a kép hátuljára írást. Sok régi nyomtatásnak van információja ráírva, és ez az első hely, ami kezdheti az információ keresését, ha nem tudsz semmit a képről.
Aztán, tudsz-e azonosítani egy helyet vagy személyt? Ha látod, hogy a kép mondjuk Sunderland-ből van, ami a szülővárosom, ez megadja a lehetőséget, hogy megkérdezz egy helyi történelmi csoportot, mint a Sunderland Régészek vagy talán kapcsolatba lépj a helyi újsággal, hátha ők tudnak több infót adni a képről.
A közösségi média egy remek mód, hogy szélesebb közönség elé tárj valamit, és talán találj valakit, aki segíthet kitölteni az üres részeket.
"Azt gondoltam, a történelem Viktoriánus, Edwardi és azon túli volt. Nem, a történelem az, ami után a mostani emberek sóvárognak, amire emlékeznek gyerekkorukból. Ez a 60-as, 70-es évek is lehet, és ez életbevágóan fontos amit most mondunk az embereknek, ideadod a régi képeidet? És mikor megvannak, digitalizálhatjuk őket a jövő generációinak.' - Norman Kirtlan, Sunderland Régészek Társasága
Mit tartalmazz a metaadatodban
Mikor van információd a képről, elkezdheted hozzáadni az adatokat. Kezdd egy címmel ami könnyen felismerhetővé teszi a képet és próbáld meg rövidre fogni. Mikor elkezdesz címet adni a képeidnek, következetesnek kell lenned a szerkezettel és a stílussal. Szóval, például, kezdheted a hellyel és bármi más információval, például sunderland_mulberrypark.
Gondolj katalógus szám adására is, ha sok képpel kell dolgoznod.
Ezután jön a leírás: Egy felirat ami a legjobban kötődik a képhez. Tartalmazzon képeket, mint a képkészítő, ha ismert, a hely, és minden ember a képen. Ezután, adj hozzá kulcsszavakat.
A trükk itt a feltételek használata a képen található tartalom leírására, továbbá ide tartozónak és különlegesnek megtartani. Ha a kép egy park tele emberekkel és van egy kutya majdnem látótávolságon kívül a háttérben, a "kutyá" - val elnevezni a képet nem a legcélravezetőbb ötlet. 
Gondolj arra, mik a fő lehetőségek a képben, ki a jelen, hol van, mik a körülmények és bármi más releváns információ.
Továbbá tartalmazhatsz egy szerzői jogot ha egy kép online megosztásán gondolkodsz. 
Hogyan adj hozzá metaadatot egy képhez 

A legtöbb képszerkesztő program lehetővé teszi, hogy adatokat adj meg valahogy, ami olvasható és kezelhető különböző szoftverekről. Photoshopban, kattints a Fájlra, aztán a Fájl infóra, hogy behelyezd az adataidat.
Ha a legördülő gomra nézel alul látni fogsz egy exportálás opciót. Ha ezt csinálod és elmented a fájlt, lesz egy sablonod jövőbeli képekhez, ami nagyon hasznos, ha egy nagy szetthez adsz hozzá adatot.
Az Adobe Bridge lehetővé teszi, hogy tételekben adj hozzá metaadatot, ami másik nagy időmegtakarító, ha nagy zámban katalogizálsz képeket. A metaadat a fájlméretet nagyobbá teszi, de csak marginálisan, és megéri a szervezett katalógus előnyeiért csinálni.
Képinformáció gyakran eltűnik egy digitális kép átruházásánál helyről helyre, szóval beágyazott metaadat birtoklása ami része a fájlnak azt jelenti, hogy mindig a mappával van, amíg valaki céltudatosan ki nem törli.
Want a weekly email summary?
Subscribe below and we'll send you a weekly email summary of all new Photo & Video tutorials. Never miss out on learning about the next big thing.
Sign up
Photographer and writer based in north east England.
Marie Gardiner is a writer and photographer from the North East of England. After gaining her degree in Film and Media, Marie worked in the media industry, before leaving to set up the business she runs with her partner: Lonely Tower Film & Media. As well as writing about visual practices like photography and video, Marie is also the author of Sunderland Industrial Giant (The History Press, 2017), Secret Sunderland (Amberley Publishing 2019), and Celebrating Sunderland (Amberley Publishing 2023). Her photographic work focuses on landscapes and industrial ruins, particularly those of the North Pennines as she continues to work on her long-form documentary project Changing Landscapes.
Looking for something to help kick start your next project?
Envato Market
has a range of items for sale to help get you started.