Melody Nieves
Üdvözlünk a Photoshop 60 másodpercben sorozatuknál, ahol elsajátíthatsz Photoshop jártasságokat, lehetőségeket, vagy technikákat csak egy percben!
Photoshop 60 másodpercben
Hihetetlen háttereket készíthetsz bármilyen grafikai tervezés projektedhez egy Photoshop akció használatával. És ebben a rövid videóban lentebb, meg fogom mutatni, hogy alakíts át egy egyszerű képet egy kreatív vízfestmény akcióval.
Böngészd Photoshop akciók hihetetlen szelekcióját, amik elérhetőek GraphicRiveren és Envato Elementsen keresztül több effektért.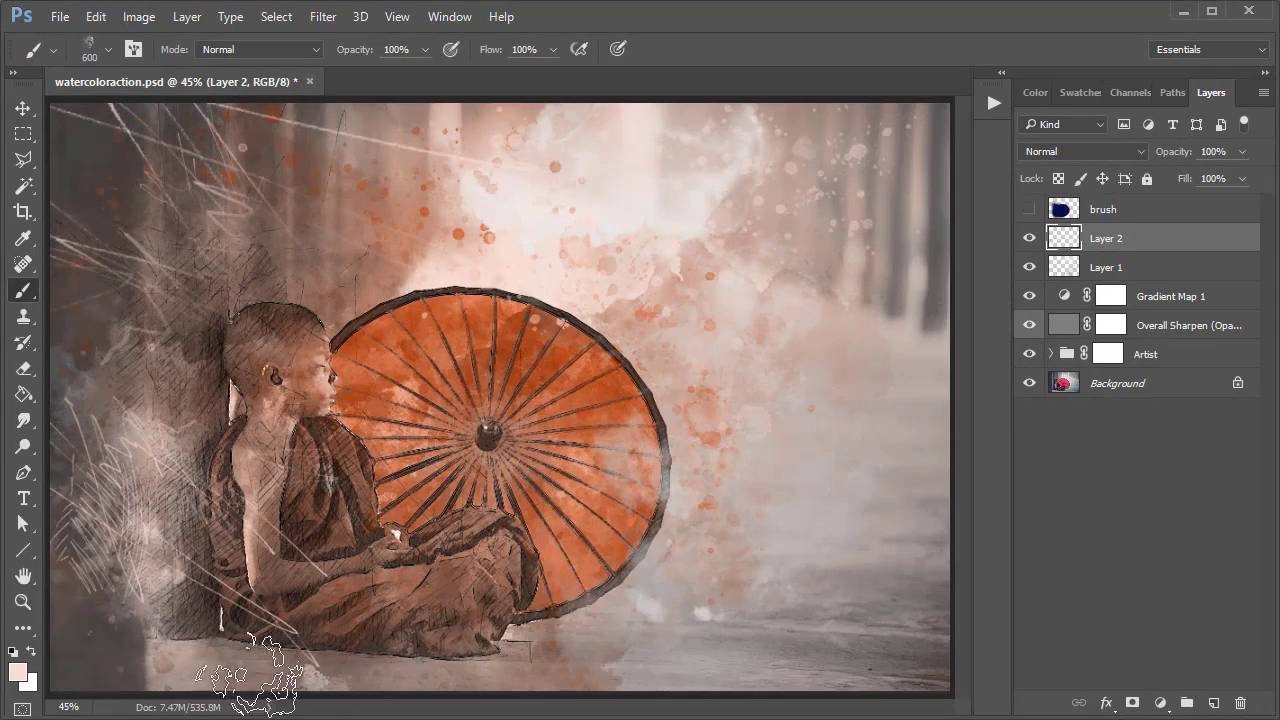 Hogyan készíts egy vízfestmény háttér effektet
Nyisd meg a képedet Photoshopba. Itt én ezt a Fiú Portrét fogom használni 2000x1304 pixellel.
Ezután töltsd be ezt a Művészi Photoshop Akciót az Akciók palettába ahogy az ecset szett tartalmazott.
Készíts egy Új Réteget és nevezd el ecsetnek. Válaszd ki az Ecset eszközt (B) és használd az ecsetet, hogy Feltöltsd a területeket ahol meg akarod jelentetni az effektet. Itt megfestettem a fiút és egy kicsit a háttérből. Mikor kész vagy, nyomd meg a Lejátszás gombot, hogy lejátszd az akciót.

Korábban, meg lettél kérve, hogy csinálj pár manuális beállítást. Szóval, állítsd be a Küszöbértékeket, mielőtt folytatod az akciót.
Fejezd be a vízfestmény effektet a Beállítási Rétegek megtapasztalásával a Sketch és Vízfestmény mappában. Rejts el pár réteget vagy adj hozzá egy gyönyörű barna #4a1905-öt és fehér Gradiens térképet egy szép színért. Aztán használd az ecseteket amiket tartalmaz az akciód több textúráért.

Itt a végeredmény.

Akarod látni valós időben? Nézd meg a fenti videót, hogy lásd ezt az órát munkában!

Egy kicsit több adat
Tanulj többet Photoshop szakértőinktől. Nézd meg a következő bemutatókat lentebb:
60 másodperc?!
Ez része egy gyors bemutatóvideó sorozatnak, ahol bevezetünk különféle témákba, mindössze 60 másodpercben - épp elég, hogy felkeltse az érdeklődésedet. Tudasd velünk a komment részlegben, mit gondolsz erről a videóról, és mi mást szeretnél még látni elmagyarázva 60 másodpercben!
Want a weekly email summary?
Subscribe below and we'll send you a weekly email summary of all new Photo tutorials. Never miss out on learning about the next big thing.
Sign up
Digital Artist - CT, USA
I'm an Afro-Latina digital artist originally from Long Island, NY. I love to paint, design, and photo manipulate in Adobe Photoshop while helping others learn too. Follow me on
Instagram
or tweet me
@MelloNieves
and tell me what you'd like to see next!
Looking for something to help kick start your next project?
Envato Market
has a range of items for sale to help get you started.