Melody Nieves
Dengan Instagram Stories, anda dapat terhubung ke followers anda dengan cara yang sangat khusus. Poskan foto dan video kehidupan anda, dan bagikan momen spesial dari kehidupan anda dalam hitungan detik.

Pelajari bagaimana Memulai Instagram Stories lebih lanjut pada topik ini, dan cobalah proyek kreatif seperti color story di bawah ini.

Apa itu Color Story?

Sebuah color story adalah rangkaian gambar atau video yang mengikuti palet warna tertentu. Color story menggunakan warna dengan hati-hati sebagai petunjuk visual bagi pemirsa untuk mencari koneksi di antara gambar-gambar anda, mengundang mereka untuk membuat story di benak mereka. Bila digunakan secara efektif, anda dapat menciptakan pengalaman visual yang indah bagi followers anda.

Masukkan color stories ke media sosial anda untuk buat profil anda lebih indah.
Tempat Mencari Inspirasi Warna
Profil Instagram
Ada banyak profil inspirasional dengan citra yang indah yang bisa anda temukan di Instagram. Dari fotografer profesional, hingga seniman berbakat dan guru kecantikan, semua orang sekarang tahu tentang kekuatan gambar yang indah di media sosial.
Simak beberapa Instagrammers favorit anda untuk mendapatkan inspirasi. Lihatlah warna mana yang paling mereka sukai dan pelajari cara transisi gambar mereka sepanjang timeline mereka.
Profil terbaik saya berasal dari Shameless Maya dan Michelle Phan. Mereka berdua adalah guru kecantikan dengan latar belakang seni dan fotografi. Karena palet warna mereka lebih pada sisi terang, saya suka mencoba dengan ide-ide untuk komposisi, suasana hati, dan storytelling yang berkualitas.

Color Palette Generator

Sebagai seorang designer dan artis, satu sumber yang saya suka gunakan adalah situs web yang didedikasikan untuk color generator. Gunakan mereka untuk memilih warna dari foto, pilih dari katalog palet yang indah, atau buat sendiri. Tertarik dengan beberapa generator? Lihat Adobe Color, Coolors, dan Color Lovers beserta yang lainnya.

Lingkungan dan Kehidupan Anda

Manfaatkan dunia di sekitar anda untuk mendapatkan lebih banyak inspirasi warna. Jelajahi lingkungan anda, jelajahi dengan kertas dan material seni, atau pilih warna favorit anda untuk memulai.

Berikut adalah beberapa area dari kehidupan anda sendiri sehingga anda bisa terinspirasi:
Alam
Fashion
Orang
Binatang

Arsitektur
Teknologi

Desain interior

Memilih Palet Warna
Sebagai seorang yang kreatif, saya suka membuat sesuatu sesuai dengan perasaan saya. Dan terkadang ketiadaan warna berbicara banyak.

Saya adalah seniman stereotip anda, saya lebih sering mengenakan warna hitam dan saya menyukai kontras yang bagus dalam disain, jadi saya memutuskan untuk melilih palet warna hitam dan putih untuk story saya. Palet warna ini tidak hanya memancarkan desain yang ramping dan canggih, namun juga memungkinkan saya untuk fokus mempraktekkan kemampuan fotografi saya untuk menghasilkan citra yang hebat dan berdampak.

Pilihan Mood dan Tema
Instagram dikenal sedikit... dibuat-buat. Antara foto yang over proses dan pemotretan tanpa cela, semua terlihat seperti semua orang menjalani kehidupan online yang sempurna.

Salah satu hal yang ingin saya ingatkan adalah bahwa tidak masalah menjadi manusia pada umumnya. Hari-hari anda tidak akan selalu dipenuhi sinar matahari dan airbrush, jadi penting untuk menyadari bahwa tidak apa-apa mengalami hari-hari buruk, dan memberi diri anda beberapa waktu untuk memproses perasaan anda.
Ini hanyalah bagian dari pengalaman kreatif. Ekspresikan diri anda melalui seni anda dan biarkan Instagram stories anda menjadi platform tersebut.

Untuk suasana hati dan tema color stories saya, saya ingin mengemukakan gagasan ini menjadi capaian. Dan hal terbaik tentang palet warna hitam dan putih adalah tone yang membuat saya serius untuk lebih menyampaikan sedikit pesan.

Jadi saya akan mulai dengan pertanyaan sederhana ini:
"Bagaimana perasaanmu?"
Kemudian tindak lanjuti beberapa contoh emosi yang berbeda. Pada akhirnya, saya akan mengambil beberapa moment singkat untuk dijadikan beberapa saran dan berbagi cinta dengan followers saya.

Apa yang Anda Butuhkan Sebelum Anda Mulai
Semua yang Anda pernah benar-benar perlu untuk setiap cerita Instagram adalah telepon dan aplikasi download ke perangkat Anda. Tetapi jika Anda ingin mengambil kualitas dan efek visual ke tingkat lain, jangan ragu untuk bereksperimen dengan berbagai foto dan video editing apps.

Berikut adalah beberapa hal yang saya digunakan untuk membuat warna cerita saya:
Telepon saya: Hampir semua perangkat Android atau iOS akan melakukan.

Kamera Digital: Untuk foto yang lebih baik, saya menggunakan saya Samsung NX2000.
Smartphone Tripod: Untuk stabil foto dan video.

Photoshop CC: Untuk mengedit foto saya dengan lebih banyak kontrol atas penyesuaian.
Boomerang App: untuk loop video yang cepat.

Untuk membantu mengilustrasikan cerita saya bahkan lebih, dan sehingga Anda dapat mengikuti bersama, saya telah dimasukkan beberapa saham gratis dari Pixabay. Jika Anda tidak tahu apa yang harus menembak tapi masih ingin cerita Anda untuk melihat foto-foto yang baik, maka persediaan, seperti dari Envato Elements, adalah cara yang bagus untuk menambahkan gambar berkualitas dengan cerita Anda.

Cara Membuat Cerita Warna
Mengatur pesan Anda
Jika Anda ingin membuat sebuah cerita yang akan bertahan lebih lama daripada satu gambar atau video, kemudian membuat garis besar cepat. Mengatur pikiran Anda dalam beberapa poin-poin dan mencari tahu apa yang ingin Anda katakan sebelumnya.
Menembak Foto dan Video

Sekarang mari kita menembak kisah kita. Meskipun saya mengambil video langsung pada telepon saya, saya memilih untuk mentransfer foto dari kamera digital saya sejak telepon saya tidak melakukannya dengan baik dalam cahaya rendah. Menggunakan foto-foto dari tunas sebelumnya atau mengambil yang baru. Untuk menambahkan menyenangkan, saya bahkan dimasukkan video diulang menggunakan aplikasi Instagram, Boomerang.

Memeriksa Tutorial ini untuk bantuan lebih lanjut menembak fotografi dan video:
Mengedit cerita warna

Menggunakan Photoshop untuk Editing presisi

Apps foto besar, tapi saya begitu terbiasa untuk menggunakan Adobe Photoshop yang tidak ada yang lain yang sebanding. Tetapi jika Anda sedang mencari perbaikan cepat, merasa bebas untuk menggunakan app untuk filter warna-warni pengedit foto favorit Anda.

Untuk mengedit gambar untuk hitam dan putih terlihat bagus, saya menggunakan beberapa penyesuaian lapisan dan bereksperimen dengan mode campuran lapisan. Mencoba untuk meniru penyesuaian sebaik yang Anda bisa dengan masing-masing foto jadi yang mereka transisi ke satu sama lain.

Saya juga menggunakan Photoshop untuk menambahkan teks ke beberapa gambar. Anda dapat melakukannya secara langsung pada Instagram cerita sebagai gantinya, tetapi Anda tidak akan memiliki akses ke font yang indah dan menyenangkan untuk pesan Anda. Jika Anda tertarik pada jenis font yang dulu, jangan ragu untuk men-download Master istirahat.

Instagram cerita filter
Mengubah cerita Anda ke hitam dan putih dengan menggunakan aplikasi yang terpisah atau filter yang dibangun tepat di untuk cerita Instagram. Hanya geser kanan pada layar berulang kali untuk siklus melalui filter yang berbeda, atau menggunakan aplikasi seperti InShOt untuk mendapatkan warna yang Anda inginkan.

Jika Anda ingin lebih filter untuk memilih dari, Anda juga dapat mengedit video Anda dengan filter Instagram normal sebaliknya. Tanaman dan menerapkan penyaring kemudian berbagi video. Setelah menghemat ke perangkat Anda, hanya menghapusnya dari waktu Anda dan menggunakannya untuk cerita Anda sebagai gantinya. Anda dapat melihat salah satu filter yang saya digunakan untuk bagian gambar kreatif saya cerita di video singkat di bawah ini.

Spidol dan teks
Dapatkan mewah dengan teks dan spidol! Pertama, menulis teks. Kemudian menggambar dengan penanda sebagai latar belakangnya. Tanda-tanda akan menutupi teks sehingga Anda dapat membuat latar belakang mudah untuk pesan setiap kali.

Warna akhir cerita

Mengedit foto pertama kemudian menyimpannya ke perangkat Anda. Ketika Anda selesai, Anda dapat mengunggah cerita Anda penuh dengan setiap transisi sekaligus. Tidak hanya itu memungkinkan pengikut Anda untuk menyelesaikan pikiran dan sudut pandang Anda, tetapi juga mencegah Anda dari memiliki jeda setiap canggung antara posting.

Ingin melihat warna akhir cerita? Check out video ini cepat di bawah ini: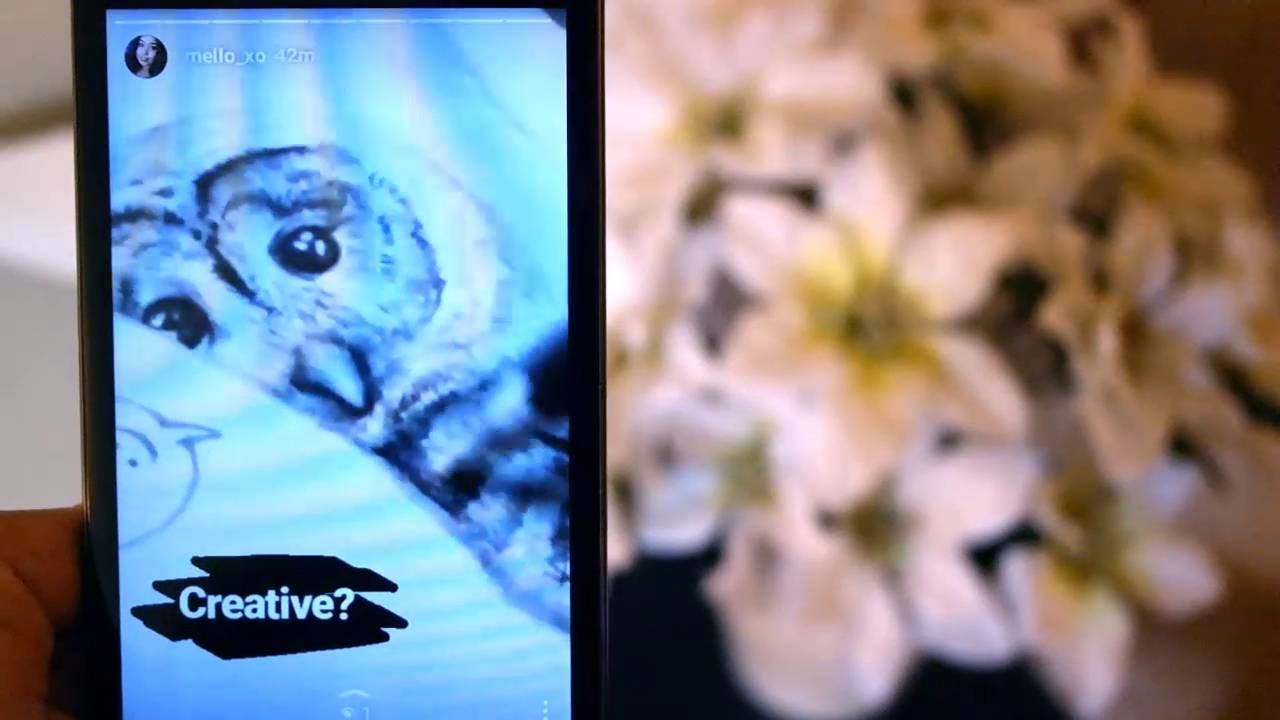 Impress pengikut Anda dengan cerita kreatif dan menggunakan Instagram sebagai outlet untuk meningkatkan foto Anda dan keterampilan video.

Bagaimana Anda akan memasukkan warna ke dalam cerita Anda sendiri? Marilah kita tahu di komentar, dan menantikan untuk lebih menyenangkan tutorial untuk menghidupkan cerita Instagram.

Want a weekly email summary?
Subscribe below and we'll send you a weekly email summary of all new Photo & Video tutorials. Never miss out on learning about the next big thing.
Sign up
Digital Artist - CT, USA
I'm an Afro-Latina digital artist originally from Long Island, NY. I love to paint, design, and photo manipulate in Adobe Photoshop while helping others learn too. Follow me on
Instagram
or tweet me
@MelloNieves
and tell me what you'd like to see next!
Looking for something to help kick start your next project?
Envato Market
has a range of items for sale to help get you started.