Read Time:
3 mins
Languages:
Selamat datang di seri Photoshop Dalam 60 Detik, dimana kamu dapat mempelajari skill, fitur, atau teknik Photoshop hanya dalam semenit!
Efek Sketsa
Sebuah efek sketsa mengambil sebuah foto biasa dan mengubahnya menjadi sebuah karya seni—seperti itu dibuat oleh senimal profesional. Dengan menggunakan Layer Mask dan Brush yang kaku dan tekstur pensil, kamu dapat mencapai tampilan ini dengan mudah dengan sedikit waktu dan strategi. Ketika menciptakan efek ini, pastikan untuk mengikuti aturan menggambar tradisional akan menggaris dan menggaris silang untuk sebuah tampilan yang dapat dipercaya.

Dan periksa bagaimana cara membuat efek foto ini dalam video singkat di bawah.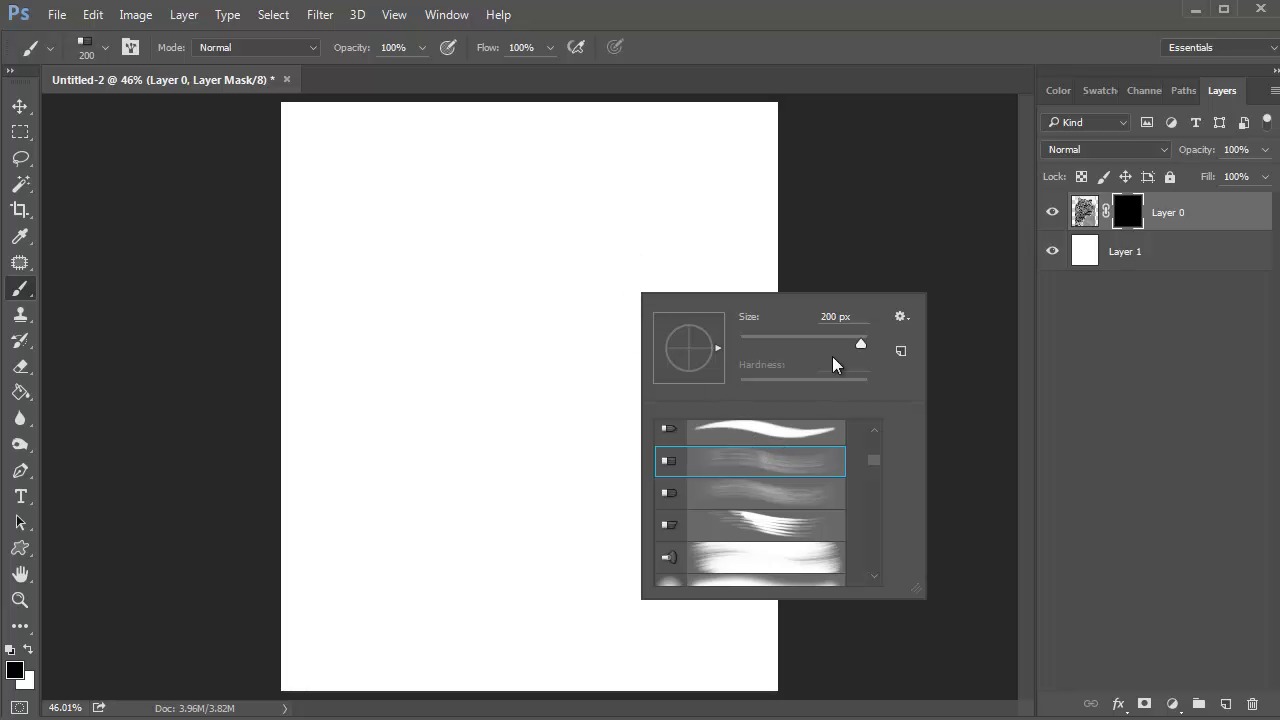 Mulailah dengan menaikkan width pada ukuran kanvas (Control-Shift-C) Dalam contoh ini, saya menggantinya ke 15 inchi, dimana itu merupakan ruang yang cukup untuk gambar itu. Berikutnya buat sebuah layer baru, isi dengan warna putih, dan tarik ke bawah gambarmu. Pilih layer foto, masuk ke Image Adjustments, dan temukan Hue and Saturation. Sesuaikan Saturation ke -100 untuk mengubah gambar menjadi hitam putih. Tambahkan sebuah Layer Mask pada layer gambar dan isi dengan hitam sehingga gambar menghilang.

Sekarang pilih brush tool dan gunakan sebuah brush yang rata, tumpul, pendek, dan kaku lalu mulailah melukis garis putih pada layer mask hitam. Mulailah dengan goresan yang besar untuk pelan-pelan menampilkan gambar di bawah. Gunakan metode menggambar penggarisan silang untuk membuat efek ini lebih realistis. Turunkan ukuran brush dan konsentrasikan goresan ke tengah wajah obyek untuk lebih detail. Lalu gunakan eraser tool untuk menghapus tepi yang keras dengan lembut.

Untuk menaikkan kontras, tambahkan sebuah adjustment layer Levels baru, lalu tindak lanjuti dengan membuat sebuah layer baru dan isi dengan warna abu-abu tipis. Atus Blend Mode ke Multiply dan hapus bagian tengah dengan lembut.

Dan sekian!

Sebuah Alternatif Action Efek Sketsa Yang Ampuh

Pada Graphic River, ada sebuah action Photoshop Efek Sketsa yang bagus oleh laglanz. Action dua tahap ini mengambil motif sketsa lebih jauh lagi, di atas tampilan goresan-bebas pensil pada contoh kita, untuk membuat tampilan sebuah gambar teknis yang presisi.

Action milik Laglanz sangat berguna. Bagi beberapa orang, belajar bagaimana melakukan sketsa dengan tujuan untuk melakukan teknik pada video mungkin menjadi sebuah tantangan—ini adalah jalan pintas yang cepat dan layak. Bahkan jika kamu memiliki skill sketsa, kamu mungkin perlu membuat sebuah sketsa produk atau obyek dalam gaya yang lebih terkontrol. Action ini akan memberikanmu tampilan gambar teknis yang ketat. Action ini juga merupakan tool yang bagus karena itu sangat bisa diulang—kamu cukup menggambar pada area yang kamu ingin tekankan dan action melakukan sisanya. Bagus untuk membuat sebuah tampilah yang konsisten pada berbagai macam gambar, khususnya jika kamu sedang berada dalam deadline.

Sebagai mana action lainnya, sesuaikan hasil sesuai seleramu tergantung pada subyek dan tujuan gambar.

Sedikit Lebih Banyak Detail
Pelajari lebih banyak tentang Adobe Photoshop di Envato Tuts+:
60 Detik?!
Ini merupakan bagian dari seri terbaru tutorial video singkat Envato Tuts+ dimana kami memiliki tujuan untuk memperkenalkan subjek tertentu, semuanya dalam 60 detik—cukup untuk membangkitkan selera kamu. Sampaikan pandanganmu tentang video ini kepada kami dalam kolom komentar dan hal apa lagi yang kamu ingin kami jelaskan dalam 60 detik!

Digital Artist - CT, USA
I'm an Afro-Latina digital artist originally from Long Island, NY. I love to paint, design, and photo manipulate in Adobe Photoshop while helping others learn too. Follow me on
Instagram
or tweet me
@MelloNieves
and tell me what you'd like to see next!
Looking for something to help kick start your next project?
Envato Market
has a range of items for sale to help get you started.