Read Time:
3 mins
Languages:
Menghemat detik berharga di sana-sini benar-benar berguna. Percepat alur kerja Anda di Adobe Lightroom dengan pintasan keyboard yang paling sering digunakan.

Ini jelas bukan daftar yang komprehensif, tapi ini adalah ringkasan dari semua jalan pintas yang saya gunakan setiap hari. Semua pintasan terdaftar untuk PC, tetapi persis sama pada Mac: Opsi sama dengan Alt, Perintah sama dengan Kontrol.
Tampilan

Menavigasi di sekitar tampilan yang berbeda di Lightroom mungkin agak rumit pada awalnya. Melihat foto-foto Anda adalah fitur terpenting dari Lightroom, jadi untuk mencapai berbagai tampilan itu harus cepat dan mudah.
| Tombol | pintasan |
| --- | --- |
| G | Beralih ke Tampilan Kisi |
| E | Beralih ke Tampilan Loupe (satu foto) |
| F | Beralih ke mode Layar Penuh |
| L | Toggle Lights (Menurunkan antarmuka di sekitar foto, menjaga fungsionalitas alat penuh) |
| Tab | Beralih panel samping |
| Shift-Tab | beralih ke semua panel |
Inilah satu tip lagi untuk bergerak cepat di panel Anda. Tahan Alt, dan klik mouse Anda untuk mengayunkan salah satu panel di sisi kanan antarmuka Lightroom. Ini adalah cara cepat untuk beralih "mode solo". Mode solo akan menutup panel apa pun kecuali yang sedang Anda kerjakan. Sudah melakukan peningkatan white balance dan eksposur? Anda dapat menggulir ke bawah panel sampai Anda menemukan yang Anda butuhkan berikutnya (seperti panel Detail) atau Anda dapat beralih mode solo dan ketika panel Detail terbuka, panel Dasar ditutup.
Sortir, Nilai, dan Edit Foto

Saat memilih foto (memilih yang terbaik dari grup), atau mengedit (mengurutkan dan mengurutkan) Anda hanya ingin melihat foto selama sepersekian detik dan beralih ke yang berikutnya secepat mungkin.
| Tombol | Shortcut |
| --- | --- |
| N | Beralih ke mode Survei, yang hanya menampilkan foto yang saat ini dipilih |
| P | Tandai foto saat ini sebagai Pilih |
| X | Tandai foto saat ini sebagai Tolak |
| U | Batalkan tanda foto saat ini |
| 0, 1, 2, 3, 4, 5 | Atur peringkat Bintang pada foto menjadi 0, 1, 2, 3, 4, atau 5 bintang |
| 6 | Atur label warna ke Merah |
| 7 | Atur label warna menjadi Kuning |
| 8 | Atur label warna ke Hijau |
| 9 | Atur label warna ke Biru |
Saat Anda menelusuri foto, jika Anda mengaktifkan Caps Lock Anda, menetapkan bendera (P atau X) tidak hanya akan mengatur bendera untuk foto itu, tetapi secara otomatis maju ke foto berikutnya. Ini menghemat Anda harus mengklik tombol panah di antara setiap foto. Lipatgandakan dengan banyak foto dalam pernikahan Anda, misalnya, dan Anda telah menghemat banyak waktu.
Pengolahan citra
Lightroom adalah prosesor RAW yang kuat, tetapi yang sering kita gunakan adalah memangkas dan mengubah gambar.

| Tombol | Pintasan |
| --- | --- |
| D | Beralih ke modul Mengembangkan |
| R | Aktifkan alat Pangkas |
| X | Ganti alat Pangkas vertikal / horizontal |
| Shift | Memegang membatasi proporsi potongan Anda |
| Alt | Ukuran kedua sisi dari dipotong dengan sama |
| Enter | Menerapkan Potongan |
| Control-' | Membuat salinan Virtual |
Salinan virtual adalah alat hebat yang memungkinkan Anda membuat versi berbeda dari foto yang sama tanpa menambahkan ukuran file tambahan untuk membuat salinan foto yang sebenarnya. Ini berguna untuk memiliki versi warna dan hitam dan putih, tanaman 4x6 dan 8x10, atau apa pun yang Anda mungkin memerlukan beberapa pengeditan atau salinan.
Cara Menghafal Pintasan Keyboard Lightroom
Setiap aplikasi memiliki pintasan keyboard. Kita semua tahu cara pintas ini akan menghemat waktu kita, tetapi masalahnya adalah mereka sulit untuk diingat dan berkomitmen pada memori.
Tentu, ada pintasan lintas-aplikasi seperti salin dan tempel yang ada di mana-mana. Tetapi sebagian besar aplikasi memiliki pintasan khusus yang sulit diingat dan diterapkan dalam pekerjaan Anda sehari-hari.

Dalam screencast di bawah ini, Anda akan belajar menggunakan Anki, program flashcard, untuk mengkomit Lightroom esensial Anda ke memori.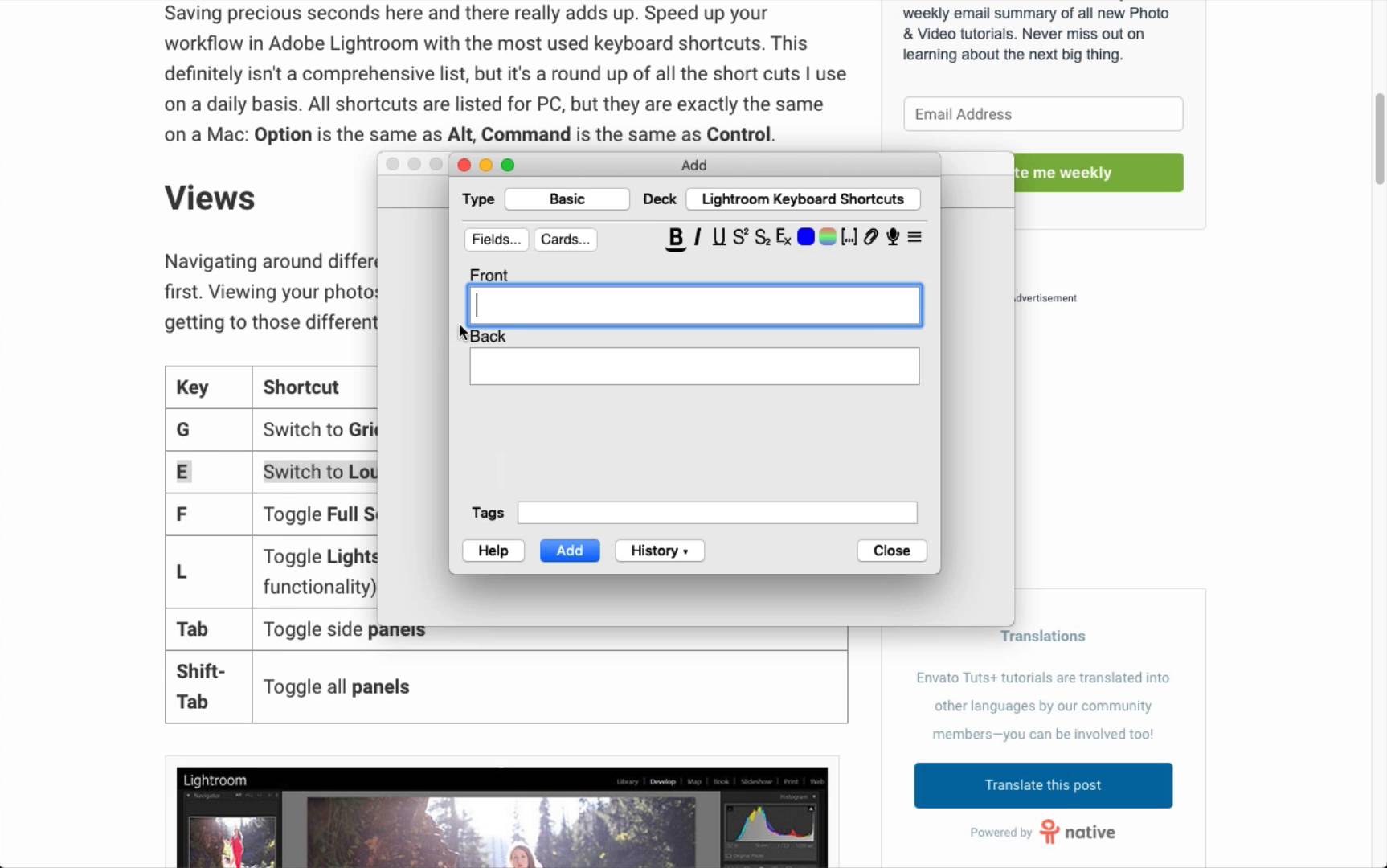 Apakah Anda sudah menjadi ninja Lightroom? Punya cara pintas keyboard rahasia yang Anda tidak bisa hidup tanpanya? Pastikan untuk membagikan favorit Anda di komentar!

Weekly email summary
Subscribe below and we'll send you a weekly email summary of all new Photo & Video tutorials. Never miss out on learning about the next big thing.
Update me weekly
Looking for something to help kick start your next project?
Envato Market
has a range of items for sale to help get you started.