Adi Purdila
Dalam tutorial sebelumnya saya memperlihatkan kepada anda cara mendapatkan backdrop yang bagus untuk studio video DIY anda. Sekarang saatnya untuk melanjutkan dan merakit meja kerja yang akan saya lakukan.
Stand-Up Desk sebagai Meja Kerja

Semua setup saya sebelumnya menggunakan meja normal, termasuk meja yang biasa saya gunakan. Bahkan meja di kantor utama saya seperti itu, tapi untuk studio ini saya ingin melakukan sesuatu yang berbeda. Karena duduk di kursi sepanjang hari itu buruk bagi kesehatan, jadi saya memutuskan saya ingin meja berdiri.
Ada alasan lain untuk style setup ini: saat anda berdiri, anda cenderung lebih aktif, dan itu akan membuat presentasi yang lebih dinamis dan menarik. Kita tidak ingin penonton tertidur, bukan?
Sekarang, ada banyak pilihan ketika memilih standing desk (meja berdiri). Standing desks berkisar dari yang murah sampai yang sangat mahal, dari yang tipis sampai yang kokoh, mulai dari yang simple sampai yang bermotor. Berikut adalah tiga contoh yang pernah saya tahu:
Apa yang anda lakukan untuk menentukan jenis standing desk yang anda butuhkan. Apakah anda sering beralih antara duduk dan berdiri? Kalu begitu pilih yang bermotor, mungkin bahkan yang memiliki modul memori. Apakah anda berdiri lebih sering daripada duduk? Bila begitu mungkin pilih yang tidak bermotor, tapi punya mekanisme adjustment yang simple, seperti engkol.
Untuk studio video baru saya sangat sederhana: Saya akan selalu berdiri. Yang itu berarti saya lebih baik dengan meja yang sangat simple namun kokoh.
Apa yang Akan Anda Butuhkan

IKEA telah menjadi toko furnitur yang mudah ditemukan dan diakses (yang kadang-kadang dipertanyakan) untuk beberapa waktu belakangan. Untuk proyek ini saya memutuskan untuk membuat standing desk sendiri dan bukan membelinya. Saya menginginkan sesuatu dengan tekstur kayu yang bagus, jadi saya memilih kitchen countertop. Untuk dudukannya dan membawanya ke ketinggian yang tepat, saya menggunakan dua trestles dari IKEA. Anda bisa menemukan link di caption gambar. Anda juga memerlukan pita pengukur dan beberapa klem.

Total semuanya mencapai $160, yang secara signifikan kurang dari sit-stand Bekant desk (sekitar $500). Memang, trestle tidak memungkinkan penyesuaian (adjustment) yang sangat mudah tapi saya tidak akan akan menyesuaikannya jadi ini sangat bagus.
Pikir saya $160 tetaplah $160, jadi sungguh saya harus mengatakan bahwa semua ini adalah terlalu sulit untuk dibuat sendiri. Jadi, jika anda benar-benar ingin melakukan DIY, lakukanlah! Toko lokal anda, seperti yang dijalankan oleh Habitat for Humanity, kemungkinan akan memiliki barang-barang yang dapat anda daur ulang. Supporting trestles bisa sesederhana seperti beberapa sawhorses tua. Tidak perlu mewah untuk menyelesaikan pekerjaan ini.

Sekarang, ayo kita bekerja dan merakit semua ini.
Pasang Bench Presentasi Anda
Perabotan dari IKEA selalu mudah dirakit. Rakit dan posisikan trestles (dudukan), pastikan jaraknya tidak jauh, dan taruh table top di atasnya. Demi keamanan, klem meja ke tempat pendukung sehingga tidak ada yang jatuh saat kita melakukannya.

Melakukan Frame untuk Shot dan Sesuaikan

Sekarang segala sesuatu sudah pada tempatnya anda bisa mulai mem-framing untuk shot. Ini membutuhkan banyak bolak-balik, percobaan dan penyesuaian. Dengan kamera di tempat sekarang, gunakan pita pengukur untuk memastikan meja anda sejajar dengan dinding. Periksa framing anda pada kamera untuk memastikan semuanya terlihat benar, kemudian lakukan beberapa rekaman uji coba. Apa sudah ok? Dapatkah anda bergerak dan bekerja tanpa meja menghalangi? Jika tidak, saatnya untuk melakukan penyesuaian lebih lanjut ke meja untuk mendapatkannya sedekat mungkin dengan posisi funal.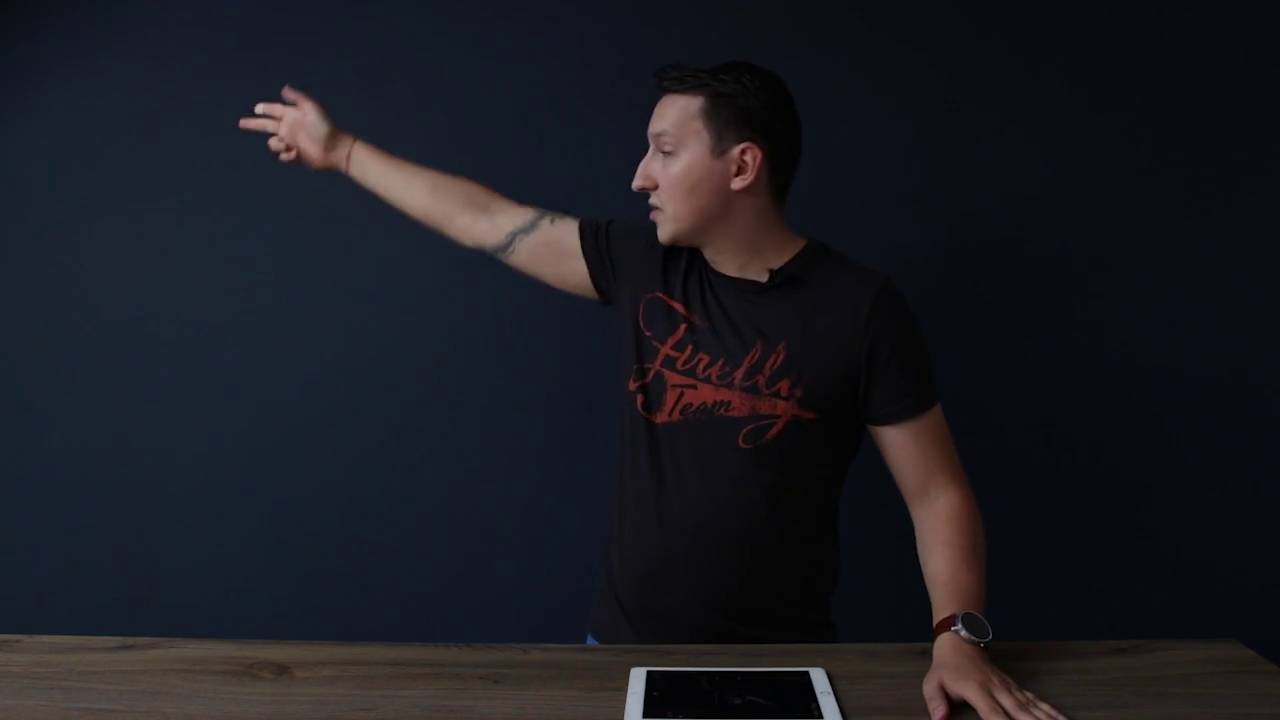 Saya suka posisi meja ini untuk sementara waktu. Saya mungkin akan mengubahnya sedikit setelah menambahkan pencahayaan tapi untuk saat ini sudah bekerja dengan baik.
Sentuhan Akhir
Karena studio anda adalah tempat yang sibuk dengan barang-barang berat yang bisa jatuh dan melukai orang, saya sarankan untuk mengamankan meja anda. Clamp adalah solusi sementara yang baik, tapi untuk penggunaan lama sekrup atau lem lebih bagus dan lebih rapi (sekrup dari bawah sehingga anda tidak merusak bagian atas meja datar anda yang bagus). Sandbags pada dudukan atau penyangganya akan memberi bobot dan stabilitas tambahan; Kantung bekas beras atau kentang yang penuh dengan pemberat juga bekerja dengan baik.

Langkah selanjutnya

Mari beralih ke bagian penting dari proses: yaitu lighting! Ini adalah salah satu hal yang akan membuat bagus atau tidaknya video anda jadi bergabunglah dengan saya di tutorial berikutnya untuk menemukan cara yang tepat untuk pencahayaan scene anda.

Want a weekly email summary?
Subscribe below and we'll send you a weekly email summary of all new Photo & Video tutorials. Never miss out on learning about the next big thing.
Sign up
Adi Purdila is a web design instructor for Tuts+. With over 100 courses and 200 tutorials published to date, Adi's goal is to help students become better web designers and developers by creating content that's easy to follow and offers great value. Being self-taught himself, Adi strongly believes that constant learning (academic or otherwise) is the only way to move forward and achieve your goals. When not typing away at his keyboard, he loves woodworking and caring for his ever-growing family of rescue pets. You can stay up to date with what he's doing by following him on social media or visiting his website at adipurdila.com.
Looking for something to help kick start your next project?
Envato Market
has a range of items for sale to help get you started.