Christopher Kenworthy
Lensa sedang membuat tembakan yang terlihat seperti penglihatan manusia normal, tetapi ketika digunakan secara kreatif masih bisa menciptakan citra sinematik. Ketika menembak kamera bergerak, percakapan atau ketika membuka adegan, lensa menengah adalah lebih dari sebuah kompromi. Digunakan dengan baik, lensa ini sebagai kuat seperti yang lain.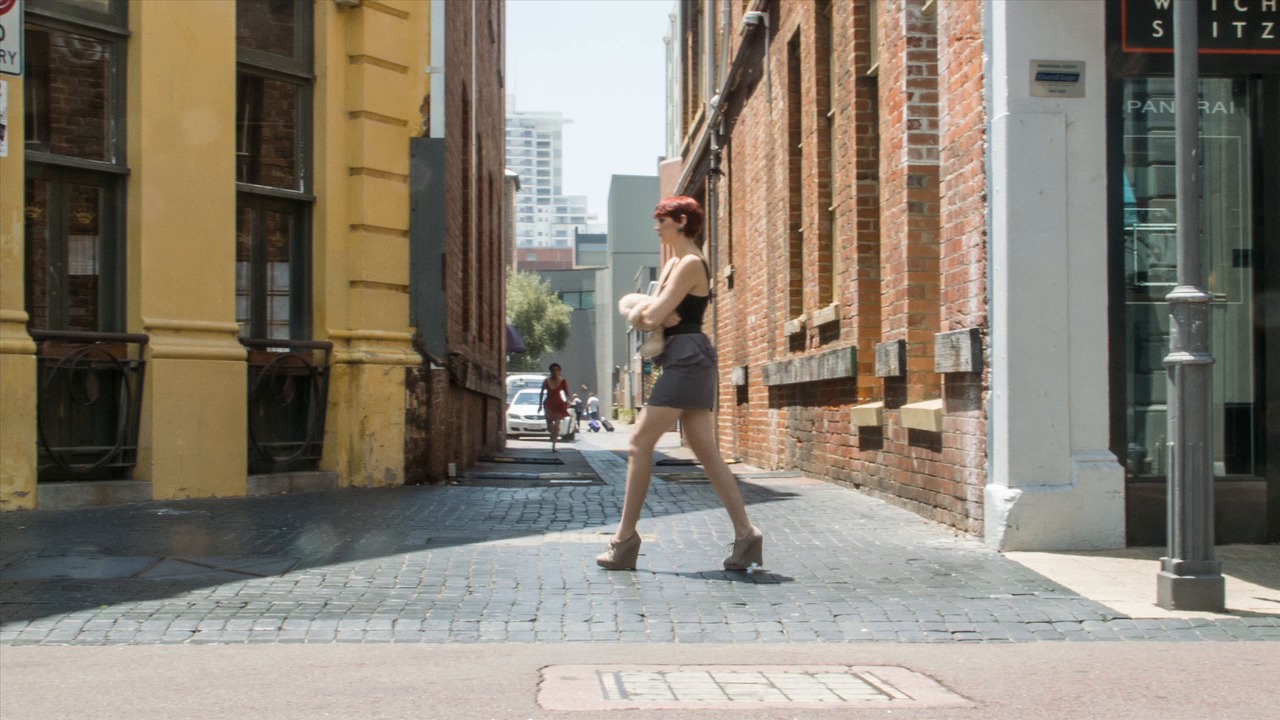 Lensa menengah
Ketika kita berbicara tentang sebuah lensa menengah, kita berbicara tentang sesuatu yang telah mendapat jelas panjang fokus sekitar 50mm pada kamera 35mm. Ini berubah tergantung pada apa yang kamera Anda menggunakan, tetapi pada dasarnya itu berarti Anda sedang mencari sesuatu yang memberikan kesan visi normal.
Ketika Anda menggunakan lensa pendek, segala sesuatu menjadi terdistorsi dan garis melengkung dari kamera, sementara dengan lensa panjang, semuanya diratakan atas dan bersama-sama.
Lensa menengah memberikan tampilan menengah. Semuanya tampak seperti halnya ketika Anda melihat dengan mata Anda sendiri. Ini adalah salah satu alasan bahwa itu bisa menimbulkan masalah.
Sangat sering, para pembuat film baru mengatur aktor di tengah ruangan dan mereka tempat kamera pada jarak menengah dan mereka film dengan lensa menengah dan semuanya hanya tampak... rata-rata. Ditembak di atas adalah contoh dari sesuatu yang tampak seperti Anda akan melihatnya jika Anda berdiri di sana. Hal ini tidak ada di mana dekat sebagai menarik seperti jika Anda menembak dengan lensa pendek atau panjang.
Jadi mari kita lihat bekerja dengan lensa menengah.
Detail tanpa distorsi
Salah satu kekuatan terbesar dari lensa menengah adalah bahwa Anda dapat menunjukkan banyak detail tanpa distorsi lensa lebar.
Dalam tembakan dalam video, kita memiliki dua karakter yang duduk di sebuah kamar. Ini adalah bagian penting dari bercerita bahwa kita dapat melihat dia adalah seorang musisi dan bahwa dia adalah menatap keluar ke jarak dan bahwa dia yang mengabaikan dirinya. Kita bisa melakukan bahwa dengan cara tradisional, dengan menembak beberapa menutup up dan lebar besar satu tembakan, tetapi lensa menengah memungkinkan kita melihat semuanya sekaligus. Kita bisa melihat kedua wajah mereka, meskipun dia tidak cukup dalam fokus, dan kita dapat melihat kamar di sekitar mereka. Jadi bila Anda ingin mengatur adegan dan tempat Anda aktor-aktor dalam adegan, lensa menengah sering dapat lebih baik daripada master lebar ditembak.
Lensa menengah sangat baik bila Anda memiliki dua aktor dalam bingkai yang baik mencari dalam arah yang sama. Kadang-kadang para aktor mengalami percakapan dan lain kali mereka hanya mengamati. Terlihat pada shot di bawah ini, lensa menengah adalah pilihan yang tepat di sini.
Jika lensa terlalu panjang, kita harus melangkah jauh ke belakang sehingga latar belakangnya akan diperhalus dan kita hanya akan melihat langit di belakang mereka. Kami tidak akan benar-benar bisa melihat tanah di sana. Jika kita menggunakan lensa terlalu lebar, semuanya akan terlihat sedikit terdistorsi dan aneh. Lensa menengah bekerja dengan baik dengan ini karena pemandangan itu sendiri tidak biasa. Dua gadis yang diterangi cahaya matahari terbenam di lapangan bukanlah sesuatu yang Anda lihat setiap hari. Normalitas lensa medium mengimbangi bahwa sedikit keanehan.
Percakapan pembukaan
Lensa medium juga merupakan cara yang sangat bagus untuk memperkenalkan adegan dialog yang memiliki banyak close up. Anda membuka dengan tembakan dengan lensa menengah untuk menetapkan di mana para aktor dalam hubungannya satu sama lain dan kemudian beralih keserangkaian atas penutupan bahu masing-masing aktor.
Pindah Lebar ke Tutup
Dalam pelajaran video, Anda dapat melihat contoh bidikan di mana kamera bergerak dari sesuatu yang terlihat relatif lebar ke sesuatu yang jauh lebih dekat. Ini sangat bermanfaat untuk lensa medium.
Di sini, ketika pria itu bergerak, kamera mendorong dolly, lalu kami membingkai mereka berdua.
Lensa panjang tidak akan benar-benar cocok karena akan terlalu sulit untuk tetap fokus melalui bidikan itu, dan lensa pendek akan berarti bahwa ketika kita menutup wajah mereka terdistorsi dan kita melihat terlalu banyak latar belakang.
Menyeimbangkan latar depan dan latar belakang aktor
Dalam video, Anda akan melihat bidikan di mana saya ingin memperlihatkan satu aktor berjalan melewati dan yang lain melihatnya di latar belakang. Dalam upaya pertama, saya menggunakan lensa pendek (alias lensa sudut lebar) dan itu tidak benar-benar berfungsi. Aktor latar depan terlalu kecil dalam bingkai dan aktor latar belakang sangat kecil sehingga Anda hampir tidak bisa melihatnya sama sekali. Lensa pendek juga mendistorsi garis-garis bangunan sehingga mereka mendominasi bingkai lebih dari para aktor.
Dalam kedua versi, saya beralih ke lensa menengah dan pindah kembali di seberang jalan. Sekarang kita sudah mampu melihat aktor latar depan melewati frame. Meskipun kita tidak bisa melihat wajahnya, cerita diberitahu. Kita melihat dia berjalan melewati frame, dan aktor lain di latar belakang cukup besar bagi kita untuk melihat reaksinya.
Jika sebaliknya, kita telah menggunakan lensa panjang untuk tembakan kami tidak akan dapat melihat kedua pelaku sekaligus. Aktor latar depan akan telah hanya kabur dan kami benar-benar tidak punya rasa penuh gang. Lensa menengah tidak kompromi di sini. Itu adalah pilihan yang sempurna untuk ditembak.
Mendapatkan lensa panjang efek bahkan ketika Anda tidak dapat menggunakan lensa panjang
Lensa panjang sering digunakan untuk menyembunyikan hal-hal yang kita tidak ingin pengunjung untuk melihat. Ini adalah teknik yang kita melihat dalam pelajaran menggunakan lensa panjang. Kadang-kadang, meskipun, Anda ingin menyembunyikan sesuatu tapi tidak memiliki ruang untuk menggunakan lensa panjang. Sebaliknya, Anda dapat menggunakan lensa menengah dan mendapatkan sedikit lebih dekat.
Di ditembak di atas, saya hanya ingin menunjukkan putih dinding di belakang aktor. Kamar tidak cukup besar bagi saya untuk menggunakan lensa panjang jadi aku semakin dekat dengan sedang lensa. Teknik ini rupanya digunakan banyak di Grey's Anatomy.
Gerakan sederhana kamera
Untuk gambar yang mana Anda mendorong dalam pada seorang aktor, lensa menengah sangat ideal. Lensa pendek dapat membesar-besarkan gerak terlalu banyak dan mengungkapkan terlalu banyak kamar, sementara lensa panjang akan menyembunyikan gerakan kamera; Anda tidak akan benar-benar merasa bahwa Anda mendapat setiap dekat. Dengan hanya sebuah langkah singkat kamera, lensa menengah memungkinkan kita merasa gerakan maju tanpa menjadi overdramatic.
Aktor menerobos masuk ke dalam bingkai
Salah satu teknik favorit Steven Spielberg untuk memulai sodokan dengan sesuatu di latar belakang dan kemudian seseorang masuk ke frame. Anda dapat melihat contoh dalam pelajaran video.
Ada banyak fleksibilitas dengan teknik ini. Anda dapat memiliki orang yang melanggar di muncul dekat atau jauh dari kamera, Anda dapat memiliki aksi terjadi di latar belakang, Anda dapat muncul untuk memulai dengan berbagai menembak satu subjek dan kemudian transisi ke percakapan standar yang mengatur.
Dalam contoh video, kita mulai dengan apa yang tampaknya harus suntikan satu aktor ketika ia bergerak ke arah kamera. Aktor kedua pecah menjadi frame dari kanan dan tembakan menjadi semua tentang dirinya.
Dengan lensa pendek, menembak semacam ini tidak akan bekerja. Actor kedua akan muncul terlalu jauh.
Untuk membuat hal-hal merasa Normal
Salah satu penggunaan terbaik untuk lensa menengah adalah ketika Anda ingin tanah penonton dan membuat mereka merasa rasa normalitas. Hal ini sangat berguna jika Anda menunjukkan sesuatu yang fantastis atau supranatural.
Saya pernah membuat sebuah supernatural thriller. Semua jalan melalui saya menggunakan lensa pendek untuk membesar-besarkan gerak dan panjang lensa untuk mendapatkan tutup dengan aktor dan menunjukkan emosi mereka. Kru benar-benar mengambil taruhan pada apakah aku akan pernah menggunakan lensa menengah.
Akhirnya saya melakukannya. Itu datang ketika kami syuting adegan supranatural di malam hari di tengah hutan. Itu hanya begitu aneh bahwa jika kita akan menembak seluruh hal dengan lensa panjang atau pendek, itu akan merasa terlalu ekstrem. Dengan memiliki satu utama ditembak dengan lensa 50mm, itu membantu membuat adegan merasa lebih realistis.
Jika Anda mendapatkan ke titik di mana segala sesuatunya menjadi sangat aneh di film, Anda dapat membuatnya dipercaya dengan menggunakan lensa menengah.
Membungkus
Hati-hati overusing media lensa karena benar-benar dapat membuat sebuah film membosankan, tetapi digunakan secara kreatif, itu sama pentingnya dengan lensa lain. Jangan takut untuk mencobanya dalam situasi yang tepat.

Want a weekly email summary?
Subscribe below and we'll send you a weekly email summary of all new Photo & Video tutorials. Never miss out on learning about the next big thing.
Sign up
Christopher Kenworthy (born 1968) is an Australian writer and former film director. He is the author of two novels, The Winter Inside and The Quality of Light for Serpent's Tail, along with a short story collection, Will You Hold Me? and the chapbook Sullom Hill. His fiction has been widely praised by authors such as Michael Moorcock, and anthologised in books such as The Year's Best Fantasy and Horror. Born in Preston, England, he moved to Australia in 1997 and began a directing career which lasted until 2013. His Master Shots books are best-sellers for Michael Wiese Books. He is the director of The Sculptor. He won the Award For Directing (WA Screen Awards) in 2007. He directed many music videos, including Dreaming Light for Anathema (band).
Looking for something to help kick start your next project?
Envato Market
has a range of items for sale to help get you started.