Charles Yeager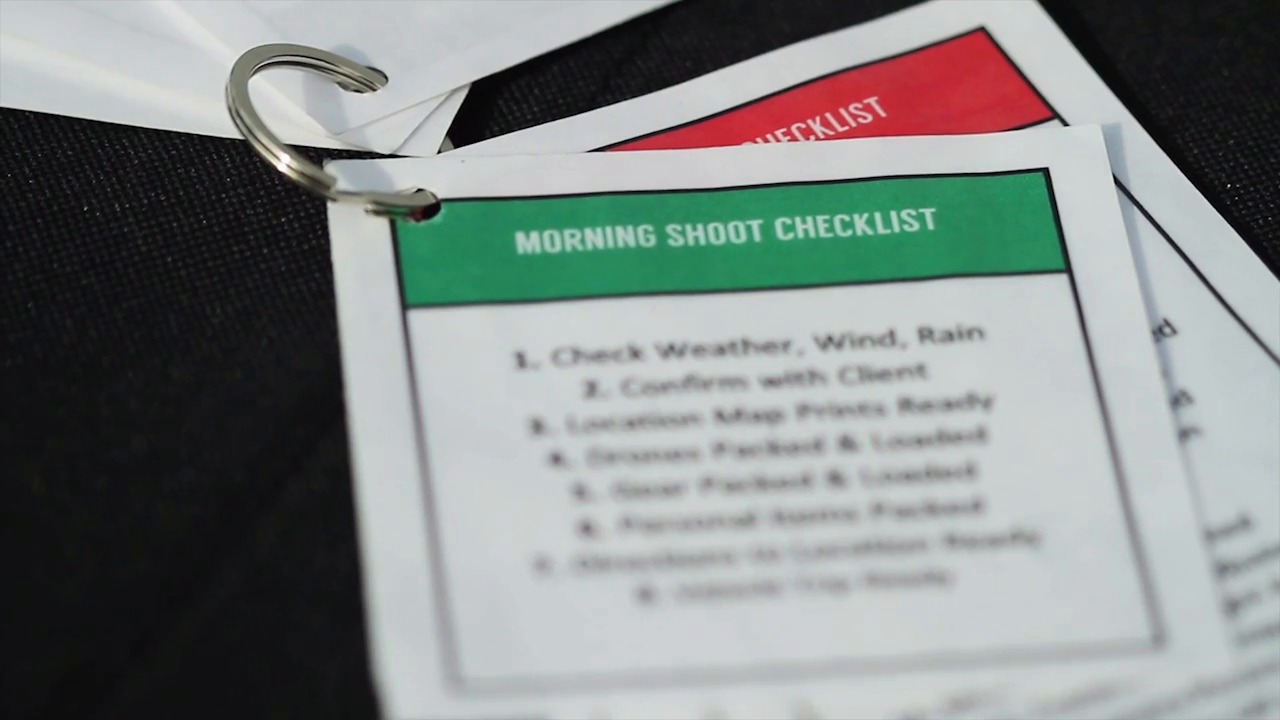 Merupakan ide bagus untuk memiliki banyak daftar periksa untuk dilakukan sebelum pengambilan syuting drone yang telah dijadwalkan. Saya memiliki enam daftar periksa yang berbeda yang saya ikuti sebelum tiap syuting. (Kamu juga dapat mendownload semua daftar periksa dari pelajaran ini di dalam file project). Tiga daftar periksa yang saya gunakan adalah 'Daftar Periksa Persiapan Pendahuluan' dan tiga lagi adalah 'Daftar Periksa Hari H'.
Daftar Periksa Persiapan Pendahuluan

Daftar Periksa Pemetaan Lokasi
Sebelum mengambil film pada lokasi untuk klien atau diri sendiri, selalu menjadi ide yang bagus untuk mengenali sebanyak mungkin tentang lokasi sebelum melakukannya.
1. Konfirmasi Lokasi Klien
2. Lokasi Peta di Google Earth
3. Memeriksa Peta VFR Lokasi
4. Peninjauan Area Terbang
5. Menentukan Area Jatuh Yang Aman
6. Memperoleh Ijin Jika Diperlukan
7. Prakiraan Cuaca



Daftar Periksa Perencaan Misi
Dengan daftar periksa ini kamu dapat mengenali goal pengambilan gambar dan bagaimana kamu akan mencapainya.
Skenario: Gambaran Besar
[Goal klien, cuaca, medan]
Misi: Goal Penerbangan Yang Spesifik
[Tempat kembali jika ada perubahan]
Eksekusi: Bagaimana Melakukan
[Jalur penerbangan, daftar pengambilan foto, timing, keamanan]
Hukum Murphy
[Apa yang dapat terjadi?]
Logistik
[Pakaian, makanan, peralatan, darurat]
Perintah
[Metode Komunikasi, Peran]
Daftar Periksa Paket Drone
Ini adalah daftar periksa yang akan kamu gunakan ketika mengemas drone di malam sebelum pengambilan gambar.
1. Jumlah Drone
2. Batere Yang Terisi Penuh & Dikemas
3. Batere Pengendali Terisi Penuh
4. Pengendali & Layar Dikemas
5. iPad Terisi Penuh & Dikemas
6. Periksa Pembaruan Drone
7. Batere Kamera Terisi Penuh
8. Kamera Drone Diperiksa & Dikemas
9. Kabel Elektronik Dikemas
10. Properti & Pengencang Dikemas
11. Kartu Memory Diformat & Dimuat
12. Inspeksi Drone Secara Visual
13. Kotak Ditutup
14. Item Backup Dikemas
15. Perlengkapan Darurat Di Dalam Mobil
16. Perlengkapan Mata Dikemas
Daftar Periksa 'Hari H'
Daftar Periksa Pengambilan Pagi
Berbagai hal untuk diperiksa pada pagi pengambilan gambar sebelum kamu pergi ke lokasi.
1. Periksa Cuaca, Angin, Hujan
2. Konfirmasi Dengan Klien
3. Cetakan Peta Lokasi Siap
4. Drone Dikemas & Dimuat
5. Peralatan Dikemas & Dimuat
6. Item Pribadi Dikemas
7. Arah ke Lokasi Siap
8. Perjalanan Kendaraan Siap
Daftar Periksa Pra Penerbangan
Kaji daftar periksa berikut dengan drone-mu pada lokasi pengambilan secara langsung sebelum terbang.
1. Firmware Diperbarui?
2. Inspeksi Visual
3. Batre Terisi Penuh
4. Properti Kencang / Terkunci
5. ND Filter Diperlukan?
6. Memory Di Dalam Kamera / Terformat
7. Batre Kamera Terisi Penuh
8. Kecerahan Monitor Disesuaikan
9. Shade atau Monitor Hood Terpasang
10. Transmitter Menyala
11. Drone Menyala
12. GPS Terkunci / Terkalibrasi
13. Ketinggian Minimum Disesuaikan
14. Ketinggian Kembali Minimum Disesuaikan
15. Frekuensi Transmisi
16. Camera Picture Style
17. Lokasi Lepas Landas Yang Aman
18. ID Lokasi Darurat
19. Peralatan Mata Menyala
20. Area Bebas Orang
21. Lepas Landas
Prosedur Keamanan
Kaji prosedur keamanan berikut jika terjadi kecelakaan.
TERBANG
1. Tekan Return Home
2. Peringatkan Orang Di Sekitar
3. Arah Drone
4. Jarak Drone
5. Prediksi Usia Batre
6.Peta GPS
7. Tentukan Untuk Mengejar Atau Tinggal
8. Cari Di Dalam Radius
JATUH
1. Peringatkan Orang Tentang Jatuhnya Drone
2. Matikan Pengendali
3. Tetap Mundur Hingga Drone Tidak Aktif
4. Ambil Foto Kerusakan
5. Periksa Kerusakan Drone
6. Periksa Kerusakan Properti
7. Hubungi Asuransi
Ingat, semua daftar periksa ini tersedia untuk didownload di dalam file project.

Disebutkan di dalam tutorial ini
Want a weekly email summary?
Subscribe below and we'll send you a weekly email summary of all new Video tutorials. Never miss out on learning about the next big thing.
Sign up
Charles Yeager is a Motion Graphics Artist and Filmmaker currently residing in Arkansas. Locally he works with many advertising and production companies in the South and Midwest. He also regularly creates tutorial content for Envato Tuts+, Mettle, Adobe, and PremiumBeat. See his portfolio at
yeagerfilm.com
.
Looking for something to help kick start your next project?
Envato Market
has a range of items for sale to help get you started.