Slavik Boyechko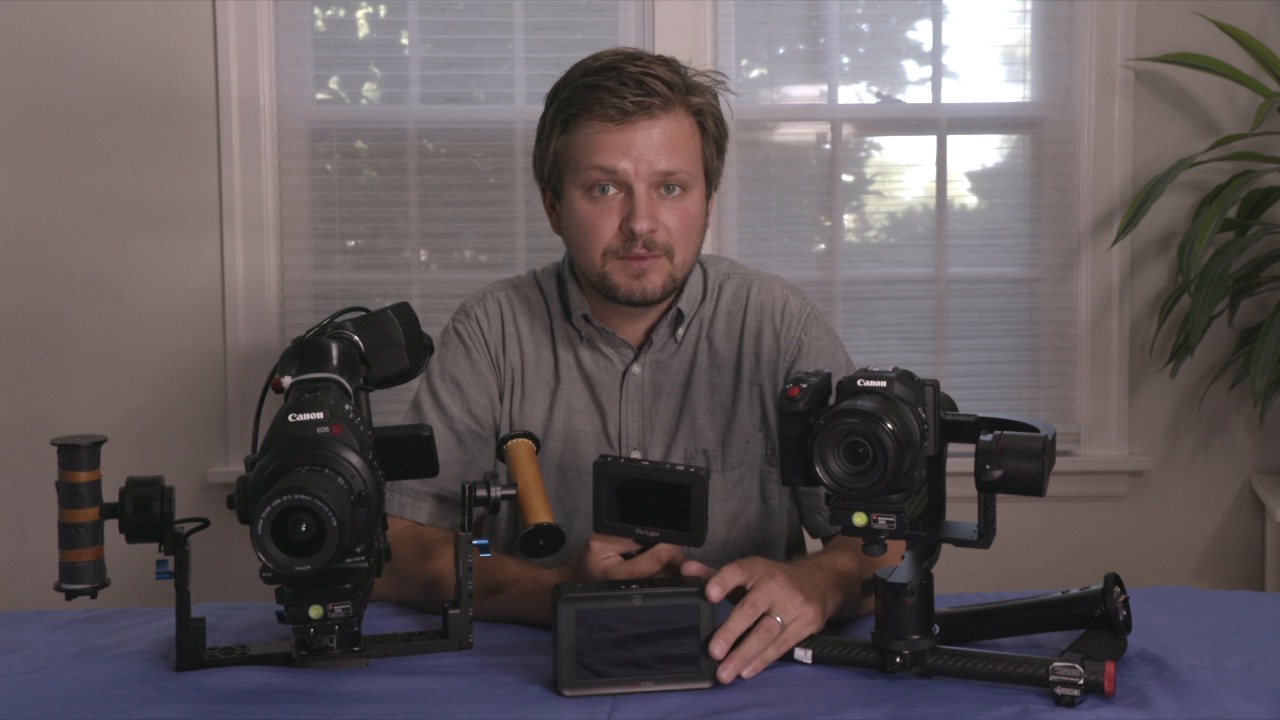 Tidak peduli kamera apa yang kamu pasang pada gimbal, salah satu permasalahan terbesar adalah memonitor apa yang sedang kamu syut. Beberapa kamera memiliki layar LCD yang dapat dilepas yang dapat kamu tempelkan pada gimbal, atau kamu dapat membalikkan layar sehingga posisinya pas. Namun terkadang kamu hanya harus menambahkan monitor eksternal untuk melihat apa yang sedang kamu syut.
Kamu dapat menempelkan monitor pada bagian atas kamera, atau di sekitar gimbal, dan kamu akan ingin melilitkan kabel HDMI di sekitarnya sehingga tidak mengganggu. Kamu juga akan perlu menyeimbangkan ulang gimbal, untuk menyesuaikan penambahan bobot monitor.
Terkadang sebuah monitor eksternal dapat menambahkan begitu banyak bobot sehingga itu melebihi beban kapasitas bobot gimbal, dan menjadi tidak mungkin untuk seimbang. Monitor memerlukan batrenya sendiri, juga sebuah sistem untuk menempelkan monitor pada gimbal atau pada kamera, dan bersama-sama itu bisa menambahkan beberapa pounds.

Jadi walaupun itu cukup memuaskan untuk melihat apa yang sedang kamu syut ketika menggunakan gimbal, sebuah monitor dapat dengan segera menjadi sebuah hambatan. Kehabisan daya batre, kabel tertarik, yang perlu menghitung bobot agar seimbang, yang membuat keseluruhan rig jauh lebih berat. Dan pasti aksesoris menjadi kendor dan monitor jatuh ketika kamu sedang melakukan syuting.
Jadi jika bisa, coba untuk menggunakan layar bawaan kamera yang bisa dibalik sehingga kamu dapat melihat inti apa yang sedang dalam syuting. 9 dari 10 kali, kamu mendapatkan apa yang kamu inginkan, dan kadang kamu tidak . Namun kecuali jika kamu berkerja dalam lingkungan syuting yang sangat kritis, lebih baik gunakan cara itu daripada menambahkan monitoring rig rumit yang akan seringkali gagal daripada berhasil.
Want a weekly email summary?
Subscribe below and we'll send you a weekly email summary of all new Video tutorials. Never miss out on learning about the next big thing.
Sign up
Slavik Boyechko is an Emmy award-winning filmmaker and owner of Minn Films, which creates inspirational videos about people and organizations.
Looking for something to help kick start your next project?
Envato Market
has a range of items for sale to help get you started.