Charles Yeager
Menambahkan elemen-elemen ke dalam suatu scene adalah tugas yang sangat umum di Adobe After Effects. Dalam pelajaran ini, kita akan mempelajari beberapa kiat compositing yang akan membantu Anda saat menambahkan pohon atau dedaunan ke dalam klip video — teknik ini juga berfungsi untuk gambar diam (still).
Director David Fincher sering menggunakan compositing seperti ini dalam proyek-proyeknya. Berikut ini adalah rincian besar yang menampilkan VFX Tak Terlihat (Invisible) yang digunakan dalam seri Netflix Mindhunter-nya.
Bagaimana Memilih Klip Video yang Tepat
Pertama, Anda harus memastikan Anda mulai dengan beberapa klip video berkualitas. Dalam kasus kami klip bersisi pohon dengan alpha channel. (Klip video alpha channel memiliki layer transparan yang disertakan dengannya.) Berikut ini contoh bagus dari Birch Tree di Videohive.
Merekam klip video dari pohon, dengan keadaan terisolasi seperti ini, akan sangat sulit. Jadi lebih seringnya, asset-asset ini akan dihasilkan oleh komputer. Hal ini baik-baik saja, dan dalam beberapa kasus bahkan lebih baik, karena klip-klipnya dapat diulang (loopable). Kami hanya perlu asset yang terlihat realistis, dan idealnya keterampilan compositing kami akan membantu "menjual" hasil shot akhir nanti kepada audience kami.
Tracking atau Static Shot?
Merupakan hal yang jauh lebih mudah untuk elemen composite diterapkan pada static shot, terutama karena Anda tidak perlu khawatir tentang menyempurnakan trek untuk setiap elemen yang Anda tambahkan. Fokus dari tutorial ini adalah pada efek yang membantu terhadap final composite-nya, jadi saya akan bekerja dengan static shot.
Namun, jika Anda memutuskan untuk menggunakan shot yang bergerakan, seperti handheld, saya sangat menyarankan menggunakan Camera Tracker di After Effects. Saya selalu mendapatkan hasil yang lebih mulus dengan Camera Tracker, berlawanan dengan fitur Track Motion, dan Anda dapat menempatkan setiap elemen pohon pada kedalaman yang berbeda dalam ruang 3D untuk shot Anda.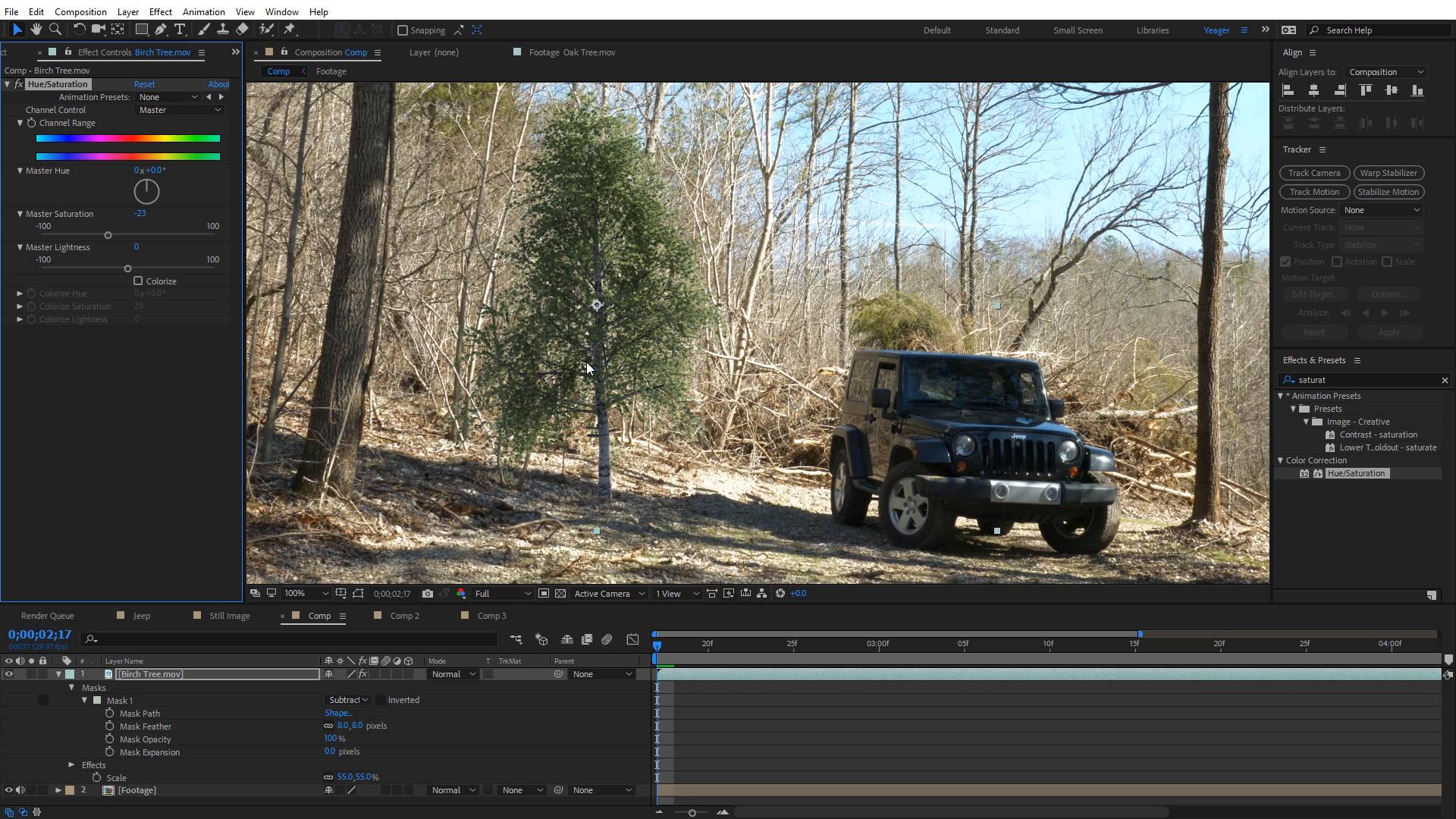 Efek Compositing yang Dapat Digunakan
Berikut ini daftar trik dan efek compositing yang sering saya gunakan, dan deskripsi singkat untuk manfaat masing-masingnya.
Interpret Footage: Gunakan ini untuk memastikan rasio frame elemen pohon Anda sesuai dengan frame rate komposisi Anda.
Lighting and Shadows: Perhatikan arah pencahayaan dan bayangan dalam footage Anda, kemudian tempatkan elemen Anda ke dalam shot Anda.
Hue / Saturation: Gunakan efek ini untuk de-saturate elemen Anda agar terlihat lebih realistis. Anda juga dapat menggeser warna agar lebih cocok dengan elemen lain di scene Anda.
Gaussian Blur: Gunakan efek ini untuk menambahkan blur halus pada elemen Anda sehingga cocok dengan kelembutan footage gambar di lokasi. Ini juga membantu mengurangi aliasing.
Noise: Gunakan ini untuk menambahkan sedikit butiran halus yang terlihat alami ke elemen Anda.
Tint: Gunakan efek ini untuk memilih warna gelap dan warna terang dari shot aslinya, lalu dial up warna untuk menambahkan sejumlah suasana warna secara bertahap ke elemen Anda.
Camera Lens Blur: Gunakan efek ini untuk meniru shallow depth of field untuk elemen-elemen yang terletak lebih dekat ke kamera.
Bedakan Elemen-elemen Anda

Ketika Anda berurusan dengan banyak salinan dari elemen yang sama, penting untuk membedakannya sehingga tidak semua terlihat sama. Berikut ini daftar beberapa trik umum yang dapat Anda lakukan.
Offset elemen-elemen Anda pada timeline. Hal ini membantu memastikan bahwa tidak semua dari bergerak secara identik dengan cara yang sama, jika mereka melakukan gerakan.
Sesuaikan skala (scale) setiap elemen.
Mirror atau flip elemen-elemen Anda menggunakan preset Flop After Effects.
Semoga tips compositing ini akan membantu Anda dalam proyek-proyek Anda di kemudian hari!
Disebutkan dalam tutorial ini
Want a weekly email summary?
Subscribe below and we'll send you a weekly email summary of all new Photo & Video tutorials. Never miss out on learning about the next big thing.
Sign up
Charles Yeager is a Motion Graphics Artist and Filmmaker currently residing in Arkansas. Locally he works with many advertising and production companies in the South and Midwest. He also regularly creates tutorial content for Envato Tuts+, Mettle, Adobe, and PremiumBeat. See his portfolio at
yeagerfilm.com
.
Looking for something to help kick start your next project?
Envato Market
has a range of items for sale to help get you started.