Grant Friedman
Para fotografer memiliki banyak keluhan ketika Anda bertanya kepada mereka apa pendapat mereka tentang tablet. Sebagian besar tablet tidak memiliki tools yang diperlukan fotografer untuk mempratinjau dan mengedit foto mereka di lapangan. Penambatan nirkabel lambat dan aplikasi yang tersedia untuk mengelola dan mengedit foto-foto itu tidak cukup. Selama beberapa tahun, fotografer telah menunggu perangkat yang akan memberi mereka semua fleksibilitas yang diberikan komputer desktop mereka, tetapi dengan semua mobilitas tablet. Untungnya, perangkat itu sudah ada, hanya saja bukan iPad.
Dalam tutorial ini, kita akan menunjukkan kepada Anda bagaimana Anda dapat menambatkan kamera DSLR ke tablet Microsoft Surface menggunakan kabel USB. Kita juga akan menunjukkan kepada Anda bagaimana mengelola dan mengedit foto-foto itu menggunakan Lightroom dan Photoshop versi lengkap.
---
Peralatan
---
Pengenalan
Pratinjau foto Anda di lapangan bisa sangat menantang. Layar kecil di bagian belakang kamera Anda tidak persis memberi Anda gambaran yang bagus tentang seberapa baik foto Anda dihasilkan. Ketika Anda kembali ke komputer Anda, Anda mungkin menemukan bahwa fokus Anda tidak benar, ISO Anda terlalu tinggi, atau sejumlah masalah lain yang dapat muncul saat Anda berada di lapangan mengambil gambar.
Jika Anda berada di studio dengan laptop, Anda dapat dengan mudah menambatkan kamera Anda melalui USB untuk melihat bagaimana hasil foto Anda. Di lapangan, itu tidak selalu mungkin. Laptop agak terlalu besar, dan kebanyakan tablet tidak dibuat untuk ditambatkan langsung ke kamera.
Anda dapat menambatkan iPad Anda ke kamera Anda secara nirkabel, tetapi mari kita jujur, wi-fi dan transfer nirkabel lainnya membutuhkan waktu lama untuk memindahkan data. Bahkan, dibutuhkan koneksi wi-fi selama 45 detik untuk mentransfer file 7 MB. Selain itu, sebagian besar tablet tidak dapat menjalankan software yang dibutuhkan sebagian besar fotografer.
Itu menyisakan sangat sedikit pilihan bagi fotografer yang ingin dapat meninjau dan mengedit foto saat mereka berada di lapangan tanpa harus terikat pada laptop besar dan kikuk.
Yang benar-benar Anda butuhkan adalah tablet yang dapat menjalankan versi lengkap Photoshop dan Lightroom yang juga memiliki port USB. Itu sebabnya saya sangat senang belajar tentang tablet Microsoft Surface Pro. Ini menjalankan Windows 8, memiliki port USB, dan dapat melakukan apa saja yang dapat dilakukan PC termasuk kemampuan untuk menjalankan versi lengkap Photoshop dan Lightroom.
---
1. Tethering Tablet Anda ke Kamera DSLR Via USB
Langkah 1
Langkah pertama Anda harus menginstal Lightroom dengan mengunduhnya dari situs web Adobe.
Langkah 2
Setelah Lightroom diinstal, sambungkan kamera Anda langsung ke tablet menggunakan kabel USB. Dalam tutorial ini, saya menghubungkan tablet Surface Pro ke Nikon D7000 saya. Silakan lihat situs web Adobe untuk daftar kamera yang mendukung tethering di Lightroom.
Langkah 3
Buka Lightroom dan buka File > Tethered Capture > Start Tethered Capture.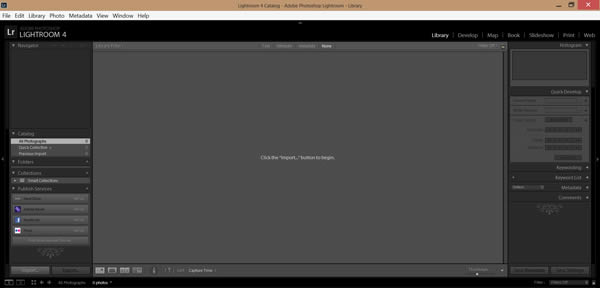 Langkah 4
Sekarang masukkan nama sesi dan tekan OK.
Langkah 5
Kamera Anda sekarang terhubung.
---
2. Pengambilan
Setelah kamera Anda terhubung dan ditambatkan ke Microsoft Surface Pro Anda, sesuaikan pengaturan kamera Anda dan mulailah mengambil foto. Foto Anda akan ditransfer ke Permukaan secara otomatis. Tidak seperti menggunakan opsi nirkabel pada iPad, transfer akan terjadi hampir secara instan.
Opsi 1. Gunakan sebagai Remote untuk Lansekap dan Fotografi Makro
Jika Anda menempatkan kamera pada tripod, Microsoft Surface Pro berfungsi dengan sangat baik sebagai remote dan dapat digunakan untuk memotret dan meninjau foto untuk fotografi lanskap dan makro.
Opsi 2. Memotret Foto Tanpa Tripod
Selain memotret foto lanskap dan makro, Microsoft Surface juga dapat digunakan untuk membantu memotret potret dan jenis foto lainnya. Dengan demikian, memotret potret sambil ditambatkan ke Microsoft Surface melalui kabel USB sedikit lebih rumit daripada memotret lanskap dan foto makro.
Hal ini terutama disebabkan oleh fakta bahwa agak sulit untuk memegang tablet dengan satu tangan dan memegang kamera dengan tangan lainnya. Jika ditempatkan di tas kurir kecil atau di atas meja kecil, Microsoft Surface Pro dapat dengan mudah digunakan sebagai alternatif ringan untuk laptop Anda saat Anda berada di lapangan.
Sayangnya, walaupun ada beberapa aksesoris bagus yang dibuat untuk iPad (misalnya Tabethertrap Tether Tools '), tidak ada aksesori tali bahu yang bisa saya temukan untuk Surface Pro. Mungkin seorang desainer yang rajin akan segera melakukan kampanye Kickstarter.
---
3. Edit Photo Anda
Salah satu manfaat menjalankan versi lengkap Lightroom dan Photoshop di Microsoft Surface Pro adalah Anda juga dapat mengedit foto saat Anda berada di lapangan. Meskipun Anda mungkin akan melakukan pengeditan yang lebih tepat ketika Anda kembali ke studio Anda, pengaturan ini adalah cara yang sangat bagus untuk memastikan bahwa foto Anda akan bekerja sebelum Anda menyelesaikan hari itu.
Anda juga dapat menggunakan stylus Surface Pro untuk melakukan pengeditan menggunakan penghapus tempat atau brush tool penyesuaian Lightroom. Stylus juga dapat digunakan di Photoshop meskipun sensitivitas tekanan pena di Photoshop saat ini tidak didukung (walaupun kita diberitahu bahwa itu akan segera didukung).
---
4. Mengekspor Katalog Anda
Ketika Anda selesai memotret untuk hari itu dan siap untuk mengedit foto Anda di komputer utama Anda, hal pertama yang harus Anda lakukan adalah mengekspor katalog Anda. Ini sangat penting, terutama jika Anda membuat penyesuaian (metadata, penyesuaian warna, dll) ke file Anda. Saat Anda mengekspor katalog Anda, semua penyesuaian itu akan ditransfer ke komputer Anda juga.
Langkah 1
Perg ke File > Export as Catalog.
Langkah 2
Pilih tujuan.
---
Cara Mentransfer File Anda
Saat Anda memotret dengan ditambatkan, kamera Anda akan mentransfer foto Anda ke Permukaan Anda secara otomatis. Foto tidak akan disimpan di kartu memori kamera Anda. Yang menyenangkan tentang ini adalah bahwa Surface Pro 128 memberi Anda sekitar 90 GB penyimpanan yang bisa digunakan untuk foto Anda. Kelemahannya adalah Anda harus menemukan cara untuk mentransfer file-file itu ke komputer utama Anda. Surface Pro memberi Anda beberapa opsi untuk mentransfer foto Anda.
Opsi 1. Hard Drive Eksternal atau Thumb Drive
Sambungkan hard drive eksternal atau thumb drive ke port USB Surface Anda. Ingatlah bahwa hard drive tidak universal antara Mac dan PC. Jika Anda menjalankan Windows di komputer studio Anda, maka Anda seharusnya tidak memiliki masalah. Jika Anda menjalankan OSX, Anda ingin menggunakan drive yang diformat sebagai FAT32. Berikut ini beberapa informasi lebih lanjut tentang cara berbagi hard drive eksternal antara Mac dan PC.
Opsi 2. Pembaca Kartu SD USB
Pembaca Kartu SD USB juga berfungsi dengan sangat baik untuk mentransfer foto antara Microsoft Surface dan komputer lain.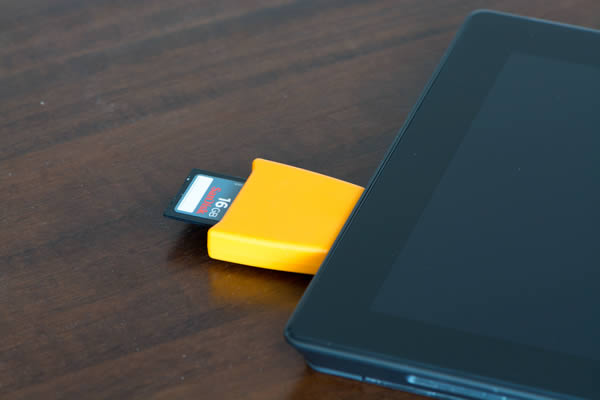 Opsi 3. Micro SD Drive
Selain port USB, Surface Pro juga dilengkapi dengan port Micro SD. Anda dapat menggunakan ini untuk mentransfer file Anda dengan mudah dari Surface Pro ke komputer Anda.
Opsi 4. Dropbox
Anda juga dapat menggunakan Dropbox atau solusi penyimpanan cloud lainnya untuk mentransfer file Anda dari Surface ke komputer Anda. Yang menyenangkan tentang Dropbox adalah ia akan mentransfer file secara otomatis. Sayangnya, Surface Pro hanya wi-fi. Jadi itu tidak akan memulai transfer sampai Anda terhubung ke jaringan wi-fi.
---
6. Impor Katalog Anda
Langkah 1
Setelah Anda mentransfer file Anda ke komputer lain menggunakan metode yang dijelaskan di atas, Buka Lightroom, lalu buka File > Impor From Another Catalog dan pilih file .lrcat yang sesuai untuk diimpor.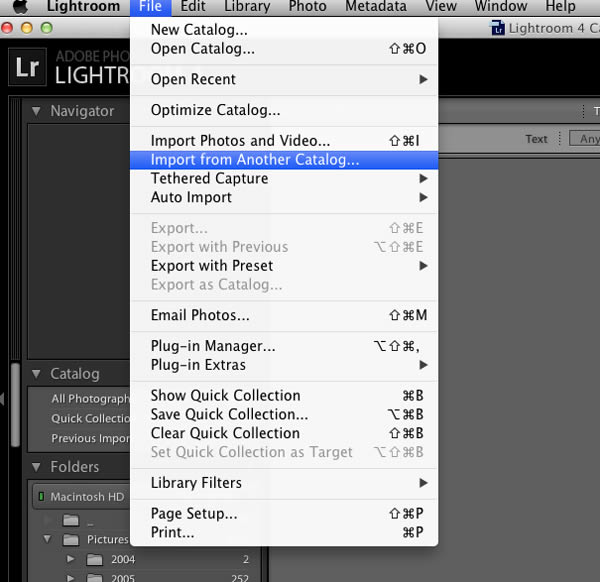 ---
Kesimpulan
Secara keseluruhan, Microsoft Surface Pro lebih unggul daripada tablet lain jika Anda ingin dengan cepat meninjau dan mentransfer foto dari DSLR Anda di lapangan. Ini juga berfungsi dengan sangat baik sebagai remote control untuk foto pemandangan juga.
Secara keseluruhan, Microsoft Surface Pro lebih unggul dari tablet lain jika Anda ingin cepat selesai dan mentransfer foto dari DSLR Anda di lapangan. Ini juga berfungsi dengan sangat baik sebagai remote control untuk foto pemandangan juga.
Selain itu, saya menemukan bahwa layar sentuh tidak setepat yang saya inginkan. Anda pasti perlu menggunakan stylus untuk memilih opsi menu dan melakukan penyesuaian. Saya juga menemukan layar hanya sedikit kecil.
Surface Pro juga agak rumit untuk menahan dan mengambil foto secara bersamaan. Saat ini, tampaknya tidak ada terlalu banyak aksesori untuk membantu Anda membawanya. IPad memiliki banyak aksesori tali bahu seperti yang ada di Tether Tools yang saya sebutkan sebelumnya dalam tutorial ini. Saya harus menggunakan tas kurir kecil untuk membawa tablet di sekitar saat saya bekerja. Sementara itu melakukan pekerjaan, itu tidak optimal.
Dengan mengatakan itu, ada banyak hal yang sangat saya sukai. Ia dapat melakukan hampir semua hal yang dapat dilakukan komputer. Ini memiliki USB, micro SD, wi-fi, dan layar sentuh. Ini mentransfer foto dengan cepat dan berfungsi dengan sangat baik sebagai remote. Layarnya cerah dan jernih, dan keyboard yang ditingkatkan yang digunakan membuat pengeditan menjadi sangat mudah. Pintasan keyboard dapat digunakan untuk membantu mengedit foto Anda dengan cepat selama keyboard terpasang.
Secara keseluruhan, saya sangat suka bekerja dengan Microsoft Surface. Sebagai pengguna Mac, saya agak khawatir tentang menggunakan mesin berbasis Windows, tapi jujur, itu tidak terlalu buruk. Jika Anda seorang fotografer yang mencari tablet untuk digunakan saat Anda bepergian atau memotret saat bepergian, dan Anda terbuka untuk menggunakan produk non-Apple, coba lihat Microsoft Surface Pro. Anda mungkin benar-benar menyukainya!
---
Foto Pasangan yang Dibuat dengan Sistem Ini
Want a weekly email summary?
Subscribe below and we'll send you a weekly email summary of all new Photo & Video tutorials. Never miss out on learning about the next big thing.
Sign up
Grant Friedman
is a veteran blogger, social media manager, design enthusiast, and photographer. Grant is a former editor of EnvatoTuts+ (formerly Psdtuts+) and Editor-in-Chief of Layers Magazine. Grant now works as a photographer and filmmaker covering the fashion and beauty industries.
Looking for something to help kick start your next project?
Envato Market
has a range of items for sale to help get you started.