David Bode
Menangkap video berkualitas tinggi belum pernah lebih mudah. Dalam hampir semua kasus, namun, video mentah perlu diubah, dipangkas, disesuaikan, dan diedit, dan blok jalan utama.
Dalam tutorial ini video dari kuliah saya pada Video Editing di Adobe Premiere Pro, Anda akan mendapatkan pengantar rinci untuk elemen kunci video editing: Sekuensing. Anda akan belajar bagaimana untuk membuat urutan dan menemukan beberapa metode untuk menambahkan gambar ke urutan Anda.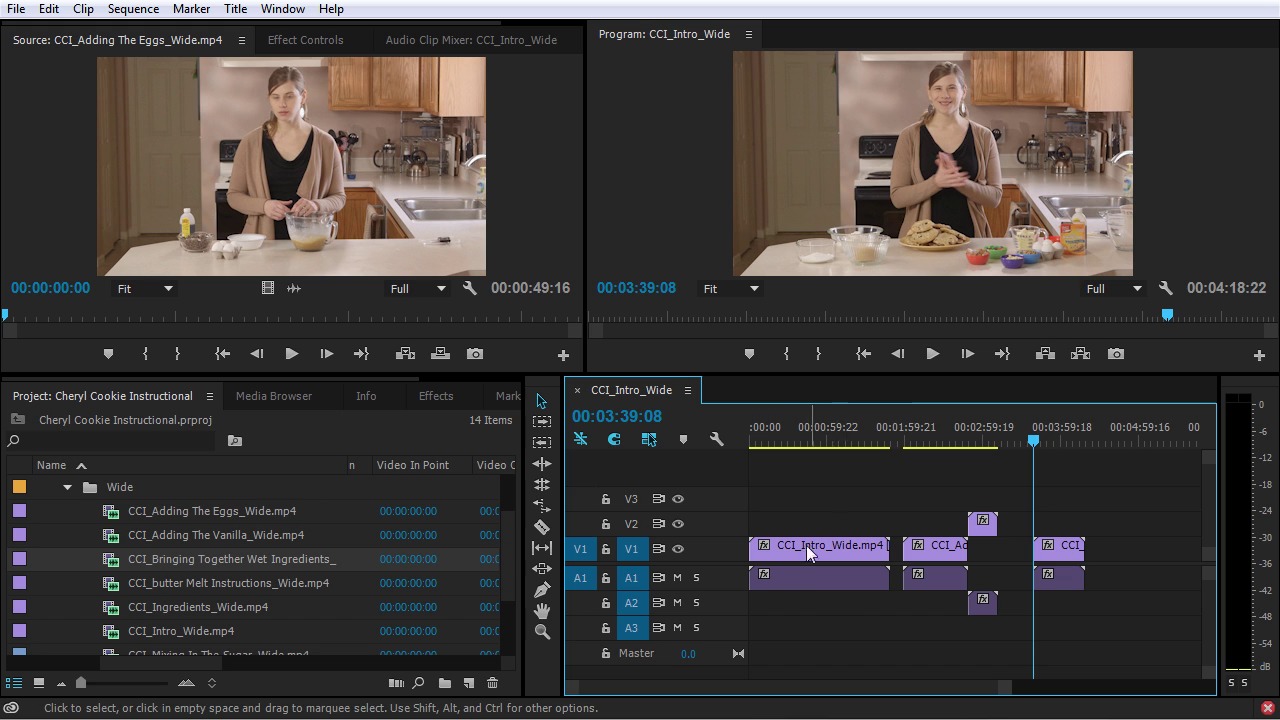 Anatomi urutan

Urutan ini adalah koleksi memerintahkan semua video, audio, foto, grafis dan judul aset Anda, dengan awal dan akhir, pada timeleine.

Dalam Adobe Premiere Pro, kita memiliki seorang penguasa timeline yang menunjukkan jam, menit, detik dan frame, dan dari kiri ke kanan. Maka kita memiliki beberapa lagu video dan beberapa Track audio: setiap urutan akan memiliki setidaknya satu video lagu, dan setiap urutan dengan audio akan memiliki setidaknya satu trek audio. Secara default, bila Anda membuat urutan baru akan seringkali menempatkan kosong trek video dan audio Track di urutan agar mereka siap untuk digunakan.
Anda dapat membuat urutan dalam beberapa cara yang berbeda. Cara termudah adalah untuk hanya menjatuhkan klip media yang tepat ke timeline panel.
Bagaimana membuat urutan baru

Menyeret klip atas ke jendela timeline bukanlah satu-satunya cara Anda dapat membuat urutan. Anda juga dapat membuat urutan baru dengan cara pintas keyboard kontrol N. Ini memberi Anda kotak dialog dengan jumlah preset yang berbeda, sehingga Anda dapat mengubah pengaturan dan membuat jumlah dan jenis trek yang Anda inginkan.

Tetapi cara termudah way, sekali lagi, adalah untuk hanya menyeret salah satu klip media Anda ke timeline. Yang akan membuat urutan baru dengan ukuran bingkai yang tepat, waktu base, rasio aspek piksel, dan tingkat audio sampel.

Sampah terorganisir membuat pengeditan mudah

Anda dapat mengambil apa pun dari proyek panel dan klik dan seret yang benar ke dalam urutan Anda. Anda dapat melihat seperti yang Anda menyeret ada beberapa baris yang muncul ketika Anda mendapatkan ke tepi klip media lain. Dengan menjentikkan (S) diaktifkan, klip terkemuka yang tepat akan snap tepi klip media lain. Item juga akan snap kepala bermain. Hal ini sangat mudah untuk menarik hal-hal dari sampah Anda langsung ke urutan Anda. Anda dapat menambahkan beberapa klip ke urutan Anda pada saat yang sama: Pilih klip, kemudian hanya menyeret mereka atas urutan Anda.
Sekarang ketika Anda dalam ikon tampilan Anda memiliki beberapa pilihan urut. Misalnya, jika Anda mengubah urutan nama sekarang Anda akan melihat bahwa klip diurutkan menurut abjad. Biasanya saya ingin memiliki set pengguna Order dan seperti itu saya bisa melompat ke ikon tampilan dan saya dapat menyusun ulang hal-hal dan kemudian menambahkannya ke proyek dalam cerita. Menggunakan ikon tampilan adalah cara yang berguna untuk cepat mendapatkan ide visual tentang apa yang gambar ini terlihat seperti, sehingga Anda dapat memesan semua gambar tanpa perlu membuka mereka dan menonton mereka, yang sangat memakan waktu.
Bagaimana cara menambahkan tiga titik suntingan pada terbang

Cara lain untuk menambahkan klip ke urutan tepat dari Monitor sumber, yang sangat membantu untuk membuat mengedit kasar sementara Anda meninjau bidikan Anda.

Klik dua kali pada klip untuk menariknya di monitor. Klik di manapun di dalam gambar ini dan kemudian menarik yang ke timeline untuk menambahkan ditembak kepada urutan.

Tiga titik mengedit
Anda juga dapat melakukan semua ini dari keyboard, yang sangat membantu untuk beberapa jenis pengeditan, seperti dokumenter, mana beberapa gambar adalah bagian dari file sumber terputus sama.
Dengan teknik pengeditan tiga titik, Anda menetapkan tiga poin: di (mulai) titik pada waktu Anda, dan dalam dan keluar poin pada sumber Anda. Pertama, pindah playhead ke akhir klip terakhir pada timeline Anda. Dengan sumber video dimuat, mengatur tanda di (I) titik dan Mark keluar (O) pada awal dan akhir segmen yang ingin Anda tambahkan ke urutan. Memukul apostrophe (') untuk memasukkan klip ini ke timeline. Ulangi sebanyak yang diperlukan dari bahan sumber Anda.
Tiga titik mengedit adalah cara yang cepat, efisien dan intuitif untuk membuat mengedit kasar. Kami pergi ke detail tentang cara menggunakan seluk-beluk dengan klip di pelajaran berikutnya dalam kursus ini.
Mengotomatisasi urutan

Salah satu cara tambahan untuk menambahkan klip ke urutan ketika Anda memilih beberapa klip: ada tombol yang berlabel otomatis urutan. Ketika Anda mengklik ini Anda mendapatkan serangkaian pilihan. Anda dapat memilih urutan klip, default transisi audio dan video video transisi. Ini adalah cara yang cukup sederhana untuk membuat urutan, benar-benar hanya layak untuk proyek-proyek dasar, tetapi jika bekerja dengan proyek Anda dapat menghemat beberapa waktu.

Watch penuh kursus
Penuh kursus, Pengantar Video Editing di Adobe Premiere Pro, ini akan membantu Anda bangun dan berjalan dengan salah satu video yang paling populer mengedit aplikasi hari ini: Adobe Premiere Pro. Anda akan belajar bagaimana mengatur file di luar Premiere, mengimpor aset Anda, dan mengatur proyek Anda. Anda juga akan belajar mengedit penting seperti bagaimana untuk membuat luka, dasar-dasar mengedit, efek audio dan video, judul, bagaimana untuk mengekspor proyek Anda, dan banyak lagi!
Dan jangan lupa untuk memeriksa Envato pasar untuk sejumlah besar sumber daya bermanfaat untuk proyek-proyek video Anda, dari saham rekaman untuk motion grafis dan banyak lagi.

Want a weekly email summary?
Subscribe below and we'll send you a weekly email summary of all new Photo & Video tutorials. Never miss out on learning about the next big thing.
Sign up
Upstate New York
Dave Bode is an expert on video and audio production in the upstate NY area. Working as a camera operator, editor, inventor, motion graphics designer, recording engineer, and studio musician, he truly is the Production Swiss Army Knife. Dave has created content for VH1 and Discovery Networks as well as inspirational videos that have been seen by millions. In early 2011, Dave started his own business (BODEMEDIA.TV) helping people create great looking videos.
One subscription. Unlimited Downloads.