Personalizzare le cartoline di Natale inviate può essere un tocco speciale per famiglie e amici o una grande opportunità di marketing se sei in attività. Fare la tua carta di potenza potrebbe sembrare un lavoro, ma è più facile di quanto pensi. Una volta che hai il tuo modello, puoi aggiornare rapidamente e facilmente anno dopo anno.
Scegli la tua immagine
Speriamo che avrai una banca di scatti invernali, famosi o famigliari. Se così non fosse, ora è il momento di prenderne uno!
Quando decidi la tua immagine, pensa all'orientamento di come la tua cartolina sarà e come l'immagine riempirà lo spazio. Ci sarà abbastanza spazio vuoto per il vostro messaggio? Se stai girando qualcosa di nuovo, pensa alla composizione di conseguenza. Cielo, acqua o neve possono essere particolarmente utili "vuoti" spazi su cui posizionare il testo.
Di che cosa hai bisogno
1.

Creare l'esterno della cartolina
Inserisci la tua immagine
Apri il modello e nascondi eventuali strati che non desideri mantenere.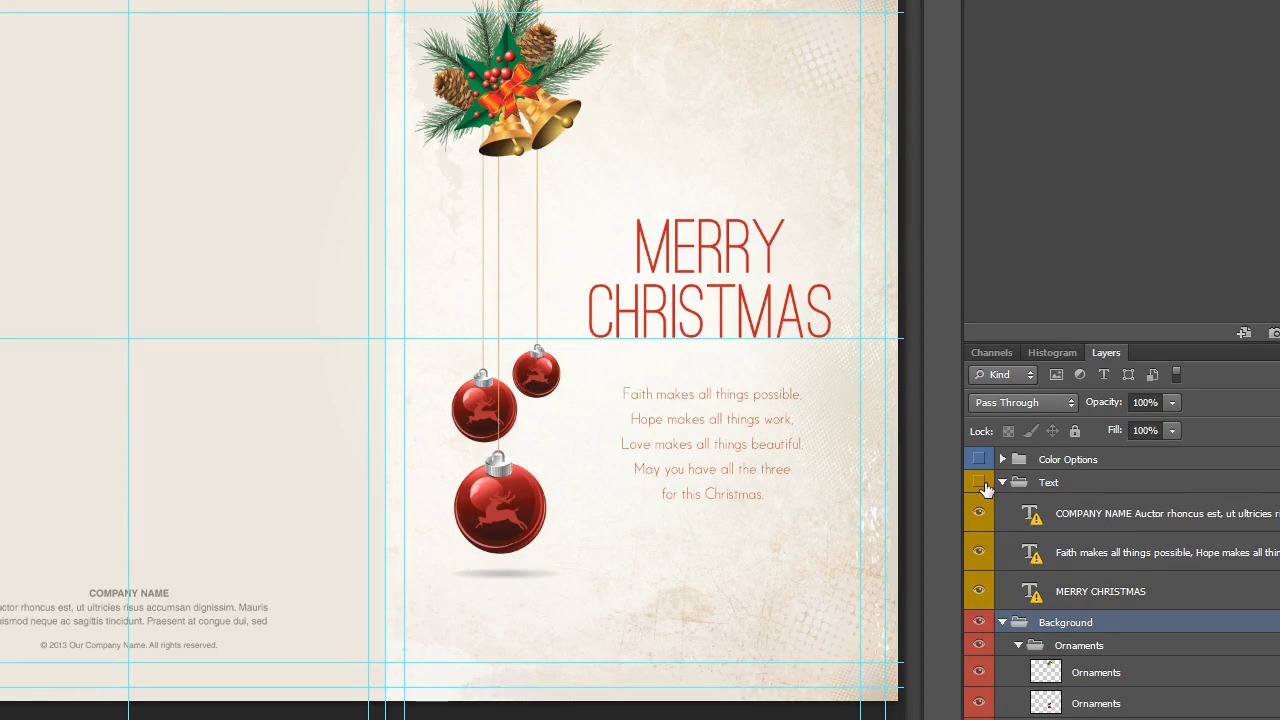 Inserisci l'immagine come un Oggetto Intelligente, mettilo in modo appropriato, quindi crea una maschera di livello per nascondere la metà della foto che si trova sulla parte posteriore della scheda.
Ricordati di lasciare spazio per il tuo testo.
2.

Inserisci il testo

Installa il tuo carattere e aggiungi il testo all'immagine, assicurandoti che si taglia su sfondo.
Il tipo di carattere dovrebbe rappresentare la neve, per cui ha senso per essere abbastanza. Ho aggiunto una ombra di goccia per aiutarti a colpire contro il cielo pallido.
3.

Lascia che ci sia neve

Installa i pennelli e quindi crea un nuovo livello. Utilizza un paio di pennelli, per varietà, crea un un effetto neve sopra l'immagine. Fai uso di una maschera di livello per lasciare inalterato il retro della tua cartolina.
Utilizza le spazzole di neve arrotondate per un effetto più morbido e ricordate che di solito, meno è di più.

4.

Aggiungi il tuo albero di Natale

Apri l'immagine dell'albero di Natale e trascina nel tuo spazio di lavoro corrente. Vedrai che è suddiviso in un certo numero di livelli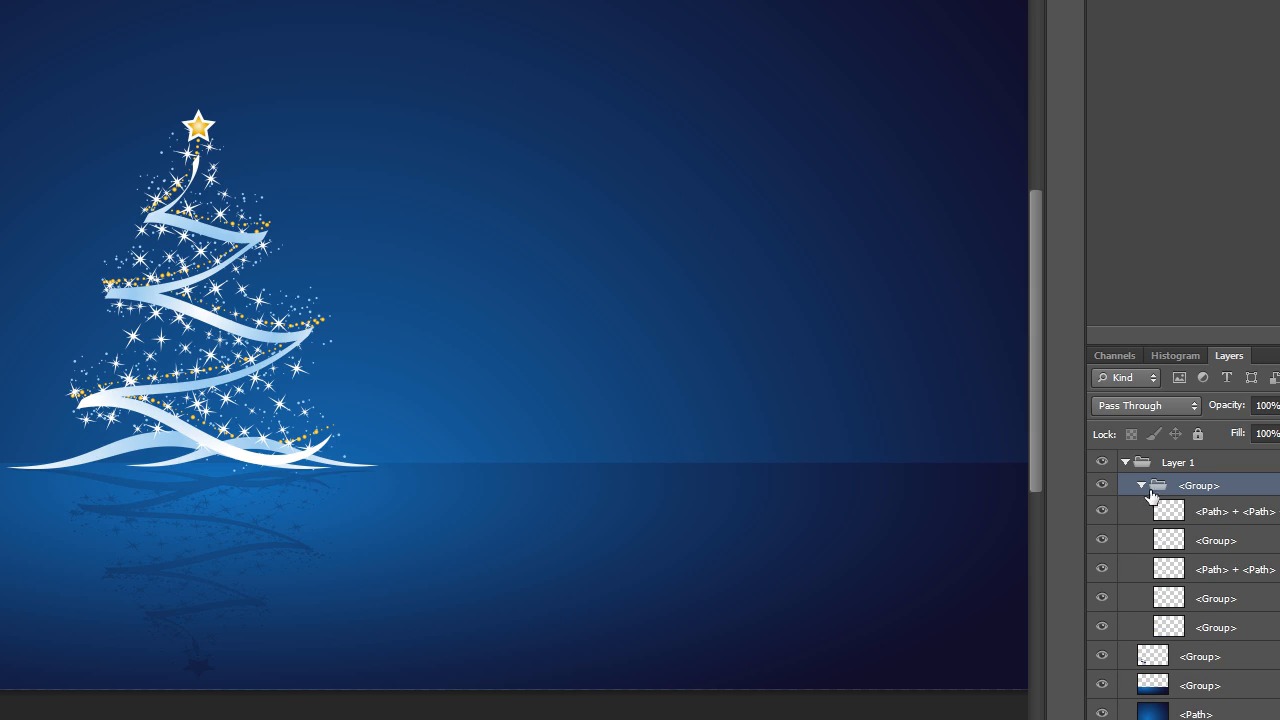 Posiziona l'immagine al centro nella parte posteriore e trascina il livello inferiore <Percorso> in modo che copri la cartolina. Nascondi il primo livello di <Gruppo>, il quale non è necessario.
Successivamente, utilizza una spazzola morbida a circa 8% opacità, torna al tuo livello di immagine originale e spennella la layer mask per fondere l'albero.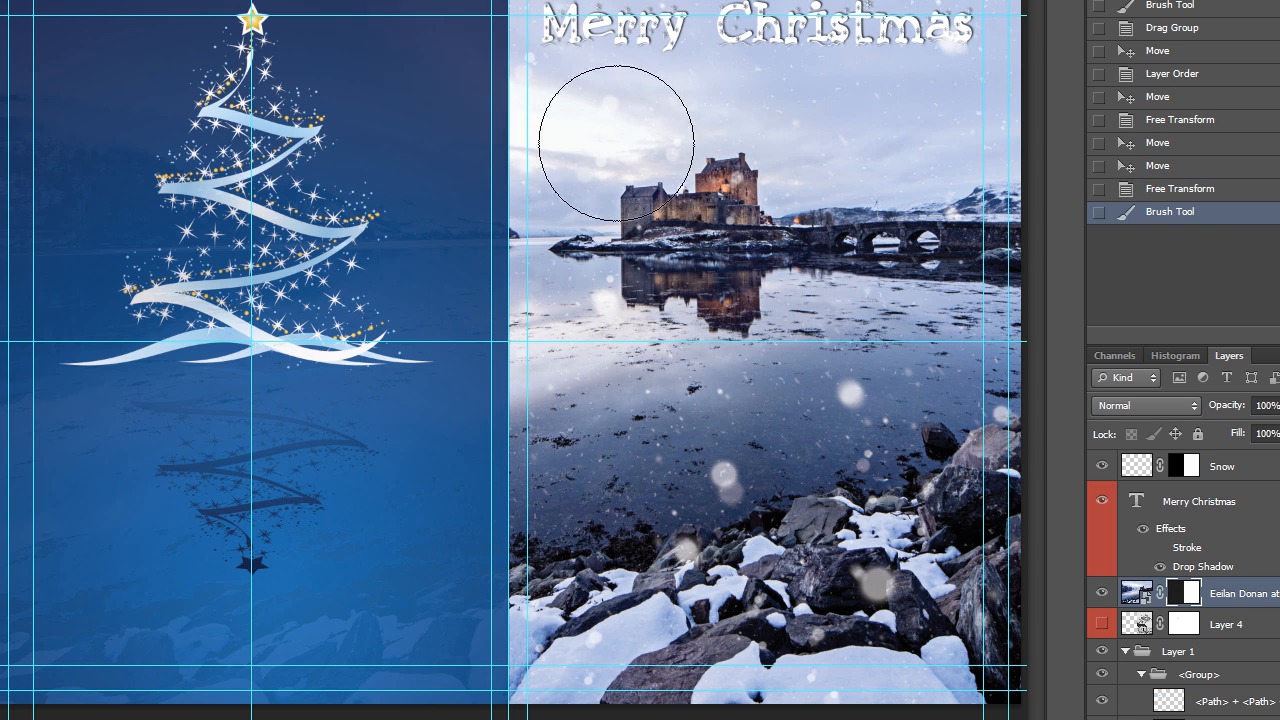 5.

Lasciate (più) neve

Crea un nuovo livello e utilizza gli stessi pennelli come prima, aggiungi più neve sul retro della tua cartolina.
È possibile duplicare il proprio altro livello e trascinarlo se non ti dispiace che la neve sia nella stessa posizione.
Torna al livello dei modelli e aggiungi un testo sul retro della cartolina.
Se sei un fotografo professionista, questo è un buon posto per far nascere il nome della tua azienda. Se questa è una cartolina per amici e parenti, pensa a qualcosa di carino o divertente da scrivere qui.

Ho nascosto il versetto anteriore e gli allegri natali e l'ho scritto nel mio messaggio.
6.

L'esterno finito
7.

Creare l'interno della cartolina
Cambia il colore e il testo
Rendi il colore della parte interna della cartolina di una versione più chiara di fuori. Utilizza il contagocce del colore per selezionare un colore appropriato, crea un nuovo livello e riempilo con il colore.
Se necessario, modifica il testo. Ho rimosso il versetto e ho scritto il mio messaggio, quindi ho aumentato la dimensione del carattere per adattarlo.
Aggiungi interesse all'interno
Rimuovi gli ornamenti se non sono al tuo gusto e usa i pennelli per aggiungere qualche interesse all'interno della tua cartolina. Ricordati di lasciare spazio a scrivere nella tua cartolina.
Aggiungi di nuovo l'albero di Natale
Trascina nuovamente l'albero di Natale e nascondi ognuno dei livelli del <gruppo> e del <percorso> fino a quando rimane l'albero di Natale.
Ridimensiona per adattare e cambiare la modalità di fusione del livello dell'albero per alleggerirlo. Questo si fonde meglio con il colore di sfondo. Se non si distingue abbastanza, provate ad aggiungere un'ombra di goccia.
8.

L'interno finito
9.

Stampa e invia
Fare una cartolina da una delle tue immagini può essere molto soddisfacente, ed è un bel tocco personale per coloro che ti conoscono e non sanno cosa fai. Stampa le proprie cartoline può diventare costoso, per cui potresti voler limitarsi a un piccolo numero, che chi ne riceve uno si sentirà tanto più speciale!
Inizialmente, la creazione della cartolina richiederà un po 'di tempo e di sforzo, ma una volta che hai il tuo modello, puoi semplicemente aggiornare l'immagine o aggiornare il testo ogni anno, che sarà un processo molto più veloce.
Speriamo che ti piace fare la tua cartolina d'auguri e che hai molto tempo durante le vacanze.

Want a weekly email summary?
Subscribe below and we'll send you a weekly email summary of all new Photo & Video tutorials. Never miss out on learning about the next big thing.
Sign up
Photographer and writer based in north east England.
Marie Gardiner is a writer and photographer from the North East of England. After gaining her degree in Film and Media, Marie worked in the media industry, before leaving to set up the business she runs with her partner: Lonely Tower Film & Media. As well as writing about visual practices like photography and video, Marie is also the author of Sunderland Industrial Giant (The History Press, 2017), Secret Sunderland (Amberley Publishing 2019), and Celebrating Sunderland (Amberley Publishing 2023). Her photographic work focuses on landscapes and industrial ruins, particularly those of the North Pennines as she continues to work on her long-form documentary project Changing Landscapes.
Looking for something to help kick start your next project?
Envato Market
has a range of items for sale to help get you started.