Marie Gardiner
W tym poradniku, dowiemy się jak dodać istotne metadane—informacje o informacjach—do zdjęć. Podczas zarządzania zdjęciami, ważne jest, aby uwzględnić metadane: te dodatkowe informacje na temat kontekstu i znaczenia zdjęć zmienia nieuporządkowany stos starych zdjęć w użyteczne i właściwie zorganizowane archiwum.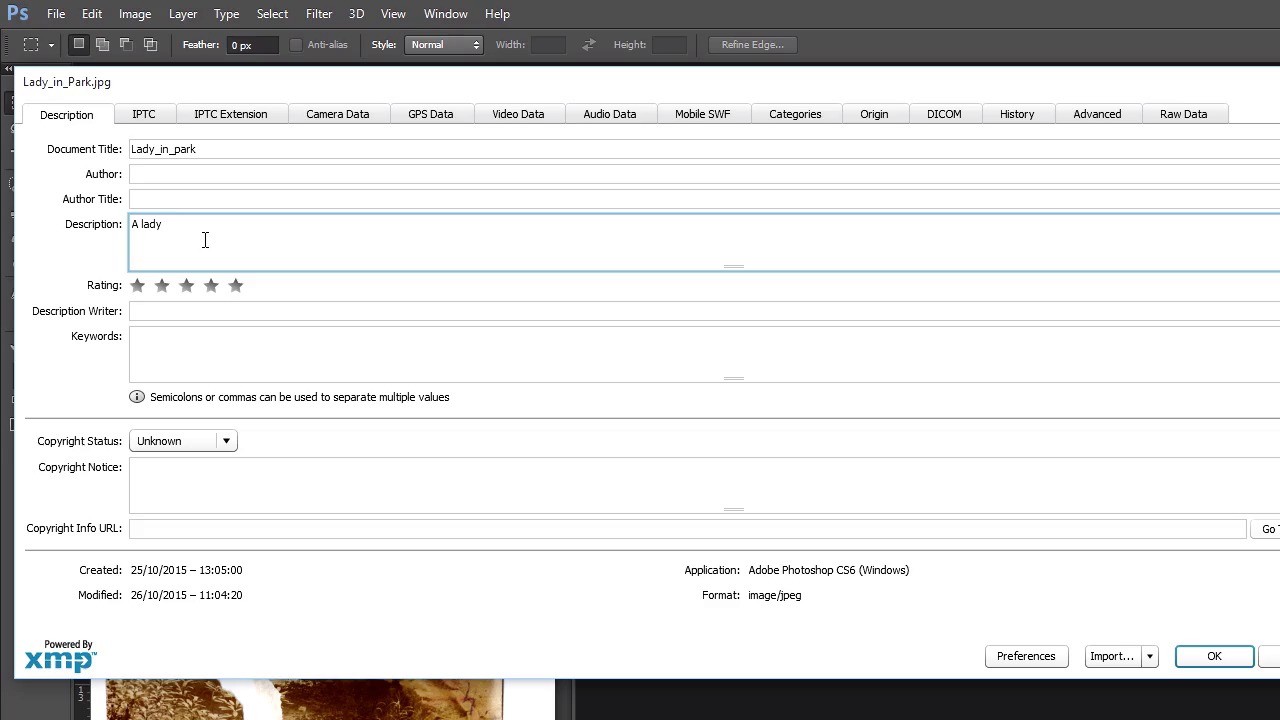 Mając metadane możesz z łatwością wyszukiwać zdjęcia należące do stale rosnącego archiwum. Oznacza to również, że możesz przechowywać informacje o zdjęciach, a później odświeżać swoją pamięć na ich temat.

Praca ze starymi zdjęciami jest często podobna do zawodu detektywa. Na przykład, masz fotografię, ale chcesz znaleźć inną, która była częścią tej samej sesji. Mamy do dyspozycji to co wiemy o zdjęciach, o których mowa—czasami niewiele—oraz to czego brakuje, ale potencjalnie możemy znaleźć. Zacznijmy od brakujących informacji.
Brakujące informacje
W poprzednim poradniku, wspomniałam o pisaniu na odwrocie fotografii. Wiele starych zdjęć posiada takie informacje i od tego powinieneś rozpocząć swoje poszukiwania, jeśli nie wiesz niczego o danej fotografii.
Potrafisz zidentyfikować miejsce lub osobę? Jeśli widzisz, że zdjęcie wykonano powiedzmy w Sunderland, które jest moim rodzinnym miastem, dobrą opcją jest zapytanie grupy historyków z Sunderland, takiej jak antykwariusze lub skontaktowanie się z lokalną gazetą w celu uzyskania informacji o fotografii.
Media społecznościowe są świetnym sposobem na dotarcie do szerszej grupy odbiorów i znalezienie kogoś, kto może pomóc wypełnić luki.
"Myślałem, że historia była wiktoriańska, edwardiańska lub inna. Jednak nie, historia jest teraz i to czego ludzie pragną jest tym, co pamiętają jako dzieci. Mogą to być lata 60, lata 70 i niezwykle ważne jest, że teraz prosimy ludzi, możecie dać nam swoje stare fotografie? Mając je, możemy je przetworzyć na postać cyfrową dla przyszłych pokoleń." —Norman Kirtlan, Sunderland Antiquarian Society
Co uwzględnić w metadanych
Po uzyskaniu pewnych informacji o fotografii, możesz rozpocząć dodawanie danych. Zacznij od tytułu, który ułatwi identyfikację i postaraj się, aby był krótki. Nadając tytuł swoim zdjęciom, pamiętaj, że powinien on być zgodny ze strukturą i stylem. Możesz więc zacząć od wpisania miejsca, a następnie pozostałych informacji, na przykład, sunderland_mulberrypark.
Pomyśl również o dodaniu numeru katalogu, jeśli masz do czynienia z dużą ilością zdjęć.
Następnie mamy opis: nagłówek, który najlepiej pasuje do fotografii. Uwzględnij rzeczy, takie jak fotograf, jeśli jest znany, miejsce oraz osoby widoczne na zdjęciu. Następnie dodaj słowa kluczowe.
Cała sztuka polega na użyciu słów opisujących zawartość fotografii, zachowując istotne i konkretne rzeczy. Jeśli na zdjęciu jest park pełny ludzi, a daleko w tle znajduje się pies, oznaczenie fotografii jako "pies" prawdopodobnie nie jest dobrym pomysłem.
Pomyśl o najważniejszych cechach fotografii, kto na niej jest, gdzie się znajduje, jakie są okoliczności oraz o innych istotnych informacjach.
Możesz również dodać informacje o prawach autorskich, jeśli chcesz udostępnić zdjęcie online.
Jak dodać metadane w Adobe Photoshop

Większość pakietów do edycji zdjęć umożliwia dodanie informacji, które mogą być wyświetlane w innych aplikacjach. W programie Photoshop, kliknij Plik, a następnie Informacje o pliku, aby wpisać dane.
Jeśli rozwiniesz listę w dolnej części okna, zobaczysz opcję eksportowania. Jeśli zapiszesz plik, uzyskasz szablon dla kolejnych zdjęć, który jest bardzo przydatny podczas dodawania danych do dużej sesji.
Adobe Bride pozwala na zbiorowe dodawanie metadanych, które również oszczędza czas, jeśli katalogujesz dużą ilość zdjęć. Metadane zwiększają rozmiar pliku, ale tylko w małym stopniu. Naprawdę warto to zrobić dla korzyści wynikających ze zorganizowanego katalogu.
Podczas przesyłania plików między komputerami, informacje o zdjęciu często znikają, więc mając wbudowane metadane, które są częścią pliku, gwarantuje, że tak się nie stanie, chyba że ktoś celowo je usunie.
Want a weekly email summary?
Subscribe below and we'll send you a weekly email summary of all new Photo & Video tutorials. Never miss out on learning about the next big thing.
Sign up
Photographer and writer based in north east England.
Marie Gardiner is a writer and photographer from the North East of England. After gaining her degree in Film and Media, Marie worked in the media industry, before leaving to set up the business she runs with her partner: Lonely Tower Film & Media. As well as writing about visual practices like photography and video, Marie is also the author of Sunderland Industrial Giant (The History Press, 2017), Secret Sunderland (Amberley Publishing 2019), and Celebrating Sunderland (Amberley Publishing 2023). Her photographic work focuses on landscapes and industrial ruins, particularly those of the North Pennines as she continues to work on her long-form documentary project Changing Landscapes.
Looking for something to help kick start your next project?
Envato Market
has a range of items for sale to help get you started.