Melody Nieves
Sponsored Content
This sponsored post features a product relevant to our readers while meeting our editorial guidelines for being objective and educational.
Witamy w naszej serii poradników Photoshop w 60 sekund, dzięki której nauczysz się techniki, poznasz funkcję lub zyskasz umiejętność w programie Photoshop w ciągu zaledwie jednej minuty! W tym krótkim wideo, Melody Nieves pokaże ci jak szybko i łatwo wyostrzyć zdjęcia za pomocą akcji w Photoshopie.

Doskonal swoją pracę za pomocą akcji w Photoshopie

Jeśli twoja praca wymaga małego usprawnienia, rozważ skorzystanie z akcji w Photoshopie. Akcje pozwalają na łatwe zastosowanie efektów i modyfikacji jednym kliknięciem myszy. Odkryj szeroką gamę akcji dostępny w Envato Market.

Obejrzyj to krótkie wideo, aby nauczyć się jak szybko wyostrzyć zdjęcia za pomocą akcji w Photoshopie.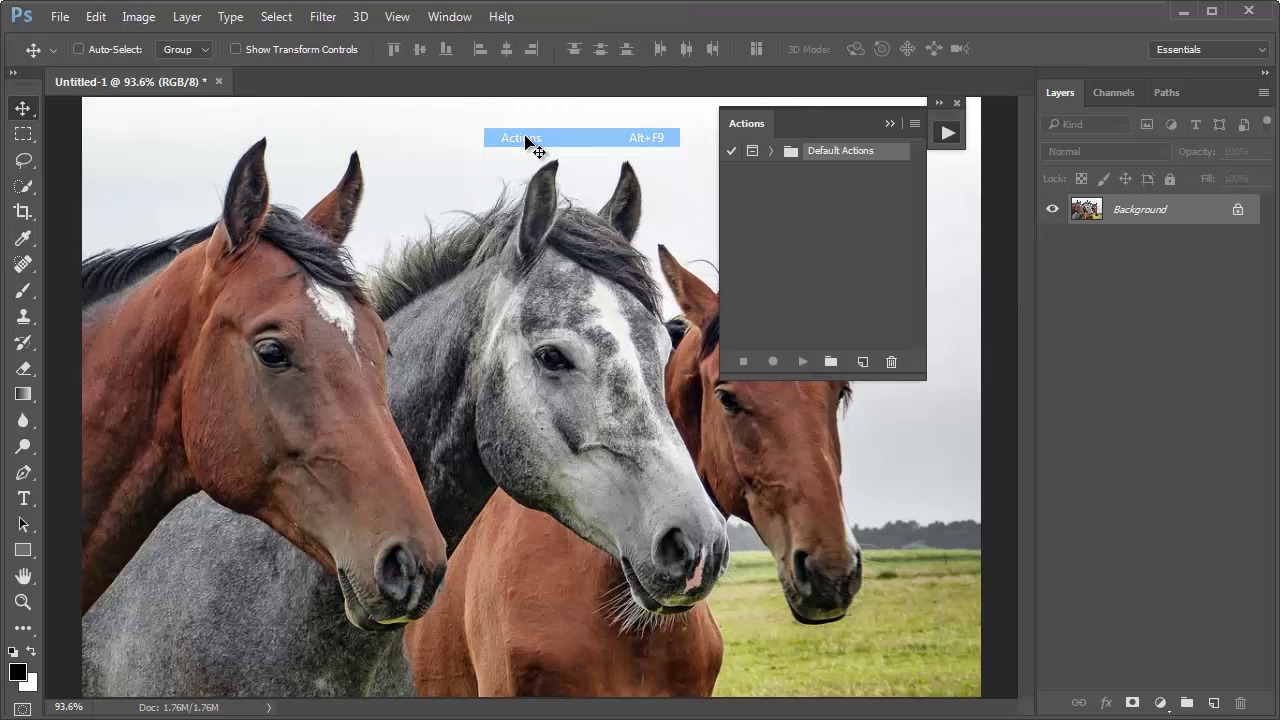 Jak wyostrzyć zdjęcia za pomocą akcji w Photoshopie

Aby zwiększyć czytelność poniższego zdjęcia, skorzystam z pakietu 10 Premium Photo Sharpen Actions znajdującego się w Graphic River. Zachęcam do pobrania i wypróbowania tej akcji wykorzytując do tego piękne zdjęcie koni widoczne w wideo.

Na początek, wczytaj wybraną akcję. Przejdź do Okno > Akcje i wybierz opcję Wczytaj akcje znajdującą się w panelu Akcje. Następnie, zaznacz pobraną akcję i kliknij Wczytaj.
Jeśli jesteś gotowy na zastosowanie efektu, po prostu wybierz jedną z akcji wyostrzania i naciśnij odtwórz.
Zapoznaj się z wieloma dostępnymi opcjami ostrości i eksperymentuj z innymi akcjami zawartymi w pakiecie. To naprawdę takie proste! Teraz możesz się cieszyć nową wyrazistością swoich fotografii!

Poniżej znajduje się efekt końcowy.

Trochę więcej szczegółów
Chcesz dowiedzieć się więcej o akcjach w Photoshopie? Zapoznaj się poniższą listą świetnych poradników:

60 sekund?!
To część serii krótkich wideo poradników na Envato Tuts+, w których przedstawiamy wiele tematów w 60 sekund—tyle wystarczy, aby pobudzić twoją ciekawość. Daj nam znać w komentarzu, co myślisz o tym materiale wideo i co jeszcze chciałbyś zobaczyć w ciągu 60 sekund!

Want a weekly email summary?
Subscribe below and we'll send you a weekly email summary of all new Photo & Video tutorials. Never miss out on learning about the next big thing.
Sign up
Digital Artist - CT, USA
I'm an Afro-Latina digital artist originally from Long Island, NY. I love to paint, design, and photo manipulate in Adobe Photoshop while helping others learn too. Follow me on
Instagram
or tweet me
@MelloNieves
and tell me what you'd like to see next!
Looking for something to help kick start your next project?
Envato Market
has a range of items for sale to help get you started.