Melody Nieves
Bem vindo à série Photoshop em 60 segundos, onde aprendemos uma habilidade, recurso ou técnica em apenas 1 minuto!
O Efeito de Rabisco
Um efeito de rabisco torna uma foto comum em uma obra de arte—como se fosse desenhada por um artista profissional. Usando uma Máscara de Camada invertida e um Pincel rígido e com textura de lápis, obtemos o efeito rapidamente. Ao cria esse efeito, devemos seguir as regras tradicionais de desenho da hachura e hachura cruzada para visual crível.

E vejamos como criar esse efeito no vídeo rápido abaixo.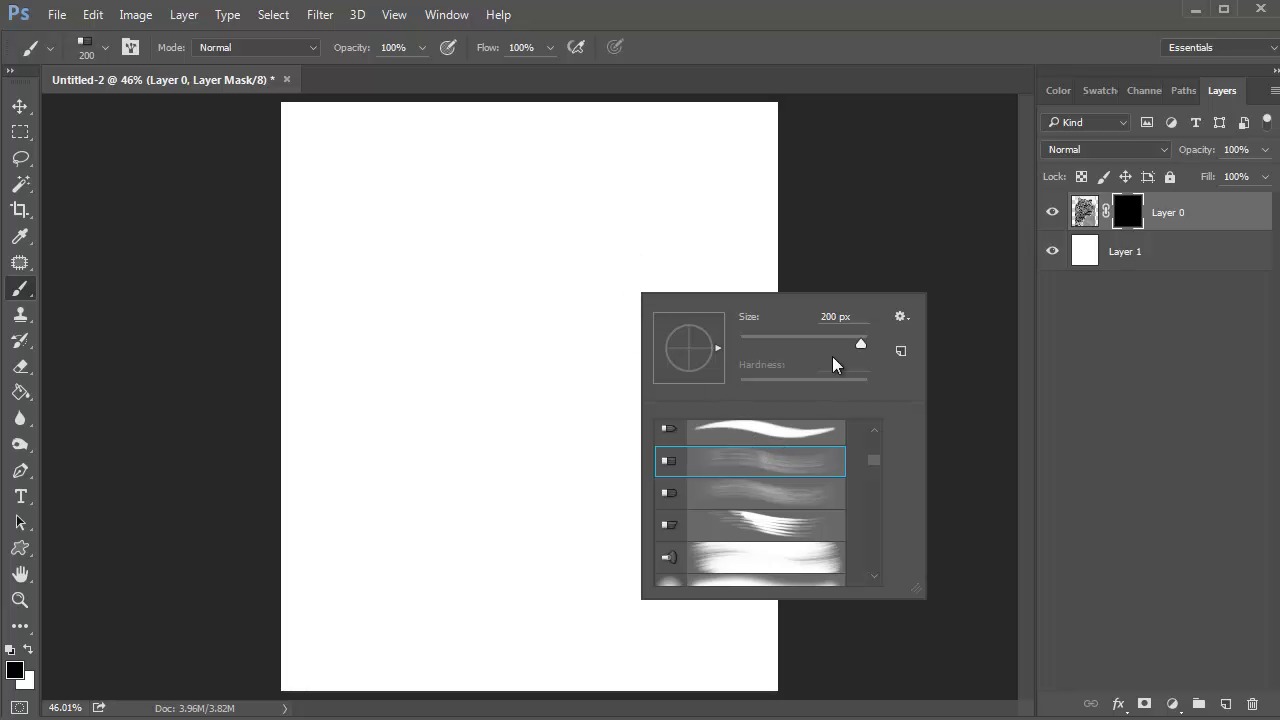 Comecemos enlarguecendo a prancheta (Contrl+Shift+C); No exemplo, mudamos 15", um espaço bem amplo para a imagem. Depois, criemos uma nova camada, preenchamos de branco e coloquemos abaixo da imagem. Com a camada da foto, busquemos Matiz e Saturação em Ajustes de Imagem. Usemos Saturação em -100, tornando a imagem preto e branca. Criemos uma Máscara de Camada para a imagem e preenchamo-na com preto para a imagem desaparecer.

Agora, selecionemos um Pincel liso, sem corte, curto e rígido, e pincelemos sobre a máscara de camada preta. Comecemos com pinceladas grandes para revelar devagar a imagem abaixo. Usemos o método de hachura cruzada para tornar o efeito mais realista. Diminuamos o tamanho do pincel e concentremos as pincelas no centro do rosto ou objeto para mais detalhes. Então, usemos a borracha para apagar levemente cantos duros.

Para aumentar o contraste, adicionemos uma camada de ajusta de Níveis e depois criemos uma nova camada e preenchamo-na com um cinza claro. Usemo o Modo de Mesclagem para Multiplicação e apaguemos gentilmente o meio.

E é isso!

Uma Ação Alternativa e Poderosa de Efeito de Rabisco

Na GraphicRiver, há uma excelente ação de Efeito de Rabisco para Photoshop por Iaglanz. Essa ação de dois passos vai ainda mais longe com o esboço, além do efeito de lápis manual do exemplo, criando o visual de um desenho técnico preciso.

A ação do Leglanz é bem útil. Para alguns, aprende como esboçar para alcançar o efeito do vídeo é bem desafiador—esse é um atalho rápido e viável. Mesmo que saibamos rabiscar, precisaremos criar rabiscos em produtos ou objetos de forma mais controlada. Essa ação dará esse visual de desenho técnico. Essa ação também é uma ótima ferramenta porque é bem repetível—podemos apenas desenhar sobre as áreas que queremos enfatizar e a ação cuida do resto. Ótimo para criar visuais consistentes em várias imagens, especialmente com data de entrega.

Como em toda ação, ajustemos o resultado de acordo com o alvo e propósito da imagem.

Um Pouco Mais de Detalhe
Aprendamos mais sobre Adobe Photoshop na Envato Tuts+:
60 Segundos?!
Essa é uma parte da série de tutoriais rápidos em vídeo na Envato Tuts+, onde introduzimos uma gama de assuntos, tudo em 60 segundos—o suficiente para chamar sua atenção.  Diga-nos o que achou do vídeo e o que mais poderíamos explicar em 60 segundos!

Want a weekly email summary?
Subscribe below and we'll send you a weekly email summary of all new Photo tutorials. Never miss out on learning about the next big thing.
Sign up
Digital Artist - CT, USA
I'm an Afro-Latina digital artist originally from Long Island, NY. I love to paint, design, and photo manipulate in Adobe Photoshop while helping others learn too. Follow me on
Instagram
or tweet me
@MelloNieves
and tell me what you'd like to see next!
Looking for something to help kick start your next project?
Envato Market
has a range of items for sale to help get you started.