Christopher Kenworthy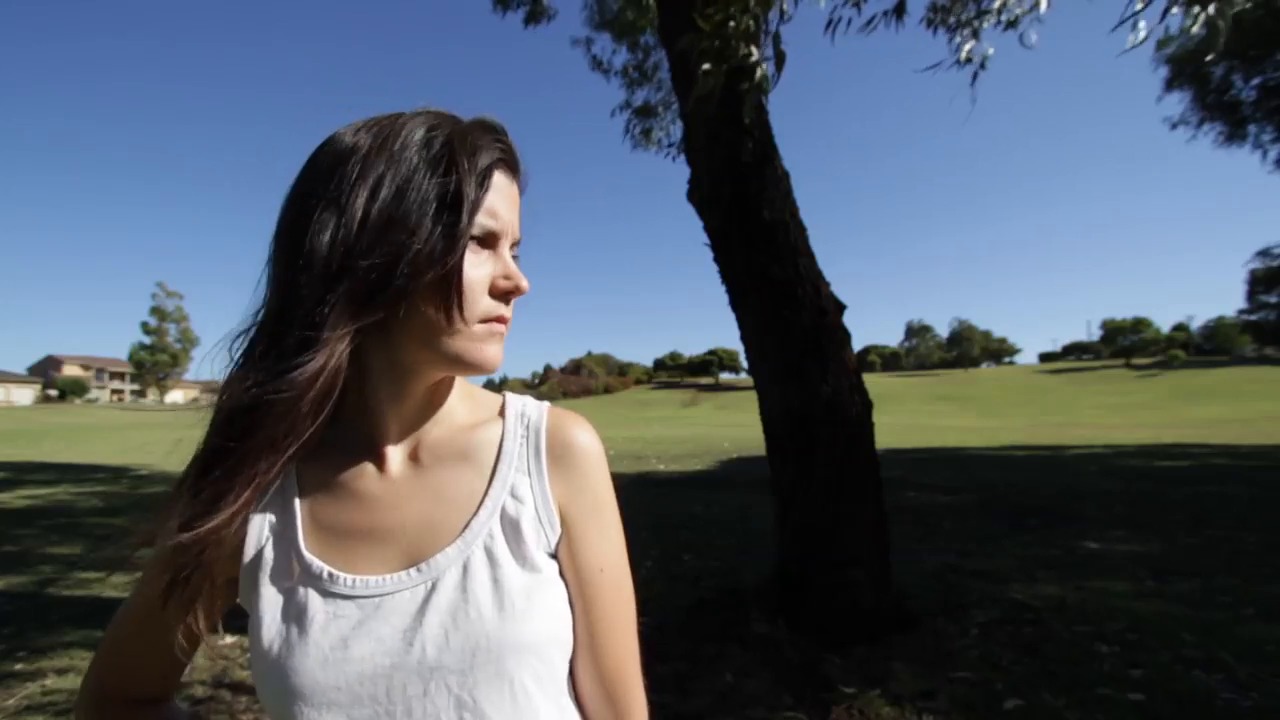 Foco é uma ferramenta bem criativa. Ao invés de simplesmente apontar para o alvo em foco, usamos foco para contar uma história, controlando o que está em foco e o que está desfocado.

Nessa lição, veremos como podemos deixar fotos focadas, do primeiro plano ao plano de fundo, usando conhecimento sobre lentes e abertura, ou como reduzir o foco, criando profundidade de campo e deixando apenas uma parte da foto em foco.
Escolha de Lente e Foco
No geral, lentes curtas mostram mais focos no primeiro plano indo até o plano de fundo. Se atentarmos à foto abaixo, a atriz no primeiro plano, a árvore no campo médio e o horizonta distante estão bem focados.
É por isso que usamos lentes curtas para fotos em movimento. Quando os atores afastam-se da câmera, não precisamos refocar porque tudo permanece em foco.
Com lentes longas, contudo, há menos foco. Abaixo, vemos a atriz em foco. Mas o galho à direita, próximo a nós; a pedra atrás dela as árvores lá atrás estão todos fora de foco.
Ao filmar, é importante saber o quanto da imagem queremos focar. Se quisermos tudo, lente curta é melhor. Apenas uma pequena área de foco, lentes maiores são melhores.
O Problema Com Lentes Longas
Embora o efeito cinemático que as pessoas busam, com o alvo bem visível e em foco e todo o resto do primeiro e plano de fundos desfocado, seja legal, é bem difícil alcança-lo, especialmente se o alvo estiver movendo-se para longe ou perto da câmera. Temos de foca precisamente no alvo.
Em um clipe de vídeo, é possível ver que somos capazes de rastrear o foco de acordo que o alvo caminha por um tempo, mas, de vez em quando, perdemos o foco. É muito difícil manter o foco quando a profundidade de campo é pouca, mas não quer dizer que não podemos tentar.
Tudo É Uma Generalização
Quase toda "regra" que vemos sobre filmagem é uma generalização. A verdade é que podemos ter planos de fundo regulares e foras de foco, mesmo com lentes curtas; ou profundidade de campo com tudo em foco com lente longa. Obtemos ambos efeitos com mudanças de abertura.
Na foto abaixo, usamos uma lente de 10mm e o campo médio e o plano de fundo estão focados. Usamos uma abertura estreita, como f/22, pela luz clara. Quando maior o número com f, mais estreita a abertura.
Para obter baixo campo de visão, temos de escolher números como f/5.6 ou até f/4. Abaixo, usamos uma abertura f/5.6 e é bem suáve no plano de fundo.
Claro, abrir a abertura clareia a imagem, então precisamos escolher um ISO baixo. Se a luz for muito clara, talvez precisemos usar filtro de densidade neutra na frente da lente, como fizemos aqui, para limitar a quantidade de luz entrando na câmera.
Se usamos lentes longas, então o primeiro plano e o plano de fundo normalmente estão fora de foco. Se os quisermos mais nítidos, vamos de números f maiores.
Aqui vemos como fechamos a abertura para f/32 que é uma abertura bem estreita. Torna a imagem mais nítida do primeiro ao plano de fundo. Usamos um ISO alto para iluminar a foto.
Com lentes muito longas, como 200mm, será difícil obter tudo focado, mas será bem próximo. Se quisermos tudo focado, é melhor usar uma lente um pouco menor e chegar mais perto. O alvo parecerá do mesmo tamanho no quadro mas teremos um plano de fundo mais nítido.
Resumindo
Qualquer que seja a lente usada, a abertura que usarmos influenciará bastante o foco das fotos. Não usemos apenas a abertura para dar mais brilho à imagem. Lembremo-nos que obtemos isso também com a velocidade do obturador e ISO, e usemos a abertura para ditar o foco da imagem.

Want a weekly email summary?
Subscribe below and we'll send you a weekly email summary of all new Photo & Video tutorials. Never miss out on learning about the next big thing.
Sign up
Christopher Kenworthy (born 1968) is an Australian writer and former film director. He is the author of two novels, The Winter Inside and The Quality of Light for Serpent's Tail, along with a short story collection, Will You Hold Me? and the chapbook Sullom Hill. His fiction has been widely praised by authors such as Michael Moorcock, and anthologised in books such as The Year's Best Fantasy and Horror. Born in Preston, England, he moved to Australia in 1997 and began a directing career which lasted until 2013. His Master Shots books are best-sellers for Michael Wiese Books. He is the director of The Sculptor. He won the Award For Directing (WA Screen Awards) in 2007. He directed many music videos, including Dreaming Light for Anathema (band).
Start your 7-day free trial*
*All Individual plans include a 7-day free trial for new customers; then chosen plan price applies. Cancel any time.