Adi Purdila
Na parte dois da série eu adicionei algum tapete no assoalho e fazendo que eu comecei livrado da maioria do eco no quarto. Agora é hora de levar as coisas para o próximo nível e refinar o tratamento de som.
O Que Você Precisa: Materiais de escultura de som
Eu vou usar dois tipos de painéis: painéis de espuma de amortecimento de som (eu só chamo esses "painéis" de agora em diante) e armadilhas de graves.
Eu tenho quatro armadilhas de baixo, cada medindo um metro de altura e cerca de 30 centímetros de largura de cada lado. Eu também tenho três painéis acústicos, cada um medindo dois metros de comprimento por um metro de altura. Eles são cerca de 6 centímetros de espessura. Isso é suficiente para a aplicação de luz que estou me preparando para a maioria das vezes falada, mas se você estiver indo para gravar regularmente músicos, por exemplo, você pode precisar de mais (ou uma configuração diferente) para o tamanho ea forma do seu quarto.

Agora, por que dois tipos diferentes de materiais? É simples. Os painéis de espuma fará um trabalho muito bom na absorção de sons de média a alta frequência. As armadilhas de baixo são melhores na absorção de sons de baixa frequência. Ao adicionar objetos de absorção de som de densidades múltiplas para seu quarto, certifique-se de cobrir o máximo possível da faixa de frequência.
Uma palavra na espuma: vá para a qualidade. Nós tivemos algum material acústico de espuma barato liberar gases nocivos. Procure marcas respeitáveis ​​e leia opiniões antes de comprar.

Agora, como estes devem ser montados sem danificar as paredes? Vamos descobrir.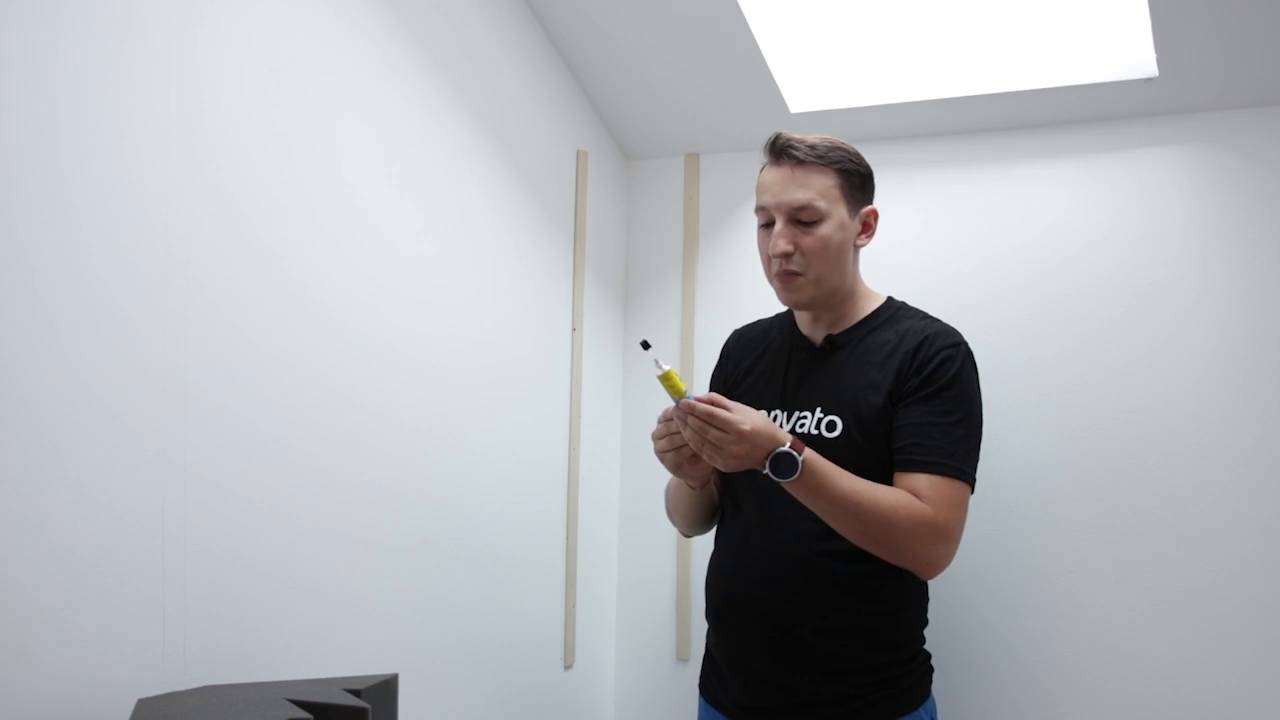 Como colocar os painéis de som
Os painéis e armadilhas de baixo estão para cima, mas o que há com a colocação dos três maiores?
Colocação em painel
Os painéis que você colocar deve negar a reflexão do som, tanto quanto possível. É por isso que dois deles são colocados diretamente opostos uns dos outros nas paredes laterais (Imagem 3).
O terceiro painel é colocado na minha frente para parar os sons refletidos por essa parede. Idealmente, eu gostaria de um quarto painel colocado na parede atrás de mim, mas desde que é o pano de fundo eu não posso fazer isso.
Em suma, estou muito feliz com os resultados de apenas usar esses três grandes painéis. Há ainda um pouco de eco, mas o microfone de lapela não pega muito dele.

Há um pouco de um ato de equilíbrio aqui: você quer usar o suficiente desses painéis para obter a sua voz eo tom quarto soar melhor, mas não tantos que mata a base e muda o som. Você também não quer colocar-se tão tratamentos que o quarto é difícil de usar como um estúdio de vídeo. Então eu vou deixar o quarto painel fora da parede de trás, onde o pano de fundo vai, por agora.

Eu comprei estes painéis assim que minha tarefa era mais fácil, mas que se você estiver em um orçamento mais apertado? Bem, você pode fazer estes você mesmo:
Faça seus próprios materiais de escultura de som

Com um pouco de tempo e esforço você pode criar alguns desses painéis você mesmo e em um custo muito mais baixo.

A primeira, e de certa forma mais fácil, é repetir o último tutorial. O que funciona no chão funciona tão bem nas paredes: tapetes pendurados faz grande ruído moldar. E pode parecer legal! Basta ter cuidado para que a cor do tapete não refletir muito em sua iluminação (vamos cobrir iluminação mais tarde nesta série).

Aqui estão alguns grandes recursos que irão ajudá-lo a fazer isso e também ajudá-lo a aprender mais sobre a acústica do quarto:

Próximos passos
O tratamento acústico está agora concluído, por isso é hora de seguir em frente e criar o pano de fundo. Vou fazer isso no próximo tutorial.
Want a weekly email summary?
Subscribe below and we'll send you a weekly email summary of all new Photo & Video tutorials. Never miss out on learning about the next big thing.
Sign up
Adi Purdila is a web design instructor for Tuts+. With over 100 courses and 200 tutorials published to date, Adi's goal is to help students become better web designers and developers by creating content that's easy to follow and offers great value. Being self-taught himself, Adi strongly believes that constant learning (academic or otherwise) is the only way to move forward and achieve your goals. When not typing away at his keyboard, he loves woodworking and caring for his ever-growing family of rescue pets. You can stay up to date with what he's doing by following him on social media or visiting his website at adipurdila.com.
Start your 7-day free trial*
*All Individual plans include a 7-day free trial for new customers; then chosen plan price applies. Cancel any time.