Marie Gardiner
Da mídia social até os documentários, o uso de paralaxe para criar movimento a partir de uma única imagem tornou-se uma técnica de vídeo popular e eficaz. Neste tutorial eu vou mostrar a você como fazê-la no Adobe Photoshop usando a Ação do Kit de Ferramentas de Paralaxe Animada para o Photoshop. Aqui está o que iremos fazer: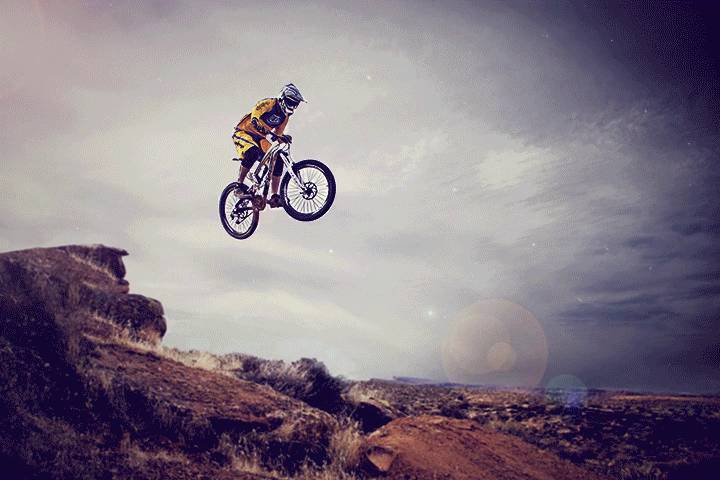 O Que Você Precisa

Antes de começar, você precisa instalar o padrão, o pincel e os arquivos de ação que vem com o download.
Em seguida, certifique-se de que sua imagem é RGB e está no modo de cores 8-bit.
Por sorte, o vídeo de ajuda associado a esta ação é realmente útil. Ele passa por todas as opções contidas e também explica as opções de salvamento. É uma rara documentação e bem útil. Nós cobrimos todos os conceitos básicos aqui, contudo, eu espero que você não precise de ajuda extra.

Por fim, você precisará de uma imagem para trabalhar. Aqui está a minha:

Eu escolhi esta imagem por dois motivos. Primeiro, a composição implicou movimento - seu cérebro quer que o motociclista complete o salto. Em segundo lugar, as camadas são facilmente distinguíveis, então não será complicado usar o pincel.
Como Usar o Efeito de Paralaxe

Abra o painel de Ações (Actions) e encontre o efeito parallax.
Quando você pressiona executar (Play), a ação será interrompida brevemente e pedirá que você pincele sobre seu objeto principal; No nosso caso, a bicicleta.
Pinte Sobre o Objeto para Isolá-lo

Seja o mais puro possível com ele. Se o seu fundo é bem simples, não será tão perceptível se você incluir algumas áreas que não pertençam ao objeto principal.
Neste caso, eu colori a roda toda, ao invés de tentar pintar em cada um dos raios. Deve ficar bom devido ao fundo ser relativamente simples, mas se o fundo fosse mais detalhado, seria mais óbvio.
Quando você pintar por cima e estiver satisfeito, pressione executar (play) novamente.
Se você não tiver a sua linha do tempo visível, pode ser útil alterar isso agora. Vá para Janela > Linha do tempo (Window > Timeline).
Quando a linha do tempo aparecer você vai perceber que agora você tem camadas ou faixas (tracks) na janela da Linha do Tempo (Timeline), assim como algumas camadas agrupadas no painel de Camadas.
A essa altura, se você pressionar play na linha do tempo, você verá uma versão (preliminar) da pré-visualização do movimento. Até aqui, tecnicamente você tem o seu GIF ou clipe de filme, mas podemos fazer mais.

Faça o Objeto se Destacar
Se nós queremos fazer com que o objeto frontal (neste caso a bicicleta) se destaque do fundo ainda mais, nós podemos deixá-la mais nítida. Clique em Add Sharpness to Object (Adicionar Nitidez ao Objeto) e pressione Reproduzir (Play). Você verá uma caixa de diálogo pedindo para você selecionar a sua camada:
Clique na camada Front Object (Objeto Frontal) em seu painel de Camadas e então pressione o botão reproduzir para executar a ação novamente. Você pode usar a camada Add Blurriness to Object (Adicionar Desfoque ao Objeto) para desfocar o seu fundo, também.
Rolar para baixo na lista de ações vai te dar um número de adições para incluir na sua foto - entre elas as opções de partículas e efeitos de luz.
Adicione Partículas e o Reflexo de Lente
Adicione partículas clicando em Particle V1 e pressionando play.
Em seguida, você pode sacudir as partículas, para adicionar mais movimento. Clique em Shake the Particles (Agitar as Partículas) e abra o arquivo Particles Displacement Map (Mapa de Deslocamento de Partículas) do arquivo que você baixou:
Você pode adicionar também um reflexo de lente, apenas clique na opção da lista e execute a ação.
Altere a Cor

As Opções de Cores do Instagram (Instagram Colour Options), quando executadas, vão rodar por um tempo e te fornecer várias opções de cores que você pode ativar ou desativar para ver como ela afetará sua imagem. Aqui está um exemplo do Filtro X-Pro ligado.
Cada uma das opções de cores é então dividida em camadas, para que você possa ajustar e pincelar os efeitos, conforme apropriado.
Salve o Seu GIF ou MP4

Espero que você tenha salvado seu arquivo algumas vezes durante este tempo, mas agora clique em Save and Go to Preview (Salvar e Ir para a Pré-Visualização). Se você estiver satisfeito, então você pode seguir as instruções e avançar rumo a exportação do seu GIF. Não se esqueça de usar qualquer uma das opções de redimensionamento disponíveis até que você tenha uma versão salva do seu original.
Como alternativa, você pode ir para Arquivo > Exportar > Aplicar Renderização em Vídeo (File > Export > Render Video) ou Salvar Como (Save as) e escolher a opção de GIF ou MP4.
Construindo o Que Você Aprendeu
Esta ação é complicada, mas se você assistir o vídeo de ajuda e começar com as opções mais fáceis, como as que eu passei aqui, não demorará muito para que você fique mais confortável com a forma como tudo funciona e pode de forma mais fácil alcançar os efeitos desejados.
As opções conseguem mais em profundidade e, ao invés de apenas selecionar seu objeto do primeiro plano e movê-lo, você também pode selecionar o fundo e o meio e, em seguida, ter "movimento" em cada elemento.
Há também um criador de texto habilidoso para que você possa jogar isso também, útil para compartilhadores em redes sociais. Com o Facebook agora permitindo pequenos vídeos para as imagens de perfil e até nos cabeçalhos das páginas, aprender a fazer imagens animadas curtas a partir de imagens fixas no Photoshop pode ser uma ferramenta realmente muito útil.

Want a weekly email summary?
Subscribe below and we'll send you a weekly email summary of all new Photo & Video tutorials. Never miss out on learning about the next big thing.
Sign up
Photographer and writer based in north east England.
Marie Gardiner is a writer and photographer from the North East of England. After gaining her degree in Film and Media, Marie worked in the media industry, before leaving to set up the business she runs with her partner: Lonely Tower Film & Media. As well as writing about visual practices like photography and video, Marie is also the author of Sunderland Industrial Giant (The History Press, 2017), Secret Sunderland (Amberley Publishing 2019), and Celebrating Sunderland (Amberley Publishing 2023). Her photographic work focuses on landscapes and industrial ruins, particularly those of the North Pennines as she continues to work on her long-form documentary project Changing Landscapes.
Looking for something to help kick start your next project?
Envato Market
has a range of items for sale to help get you started.