Cindy Burgess
Sempre imaginei porque alguns videos online conseguem milhares de visualizações, enquanto outros conseguem apenas um punhado? Sim, engajamento, conteúdo relevante são um grande fator - mas marketing e promoção também são. Na arena lotada dos videos online, você tem que lutar por atenção: a arma principal no seu arsenal é a imagem miniatura do video.
A miniatura do video funciona como um pôster de filme, ou capa de livro. O propósito é atrair pessoas. Uma imagem miniatura bem projetada, com apelo visual, sinaliza sobre o que é o video e seduz os espectadores a clicarem no botão play para descobrir mais. É importante porque você tem apenas alguns segundos para fisgar a atenção de alguém antes que eles se distraiam com algum objeto brilhante online.
Aqui estão algumas dicas para criar uma imagem miniatura atraente, que vai fazer com que seu video seja notado e persuadir os espectadores a clicar e assistir:
1. Use uma Vista de Perto
Fotos de perto de objetos ou pessoas (close up) são mais poderosas que fotos de longe, e isso é especialmente verdade quando se trata de imagens miniatura de video. As miniaturas são pequenas  -  quando visualizadas em um smartphone, tem o tamanho de um selo de correspondência. Se você usar uma foto de longe de uma cena, os espectadores terão problemas em visualizar os detalhes e é mais provável que pulem o seu video, preencher o quadro com uma vista de perto engaja o espectador, como esta amostra do Canva:
2. Escolha Cores Brilhantes
Os varejistas usam placas em neon para chamar a atenção dos compradores porque eles são brilhantes e chamativos. Você pode fazer o mesmo com sua imagem miniatura escolhendo uma cor brilhante de plano de fundo ou de imagem, como esse modelo do Canva:
Se você estiver usando uma fotografia ou captura de tela, aumente os níveis de saturação um pouco ou adicione um filtro sutil para fazer a imagem sobressair. Outra técnica é escolher cores complementares. De acordo com a teoria das cores, essas cores estão localizadas opostas umas as outras na roda de cor (por exemplo, vermelho e verde)
Quando colocadas lado a lado, as cores complementares saltam porque elas fazem com que cada uma pareça mais intensa e brilhante. O resultado pode ser chocante, por isso, use essa técnica com moderação.
3. Mostre Rostos
Como humanos, nos somos psicologicamente levados a olhar para outros rostos humanos. Nós enxergamos a nós mesmos espelhados neles, e nos dá pistas sociais a partir das expressões. Quando uma miniatura inclui um rosto fazendo contato direto, os espectadores se sentem conectados e mais propensos a serem atraídos.
Outra dica é usar rostos muito expressivos que exageram a emoção ou dão pistas de controvérsia, como os rostos usados nesse modelo do Canva>
Nós ficamos intrigados por emoções fortes - De que outra maneira poderia se explicar a popularidade daqueles programas de entrevistas TV-Trash como  The Jerry Springer Show? Uma imagem com vista de perto de alguém reagindo com surpresa ou raiva vai fazer com que os espectadores queiram assistir para entender o que está acontecendo. Não seja enganador: se sua miniatura não for relacionada com o seu video ou muito acima, você perderá a confiança dos seus espectadores e eles não voltarão. Há muitas armadilhas de cliques lá fora, não contribua para o problema.
4. Inclua Texto
Uma figura sozinha não é sempre suficiente para convencer sobre o que é seu video. Acrescentar algumas palavras de texto a imagem pode ajudar a adicionar contexto. A chave é dar uma pista do conteúdo do seu video e convencer os espectadores a clicar para saber mais. Não há muito espaço para trabalhar numa miniatura, então não tente entulhar demais. Use apenas algumas palavras, e uma fonte sans-serif como a Futura, que é fácil de ler. Mantenha a letra larga e clara para que seja vista sem nenhum recurso. Essas miniaturas do Fail Army são um exemplo perfeito:
5. Use uma Foto de Ação
Se você tem uma ação convincente no seu video, use uma captura de cena ou um momento crucial da ação como miniatura. O movimento insinuado vai aguçar a curiosidade e encorajar os espectadores a clicar para ver o que acontece. Os The Slo Mo Guys são mestres nisso: 
Agora que você já sabe o que uma boa miniatura de video deve ter, vamos dar uma olhada em como criar uma. Se você não é um mago do Photoshop (e eu definitivamente não sou), eu acho altamente recomendável usar o Canva. É uma ferramenta online grátis (com opções premium pagas) que pode te ajudar a criar designs lindos de maneira rápida e fácil. Tudo o que você tem que fazer é criar uma conta e você estará pronto para começar.
Para minha demonstração, eu vou usar essa captura de tela de um video que eu fiz para um cliente sobre uma garrafa de água especializada para estilo de cabelo enrolado:
Eu escolhi essa imagem porque é um bom exemplo das nossas melhore práticas para miniaturas de video: contém cores brilhantes, rosto fazendo contato direto com os olhos e ação implícita. Eu apenas quero acrescentar algum texto do lado esquerdo para adicionar contexto e tornar um pouco mais convincente. Observe agora enquanto eu continuo, como é fácil usar o Canva para fazer uma imagem miniatura de video.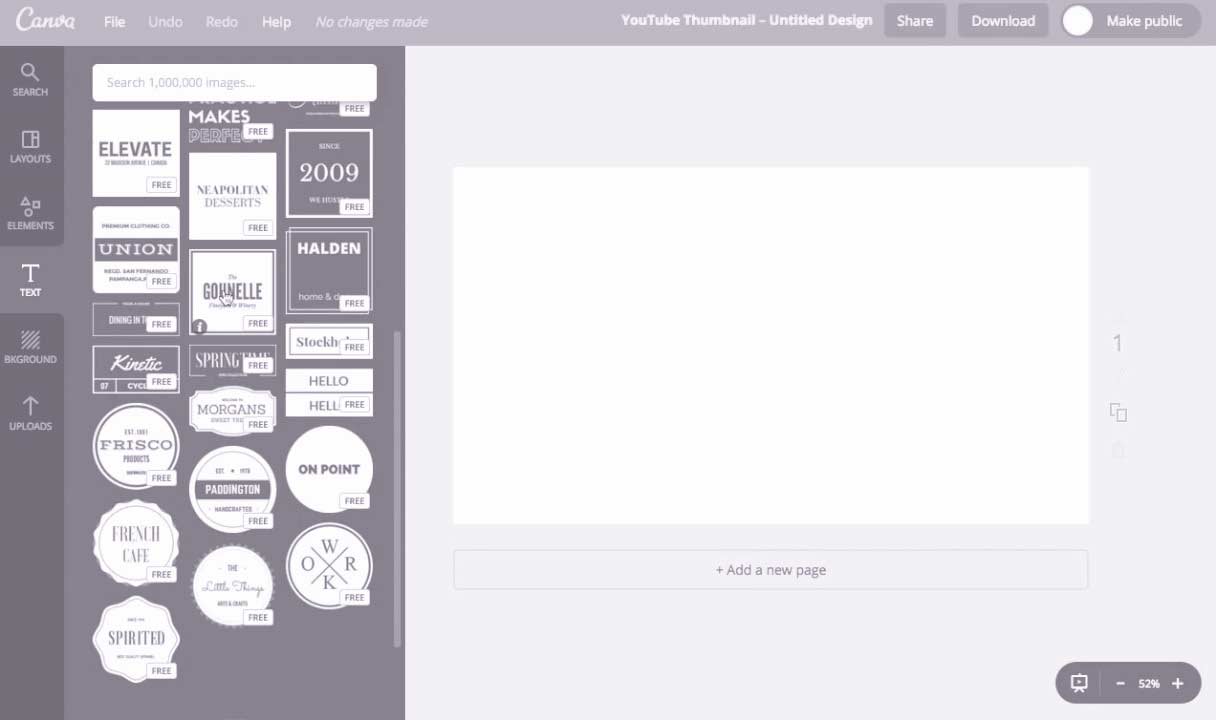 Há muitos modelos, fotos e fontes para escolher. Agora que você aprendeu os elementos básicos de uma boa imagem miniatura de video, é hora de experimentar e se divertir!
Want a weekly email summary?
Subscribe below and we'll send you a weekly email summary of all new Photo tutorials. Never miss out on learning about the next big thing.
Sign up
Toronto, Canada
Cindy Burgess has been telling stories with video for more than 20 years. She's worked in all aspects of the TV news industry – both in front of and behind the camera – in markets across Canada, the United States and Central America. Her many skills include producing, shooting, editing, scripting, reporting and hosting. Cindy now runs a video production company and teaches journalism part-time at the college and university level.
Looking for something to help kick start your next project?
Envato Market
has a range of items for sale to help get you started.