Christopher Kenworthy
A lente média faz as filmagens parecerem normais à visão humana, mas quando usadas com criatividade podem criar imagens cinematográficas. Ao filmar com movimentos de câmera, conversas ou quando abrimos a cena, a lente média é mais do que só algo que pode ser usado. Bem utilizada, essa lente é tão poderosa quanto qualquer outra.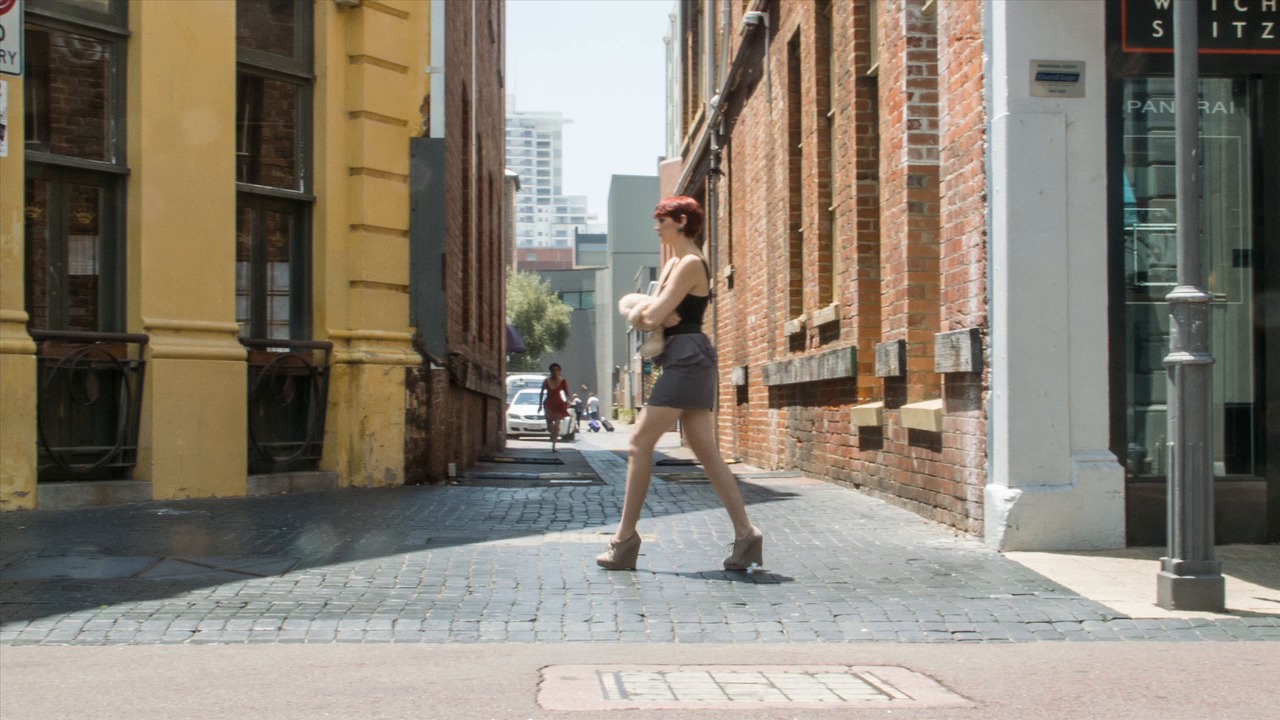 A Lente Média
Quando nós falamos de uma lente média, nós estamos falando de algo que tem uma distância focal aparente em torno de 50mm em uma câmera full-frame. Isso muda dependendo de que câmera você está usando, mas essencialmente isso significa que você está procurando por algo que dê a impressão de uma visão normal.
Quando você usa lentes curtas, tudo se torna distorcido e as linhas são curvadas para longe da câmera, enquanto que em uma lente longa, tudo é achatado e colocado junto.
Uma lente média fornece uma aparência intermediária. Tudo parece justamente como é quando nós olhamos com nossos próprios olhos. Essa é questão que pode ser problemática.
Frequentemente, novos produtores de vídeo colocam os atores no meio do cômodo, e posicionam a câmera à uma distância média, e filmam com uma lente média e tudo parece bom... mediano. O take acima é um exemplo de algo que parece muito com algo que você veria se você estivesse parado ali. Não é tão interessante como se você tivesse filmado com uma lente longa ou uma lente curta.
Então vamos ver como trabalhar como uma lente média.
Detalhes sem Distorção
Uma das maiores forças de uma lente média é que você pode mostrar muitos detalhes sem ter uma distorção característica de lentes abertas.
Nesse vídeo, nós temos dois personagens sentados em uma sala. É uma parte importante da narrativa que nós consigamos ver que ela é uma musicista e que ela está olhando para fora e que ele a está ignorando. Nós poderíamos fazer isso de um jeito tradicional, filmando vários takes de perto e um último bem aberto, mas lentes médias nos permitem ver tudo de uma vez. Nós podemos ver os rostos de ambos, mesmo ele não estando inteiramente em foco, e nós podemos ver o cômodo ao redor deles. Então quando você quer se concentrar na cena e onde os atores vão ficar nela, a lente média pode frequentemente ser uma opção melhor do que um take muito aberto.
A lente média é muito boa quando você tem dois atores no quadro e ambos estão olhando na mesma direção. Às vezes os atores estão tendo uma conversa e em outras vezes eles estão apenas observando. Olhe a cena abaixo, a lente média é a escolha certa aqui.
Se a lente é muito longa, nós teríamos que ir tão para trás que o fundo seria encurtado e nós só veríamos o céu atrás delas. Nós não seríamos capazes de ver nada no chão. Se nós usássemos lentes muito abertas tudo pareceria um pouco distorcido e estranho. A lente média funciona bem com isso porque a cena em si não é tão comum. Duas garotas iluminadas com a luz do sol contra um área de campo não é algo que você vê todos os dias. A normalidade da lente média compensa a pequena estranheza.
Abrindo Conversas
A lente média é também uma boa opção para introduzir cenas de diálogos  que tem muitos takes de perto. Você abre a cena com uma lente média, para estabelecer onde os atores estão um relação ao outro, e então troca para um série de takes de perto acima dos ombros de cada ator.
Movendo de Aberto para Fechado
Nessa lição, você pode ver um exemplo de uma filmagem onde a câmera move de algo que parece relativamente aberto para algo muito mais fechado. Isso é um excelente uso de lentes médias.
Aqui, enquanto o rapaz se move, a câmera o acompanha em um movimento de "dolly" e então nós colocamos os dois atores em quadro.
Uma lente longa não seria adequada porque poderia ser muito difícil manter o foco em toda a filmagem, e uma lente curta significaria que quando nós nos aproximássemos, os rostos dos atores ficariam distorcidos e nós veríamos muito do fundo.
Balanceando Atores de Primeiro Plano e de Fundo
Nesse vídeo, você vai ver um take onde eu queria mostrar uma atriz passando enquanto outra a olhava do fundo. Na primeira tentativa, eu usei uma lente curta (lente grande-angular) e não funcionou. A atriz no primeiro plano estava muito pequena no quadro e a atriz do fundo estava tão pequena que você mal a via. A lente curta distorce tanto as linhas dos prédios que eles dominaram o quadro mais do que os atores.
Na segunda versão, eu troquei a lente média e movi para trás, do outro lado da rua. Agora nós éramos capazes de ver o ator passando em primeiro plano através do quadro. Mesmo que não pudéssemos ver seu rosto, a história está sendo contada. Nós vimos ela caminha passando pelo quadro, e a outra atriz no fundo está grande o suficiente para que nós possamos ver sua reação.
Se ao invés disso, nós tivéssemos utilizado uma lente longa para esse take, nós não seríamos capazes de ver as duas atrizes de uma só vez. A atriz do primeiro plano teria sido somente um borrão e nós não teríamos a plena noção de que isso é um beco. A lente média não foi aleatória aqui. Ela foi uma escolha perfeita para essa filmagem.
Conseguir Efeitos de Lentes Longas Mesmo Quando você Não Pode Usar uma Lente Longa
Lentes longas são frequentemente utilizadas para esconder coisas que nós não queremos que espectador veja. É uma técnica que nós vimos em uma lição sobre lentes longas. Às vezes você quer esconder alguma coisa mas não tem espaço para usar lentes longas. Ao invés disso, você pode usar uma lente média e conseguir um take um pouco mais de perto.
No take acima, eu só queria ver a parede branca atrás da atriz. O quarto não era grande o suficiente para eu usar lentes longas, então eu fiz um take de perto com uma lente média. Essa técnica é muito utilizada em Grey's Anatomy.
Movimento Simples de Câmera
Para filmagens onde você se concentra em um ator, uma lente média é ideal. Uma lente curta pode exagerar muito o movimento e revelar muito do lugar no qual ele está, enquanto que uma lente longa pode esconder o movimento da câmera; você não sentiria que está perto de verdade. Com somente um pequeno movimento de câmera, a lente média nos permite sentir o movimento progressivo sem ser exageradamente dramático.
Um Ator Aparece no Quadro
Uma das técnicas favoritas do Steven Spielberg's é começar um cena com alguma coisa no fundo e então alguém aparece no quadro. Você pode ver um exemplo nessa lição em vídeo.
Existe muita flexibilidade com essa técnica. Você pode ter uma pessoa aparecendo muito perto ou muito longe da câmera, você pode ter ação acontecendo no fundo, você pode começar com um take aberto do seu assunto e então transicionar para uma configuração de conversa.
Nesse vídeo de exemplo, nós começamos com o que parece ser uma cena de um ator enquanto ela se move na frente da câmera. Um segundo ator aparece no quadro e a cena se torna toda sobre ele.
Com uma lente curta, esse tipo de filmagem não funcionaria. O segundo ator pareceria muito distante.
Fazendo as Coisas Parecerem Normais
Um dos melhores usos para uma lente média é quando você quer acalmar a audiência e fazê-los sentir um senso de normalidade. Isso é particularmente útil quando você está mostrando algo fantástico ou sobrenatural.
Eu fiz uma vez um curta sobrenatural. Durante todo o percurso eu usei lentes curtas para exagerar nos movimentos e lentes longas para fazer takes de perto com os atores e mostrar suas emoções. O pessoal apostou que eu usaria ou não uma lente média.
Eventualmente eu fiz. Aconteceu quando nós estávamos filmando uma cena sobrenatural a noite no meio da floresta. Foi tão estranho que se nós filmássemos tudo com uma lente longa ou uma lente curta, teria sido muito extremo. Ter filmado com a lente 50mm ajudou a cena parecer mais realística.
Se você chegou a um ponto em um filme onde as coisas parecem estranhas, você pode fazê-las parecer mais real usando uma lente média.
Resumindo
Seja cauteloso para não usar demais a lente média porque isso pode um filme tedioso - use-a criativamente, ela é tão importante quando qualquer outra lente. Não tenha medo de tentar usá-la nas situações corretas.

Want a weekly email summary?
Subscribe below and we'll send you a weekly email summary of all new Photo & Video tutorials. Never miss out on learning about the next big thing.
Sign up
Christopher Kenworthy (born 1968) is an Australian writer and former film director. He is the author of two novels, The Winter Inside and The Quality of Light for Serpent's Tail, along with a short story collection, Will You Hold Me? and the chapbook Sullom Hill. His fiction has been widely praised by authors such as Michael Moorcock, and anthologised in books such as The Year's Best Fantasy and Horror. Born in Preston, England, he moved to Australia in 1997 and began a directing career which lasted until 2013. His Master Shots books are best-sellers for Michael Wiese Books. He is the director of The Sculptor. He won the Award For Directing (WA Screen Awards) in 2007. He directed many music videos, including Dreaming Light for Anathema (band).
Start your 7-day free trial*
*All Individual plans include a 7-day free trial for new customers; then chosen plan price applies. Cancel any time.