Read Time:
5 mins
Languages:
Nesse tutorial, aprenderemos fluxos de trabalho de gravação de vídeo 360 usando várias câmeras, além dicas e truques especiais para gravação e produção.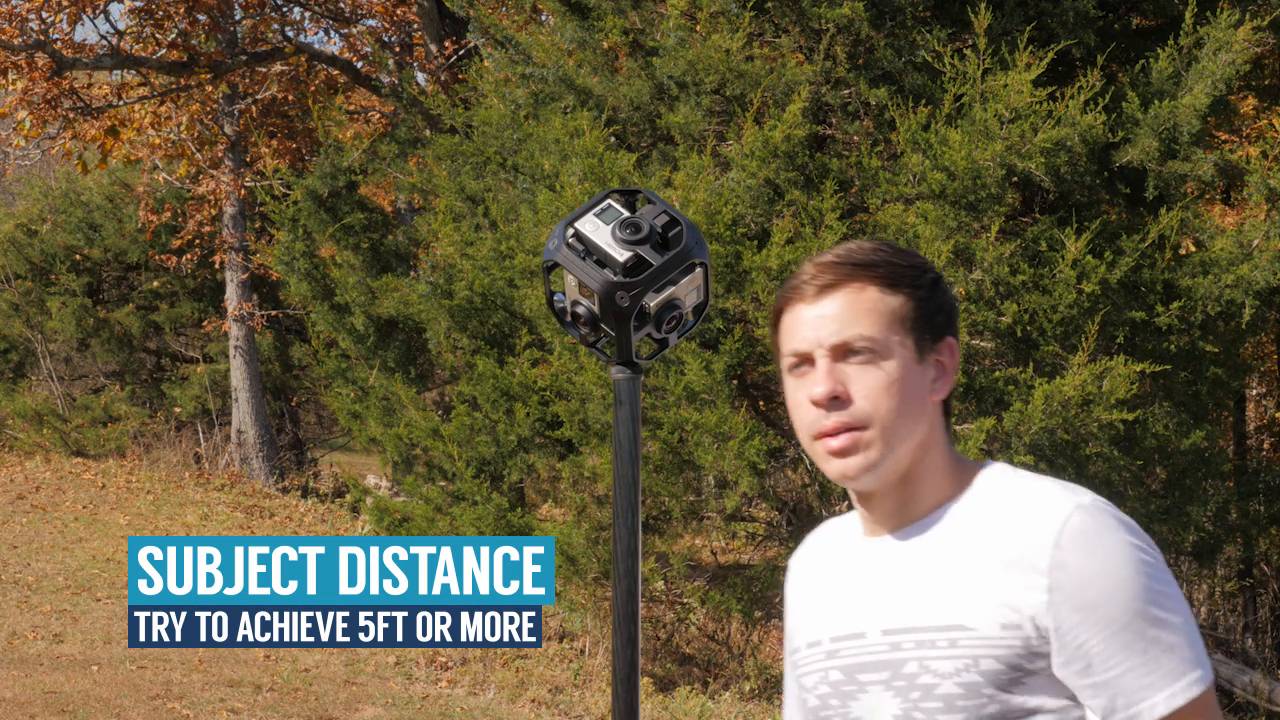 Nesse Vídeo Tutorial
Aprenderemos conceitos de configuração multi-câmera para vídeos 360 (0:23)
Mostraremos equipamentos 360 comuns par agravação (0:55)
Veremos dicas de fluxo de trabalho para gravação 360 (2:00)
Compararemos prós e contras de Câmeras tudo-em-um e multo-câmeras (3:50)
Mostraremos uma comparação entre gravação em 8K reduzida e gravação 4K nativa (5:03)
Por fim, veremos o processo de emendo de gravação 360 (5:26)
Qual É a Configuração Multi-Câmera para Vídeos 360?
Uma configuração multi-câmera é aquela usada para gravação de vídeos 360, onde cada câmera é uma câmera normal, como GoPro, e o vídeo de cada uma delas é gravado em vários cartões de memória. Após o vídeo ser gravado, cada filme é emendado para formar um vídeo 360 completo. Isso difere das câmeras 360 "tudo-em-um", como Theta S ou Gear 360, que gravam tudo de duas ou mais lentes em um único arquivo em um único cartão.

Equipamento Comum Necessário para Gravação 360 Multi-Câmera
Há vários equipamentos extras que precisaremos para gravar vídeos 360 multi-câmera:

Caixa ou equipamento para guardar todas as câmeras
Carga externa, tipicamente uma bateria V-Mount
Suporte a câmera no estilo de monopod estreito

Ferramentas como a chave allen e pinças para lidar com equipamentos em campo
Controle remoto wireless de câmera
Vários cabos USB, cartões SD e adaptadores para transferir gravações
Software de emenda de vídeo
Dicas de Fluxo de Trabalho para Vídeos 360
A primeira lição prática que aprendemos sobre gravação 360 foi de sempre fazer uma gravação teste antes de sair da posição para ter certeza que as câmeras estão fixas apropriadamente. A última coisa que queremos é estar no campo, preparado, e ver um erro na hora de mandar gravar!

Depois, garantamos que temos a câmera montada numa solução fina mas bem balanceada. Um monopod com um base fixa de três pernas é ótimo. Usamos a Manfrotto Boom 3-K com a Mandrotto Hi-Hat (um tripé bem curto).
A base dos tripés tradicionais é muito larga para câmeras 360: ninguém quer ver as pernas do tripé em grande parte do vídeo. Também é importante garantir que a câmera esteja montada verticalmente direta, sem inclinar. Também obtemos melhores resultados com câmeras montadas na altura do rosto ou mais altas. Isso ajuda com problemas de paralaxe durante o processo de emenda já que o chão será a área mais próxima da câmera. Quão mais alta estiver montada, menos o problema de paralaxe acontecerá durante a emenda.
Atentemos às linhas de emenda e ângulos das câmeras para nosso alvo não ficar bem na emenda ou dividido entre duas câmeras. Isso ajuda muito no processo de emenda. Também recomendamos manter o alvo a 1.5~3.0m de distância dos equipamentos ao gravar, já que ajuda a reduzir qualquer problema de paralaxe entre as câmeras. É bem mais fácil corrigir problemas de emenda quando a pessoa está a 3m de distância, ao invés de 30cm da câmera. Além de não parecerem um gigante no vídeo 360 finalizado. A única exceção seria se a própria pessoa segurasse a câmera 360. E se tiverem de fazê-lo, ajusta a distância da parte inferior do tripé para que esteja o mais longe possível mas ainda passível de filmar.

Evitemos muito movimento no equipamento ao gravar. Isso aumenta as chances de linhas de emenda e mexidas tipo gelatina no vídeo final. Como câmeras tradicionais, pequenas vibrações podem aparecer nas filmagens com muito movimento e essas vibrações podem tornar as emendas aparentes.

Equipamento 360: Prós e Contras
Câmeras 360 Tudo-em-Um: Prós
Simples e amigávéis
Compactas
Controle via app e funções de pré-visualização real
Câmeras 360 Tudo-em-Um: Contras
Opções de configuração limitada
Geralmente sem controle remoto
Não tão durável quando exposta ao tempo/elementos
Sem opções de carga externa
Baixa qualidade de vídeo
Configurações Multi-Câmera 360: Prós
Várias opções de configuração, como câmeras de vídeo digital comuns
Controle remoto de longo alcance
Caixa de proteção durável
Várias opções de carga externa
Excelente qualidade de vídeo
Configurações Multi-Câmera 360: Contras
Toma mais tempo para configurar
Sem controle via app ou funções de pré-visualização real
Comparação de Gravação 360
Provavelmente, o maior pró para multi-câmeras 360 é a resolução. Uma configuração como a Omni pode filmar em 8K quando toda a gravação for emendada. A gravação 8K também pode ser reduzida a 4K e quando comparada com câmeras tudo-em-um 4K, a diferença de qualidade é substancial. Gravação 8K reduzidas manterão muito mais detalhes de imagem, dando mais opções nivelamento de cor e ficarão melhores ao serem comprimidas.
Emendando Gravação de Vídeos 360
E chegamos ao passo final non fluxo de gravação multi-câmera: emendar vídeos 360. Recomendamos o Autopano Video Pro para emendar os vídeos 360 porque é o padrão da indústria. Então importamos todos os clipes de uma das gravações e deixamos o Autopano Video Pro criar as emendas automaticamente. Depois, podemos refiná-las facilmente para melhores resultados antes de gerar o vídeo 360 final.
Autopano Video Pro vem junto do Omni e traz um recurso extra ao importar gravação do Omni. O Autopano Video GoPro Omni Importer reconhece metadados gravados nos cartões de memória de gravação Omni e criará, automaticamente, as pré-visualizações 360, para podermos identificar facilmente as melhores para importamos. Podemos dá-las títulos também, realizar estabilização e nivelamento de cor em várias cenas, tudo ao mesmo tempo, usando a função de importação.
Links Mencionados
Charles Yeager is a Motion Graphics Artist and Filmmaker currently residing in Arkansas. Locally he works with many advertising and production companies in the South and Midwest. He also regularly creates tutorial content for Envato Tuts+, Mettle, Adobe, and PremiumBeat. See his portfolio at yeagerfilm.com.
Weekly email summary
Subscribe below and we'll send you a weekly email summary of all new Photo & Video tutorials. Never miss out on learning about the next big thing.
Update me weekly
Translations
Envato Tuts+ tutorials are translated into other languages by our community members—you can be involved too!
Translate this post
Powered by
Looking for something to help kick start your next project?
Envato Market
has a range of items for sale to help get you started.