Slavik Boyechko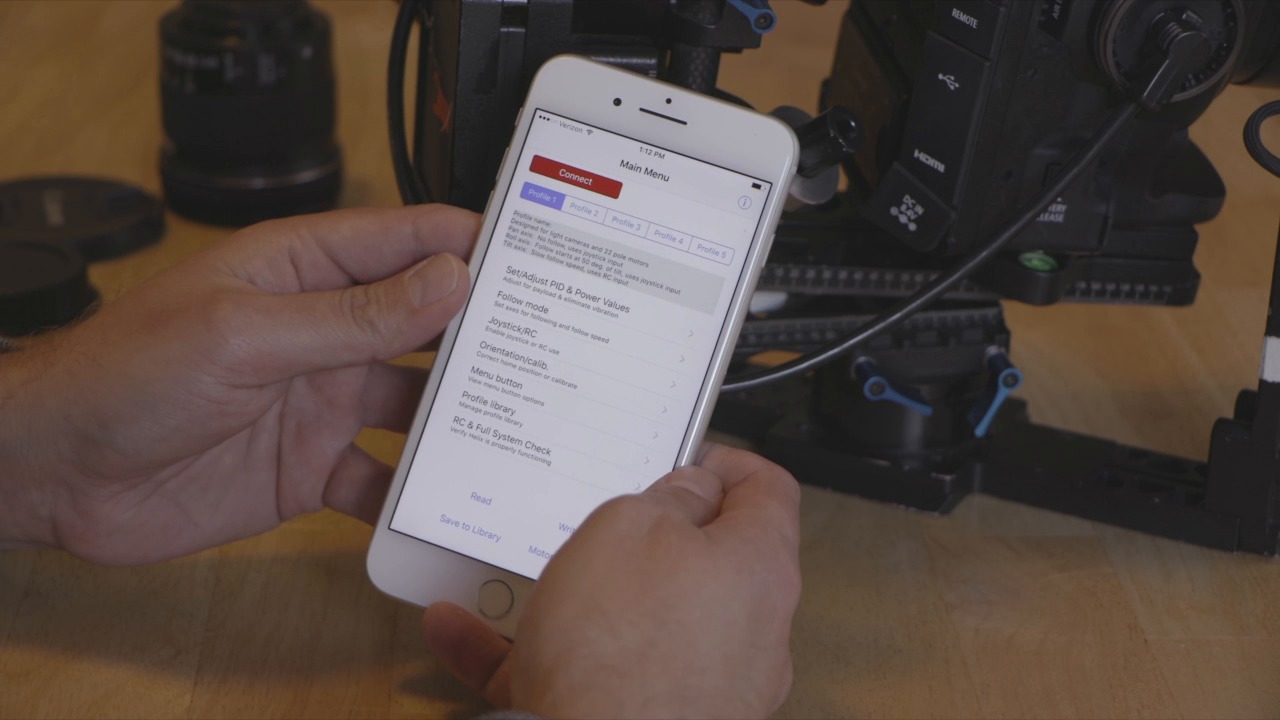 Antes de você poder usar um gimbal, você tem que balancear sua câmera nos três eixos dele. Você quer alcançar um ponto no qual você pode mover a câmera em qualquer posição e ela permanece imóvel, ao invés de rotacionar para outra direção. Isso significa que você está fazendo os motores trabalharem bem menos, e o seu gimbal pode fazer seu trabalho eficientemente.
O balanceamento não tem que ser perfeito, e se sua câmera não atinge os limites de capacidade de peso do seu gimbal, a maioria dos motores fazem um bom trabalho mesmo sem uma configuração perfeita de balanceamento. Mas quanto mais fácil para os motores, menos caótico vai ser o seu trabalho.
Alguns gimbals requerem que você os pendure em um suporte, para poder balancear a câmera. Convenientemente, existem agora alguns gimbals que podem ser colocados no topo da mesa, e então você pode balancear a sua câmera sem ter a necessidade de andar com um suporte com você em cada filmagem que você fizer.
Comece com o posicionamento da sua câmera para frente e para trás, e então balanceei o eixo de rolamento movendo a câmera para cima e para baixo, ou adicionando contrapesos do lado esquerdo ou direito, dependendo de como o peso da sua câmera está distribuído. Faça isso algumas vezes enquanto você faz o balanceamento, mas seja cuidados para não danificar a câmera ou a lente se você ajustá-lo e ele cair rapidamente para um dos lados.
Enquanto você estiver fazendo o balanceamento, lembre-se de ter junto tudo que você vai precisar usar durante a operação, incluindo bateria para o gimbal, um microfone, e um monitor externo se você usa um.
Uma vez balanceado, se você ligá-lo e ele começar a se comportar de maneira estranha, as chances são de que você vai precisar ajustar o motor do gimbal via computador ou aplicativo de telefone. Essas configurações de PID parecem assustadoras à primeira vista, mas você sempre pode voltar para os números de fábrica se você fizer algo errado. Ao menos, uma vez que você ajustar corretamente as configurações para a sua câmera, você não irá precisar mais de ajustar os números PID.
Finalmente, a melhor coisa para fazer quando você alcança um balanceamento adequado é marcar os pontos ao longo dos eixos, com uma fita ou uma caneta. Assim, você pode rapidamente encontrar os pontos se você tiver que levar o seu gimbal para uma viagem, ou se ele simplesmente perder a posição de balanceamento.

Want a weekly email summary?
Subscribe below and we'll send you a weekly email summary of all new Photo & Video tutorials. Never miss out on learning about the next big thing.
Sign up
Slavik Boyechko is an Emmy award-winning filmmaker and owner of Minn Films, which creates inspirational videos about people and organizations.
Looking for something to help kick start your next project?
Envato Market
has a range of items for sale to help get you started.