Read Time:
5 mins
Languages:
Capturar vídeo de alta qualidade nunca foi tão fácil. Na maioria dos casos, contudo, o vídeo bruto precisa ser alterado, cortado, ajustado e editado, e isso é complicado.
Nesse tutorial do curso Edição de Vídeos no Adobe Premiere Pro, apresentaremos, detalhadamente, um elemento chave da edição de vídeo: sequenciamento. Aprenderemos como criar uma sequência e veremos alguns métodos para adicionar capturas à ela.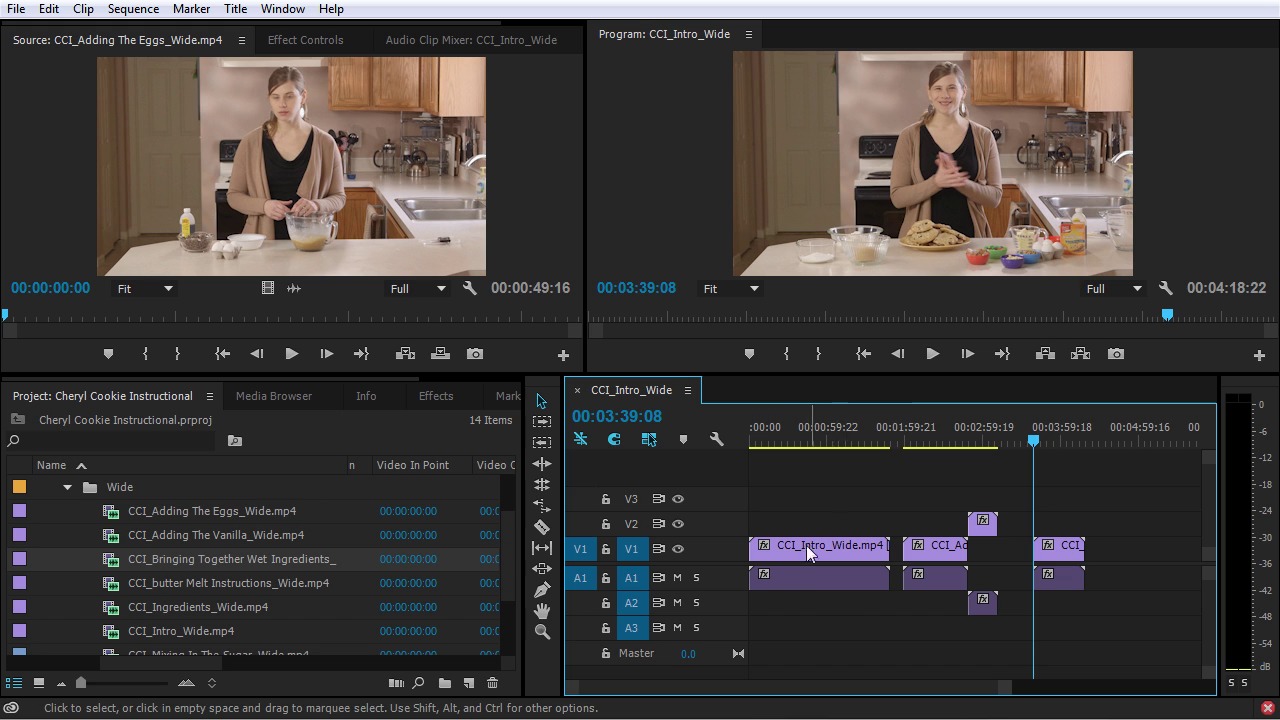 Anatomia de uma Sequência

Uma sequência é uma coleção ordenada de todos os recursos de vídeos, áudios, fotos, gráficos e títulos, com começo e fim, numa linha do tempo.

No Adobe Premiere Pro, temos um régua de linha do tempo, mostrando-nos horas, minutos, segundos e quadros, da esquerda para direita. Daí, temos trilhas de vídeo e de áudio: cada sequência terá, pelo menos, uma trilha de vídeo e qualquer sequência com áudio terá pelo menos uma trilha de áudio. Por padrão, ao criar uma nova sequência ela terá trilhas de vídeo e áudio vázias, prontas para serem usadas.
Podemos criar uma sequência de várias formas. A mais fácil é soltar clipes de mídia direto no painel da linha do tempo.
Como Criar uma Nova Sequência

Arrastar clipes para a janela de linha do tempo não é a única forma de criarmos sequências. Também podemos fazê-lo pelo atalho de teclado: N. Isso trará uma janela de diálogo com vários ajustes diferentes, para modificarmos e criarmos qualquer quantidade e tipo de trilhas que quisermos.

Mas, de novo, a mais fácil é arrastar e soltar um clipe de mídia na linha do tempo. Isso criará uma nova sequência com tamanho do quadro correto, tempo base, proporção e taxa de áudio.

Biblioteca Organizada Facilita a Edição

Podemos pegar qualquer coisa do painel de Projeto e arrastar para a sequência. Ao arrastar, vemos algumas linhas que aparecem quando alcançamos as bordas de outros clipes de mídia. Com Encaixar (S) ligado, o clipe principal encaixará nas bordas dos outros clipes de mídia. Items também encaixarão à cabeça de reprodução. Isso facilita puxar coisas da sua biblioteca direto para a sequência. Pode-se adicionar múltiplos clipes à sequência ao mesmo tempo: seleciona-se os clipes e arrasta-os para a sequência.
Na Visão de Ícone temos algumas opções. Por exemplo, se alterarmos a Ordenação para Nome, veremos que os clipes estão ordenados alfabeticamente. Geralmente, temos configurado para Ordernação do Usuário e dessa forma podemos ir para a visão de ícone e reordenar as coisas para adicioná-las ao projeto na ordem da história. Usar a visão de ícone é uma forma útil de ter, rapidamente, uma ideia visual do que a captura se parece, para ordená-las todas sem ter de abri-las e assisti-las, o que demandaria muito tempo.
Como Adicionar Edição de Três Pontos Rapidamente

Outra forma de adicionar clipes a sequência é direto do Monitor de Origens, que é útil para edição básica durante revisão de capturas.

Clicando duas vezes num clipe coloca-o no monitor. Clique em qualquer lugar dentro da imagem e então a coloque na linha do tempo para adicionar a captura à sequência.

Edição de Três Pontos
Também podemos fazer isso tudo pelo teclado, que é bem útil para certos tipos de edição, como documentários, onde várias capturas são partes do mesmo arquivo de origem.
Com a técnica de edição de três ponto, podemos escolher três pontos: entrada na linha do tempo, e entrada e saída na origem. Primeiro, mova a cabeça de reprodução para o fim do último clipe na linha do tempo. Com o vídeo de origem carregado, Marque a Entrada (I) e Marque a Saída (O) nos começo e fim do segmento a ser adicionado à sequência. Aperte o apóstrofo (') para Inserir o clipe à linha do tempo. Repita o processo tanto quanto preciso no material de origem.
Edição de três pontos é uma forma fácil, eficiente e intuitiva de realizar edições brutas. Entraremos em detalhes sobre como usar entradas e saídas com clipes na próxima lição do curso.
Converter em Sequência

Ainda outra forma de adicionar clipes à sequência ao selecionar múltiplos clipes: um botão nomeado Converter em Sequência. Ao clicá-lo obterá uma série de opções. Podemos selecionar a ordem dos clipes, padrões de transição de áudios e de vídeos. É uma maneira bem rudimentar de criar uma sequência, viável apenas para projetos básicos, mas se for o suficiente para um projeto, pode economizar algum tempo.

Assista o Curso Completo
O curso completo, Introdução à Edição de Vídeo no Adobe Premiere Pro, ensinará o básico de uma das ferramentas mais populares de edição de vídeo hoje: Adobe Premiere Pro. Aprenderemos como organizar os arquivos fora do Premiere, importar recursos e configurar o projeto. Também aprenderemos o essencial de edição: realizar cortes, básico da edição, efeitos de áudio e vídeo, títulos, exportação de projeto e mais!
E não esqueça de verificar a Envato Market por uma grande seleção de recursos úteis para seus projetos de vídeo, desde filmagens a gráficos animados e mais.

Weekly email summary
Subscribe below and we'll send you a weekly email summary of all new Photo & Video tutorials. Never miss out on learning about the next big thing.
Update me weekly
Translations
Envato Tuts+ tutorials are translated into other languages by our community members—you can be involved too!
Translate this post
Powered by
Looking for something to help kick start your next project?
Envato Market
has a range of items for sale to help get you started.